By Jeff White (jwhite@virginia.edu)
VirginiaSports.com
CHARLOTTESVILLE –– It did not qualify as a J-term course, and Alex Rando earned no credits for his winter sojourn in Ireland. Even so, he had a rewarding and educational experience before returning to the University of Virginia for the spring semester.
Rando, a goalkeeper on the UVA men's soccer team, spent two-and-a-half weeks training with Dundalk FC, a professional club that competes in the League of Ireland's top division. Dundalk, a town of about 40,000 residents, is the near the border that separates the Republic of Ireland and Northern Ireland, and Rando stayed with relatives who live nearby.
Dundalk is about 45 miles east of Cavan, the town where Rando's mother, Eileen Donohue, has deep family roots. Rando has dual citizenship, and his Irish passport allowed him to navigate international travel during the COVID-19 pandemic.
"It was great," Rando said of his stay in Ireland, a country he's visited often. "I got to train, be in a professional environment for a bit, and visit family that I hadn't seen for a very long time. It was a good, I guess you could say, training booster for going into the season. Honestly, I'm just happy now to be back with the guys [at UVA]."
The Cavaliers are delighted to have him back. This is George Gelnovatch's 25th year as head coach at his alma mater, and he's learned that when college players go off to train with pro clubs, or when incoming recruits are showcased at major tournaments, contract offers sometimes follow.
"Those are moments you always hold your breath," said Gelnovatch, who considers Rando a pro prospect. "We weren't quite sure what would happen."
After returning to the United States, Rando had to quarantine, so he hasn't trained much with his teammates this month. But Gelnovatch expects Rando, who stands around 6-4, to be a better goalkeeper for his time in Dundalk, and that in turn should help the Wahoos.
"You get that experience," Gelnovatch said. "Everything is moving faster. You're playing against grown men. There is a component to that that the young man benefits from and brings back to his team."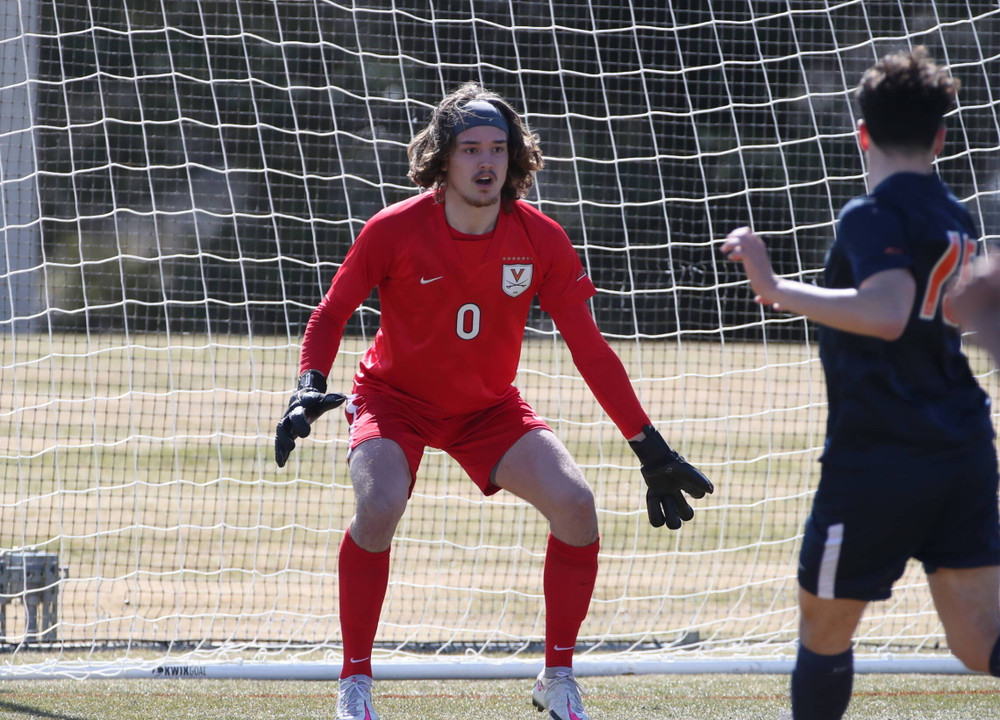 In a typical school year, college soccer is played in the fall. The pandemic, however, brought about major schedule changes, and ACC teams are playing this spring as well.
"It's a great opportunity for us to have another season," Rando said.
The NCAA tournament, scheduled to start in late April, will have 36 teams in its field, instead of the customary 48. UVA, which has won seven NCAA titles, has advanced to the tournament in each of the past 39 seasons, a record in college soccer.
Virginia finished the fall with a 3-4-1 record after losing to eventual champion Clemson in the ACC tournament semifinals.
Rando said he and his teammates were grateful to be able to play in the fall, when many college programs opted out. "It was a great experience," he said.
The Hoos are scheduled to play eight games this spring, starting next Tuesday with a match against George Mason at Klöckner Stadium. In an exhibition game against visiting Virginia Tech on Tuesday afternoon, UVA lost 1-0. The Hokies' goal came on a first-half penalty kick.
In the fall, Rando started three games in goal, and Colin Shutler started the other five. Shutler is now pursuing a Major League Soccer career with FC Dallas, which drafted him 48th overall last month, and Rando heads into the spring as a clear No. 1.
"I think he's going to be very, very good," said Gelnovatch, who has guided the Cavaliers to two NCAA titles (2009 and 2014).
Shutler helped him learn about and understand the culture of the storied UVA program, Rando said, "and it was good to watch him play. I'm sure he's going to have a great career in MLS, so I'm really excited for him."
Rando, 19, was born and raised in New York City, where his mother is a psychologist and his father, John Rando, is an award-winning stage director. Most of his father's side of the family, Rando said, is from Texas.
After graduating in 2019 from the Beacon School in Manhattan, Rando did not proceed directly to Charlottesville. He'd seriously considered Virginia during the recruiting process but ended up signing with Stanford. The Cavaliers' coaches were disappointed, but they wished Rando well on the West Coast.
"I think he appreciated the professionalism that we recruited him with," Gelnovatch said, "and when he told us about his decision to go to Stanford, I left the door open for him."
When he informed UVA of his decision, Rando recalled, he made sure to leave "everything on good terms, and I said, 'Look, things might go really bad at Stanford,' and they did."
Rando enrolled at the Pac-10 school in the summer of 2019, but he decided it wasn't a good fit and returned to Manhattan before the start of the season that fall.
"So I was essentially on a gap semester and stayed at home," Rando said.
That fall, communication resumed between Rando and the UVA coaches. "I explained to them that I'm sort of in limbo right now and I'm looking for a place to go, and I'm incredibly grateful they actually picked me up again," Rando said.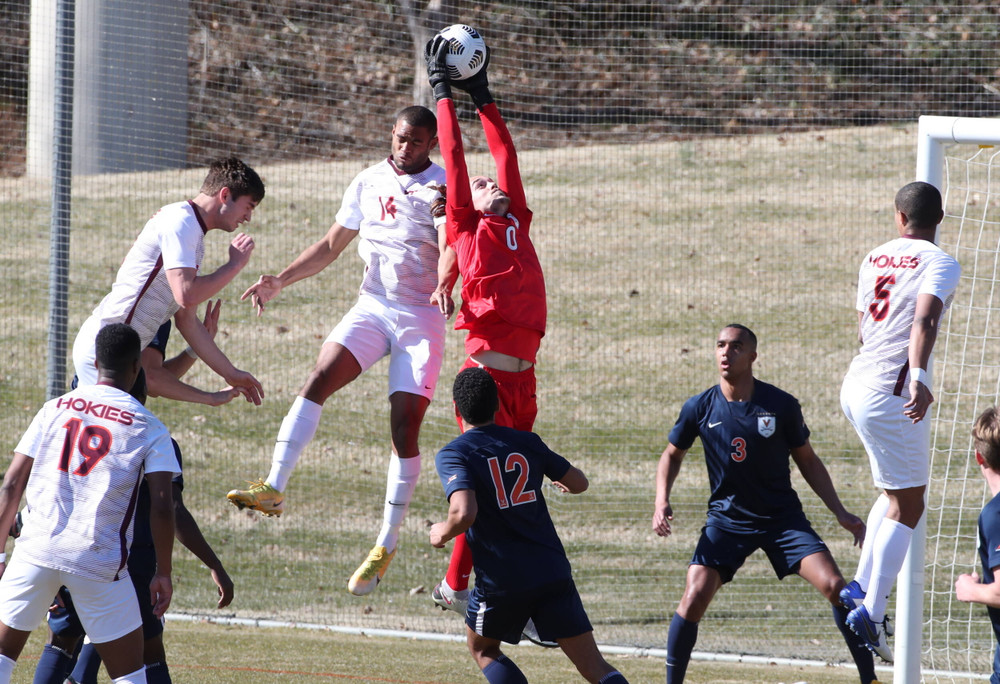 His paternal grandfather was an aerospace engineer in NASA's Apollo program, and Rando was interested in studying astrophysics at Stanford. He soon learned, though, how challenging it would be to balance the demands of that major with the obligations of a Division I soccer player, especially one who, like Rando, plans to pursue a pro career.
At UVA, Rando said, he's likely to choose the Global Environments & Sustainability major in the Global Studies program. "I've taken a few classes, and it's pretty interesting," he said.
Rando fell in love with soccer at an early age. He started playing when he was 4 years old and first went into the goal at 7.
"I just really liked saving the ball," said Rando, who later played in the New York City FC academy program, "and that's slowly how it began."
At Virginia, he works closely with goalkeepers coach Adam Perron, who joined Gelnovatch's staff last year.
"Adam's great," Rando said. "I think our connection is growing."
The spring version of this UVA team isn't identical to the one that played in the fall. Midfielder Bret Halsey, the seventh overall pick in last month's MLS draft, is gone, along with Shutler, and forward Nathaniel Crofts, the 28th pick, is leaving next month.
Another MLS draft pick, Irakoze Donasiyano, whom Nashville SC selected 20th overall, will play for the Cavaliers this spring, and two players joined the program this semester: goalkeeper Scott Williams, who graduated from high school early, and defender Will Citron, a transfer from Cornell who's immediately eligible.
Donasiyano, previously an attacking player for Virginia, is at a new position this spring: right fullback.
"Nashville wants to look at him in that spot, and we actually need that," Gelnovatch said. "So I'm going to make him our right fullback, for his sake and our sake."
To receive Jeff White's articles by email, click here and subscribe.