By Jeff White (jwhite@virginia.edu)
VirginiaSport.com
CHARLOTTESVILLE –– Through three games this season, Ashlyn McGovern has yet to record an assist. That doesn't bother Julie Myers in the least.
McGovern, a redshirt junior attacker from the Baltimore area, leads the unbeaten University of Virginia women's lacrosse team with 10 goals.
"She's a finisher," said Myers, who's in her 26th season as the Cavaliers' head coach. "She does see the field really well, but her game is finishing, and that's finishing off a dodge, and also off of those backdoor cuts. We keep finding her on the inside, and she's money. Not only does she make that catch under pressure, but she's able to score the goal. She's certainly capable of getting an assist or two, but I like her in the role she has."
UVA has been facing zone defenses, McGovern said, against which she's been "more of a cutter. Then I end up being open in the middle, which is what's allowed me to get those goals."
This is her fourth year at the University, but McGovern is not, she hopes, anywhere near the end of her college lacrosse career. She redshirted in 2018 while recovering from a knee injury. After starting every game as a redshirt freshman, McGovern saw the Wahoos' 2020 season cut short by the COVID-19 pandemic, and like her teammates she received another year of eligibility from the NCAA.
An American studies major, McGovern has applied to a two-year program in the Frank Batten School of Leadership and Public Policy. If accepted, she would be able to play for the Hoos in 2022 and '23. A one-year graduate program is also a possibility.
"I'm really just keeping my options open for the next few years," McGovern said.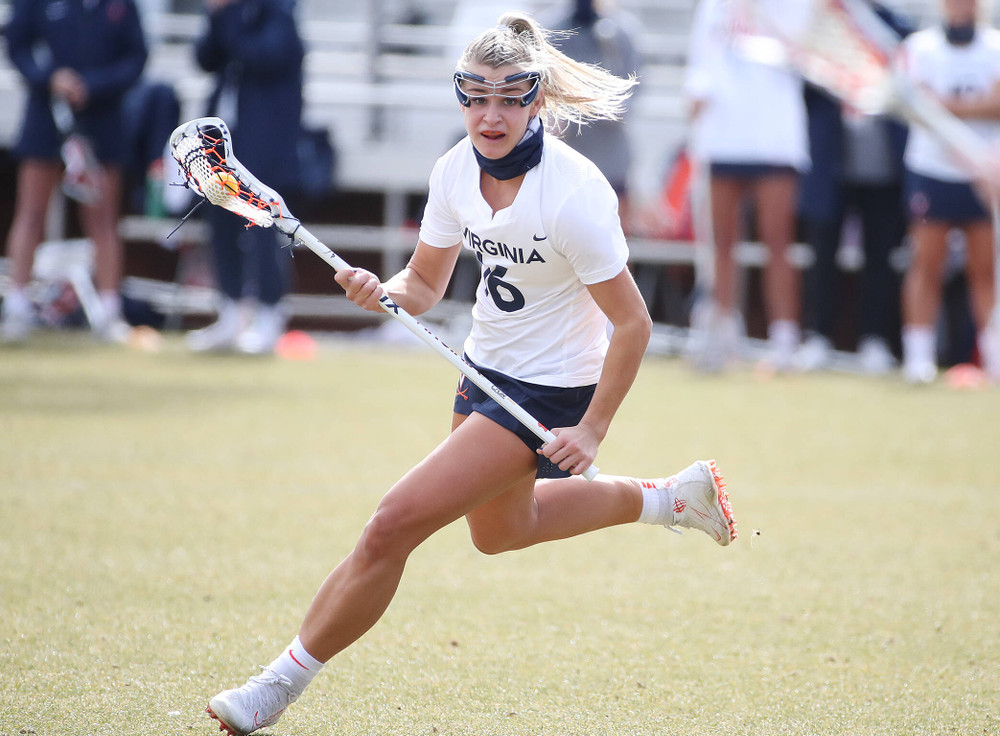 She was about four years old when she started playing lacrosse. That she gravitated to the sport was no surprise. Her father, Chris McGovern, played lacrosse at Loyola University in Baltimore. Her brother, Alex, played at North Carolina before transferring to Loyola, from which he graduated in 2019.
"With Baltimore being a lacrosse hotspot, I just grew up with lacrosse," McGovern said. "So it's all I've really known."
At St. Paul's School for Girls, McGovern also played soccer, but lacrosse was always her No. 1 sport, and college coaches, including Myers, took note of her prowess on the field.
"I came down Charlottesville for lacrosse camp the summer after my freshman year," McGovern recalled, "and then soon after that I came down for an unofficial visit with Julie. I just fell in love with the school, and other schools were just not an option anymore."
Loyola interested her too, McGovern said, "but I ended up deciding it was too close to home." She committed to UVA during the summer after her freshman year at St. Paul's.
"I can tell you she was a great player when she was younger," Myers said, "and I was super excited when she became more dominant every year in high school. I thought she was going to have a huge role for us on the team, and she's done exactly that."
Not only is McGovern "one of the best attackers that we've had in a really long time," Myers said, "she an inclusive leader. She's not a scary leader, by any means, and people want to play at that high level with Ashlyn, and they feel like they can make a mistake trying to get there. Especially with the younger crowd around her, her style of leadership has really helped her game pop and helped our team rise at the offensive end."
McGovern scored three goals in Virginia's most recent game, a 12-10 victory over No. 13 Virginia Tech last weekend at Klöckner Stadium. She may be from Maryland, but McGovern appreciates the rivalry between the state's ACC programs.
"It's always a big game, and we always want to beat them," she said.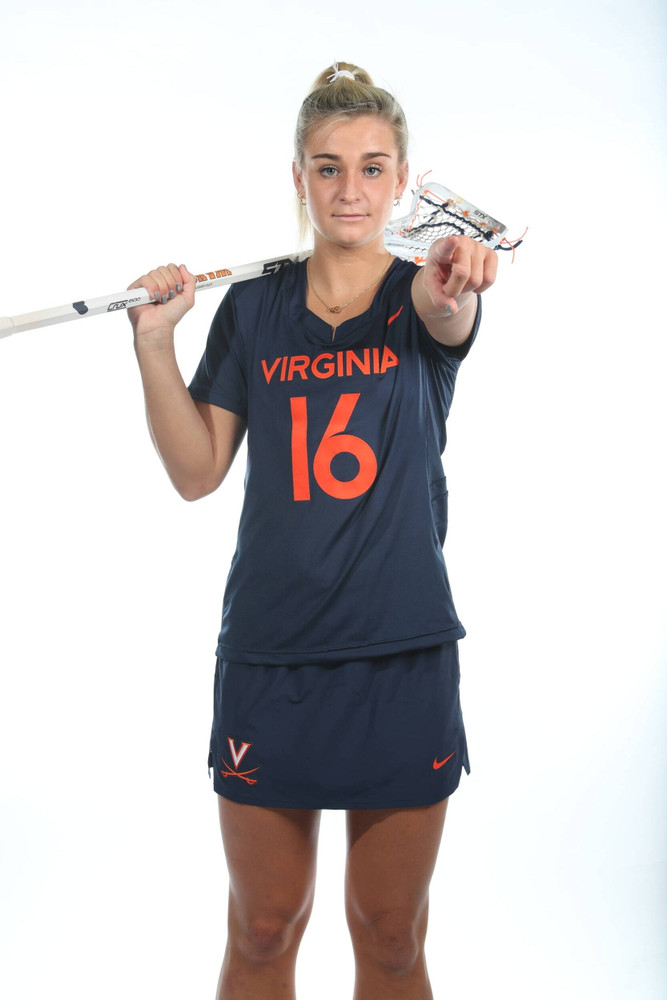 Next up for No. 8 UVA (3-0, 1-0) is a date with No. 25 Louisville (2-1, 0-0) at 11 a.m. Saturday at Klöckner. The Cavaliers' remaining schedule also includes games with No. 1 North Carolina, No. 2 Syracuse, No. 4 Notre Dame, No. 10 Duke, No. 11 Boston College and No. 12 JMU, plus another matchup with Virginia Tech.
Such challenges are the norm at UVA.
"Honestly, when I was looking at schools that wasn't a huge thing that I looked at," said McGovern, who lives with teammates Lila Barker, Gwin Sinnott and Jillie Quevedo. "I just wanted to go to a school that I loved. But now that I'm here, I love how intense our competition is and how we have such a hard game every weekend. I think it makes it more fun and then makes practice more intense, looking forward to these big games."
When the pandemic hit and UVA switched to online classes in March 2020, McGovern returned home and finished the semester there.
"It kind of felt like high school again, being at home and doing my work at home with my parents and everything," she said. "But I gave some lacrosse lessons here and there to girls from my area. And then when school ended, I started an internship and I coached a club team in my area, which was really fun."
Her brother was at home, too. "It was a full house," McGovern said, "and my mom loved it. She said it was the last time she was going to have both of us at home, so she embraced it."
Whenever she leaves UVA, McGovern is likely to follow her father and her brother into the insurance business. For several years, she's spent the summer working at her father's company. In the summer of 2019, in fact, McGovern earned her insurance license, and that allowed her to do more than data entry and similar tasks.
"I just had to take a class and pass an exam," McGovern said, "and then I was licensed."
For now, she's focused on her life on Grounds. If she ever took lacrosse for granted, the abrupt ending to the Cavaliers' 2020 season changed her mindset.
"I think we all just have a greater appreciation for lacrosse and the sense of normalcy it brings," McGovern said. "We talked about how going to practice is sometimes our only time getting out of the house, because we don't have in-person classes.
"I know personally I have found a greater appreciation for it and [rediscovered] the love I have for the sport. Having it taken away, you realized how much you love it, and it really made me miss it.
"I think a lot of us are looking at it like you have play every game like it's your last, because you never know if our season could get canceled again or you could contact-traced or you could get COVID. So I really do think it's given us a different perspective on it."
To receive Jeff White's articles by email, click here and subscribe.