By Jeff White (jwhite@virginia.edu)
VirginiaSports.com
CHARLOTTESVILLE –– When she arrived at the University of Virginia in the summer of 2009, Melanie Mitchell had no reason to think she'd still be living in this college town more than a decade later. But here she is.
A 2013 graduate of UVA, Mitchell is in her eighth year as a systems engineer for Charlottesville-based Virginia Diodes Inc., which manufactures test and measurement equipment.
She's also one of the top players in the 41-year history of Virginia's softball program.
Mitchell, a 6-foot-1 right-hander who grew up in White Plains, Md., about 30 miles south of Washington, D.C., was a two-time All-ACC pitcher at UVA. She holds school records for complete games in a season (34), innings pitched in a season (286.2), career complete games (117), career victories (79), career starts (144) and career strikeouts (1,101). She's tied with another noteworthy alumna, Lisa Palmer, for most pitching wins in a season (27).
As a freshman in 2010, Mitchell posted a 27-18 record, with a 2.86 earned-run average, to help the Wahoos advance to the NCAA tournament for the first time. They've yet to return.
Eileen Schmidt was the head coach of the 2010 team, which had "an interesting mix of first-years, seniors and fifth-year seniors," Mitchell recalled in a Zoom call this week. "You could tell that the veterans on that team really wanted it. They weren't going to push you around, but they were a great example of how to show up and how to be professional.
"The younger girls could really tell that [the upperclassmen] deserved it. Our first-year group had a lot of energy coming in, and we were kind of like injected into that system. We really saw that those seniors had been through so much, with coaching transitions and injuries and just so many hardships, and I think we just all came together."
Virginia went 1-2 in the NCAA tournament that year. Mitchell fully expected more appearances in the NCAAs to follow, but "we just couldn't get quite where we wanted to be," she said.
In 2011, a strained oblique slowed Mitchell, and UVA's record dipped to 24-31. The Hoos finished 26-25 in 2012 and 21-28 in 2013.
"I wish I would have done better [in such categories as] ERA or win-loss record year to year," Mitchell said, "but there were just some unfortunate circumstances where our hitting really didn't match our defense, and we'd lose by maybe one run, and if you lose a few one-run games over a stretch of 10 games, it just doesn't kind of work out. But we had a lot of fun."
Balancing athletics and academics was challenging for Mitchell, who majored in systems engineering in UVA's School of Engineering and Applied Science. She credits the support she received from Schmidt, a former Virginia softball star.
"Honestly, she kept me in engineering," Mitchell recalled. "I was about this close to switching out of the engineering school my first year, just because it was so tough."
Mitchell took at least 15 credit hours each semester, and she often had to miss practice because of classes.
"My third year I only practiced on Fridays with the team," Mitchell said. "I was throwing Tuesday, Thursday by myself, lifting with the team, but actual on-the-field practice just one day a week. That's really tough, and your coach really has to put faith in you to make all those other practices to pull it off."
As a fourth-year, Mitchell began interviewing for engineering jobs. She knew she wanted to stay on the East Coast, and she met with several companies in Northern Virginia. Then she interviewed with VDI, whose founder taught engineering at UVA.
"It was just so different," Mitchell said, "because it was a smaller company, less bureaucratic, very flexible, and they put a lot of trust in me as an employee because I was a student-athlete."
The qualities required to succeed in college athletics have proved invaluable in the working world. In the performance reviews she received in her first few years at VDI, the company's management noted that she'd translated her "softball leadership skills into the workplace," Mitchell said.
"I think as a student-athlete, you don't really think that you're that much of a leader, but there's so much time management, so much coordination and communication skills between people, that you just take for granted when you're in school. And then you get out of school and you realize it's really important to have those communication skills, showing up on time for meetings, delivering when something's due on a deadline."
Mitchell, who's getting married this spring (to a fellow UVA graduate), remains connected to her alma mater's softball program. She provides analysis on many ACC Network Extra broadcasts of UVA home games. The Hoos are in their fifth season under head coach Joanna Hardin.
"It's been exciting to see Coach Jo bring in girls that really seem like they're very like family-oriented and committed to the program," Mitchell said. "They're just willing to work together. It looks like they have a lot of fun. I don't know any of them personally, but it's kind of nice to be a little detached as the years go on. Then you can just kind of sit back and enjoy it."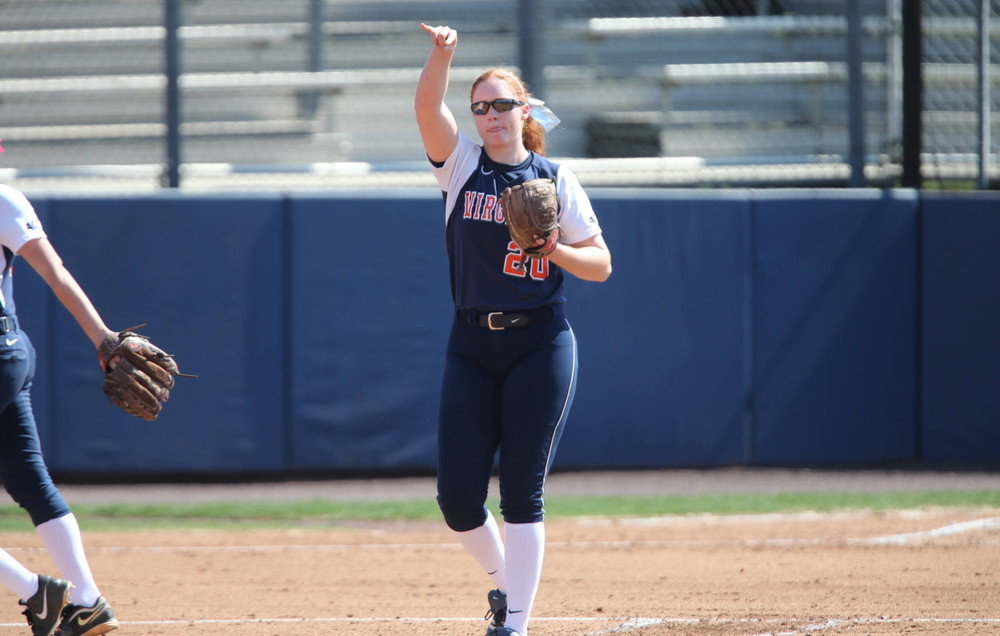 In a four-game ACC series, UVA (6-5, 2-3) hosts Clemson (9-2, 4-2) at Palmer Park this weekend. The teams will play one game on Friday (5 p.m.), a doubleheader on Saturday (1 p.m. start), and one game on Sunday (noon).
All four games will be streamed on ACCNX, and Mitchell will provide analysis on Saturday and Sunday.
The Cavaliers have "a lot of pitchers this year, which I'm excited to see in person," she said. "It's going to be good to see this weekend how they're adjusting. I'm really excited. I'm really hoping it works out for them this year."
Mitchell marvels at Palmer Park, the stadium into which the Cavaliers moved last year. During her career, UVA played its home games at The Park, a nondescript venue tucked away in a remote corner of North Grounds.
Palmer Park, at the corner of Massie and Copeley roads, has a prominent location near Lannigan Field, Klöckner Stadium, Disharoon Park and John Paul Jones Arena.
"I'm so jealous," Mitchell said. "It's just beautiful. I went for a run a few days ago, around the athletics Grounds, and all the cars for the softball girls were parked right across the street from the stadium."
She smiled. "I was like, 'Man, they can park at the stadium, they can hit batting practice in the stadium, they can eat there, they can do homework there, they can watch film there. Their equipment room is separate from their lockers, so they don't even have to bring their cleats into the locker room.' It's just a fantastic modern facility that was really needed."
As a UVA undergraduate, Mitchell had little down time, and she thrived in that environment. The COVID-19 pandemic forced her to cut back on activities outside work, and that was a difficult adjustment for her.
"It was basically just like I was working and doing nothing else," Mitchell said. "I love what I do, but working all week is not as exciting as being able to work my full hours and then have a volleyball game [to watch] here, or a softball game to announce here, and just kind of mix it up a little. But I'm excited that we're kind of transitioning into being able to do more."
To receive Jeff White's articles by email, click here and subscribe.