By Jeff White (jwhite@virginia.edu)
VirginiaSports.com
CHARLOTTESVILLE –– Claire Constant, born in Boston, moved with her family to Northern Virginia before her first birthday. Growing up in Alexandria, she had no intention of attending the University of Virginia. A three-time All-Metro soccer player at T.C. Williams High School, Constant envisioned herself at a college much farther away from her hometown.
"I was always like, 'I'm not going to Virginia. No way,' " Constant recalled this week. "I just got it in my head that it was not the place for me."
Her stance changed when the Cavaliers began recruiting her in earnest. She met head coach Steve Swanson and started learning more about the University.
Constant, whose father is from Haiti, eventually chose UVA over Penn State, and she now sees Charlottesville's proximity to Alexandria as a blessing.
"I'm so thankful that I'm two hours away from my family and they can come to all my home games," Constant said. "It's amazing."
Constant, a defender in Swanson's program, enrolled at UVA in the summer of 2018, as did Rebecca Jarrett, a forward from Washington Township, N.J. They're now the closest of friends and host a podcast together, but their relationship didn't get off to the smoothest of starts.
"It's funny, because we actually did not gravitate towards each other at all," Constant said. "We've talked about this on the podcast a little bit as well, but we did not like each other initially at all. We just both have strong personalities that were literally completely opposite. She's very much like, 'This the way I do things, this is how it has to be done,' and I'm like, 'Whatever. Who cares?'
"Our first year, it wasn't like we were constantly battling. We got along in the locker room, and then outside we would not hang out like that at all. But after that year, we became extremely close, and she's been such a great friend."
Their podcast is called the Golden Hour. They launched it last summer in part to stay productive during the COVID-19 pandemic. Jarrett handles the editing, Constant said, which can be time-consuming.
Asked in the fall about the podcast, Jarrett said, "We've talked a little bit about soccer, we've talked a little bit about race, we've talked a little bit about school. Whatever we're feeling in a week we'll talk about the most."
This semester, Constant said, the "theme has kind of been: Women who can send a message. We've had a physician assistant, Becca's sister, talk with us, then we've had a TikTok influencer talk with us. Women with a story has been kind of our theme."
Like Jarrett, Constant did not room with a fellow student-athlete as a first-year. Neither wants to be defined by soccer, and "making friends outside of the athletics world was amazing," said Constant, an American studies major.
"Since then I've just met the best people here, and it's been great with athletics to get involved and get to go to all these other games and meet all these other athletes who are so dedicated and passionate and just amazing people. It's been really, really great, and the professors here are amazing and so passionate about what they're doing, which makes classes 10 times more enjoyable."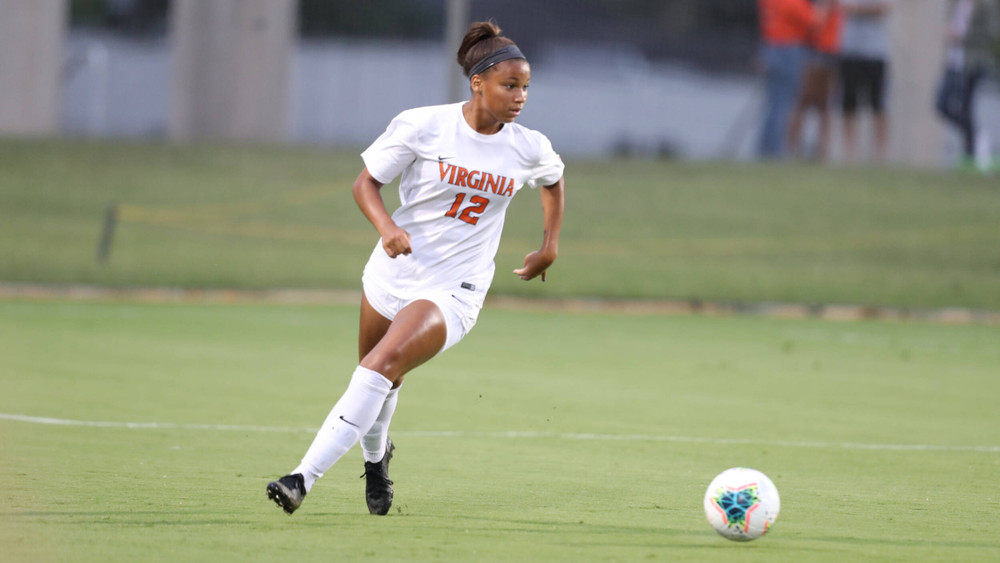 On the pitch, Constant has been a mainstay in the Wahoos' defense, mainly at center back but also on the outside.
"She's versatile," Swanson said.
For Constant, staying healthy has been one of her biggest challenges as a Cavalier. As a sophomore, two ankle injuries slowed her. Last fall, she missed some time due to contact tracing, and she's been dealing with a nagging injury this semester.
"There are days where I can play with it," Constant said, "and then there are days where there's too much pain that prevents me from doing certain movements."
Even so, she's missed only one game this season and has played a team-high 1,114 minutes. The Cavaliers have been following strict protocols during the pandemic, and because of contact tracing rarely had a full complement of players in the fall.
"It's been hard, obviously," Constant said, "We've been dealing with COVID for a while, and we've had people coming in and out of practice because of injuries. And because we're not playing nearly as many games, it's kind of hard to gauge where we're at, exactly, but I do think we're confident in where we are as a group. We're confident in each other, which I think is important, and so we know that no matter what's thrown at us, we're going to be OK. We have enough confidence in each other to trust each other and know that whoever's out on the field, whoever's on the starting 11, whoever's coming in, we're going to be fine."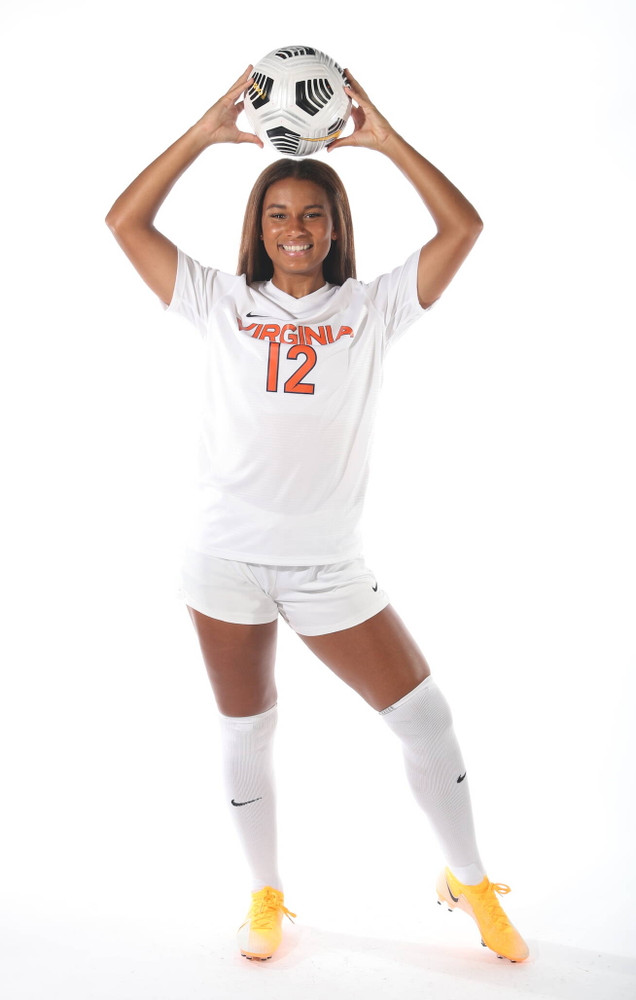 Virginia finished the fall with an 8-3-1 overall record after losing in the North Carolina in the ACC tournament semifinals. The ninth-ranked Hoos have played twice this semester, defeating George Mason 2-0 and VCU 2-1. Their next game is March 25 against JMU in Harrisonburg.
Against VCU, Constant scored the sixth goal of her college career.
"I absolutely love it," said Constant, who played a variety of positions for T.C. Williams and her club team, McLean ECNL. "It's so fun, especially when we do set plays and I get to be up [in the attacking third]. Sometimes I'll just hang out there even after the play is over and see what I can do."
Swanson said Constant has "a really good presence on set plays, and she's very brave. I'd say she's not scared to put her face in the fan when it comes to getting on the end of things.
"She's got some really good tools, and she does way more than just defend for us. She starts our attack and she can get on the end of set plays, and she's scored some big goals for us. She's a real competitor, too. She's got a fire in her belly, and I love that about her."
Swanson also praised Constant's willingness to challenge her teammates.
"She's a very generous, giving person, and she's got a really fun personality, too," "Swanson said. "but she's not scared to say her opinions. She's got a strong voice.
"I learn a lot from the players, and I've learned a lot already from Claire. She's helped me as a coach and as a person, and I really admire the traits that she has. She's very curious. She's not somebody that's scared to confront [a teammate] when it needs to be done."
Constant said: "As a center back, you have to have the loudest voice, so if we want the team to operate smoothly and something's not going right or someone's not doing their part, whether that's on or off the field, it's kind of like, 'OK, we've got to have that conversation then to make it right for the team.' It's all for the team."
To receive Jeff White's articles by email, click here and subscribe.