By Jeff White (jwhite@virginia.edu)
VirginiaSports.com
CHARLOTTESVILLE –– The University of Virginia's basketball teams not only practice at John Paul Jones Arena, they play many of their games there. The same is true for Virginia's baseball team at Disharoon Park.
UVA's golf teams practice at Birdwood Golf Course, a centerpiece of the Boar's Head Resort, but they almost always have to travel when they compete. Hosting an event with multiple college teams can be logistically challenging, head men's coach Bowen Sargent said, "and in our sport it's rare to play at home, and not many schools actually do it."
The Virginia men hosted the Cavalier Classic for years but stopped about a decade ago because of a conflict with the ACC tournament, Sargent said.
The Virginia women, whose first season was 2003-04, have never hosted a multi-team event at Birdwood, but that's about to change.
The Cavalier Match Play tournament will be held Tuesday and Wednesday at Birdwood.
"Our team is really, really looking forward to it," said UVA head women's coach Ria Scott, whose husband, Drew, played in the Cavalier Classic as an undergraduate at the University of North Carolina.
"Unlike other sports that have home games quite often, this is our first [Birdwood] tournament in program history, and our team is excited to be able to invite their friends out and invite student-athletes out from other teams."
The ACC women's championships will be held next week at Sedgefield Country Club in Greensboro, N.C. For the first time, Scott said, the ACC tournament will use not only stroke play but match play to determine its champion, a format already in place for the NCAA championships. ACC teams make up most of the field at Birdwood this week.
"I think teams are using this as an opportunity to really prepare for postseason," said Scott, who's in her third year at UVA.
At the ACC tournament, each team will play 54 holes, after which the top four teams will advance to match play. At Birdwood, the teams will be seeded 1 through 8, based on their national rankings. Five players will compete for each team, with each match worth one point. The winner will be the first team to earn three points. For more details on the tournament, click here.
"We'll also play consolation matches, so everybody is going to be guaranteed three matches," Scott said. "It should be really, really fun."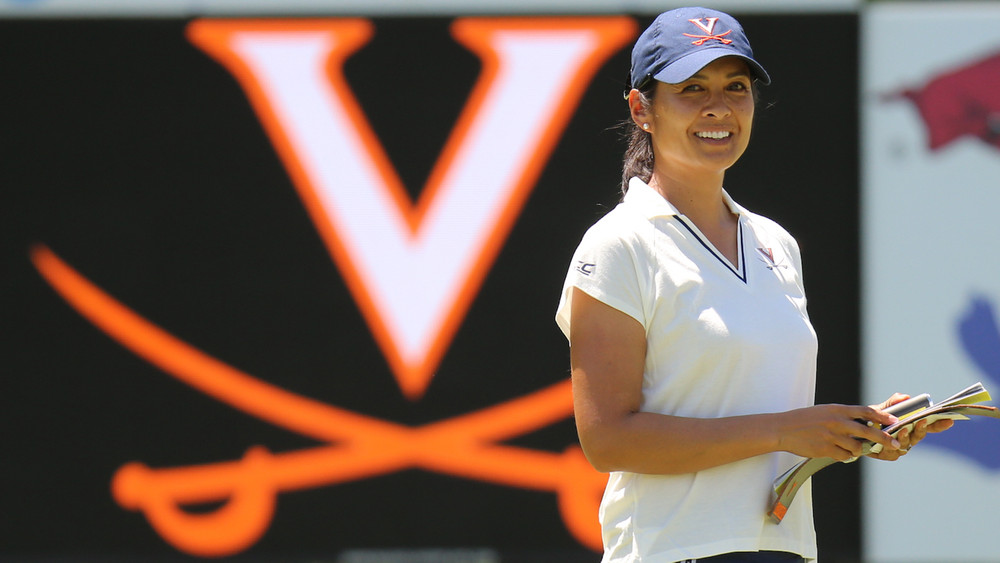 Tuesday's quarterfinal pairings: No. 1 seed Duke vs. No. 8 seed Richmond; No. 2 seed UVA vs. No. 7 seed NC State; No. 3 seed Virginia Tech vs. No. 6 seed North Carolina; and No. 4 seed Maryland vs. No. 5 seed Louisville.
The Wahoos' match with the Wolfpack will start at 9:05 a.m. UVA's next match will start at 1:35 or 2:15 p.m. Tuesday.
In the latest Golfstat rankings, Duke is No. 2, UVA is No. 12, Virginia Tech is No. 14, Maryland is No. 20, Louisville is No. 48, North Carolian is No. 52, NC State is No. 92, and Richmond is No. 129.
The Cavaliers are eager to show off Birdwood, which has undergone major changes in recent years. In the fall of 2018, the men's and women's team moved into the new Dean Family Golf Performance Center at Birdwood. The center includes six indoor hitting bays, two bays for video analysis, a putting studio, a fitness room, locker rooms and lounges for the players, coaches' offices, a club repair room, a conference space, and a nutrition station.
Across the street, the programs benefit from the new Lew Oehmig Short Game facility, which includes multiple hitting areas, targets, bunkers and greens.
Moreover, the course itself has been transformed. After being redesigned by Davis Love III and his company, Love Golf Design, Birdwood re-opened last summer.
"I was lucky enough to see the old Birdwood," Scott said, "and I think it's really made me appreciate new Birdwood as well. It's just got a good championship look to it. It's beautiful, and it makes you appreciate the scenery around the area, too. Our old course was just getting a little bit tired, and some of the slopes had gotten really extreme."
The renovation created a facility "where we can really host big tournaments and then potentially some championships down the line too," Scott said.
Sargent, who's in his 17th season at UVA, said there's no comparison between the old Birdwood and the new version.
"It's not even close," he said. "It's such a better golf course and more suited for college golf."
The UVA men are planning to host a tournament next spring, Sargent said. He has fond memories of the Cavalier Classic, which was an "opportunity for parents and family and friends and fans of the program to come out and watch," Sargent said.
"I know the kids on our team have friends other sports [at UVA], and they never get to see them play, so they don't know what it's all about. So I think from that perspective it'll be a nice addition to our schedule.
"More than anything, it's nice to be able to bring teams in here and have a home-field advantage, because in our sport it's huge. It's big in other sports, I know, but in golf I can't imagine there being a bigger home-field advantage than playing at home."
To receive Jeff White's articles by email, click here and subscribe.