By Jeff White (jwhite@virginia.edu)
VirginiaSports.com
CHARLOTTESVILLE –– As the associate head coach of one of Division I's premier volleyball programs, Shannon Wells could afford to be patient. She was in an enviable position at the University of Florida.
Still, Wells continued to monitor developments elsewhere in the sport, and when the head job at the University of Virginia opened unexpectedly this spring, she pursued it. UVA athletics director Carla Williams' search for a new coach ended last week with Wells' hiring.
"I've been looking for what I would call 'the right job' for the last few years," Wells said Tuesday at Memorial Gymnasium, "and so I've had a select few places [in mind] that I could go to where I thought the volleyball could grow. My ultimate dream is to be at a Power Five school and win a national championship, but I love the building phase as well."
UVA "kind of provides a unique opportunity to do both," she said. "And I know it's going to take some time to ultimately get to that national championship level, but with the people here, the things that you can sell from a recruiting standpoint, I just kind of fell in love from the very first time I got to talk with Carla."
Wells faces a formidable challenge at UVA, whose only two appearances in the NCAA volleyball tournament came in 1998 and '99. The Cavaliers have finished below .500 in each of the past five seasons.
"There's lot of room for growth then," Florida head coach Mary Wise said.
Wise is a towering figure in the sport. In each of her 30 seasons in Gainesville, the Gators have advanced to the NCAA tournament, and they've made eight trips to the Final Four. Florida lost in the NCAA quarterfinals this spring.
Wells spent seven seasons on Wise's staff, the past four as associate head coach. Wells was the Gators' recruiting coordinator for all seven years.
Wise said she sees Wells as "a rising star, with her skill set, her work ethic, and her personality. She's going to leave a mark well beyond Virginia volleyball."
At Florida, Wise said, the players are challenged to "embrace growth and try to get better, and Shannon has done that as a professional as well. I just think it's an ideal fit for a high-quality academic institution and athletic program that just needs the right person to lead them to that next step of being a consistent success. No doubt that will be Shannon."
This been an extraordinarily turbulent year for the Wahoos' program, and not only because of the COVID-19 pandemic, which resulted in the addition of a spring season to what is traditionally a fall sport.
The Hoos came out of the fall 0-8 in ACC matches and 1-8 overall. After opening their spring schedule with a win over Old Dominion, they lost their next four matches, all to ACC foes.
Then, on March 17, two days before Virginia was to host Florida State at Mem Gym, Williams announced that the team's coaching staff had been placed on paid administrative leave pending the review of an undisclosed personnel matter. A day later, UVA relieved the coaching staff of its duties and canceled the remainder of the team's season.
Wells spoke to the Cavaliers' returning players as a group early last week and has been meeting individually with players since then, mostly on Zoom.
"They've been fantastic," she said. "I think everything that they've been through has brought them closer together. They just really believe in each other, and they've leaned into each other a lot. I just keep telling them a group of powerful women is very scary for a lot of people and so let's just keep leaning in as we go through the course of the year and get to know each other better and get outside of our comfort zone a little bit. But they're hungry. They're invested in coming back for summer school and getting ready in July and making something really special."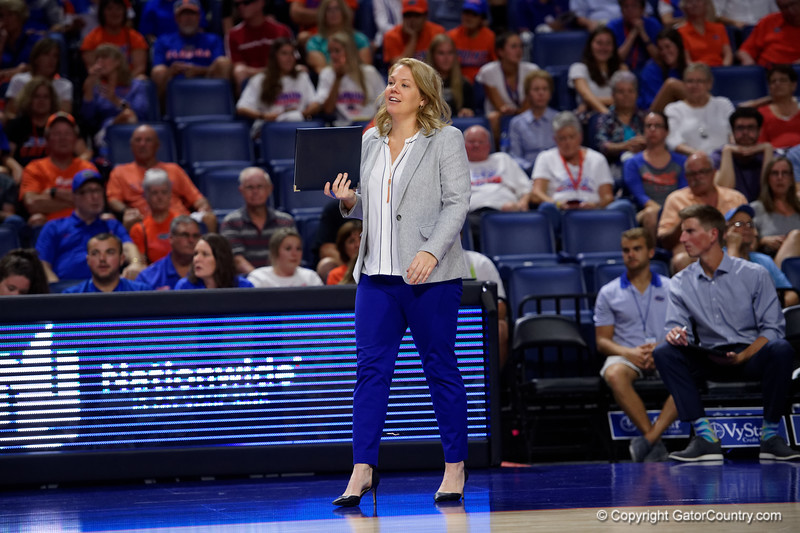 Thirteen players are expected to return for Virginia, which is adding three recruits: Brooklyn Borum, Ashley Le and Abby Tadder, all of whom signed in November.
"I've spoken with all three of them and had really good conversations," Wells said. "With a couple of them I got to meet some parents already. They're on board. They're invested, they're excited to get in here, and I'm excited to continue to get to know them."
Wells, who had never been to Charlottesville before interviewing for the job, already was familiar with two of UVA's current players: Milla Ciprian and Mattison Matthews. Ciprian is from the Jacksonville, Fla., area, and "I've known that family for a long time," Wells said.
Matthews' cousin Benavia Jenkins, now the head volleyball coach at East Tennessee State, was an All-America player at Florida, where she and Wells were roommates for a while. Moreover, Wells coached Matthews, who's from Charleston, S.C., on a USA Volleyball High Performance team at a summer tournament in Fort Lauderdale, Fla.
"It was in July, so it's hot," Wells recalled, "and our hotel is three quarters of a mile from the gym, and we have to walk. And so by the time you get to the gym, you're in full-blown sweat. You're practicing twice a day, and you're playing with players you've never played with before, playing some of the best competition in the country. It's exhausting, and Mattison was our Energizer Bunny. For 10 straight days, she brought the energy. She's an undersized middle [blocker], and as an undersized middle you have to be amazing at something, you have to be one of the best in the country at something, and to me it's her motor. That kid is non-stop."
When they spoke recently, Wells said, she told Matthews that the Cavaliers "are going to need that energy. We're going to need that motor throughout the rest of her career, and she committed to doing that."
Wells grew up in Merrillville, Ind., about 45 miles southeast of Chicago. She attended Southern Indiana University, where she played volleyball and, for two seasons, basketball. She then launched her coaching career as an assistant at SIU before moving to Morehead State, where she was a graduate assistant in 2005 and 2006.
Morehead State is where she met Kris Grunwald, who's joining her UVA staff as an assistant coach. Grunwald, who starred in volleyball at George Mason, is a former head coach at the University of Connecticut. He's also has been an assistant at Auburn, Arkansas, Florida State, Morehead State and Cornell.
She and Grunwald connected from the start, Wells said, "and I think we always thought in our future we would work together. At some point I thought that I would be his assistant. As time has gone on, we've kind of been able to flip those roles, but I'm just so excited to bring him on staff. I think the players are going to absolutely love him."
From Morehead State, Wells went to Winthrop University, where she spent three seasons as an assistant coach. Four years at the University of Mississippi followed for Wells, who joined Wise's staff at Florida in the spring of 2014.
Wells, who was associate head coach and recruiting coordinator in her final season at Ole Miss, said she hopes to fill out her new staff by the end of the week. The Cavaliers' coaches are targeting recruits in the high school Class of 2022, she said, and next month they'll be able to start communicating with the Class of '23.
"We have a good idea of the kids that we're going to go after," Wells said.
Wells, who's eager to get her Great Dane, Frank, to Charlottesville, is known as a stellar recruiter, and she's eager to share her vision for the program with prospects.
"I'm a people person," Wells said. "I just really enjoy getting to meet these strong women who want to do something amazing and go off to college and experience something on their own.
"I just want to find athletes who are the right fit, so I'll be really spending time getting to know who they are and their parents and their coaches and trying to find what they want in a college experience. At a place like this there are so many amazing things, from the University, the academics, the success of the athletic program, the people, Charlottesville in general. I think we're gonna be able to relate to a lot of athletes, and I think that the experience of building something and being one of the first teams to do something great is going to be fun."
The response from the program's alumni to her hiring has delighted Wells. During her interviews, Wells said, she heard about "this really invested, passionate alumni base. After I got the job one of my first priorities was to be able to reach out to them and make sure that they understood this is an open door. I want to hear about them, I want to hear their stories and, and I want this to be a place that they can come back to and be proud of and be with their kids and show them Mom's picture on the wall. I think that's what your college experience should be."
To receive Jeff White's articles by email, click here and subscribe.