CHARLOTTESVILLE –– For the University of Virginia men's soccer team, there was no suspense surrounding the April 19 announcement of the NCAA tournament field. With a 7-8-1 record, the Cavaliers knew they weren't getting in. Even so, it was jarring for them to see a bracket that didn't include UVA.
Not since 1980 had the Wahoos missed the NCAA tournament. Their streak of 39 consecutive appearances, a span during which they won seven NCAA titles, was the longest in college soccer history.
"When you've gone so long being in the postseason, it's very strange [to be on the sidelines]," UVA head coach George Gelnovatch said. "I don't know if that's even the right word, strange. It's disappointing that you're not in the postseason with a chance to compete for a championship like we always are."
In 2019, the Hoos advanced to the NCAA championship game in Cary, N.C., where they fell to Georgetown in a penalty-kick shootout. Four players from that UVA team who had eligibility left opted to turn pro––Daryl Dike, Joe Bell, Henry Kessler and Daniel Steedman––so 2020 was always going to be a stern test for the program, and the COVID-19 pandemic added another layer of challenges.
College soccer is usually a fall sport, but the NCAA altered its schedule this academic year because of the pandemic, moving its men's and women's tournaments to the spring. The tournaments' formats changed, too, with the men's field reduced from 48 to 36 teams.
The Cavaliers came out of the fall with a 3-4-1 record after losing in the semifinals of the ACC tournament. In late January, Major League Soccer held its annual SuperDraft, and midfielder Bret Halsey and goalkeeper Colin Shutler left UVA to pursue pro careers. Another MLS draftee, Nathaniel Crofts, left in late March and missed Virginia's final four games of the season.
Even with that talent drain, the Hoos stood 7-5-1 after defeating Central Arkansas at Klöckner Stadium on March 23. With one more win, Gelnovatch believes, Virginia would have received an at-large invitation to the NCAA tournament. But the Cavaliers, ravaged by injuries, dropped their final three games, losing at home to Duke and on the road to Louisville and Pittsburgh. And so they found themselves in an unfamiliar position when the NCAA tournament began.
"That was not fun," center back Andreas Ueland said. "We've been struggling this semester, for a lot of different reasons, but of course it was devastating to not be a part of the tournament."
Ueland, a third-team All-ACC selection this season, suffered a high-ankle sprain on March 13 and never fully recovered, and he wasn't the only Cavalier sidelined late in the season. Still, Gelnovatch, who has guided UVA to two NCAA titles (2009 and 2014), isn't expecting any sympathy for the team's struggles.
"Nobody feels sorry for Virginia soccer, and I get it," he said. "We've done too many things, won too many trophies, developed too many players for anybody to care or give a damn. We're just getting back to work, getting back to business. We have a good group of young guys [returning] and a very good group coming in, and I can rest assured we're going to be back to where we should be."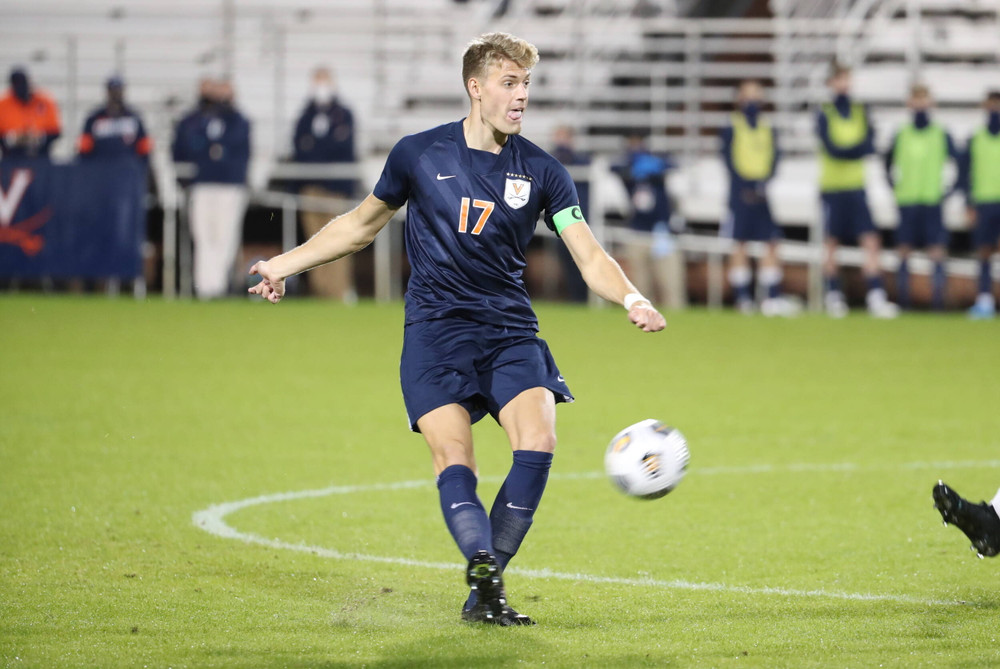 Ueland, a starter on the 2019 team, was already a fixture in the lineup. Players who emerged this year included Nick Berghold, Kaya Ignacio, Leo Afonso, Jules Anderson, Jeremy Verley, Oliver Gerbig, Alex Rando, Kevin Ogudugu, Philip Horton and Rafael Caipo.
"We had a lot of young guys this semester and the semester before that," Ueland said, "and they've all gained a lot of experience, so we can't say anymore that we have a young team."
The Cavaliers' roster will look much different in the fall. Gelnovatch announced Tuesday that 12 players will be joining the program. One of them is Daniel Wright, a graduate transfer from Duke. The other 11 newcomers will be freshmen, including two from Germany, one from Norway and one from Canada.
Gelnovatch's 25th season as head coach at his alma mater was unlike any other he's experienced. Still, he never faulted his players' effort.
"We were asking a lot of the group, in particular with all the injuries we had," Gelnovatch said. "Asking those guys to do what they had to do was really, really tough, but through it all there were some guys that we really thought developed that will definitely be foundational players for us moving forward."
The team's final meeting of the spring, Gelnovatch said, "was all positive. There was no feeling sorry for ourselves. The message was: 'We understand what went on. We understand that there's a good foundation here. We understand that when everybody is healthy and with what we have developing, we're going to be fine.' "
Ueland is heading home next week to his native Norway, where he'll continue rehabbing his ankle. "Hopefully I can play with my home club a little bit and get fit before I come back [to Charlottesville this summer]," he said.
Gelnovatch said he thinks every day about missing the NCAA tournament––"Not in a detrimental way, but in a way that's motivating"––and he's confident his returning players are similarly driven.
"There's a sense of heightened awareness," he said. "Let's put it that way."
Ueland agreed. "One hundred percent. I believe that the team will come back with motivation to do a lot better than what we did. A lot of stuff had an impact on us not participating in the tournament––COVID, young players, a lot of, lot of, lot of injuries. Not to say that that was the only reason, but if the players don't come back with a lot of motivation, then there's something wrong. I'm positive that the team will."
To receive Jeff White's articles by email, click here and subscribe.