By Jeff White (jwhite@virginia.edu)
VirginiaSports.com
CHARLOTTESVILLE –– University of Virginia men's lacrosse coach Lars Tiffany grew up in LaFayette, N.Y., about 10 miles south of Syracuse. In those days, the 53-year-old Tiffany recalled, there were essentially two lacrosse hotbeds: New York and Baltimore.
Philadelphia and New Jersey were coming on, but Tiffany might not have acknowledged them back then, he said this week. Texas and California? Forget about it.
Times have changed in the sport. Virginia has two players from Texas and five from California on its roster, and its incoming recruiting class includes two more Texans.
"Safe to say I didn't see this happening," Tiffany said.
Areas where the sport traditionally has been popular continue to produce top prospects, "but you can really supplement and find some fantastic lacrosse players and athletes in the emerging markets, as the financial guys like to call them," he said.
This is Tiffany's fifth season at UVA, where his latest team is seeded No. 4 in the NCAA tournament. In a first-round game that ESPNU will televise, Virginia (10-4) meets Northeast Conference champion Bryant (9-3) at noon Sunday at Klöckner Stadium.
Tiffany said he told his players Wednesday that the Bulldogs "will play harder than any team we'll play all year. So what we have to do is match and then one-up them in terms of that intensity."
As usual, much will be asked Sunday of Cade Saustad, one of the Wahoos' Texans. A 6-foot-5, 215-pound defenseman from Dallas, Saustard earned a starting job in Tiffany's program as a freshman in 2019, and his importance to the team has only grown since then.
"Cade Saustad allows us to play defense in a way where we can neutralize an opponent's best offensive threat, typically their quarterback," Tiffany said, "and not worry about having to support him and not having to worry about sliding or doubling a really good feeder. That liberates us in so many ways with how we can play defense, as opposed to having to double team an opponent's best feeder and then leave other people open."
Saustad had multiple options as a two-sport standout at Highland Park High School. As a ninth-grader, Saustad committed to play lacrosse at UVA, whose head coach then was Tiffany's mentor, Dom Starsia. But Saustad also was an exceptional wide receiver who helped the Scots win two state football titles, and Division I scholarship offers came his way after his record-breaking senior season.
"I thought about it," Saustad said this week, "but the whole process of lacrosse–– practice, games, just overall––I enjoyed it more. And I had to remember that my last memory of football was that state championship, and it's not always like that [for players]."
Football remains king in Texas, and Highland Park, whose alumni include Matthew Stafford and Pro Football Hall of Famers Doak Walker and Bobby Layne, has a stadium that seats 9,500, as well as an indoor practice facility. Saustad's football teammates at Highland Park included Matt Gahm, who went on to play linebacker at UVA.
As a boy, Gahm played lacrosse, too, but he gave up the sport to focus on football in high school. Saustad continued to play both, and he took a big step forward as he prepared for his senior year.
"My junior year, I was good, but I was 6-5, 188," Saustad said. "I was so skinny. And so that summer I decided, 'All right, I'm going to take this seriously,' and I transformed my body and I got more athletic."
Still, he arrived at UVA with modest goals in the summer of 2018. "I just wanted to be able to step on the field [as a freshman], whether it was a backup role or anything, maybe get a run at [long stick midfielder] or something like that," Saustad said. "I had no idea that I would be able to start and have the role that I did."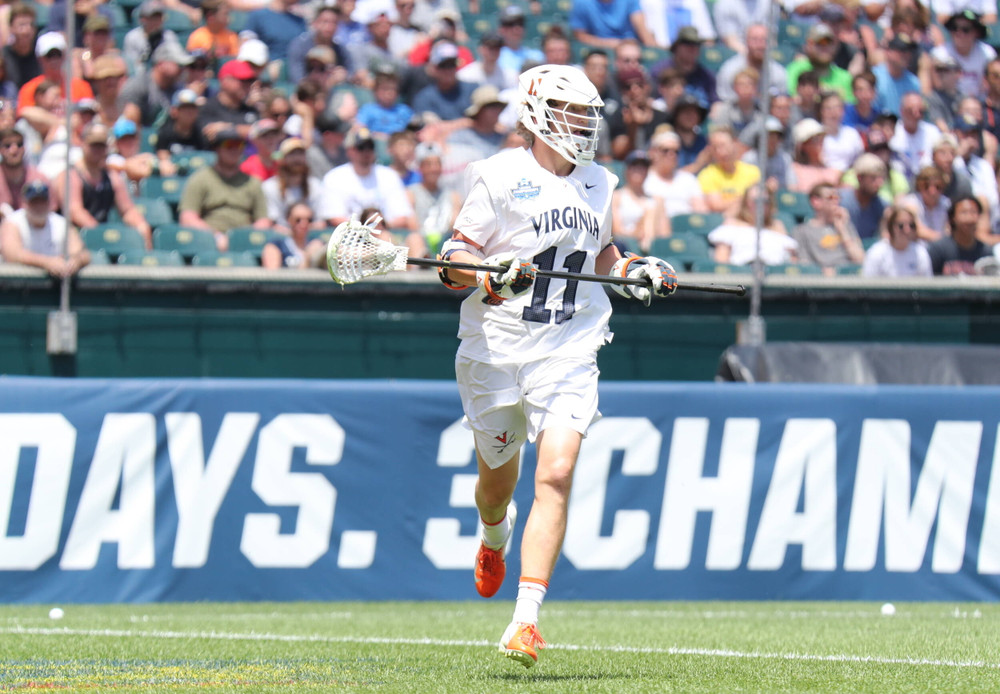 He ended up starting 19 of his team's 20 games in 2019, a season that ended with the Cavaliers' sixth NCAA title.
"I had get adjusted to the speed of college lacrosse, and then obviously there's the confidence factor," Saustad said. "Being able to go up against our offense every week [in practice] definitely helped me a lot. It was weird, being a freshman on that on that team. I just kind of let other people tell me what to do. I relied on other people."
Those veterans included midfielder Ryan Conrad and defenseman Logan Greco. Even at the Final Four, Saustad recalled, "I'm like, 'All right, there's nothing special I have to do. I can rely on Conrad to make those plays. I'm going to trust him that we're going to win this game, I'm going to trust the other two defenders.' I just kind of played my own game. So it was an interesting year, and with the fact that I was so young, I just kind of relied on the experience of other people."
He played the second half of the 2019 season with a sprained right ankle. That summer, while training, he re-injured it. "I came down on its really hard, the worst I'd ever done it," Saustad said.
An extended rehab followed, but his ankle didn't heal, and in the fall of 2019, Saustad underwent an operation called a Brostom repair, in which the ligaments on the side of his ankle were reconstructed. He expected to be  ready for the Cavaliers' 2020 opener against Loyola (Md.), but a setback in his recovery kept Saustad on the sideline when the season began.
"I develop some sort of osteoporosis," he said, and a visit to a specialist in New York followed. "I had to change my diet, with a lot more calcium and dairy," Saustad said.
His condition improved, and he was close to being cleared when the COVID-19 pandemic abruptly shut down college sports in March 2020. The Cavaliers were 4-2 when their season ended, and Saustad's absence had been felt on defense.
UVA opened this season Feb. 6 against Towson. Saustad was back in the starting lineup, but he wasn't the shutdown defender he'd been in the NCAA tournament as a freshman.
"A lot of it was that I hadn't played in so long, and I was trying to like re-learn how to play again, or re-teach myself," Saustad said. "But the biggest part was just confidence, after being the defender I was my first year and then coming back and not being what I was. I was obviously not happy about it and didn't have as much confidence."
He kept working, though, and eventually regained his form. "It happened through practice," Saustad said. "There was there was one practice where I played really well against our offense, and it clicked for me that I still could play it the level I used to play at, and I just built on it from there."
Tiffany said that "as he did through the second half of his first-year season with Virginia, Cade is proving again, now that he's 100-percent physically, that he's able to neutralize the best players in the nation, and that allows the rest of the defense to focus on [the opponent's] remaining offensive players. It's tremendously liberating."
For the Cavaliers, four-year starter Kyle Kology is "the voice of the defense," Tiffany said. "He's our middle linebacker." But Saustad, an economics major, is no longer a freshman surrounded by upperclassmen. Greco mentored him in 2019, and now it's Saustad's turn to fill a similar role on the defense.
"Logan kind of taught me everything he knew when I was a freshman," Saustad said, "and now I'm just trying to teach these younger guys everything I know."
He smiled. "Like I said, I was relying on other people [in 2019]. It's definitely more stressful this year. I'm obligated to try to do more for the defense."
His coaches are confident Saustad is equal to the challenge. "Cade does need to step into a bigger role there," Tiffany said, "and we will ask him to step into a bigger role in the future."
To receive Jeff White's articles by email, click here and subscribe.