By Jeff White (jwhite@virginia.edu)
VirginiaSports.com
CHARLOTTESVILLE –– In college lacrosse, the 2020 season ended long before any tournaments could begin, and Virginia's current lineup includes a handful of underclassmen who have little playoff experience. But for the Cavaliers' veterans––players like Matt Moore, Jared Conners, Ian Laviano, Dox Aitken, Alex Rode, Kyle Kology, Petey LaSalla and Cade Saustad––tense NCAA tournament games are nothing new.
En route to the NCAA title in 2019, UVA won two overtime games in the tournament, defeating Maryland in the quarterfinals and Duke in the semifinals. In each case Virginia overcame a sizable deficit. And so when the Wahoos found themselves trailing Bryant 10-8 late in the third quarter Sunday afternoon at Klöckner Stadium, they did not panic.
"We really weren't fazed," said Moore, a fourth-year attackman. "We were honestly kind of smiling, because it was a fun game. Bryant was a great team. You don't really think about the scoreboard. I know it sounds cliché, but I think specifically Ian and I, we just looked at each other and we just started laughing, and we were saying, 'We're coming back. We're fine.' And I think that translates to the rest of the team."
By the end of the third quarter of this first-round game, Virginia had trimmed Bryant's lead to 10-9. The fourth quarter belonged to the Hoos, who built a 13-10 lead before the Bulldogs scored with 2:42 left, and the final was 13-11.
Moore and redshirt freshman attackman Connor Shellenberger totaled five points apiece to lead the Cavaliers, with each contributing two goals and three assists. UVA goalkeeper Alex Rode matched his season high with 18 saves.
"It's a treat to be coaching this team," Virginia head coach Lars Tiffany said. "It's a treat to be in the NCAA tournament."
With the victory, fourth-seeded UVA (11-4) advances to meet fifth-seeded Georgetown (13-2) in the NCAA quarterfinals Saturday at Hofstra University's James M. Shuart Stadium in Hempstead, N.Y. ESPNU will televise the noon game.
"I'm really, really excited about how we responded in the fourth quarter," Tiffany said Sunday. He was equally pumped at the initiative his players showed after the third quarter. The Cavaliers gathered together for a quick players-only meeting led by John Fox, one of the team's captains.
"I thought that was great," Tiffany said, that the players took responsibility "instead of looking around and wondering who's going to take charge … So I loved what I saw."
Moore said the players "kind of just looked each other in the eye. Not much was said. John had some words of motivation to say, but really other than that we were kind of just looking at each other. You had guys smiling, guys just believing in each other."
Redshirt freshman attackman Connor Shellenberger said: "Everyone was pretty relaxed, and it says a lot about the leadership and the guys that have been here before. We have Dox and Matt and Ian and Rode who have played in big games, big moments and made big plays, so us younger guys can kind of look at them and kind of rely on them to know that there's no need to panic."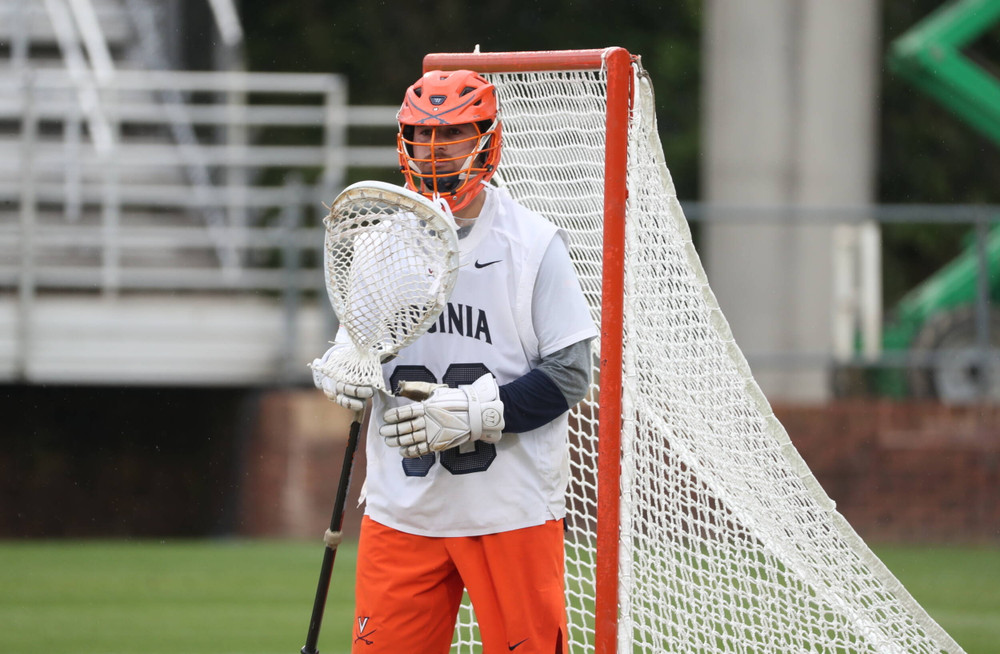 For Northeast Conference champion Bryant (9-4), the loss ended its 15th season under former Duke head coach Mike Pressler.
"I felt we were the better team today for three quarters," Pressler said. "You're up 10-9 in Klöckner Stadium against the Wahoos in a playoff game. But give Virginia credit, that four-goal burst [in the fourth quarter] … proved to be the difference. To beat a great Virginia team, the reigning national champions, on their field, you've got to play 60 full [minutes] and we played 45. And that left 15 minutes that, for a lot of reasons, got away from us."
Tiffany and his assistant coaches, Kip Turner and Sean Kirwan, came to UVA from Brown, where they regularly faced Pressler and the Bulldogs.
"From our years in Rhode Island, the Brown-Bryant battles, I'm not surprised at all that this was another slugfest," Tiffany said.
This is Tiffany's fifth season with the Cavaliers, who hadn't played since April 24, when they lost 13-11 to ACC rival Syracuse at Klöckner Stadium. To try to keep his team sharp during the long layoff, part of which coincided with final exams, Tiffany followed a training schedule recommended to him by Bronco Mendenhall, UVA's head football coach.
"You don't choose a three-week layoff," Tiffany said, "but if you have one, then what do you do, and I thought his plan was great."
Still, Tiffany said, "nothing replaces a real game, with the officials and the loud crowd. Give Bryant credit, they traveled well. This was not a big-time home-field advantage [for UVA]."
The Hoos came in having won 61.7 percent of their faceoffs this season, but they had mixed results against Bryant's Jacob Alexander, who won 16 of 27 draws against LaSalla (5 of 16) and Gable Braun (6 of 11). The Bulldogs' edge in possessions forced UVA to play defense for long stretches, and Tiffany was pleased overall with his team's performance at that end of the field.
"We didn't have a great day," Tiffany said, "but we had a good day … I thought we timed our slides well, and we gave them shots that for the most part were the shots we wanted Alex Rode to see, and he gobbled up most of them. Alex Rode was simply fantastic today. He's proven that that's not unique for him in the month of May."
Rode was named the NCAA tournament's Most Outstanding Player in 2019 after making 43 saves in UVA's four games. That the Cavaliers' first-round game was close Sunday did not surprise Rode, a senior from the Baltimore area.
"Everyone wants to win by a lot and have it be easy," he said, "but they're a good team."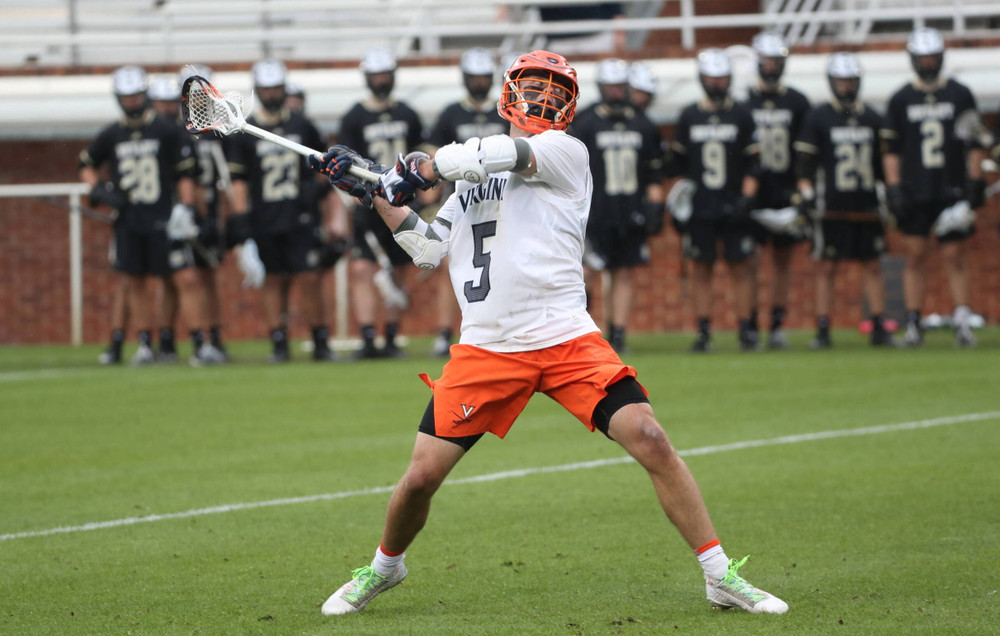 After the Bulldogs scored four unanswered goals to take a 10-8 lead, Moore passed to sophomore midfielder Peter Garno for the goal that started the Cavaliers' comeback. That made it 10-9 with 1:24 left in the third quarter, and defensive midfielder Grayson Sallade's unassisted goal tied the game 12 seconds into the final period.
Sallade, a junior, has steadily improved over the course of the season, Tiffany said, not only as a defensive middie, but in his "ability to create in transition. And so when he scored a goal today, it wasn't surprising, because we've been seeing that a lot lately in our intrasquad scrimmages."
Laviano, a fourth-year attackman, has scored 119 goals as a Cavalier. The second of his two goals Sunday, an acrobatic shot off a feed from redshirt sophomore Xander Dickson, put Virginia ahead to stay with 9:23 to play. Redshirt sophomore Payton Cormier and graduate student Charlie Bertrand recorded UVA's final two goals
The Cavaliers' scoring came at the expense of Bryant goalkeeper Luke Caracciolo, who made eight saves Sunday. He's the brother of Danny Caracciolo, a former Bryant lacrosse player who's now the starting long-snapper for UVA's football team.
For Shellenberger, who redshirted last season, this was this NCAA tournament debut.
"It was definitely exciting, especially having it here at Klöckner after three weeks off," said Shellenberger, a graduate of nearby St. Anne's-Belfield School. "We were just all ready to play, and then the fact that it was an NCAA tournament game made it even better. So now we're all just ready to go."
The tournament started Saturday with four first-round games, all of which were televised. Watching them, Shellenberger said, reminded the Cavaliers that "anyone can beat anyone … We knew Bryant was going to bring the energy and we were going to have to show up and play. As you saw today, that was definitely the case, and I think it definitely prepared us well for Georgetown, not just having some cakewalk into the second round."
To receive Jeff White's articles by email, click here and subscribe.