By Jeff White (jwhite@virginia.edu)
VirginiaSports.com
CHARLOTTESVILLE –– Seconds into the May 15 race, disaster struck the University of Virginia's No. 2 boat at the ACC Rowing Championships in Clemson, S.C. In the Second Varsity Eight final, which the Cavaliers were favored to win, Hailey Barnett's seat came off the tracks on which it was sliding.
Barnett later learned from UVA head coach Kevin Sauer that, if she'd held up the seat in the first 100 meters of the 2,000-meter race, the referees would have halted the proceedings. The seat could have been re-attached to its tracks, and the race would have been re-started.
"But she didn't realize that, and that was my bad," Sauer said. "Hailey told me, 'I wasn't sure. Things were happening so fast, I just kept going.' And she just kept going for six-and-a-half minutes."
Barnett said: "It had never happened to me before, but I was like, 'I just need to do my best to adapt right now. This is the ACC final.' There's no way that I wasn't going to adapt to whatever was happening."
In the seat behind Barnett, at the bow of the boat, was Carrie Warner. She saw immediately that Barnett's seat had come off the tracks but wasn't sure if that would qualify as equipment breakage and thus allow the race to be re-started. Warner also wasn't entirely sure how far into the race the Cavaliers were. And so, like Barnett, she kept rowing.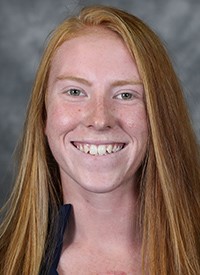 "Thankfully she was really calm about it," Barnett said. "She just knew that we were going to do whatever it takes to cross the finish line first. So she didn't freak out about it at all, and I didn't really freak out either. I was like, 'I can either get frantic and get crazy, or I can just put my head down and do my best to finish this race.' "
Warner said: "Honestly, at that point, I felt like if I yelled that something bad had happened, I would have stressed out [the rest of the] boat even more. I thought that if Hailey and I are the only ones that know what's happening right now and everyone else is just thinking we're having a bad row, they're going to push 10 times harder."
Sitting on the tracks with no seat to slide on, Barnett "was basically just using her back and arms," Sauer said. "That eliminates 70 percent, 80 percent of her power. It was almost like she was rowing a rowboat."
Warner was limited too. "I had to shorten my slide so I didn't hit Hailey," she said.
None of that kept the Cavaliers (6 minutes, 34.586 seconds) from edging Syracuse (6:36.454) for first place.
"The fact that they actually won the race is incredible," Sauer of the Second Varsity Eight, whose victory helped the Hoos capture their 11th consecutive ACC team title.
At the end of race, Warner said, the other rowers in the boat initially were perplexed that the Cavaliers hadn't posted a better time. Then she told them about Barnett's misfortune.
Their reaction? "They were in shock that they couldn't tell that it was happening and I rowed without a seat the entire time," Barnett said. "If somebody told me that, I probably honestly would be shocked, too, but you gotta do what you gotta do. I wasn't going to stop."
Barnett paid a physical price for her perseverance After the team returned to Charlottesville, "that's when my arms were really sore and my back was really sore, just from trying to get the full stroke with just my back and my arms," she said.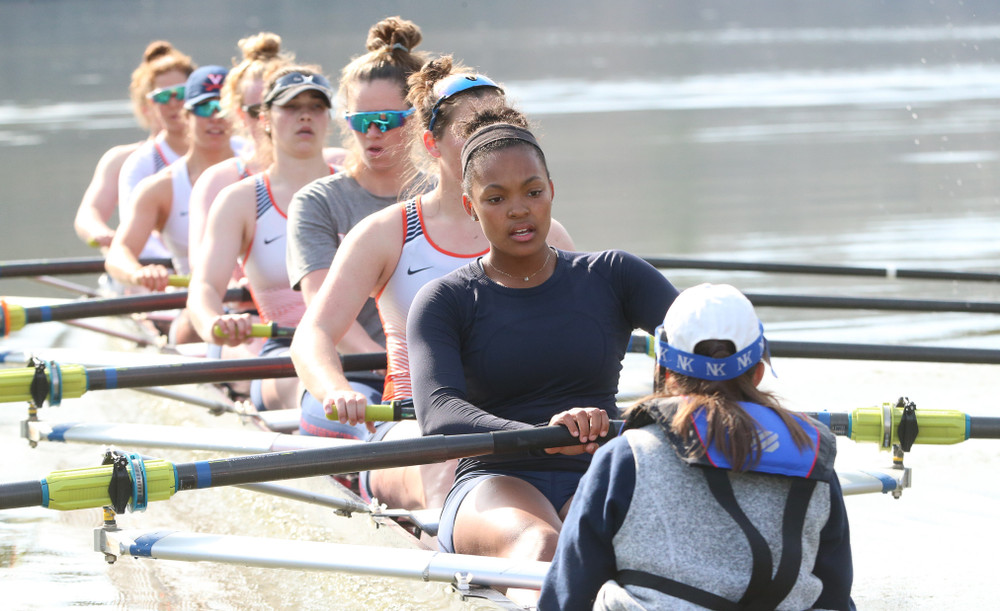 In his long coaching tenure, Sauer said, he can't remember a similar problem arising with a seat during a race, and he's confident there won't be a repeat at the final regatta of the season.
Starting Friday, UVA will compete at the NCAA Rowing Championships in Sarasota, Fla. The Hoos, who won NCAA team titles in 2010 and 2012, are seeded No. 4 in the Varsity Eight, No. 3 in the Second Varsity Eight, and No. 4 in the Varsity Four.
"We're going to give it everything that we have, prepare in the best way that we can," Barnett said. "We're going to be confident but not cocky and just do the absolute best we can. That's all that Kevin asks of us."
Barnett, who's from the Philadelphia area, is in her third year at UVA. So is her twin sister, Myla, who plays on the women's lacrosse team. Both graduated from the Baldwin School in Bryn Mawr, Pa.
Hailey is majoring in biology, with a minor in African-American and African studies. Myla majors in sociology and has a minor in entrepreneurship, "so different sports, different majors," Hailey said.
That the sisters, who have led social justice initiatives at UVA, grew up to be Division I athletes is not surprising. Their father, Fred Barnett, is a former NFL wide receiver, and their mother, Jacqueline Barnett, was a classically trained ballet dancer.
"My sister and I grew up playing a lot of different sports," Hailey said. "She was in gymnastics and diving, and then I tried field hockey and cross country. She was in volleyball, I was in tennis. We tried every single sport."
In middle school, they picked up lacrosse. Myla fell in love with the sport. Hailey?
"I didn't really enjoy it as much," she said. "I didn't really like the combativeness of the sport. I'm also more of a nature person. I did swimming for a long time, so I'm comfortable around water, and my mom encouraged me to get into rowing, which is as intense a sport as lacrosse but without that person-to-person [component that involves] shoving somebody. So that's how I got into crew, and I loved it so much time from the first time I started rowing."
Myla was a sophomore in high school when she committed to play lacrosse at UVA. At the time, Hailey recalled, "I knew I was going to row in college, but I didn't know what school I was going to row at. So I looked at several different schools. And then when I came for my initial visit at UVA, I just loved everything about it. Kevin was awesome, and the team was also awesome. The academics were rigorous enough for me and it was really competitive, and my sister was also going to be there."
Hailey, who's about 5-foot-9, committed to UVA in the fall of her senior year at the Baldwin School. She enrolled at the University the next summer and joined the rowing team, where she's had a learning curve.
"She was more of a fast-twitch person before, and she's really worked on her aerobic base," Sauer said. "So as she's gotten better and better with her aerobic base, she's gotten better and better at longer distances. She's had to work at that a lot over the last three years and has really made big gains."
Don't be surprised if Barnett earns a spot on UVA's top boat, the Varsity Eight, in 2021-22. She's an outstanding athlete who showed at the ACC Championships that she also possesses an abundance of grit and toughness.
"There's no quit in this kid," Sauer said. "That's way beyond the call of duty. That's warrior status right there."
Warner agreed. "I can't imagine anyone else being able to deal with the situation like that and then come through it."
To receive Jeff White's articles by email, click here and subscribe.