By Jeff White (jwhite@virginia.edu)
VirginiaSports.com
When Virginia hosted North Carolina in men's lacrosse on March 11, the official attendance at Klöckner Stadium was 288. In their regular-season rematch, April 10 at Dorrance Field in Chapel Hill, N.C., the Cavaliers and the Tar Heels played in front of 690 fans.
The scene will be much different Saturday in East Hartford, Conn., where fourth-seeded UVA (12-4) meets top-seeded UNC (13-2) at noon in an NCAA semifinal ESPN2 will televise. Restrictions put in place at the height of the COVID-19 pandemic have been eased, and tens of thousands of fans are expected at Rentschler Field.
The stakes are much different this time, too. The winner will advance to meet second-seeded Duke or third-seeded Maryland in the NCAA championship game Monday.
For Virginia, which won the NCAA title in 2019, this weekend is an opportunity to secure back-to-back national championships for the first time in the program's storied history. The 2020 season was shut down long before any tournaments were held.
The Heels are back in the Final Four for the first time since 2016, when they won the NCAA title. Many of UVA's players, by contrast, were in key roles in 2019, among them goalkeeper Alex Rode, close defensemen Kyle Kology and Cade Saustad, faceoff specialist Petey LaSalla, long-stick midfielder Jared Conners, midfielder Dox Aitken, and attackmen Matt Moore and Ian Laviano.
Moore, who has 60 points this season, second on the team to redshirt freshman Connor Shellenberger (67), believes the Wahoos' big-game experience helps them stay poised in tense situations.
"I think late in a game, when we're either tired or down, there's a level of relaxation that we get into," said Moore, a third-team All-American. The Hoos know there's "no need to freak out … and I think that's kind of what teams that have been there before kind of understand."
Virginia advanced to East Hartford with a 14-3 rout of fifth-seeded Georgetown in the NCAA quarterfinals last weekend in Hempstead, N.Y. UNC edged unseeded Rutgers 12-11 in overtime on the same field.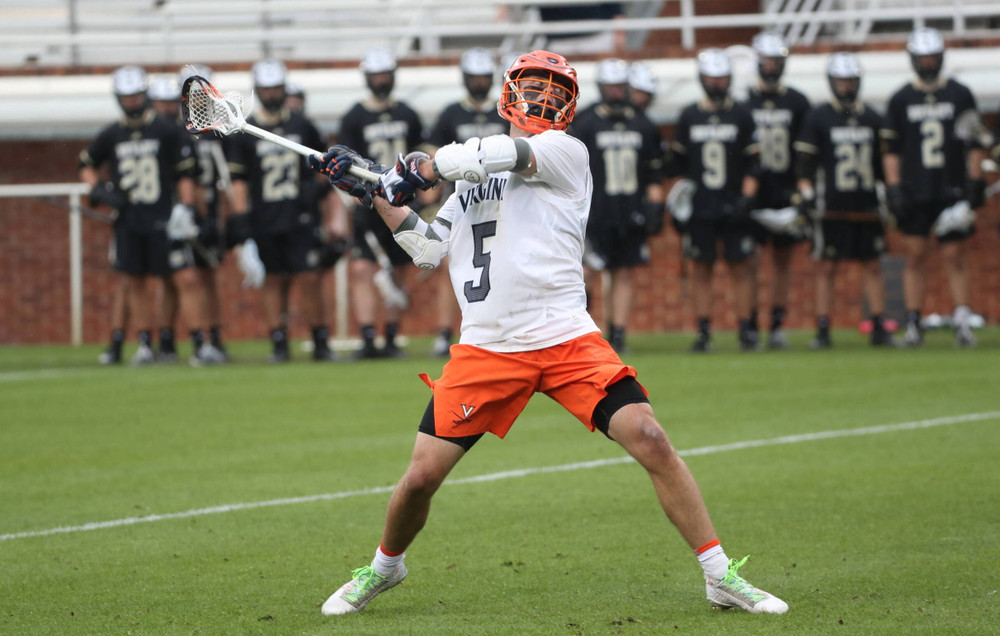 Shellenberger, who was named a first-team All-American this week, scored a career-high six goals and added an assist to lead Virginia's offense against the Hoyas.
"I can't speak highly enough [about] Connor," Moore said. "He is one of the most humble players I've played with. He doesn't care about his stats. All he cares about is winning. He'll do anything for the team. He'll play attack, he'll play middie, he'll play D-middie."
Shellenberger wasn't the only Cavalier who dazzled against Georgetown. Their all-around dominance pleased the Hoos, head coach Lars Tiffany said, but they must "maintain the same focus and edge" if they are to beat UNC.
In each of its regular-season games with Carolina, Virginia gave up 16 goals. The Cavaliers all but silenced Georgetown's powerful offense last weekend, but UNC figures to post a sterner test for their defense.
"We think it's improved as the year's gone on," Tiffany said, "and the number of goals allowed has dropped, but we also know North Carolina's offense is humming along and the best in the country. So, this will be a great challenge for us this weekend."
Having seen the Heels "twice before, we kind of know what their strengths are," said Kology, a third-team All-American. "They know what our schemes are, they know what our strengths are. It'll be about neutralizing some of those strengths."
At 6-4, Kology is the shortest of the Cavaliers' close defensemen. Saustad is 6-5, and true freshman Cole Kastner is 6-7. Conners, a first-team All-American, is 6-5.
"That length just allows us to have our sticks a little more in passing lanes," Kology said, "and it just kind of makes the field feel a little bit less open, I guess. Having those sticks, having Cole out there, having Cade, having Jared out there … just kind of makes the field a little smaller to the offensive players. Obviously, I've never seen it from the offensive side of the ball, but I'm sure those windows that we always talk about get just a little bit smaller, which makes it significantly harder."
The last line of defense is Rode, a senior who in 2019 was named the NCAA tournament's Most Outstanding Player. Rode, an honorable-mention All-American this season, made 18 saves in UVA's first-round win over Bryant this month and eight against Georgetown in the NCAA quarterfinals.
"I don't think he gets as much press as he deserves for his play," Kology said. "I think he's one of the most consistent goalies out there, and I wouldn't want anybody else behind me, regardless of if we're in May or early in February."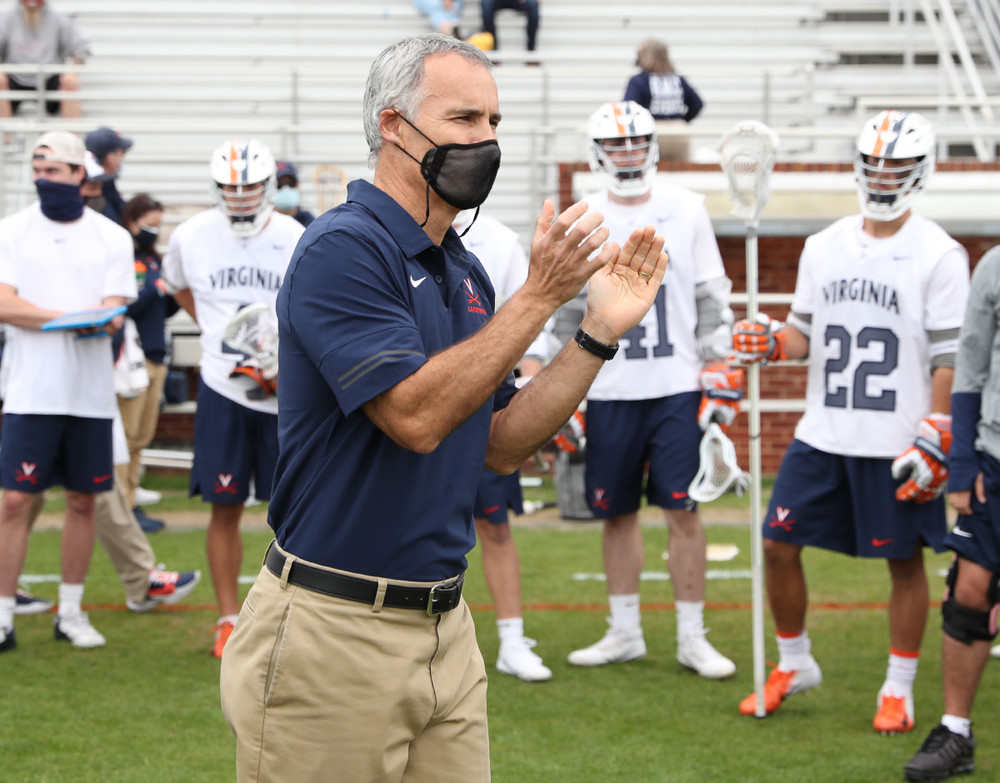 Working in practice against Rode and the Cavaliers' defense, whose rotation also includes Quentin Matsui, has helped the offense, Moore said.
"When I get into a big game like UNC or Bryant, or whatever game, and I go against these defenders," Moore said, "I immediately just go back to what I did in practice. If I can get a step on Cole Kastner or Cade or Kyle or Matsui, if I can get a step on them, I truly believe I can get a step on anyone. They know my game more than anyone in the NCAA. They know my strengths, they know what I do, so going against them in practice every day, I learn a lot. They give me some tips on what to do and I do the same with them."
When these teams met in Charlottesville, UNC prevailed 16-13. In Chapel Hill, Virginia won 18-16. In preparing for the ACC rivals' third meeting, Tiffany said, he's leaning heavily on the players, "because as I told them [Monday], 'Fellas, you've played them twice. You know them better than I probably do at this point, and so it's a collaborative effort in terms of what adjustments we do make and how we prepare for this team.' "
UVA has won six NCAA titles: in 1972 under head coach Glenn Thiel; in 1999, 2003, 2006 and 2011 under Dom Starsia; and in 2019 under Tiffany. The Cavaliers have a chance to make history this weekend, but that's not their primary motivation, Moore said.
"I know one of our captains talked about this a couple weeks ago, [how] every single team is different, and every Virginia lacrosse team is different," Moore said. "The seniors are gone, so we have a new group of freshmen coming in, and it's a brand-new team. So repeating is really not in our vocabulary, because it's a new season, and especially with the team we have now and with what we went through with COVID and the canceled season in 2020.
"We've been thinking and dreaming about getting to this point, and I honestly am glad that it's been two years since the last the last national championship, because we really don't think about 2019 much. Obviously, we think about the experience and what we've learned from it, but we really don't think about the pressure of repeating."
To receive Jeff White's articles by email, click here and subscribe.