By Jeff White (jwhite@virginia.edu)
VirginiaSports.com
CHARLOTTESVILLE –– In May 2005, Lars Tiffany was in the stands at Lincoln Financial Field in Philadelphia when the University of Virginia men's lacrosse team, on the verge of a huge victory, suffered an excruciating loss to Johns Hopkins.
UVA scored with 12.9 seconds left to take an 8-7 lead and needed only to win or tie up the ensuing faceoff to advance to the NCAA championship game. But the Cavaliers lost the faceoff, gave up the tying goal with 1.4 seconds remaining, and then fell in overtime to the Blue Jays.
Sixteen years later, this time as Virginia's head coach, Tiffany saw something similar nearly unfold. With 10.8 seconds left in last month's NCAA championship game in East Hartford, Conn., Maryland scored to cut Virginia's lead to 17-16.
Had the Wahoos controlled the faceoff that followed, they could have run out the clock and avoided any last-second drama. But Maryland's Luke Wierman won the draw cleanly and raced toward the goal.
"I had flashbacks," Tiffany said.
Unlike that 2005 game, however, this one ended happily for the Hoos. Goalie Alex Rode stopped Wierman's shot, and defenseman Cole Kastner picked up the ground ball and flung it down the field as time expired. After exhaling, the Cavaliers celebrated a second straight national title––a first for a program that has won seven NCAA championships.
"I keep pinching my neck," Tiffany said. "I'm literally pinching my neck. Is this really happening? Have we really won another title? It's wonderful. What an amazing feeling."
In March 2020, the COVID-19 pandemic shut down college sports long before the NCAA tournament was scheduled to begin. In 2019, at Lincoln Financial Field, UVA defeated Yale for the program's first NCAA title since 2011.
That national championship was the first as a player or coach for Tiffany, who was in his third year at UVA. Moreover, his father, Bradford, had passed away early that year, "and that was a big storyline," Tiffany recalled.
He wanted other storylines to take precedence this season. When the championship trophy ended up in his hands at Rentschler Field, Tiffany sprinted over to where his players were celebrating in front of the Cavaliers' fans.
"I looked like an idiot," Tiffany said, laughing. "I looked like Forrest Gump running across the field with the trophy, but I just wanted to get it to the guys. This is for them. Half the team hadn't won one of these, and I wanted them to have that trophy right away."
In 2019, he said, it "just felt like that was a lot about me. There's 48 other people here, and it just felt so good to really embrace them and see their eyes and see what that looks like."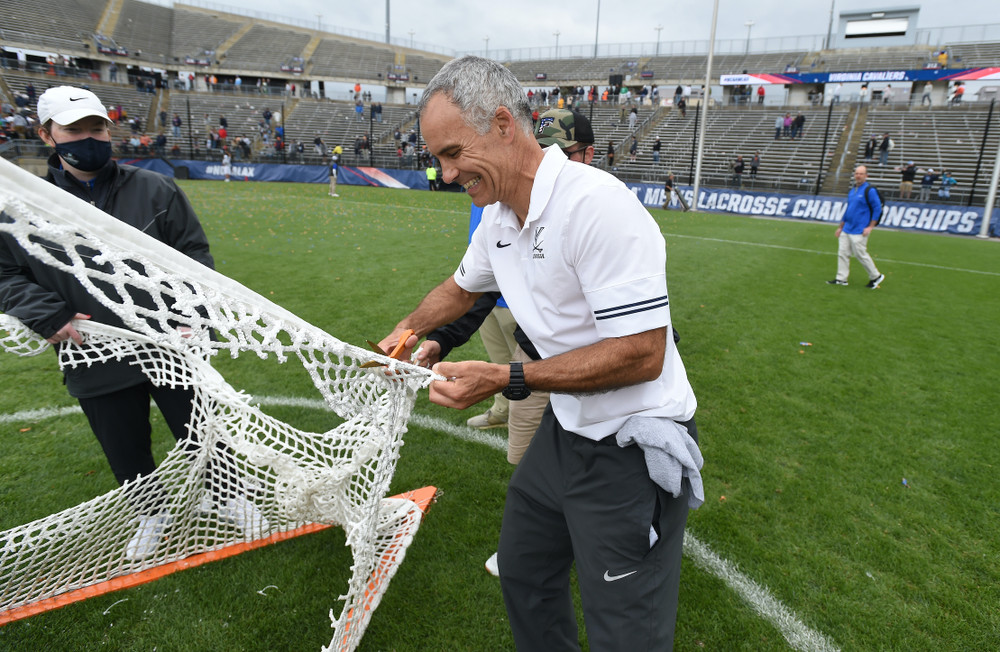 In men's lacrosse, the first NCAA tournament was held in 1971, with Cornell emerging as champion. Only three programs have won three consecutive NCAA titles: Hopkins in 1978, '79 and '80; Syracuse in 1988, '89 and '90; and Princeton in 1996, '97 and '98. (The NCAA later ruled that Syracuse used an ineligible player in 1990 and no longer recognizes that championship.)
Virginia hopes to join that group, and Tiffany won't shy away from acknowledging that goal with his players. He learned his lesson after the 2019 title, when he initially stressed how rare it was for teams to repeat as champions.
"I was pessimistic," Tiffany recalled, "and I was like, 'This is really going to be hard. We're going to have to work harder than we did before.' "
His approach changed after conversations last summer with his predecessor at UVA, Dom Starsia, and Brian Wiese, head men's soccer coach at Georgetown University.
Wiese pointed "out examples in history where teams have gone on two-, three-, four-year runs," Tiffany said. "He was like, 'No, this can happen. This is how it works.' And so after that call, almost a year ago, we were a little bit more open to talking about 2019, talking about repeating. I really like the happier, more open approach, so that's certainly what we're going to do moving forward.
"If people want to say 'three-peat' and steal Pat Riley's term, then we'll do that. But I'm going to have more fun with it this time. I was too draconian [after the 2019 title].'
With a strong core returning from their 2021 roster, and a heralded recruiting class joining the program this summer, the Hoos figure to have the pieces to contend for another championship in 2022.
Rode, the NCAA tournament's Most Outstanding Player in 2019, hasn't yet decided whether he'll return to UVA for another year, Tiffany said. But among those who'll be back are the Hoos' top three scorers this season: Connor Shellenberger (79 points), Matt Moore (67) and Payton Cormier (53).
Joining them will be such players as faceoff specialist Petey LaSalla, defensemen Kastner, Cade Saustad, Quentin Matsui and Scott Bower, long-stick midfielder Ben Mayer, midfielders Jeff Conner and Peter Garno, and short-stick defensive middies Grayson Sallade and Chris Merle.
Shellenberger, who has three years of eligibility left, was a first-team All-American and was named the NCAA tournament's Most Outstanding Player. Moore was a third-team All-American. LaSalla, a second-team All-American, won 62.4 percent of his faceoffs.
The 6-foot-7 Kastner, who might also play basketball at UVA in 2021-22, is an emerging star on defense, as is the 6-foot-5 Saustad, who in the NCAA championship game defended Maryland attackman Jared Bernhardt as well as anyone did all season. Last week, Bernhard received the Tewaaraton Trophy as the nation's top player.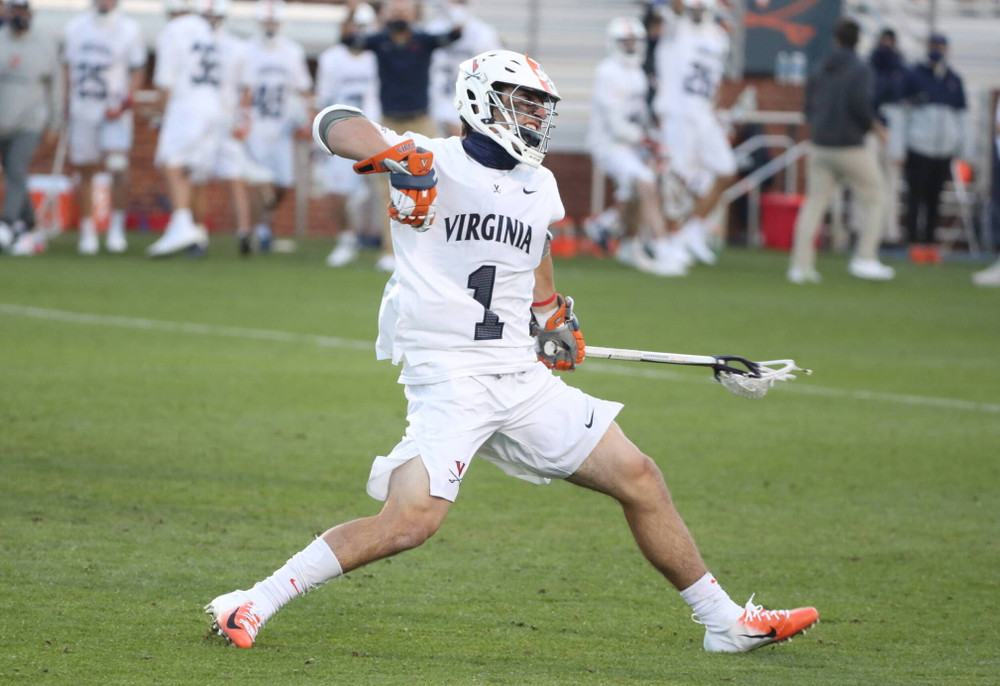 Virginia's departing players include attackmen Ian Laviano and Charlie Bertrand, midfielder Dox Aitken, defenseman Kyle Kology, short-stick defensive midfielder John Fox, and long-stick middie Jared Conners.
Fox and Conners were the Cavaliers' co-captains this season. Conners was a first-team All-American, and Kology was a third-team selection. Aitken, a first-team All-American in 2018 and '19, totaled 176 points in his UVA career, a program record for a midfielder.
None of those players will be easy to replace, but the outlook is far from bleak  at UVA.
"We do start in a good place," Tiffany said. "Then the question is: Do we go to the transfer portal?"
After the 2020-21 school year, UVA added only one transfer: Bertrand, who twice had been named Division II player of the year at Merrimack College. Bertrand filled the spot that opened with the departure of All-America attackman Michael Kraus, who opted not to return to Virginia for a fifth year.
In his one season as a Cavalier, Bertrand had 26 goals and seven assists and fit seamlessly into the program's culture.
"We found this incredible human being who's also a left-handed offensive player," Tiffany said. "It was perfect. But now we're in this quandary. There's some really good players out there [in the transfer portal], but it's like, 'Lars, don't get greedy. You've been talking all year about how we do it our way.' "
Virginia might end up adding two graduate transfers: a faceoff specialist and a middie. "There's a lot of names that are popping up now," Tiffany said. "There's a lot of activity, so we'll see what happens here."
Tiffany came to UVA from Brown University after the 2016 season, and his assistant coaches, Kip Turner and Sean Kirwan, followed him to Charlottesville. They're still with him, and Tiffany said the staff's continuity has been instrumental in the program's success.
"Having Kip with me for 11 years now and Sean for seven, that's so critical," said Tiffany, who also praised the contributions of volunteer assistant Cooper Fersen, like Turner a former UVA player.
At the championship game, the coaches' families sat together in a box at Rentschler Field, and "it was really special," Tiffany said. "It's a really, really tight-knit bond with the staff and the families. You see that with Bronco's staff, and it makes it special."
He was referring to Bronco Mendenhall, UVA's head football coach, who was also on hand for the championship game in East Hartford. The lacrosse team's regular season ended April 24, three weeks before the start of the NCAA tournament, and Mendenhall advised Tiffany on how best to approach the extended break between games.
"Wasn't that cool, that three-week plan?" Tiffany said. "I went upstairs and ripped up my next two practice plans. I was going to do things 100 times, because 99 is not enough. That's coach-think, right? Bronco had such clarity, and so much experience. Fourteen out of his 16 years as a head coach, he's gone to bowl games. It was fantastic. It was appropriate that he was there [for the NCAA title game]."
The fall of 2020 did not go as planned for Tiffany's program, in part because of COVID-19 issues. The Cavaliers rarely had a full complement of players available, and so they ended up practicing fewer times than most of their ACC rivals. Yet that didn't deter them when the postseason arrived this year.
"It does make you wonder: Do we approach the fall differently? Do we not smash into each other as much? Do we work more on our skill sets?" Tiffany said. "So there's a balance. I'm going to re-assess how we do the fall, because we just had success without grinding through 13 weeks of intensity."
To receive Jeff White's articles by email, click here and subscribe.