By Jeff White (jwhite@virginia.edu)
VirginiaSports.com
At the bottom of a pile of euphoric teammates Monday afternoon in Columbia, S.C., University of Virginia pitcher Matt Wyatt tried to protect the head wound that had required stitches after a recent weight-room mishap. But whatever discomfort he felt was worth it, Wyatt said later.
The fifth such celebration in program history­––the others were in 2009, 2011, 2014 and 2015––followed the conclusion of Virginia's 5-2 win over Dallas Baptist in the final game of their best-of-three NCAA super regional at the University of South Carolina's Founders Park.
The victory clinched the program's fifth trip to the College World Series, and "just to be able to be that guy on the bottom of the dogpile and get that last out was one of the best moments of my life," Wyatt said.
Only the most optimistic UVA fans would have predicted this moment back on April 1. The Cavaliers lost at Georgia Tech that night to fall to 11-14 overall and 4-12 in the ACC.
The Wahoos' revival began the next day in Atlanta, but they were anything but locks for the CWS when they arrived in Columbia on June 2. The Hoos, after all, were seeded No. 3 in a four-team NCAA regional. But nearly two weeks later, after winning six heart-stopping elimination games, they left Columbia in elite company.
The NCAA tournament began with 64 teams. Only eight remain, and UVA is one of them. For the fifth time in Brian O'Connor's 18 seasons as their head coach, the Cavaliers are bound for Omaha, Neb., college baseball's city of dreams.
In its first game in Omaha, Virginia (35-25) will play No. 3 national seed Tennessee (50-16) on Sunday at TD Ameritrade Park. ESPN2 will broadcast the game at 2 p.m. EST.
For O'Connor, who grew up across the Missouri River from Omaha in Council Bluffs, Iowa, and pitched for Creighton, it'll be a homecoming of sorts. He can't wait, and neither can his players.
The Hoos are "looking forward to heading back to Charlottesville today," O'Connor said, "and packing our bags for that small town in the middle of America."
The Cavaliers' postseason story is nearly as improbable as the one they authored in 2015, when, after entering the NCAA tournament as the No. 3 seed in the four-team Lake Elsinore (Calif.) regional, they went on to win the College World Series.
"Certainly, there's parallels to the '15 team," O'Connor said. "We didn't have the injuries [this season] that the '15 team had. We just weren't playing very good. But we did flip the switch, and we did what we had to do and rose to the occasion."
In 2014, the Hoos advanced to the CWS championship series before losing to Vanderbilt in the final game. So most of the players on the 2015 team had NCAA tournament experience.
Of the players on UVA's current roster, none had appeared in an NCAA tournament before this month. Moreover, the 2015 Cavaliers went 3-0 in their regional and 2-0 in their super regional. These Hoos dropped the opener of their regional in Columbia, to host South Carolina, and had to win four straight games to reach the NCAA tournament's round of 16.
In their best-of-three series with Dallas Baptist, also at Founders Park, the Cavaliers again stumbled early, losing the first game 6-5 on Saturday. But Virginia defeated the Patriots 4-0 on Sunday and then rallied for the decisive victory Monday.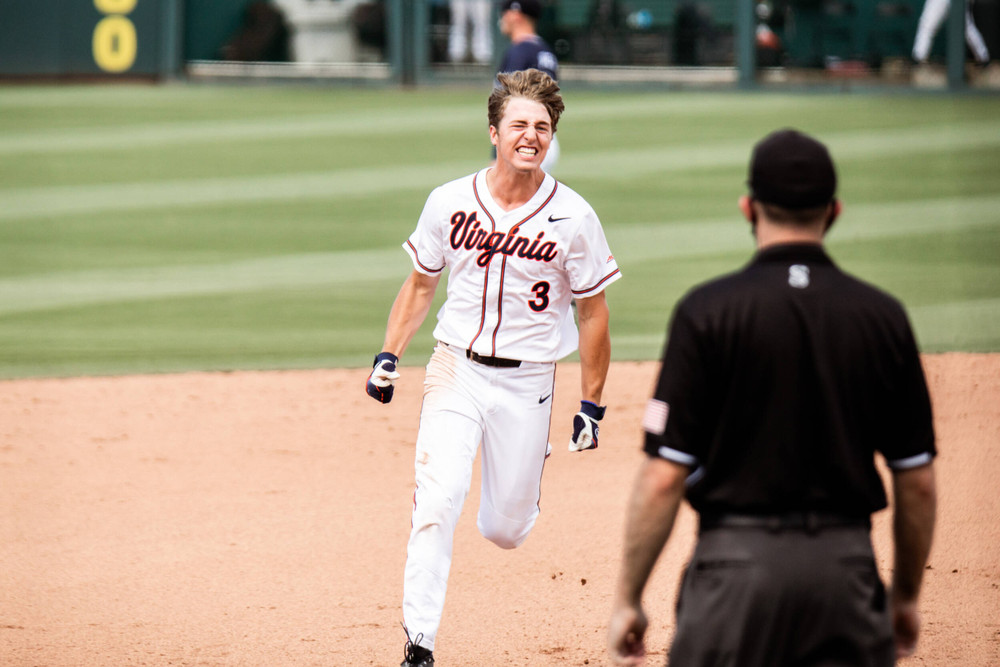 Such resilience has become the Hoos' trademark.
"What this team has accomplished and the opportunity they have now to go to Omaha is just incredibly special," O'Connor said. "This is our fifth trip, and I gotta tell you they're all joyous, they're all wonderful, they're all unique in their own way, but this one [stands out because of] the route that this team has taken. Six times they had their backs against the wall [facing] elimination, and for them to come through speaks to the character and the resiliency and the type of young men that we have in this program."
One of those young men is Wyatt, a sophomore right-hander who struck out eight in 5.2 innings of scoreless relief Monday.
Another is freshman Kyle Teel, who with one swing in the bottom of the seventh inning joined the ranks of the program's legends. With two outs, Teel hit a grand slam to center field that put the Hoos up 5-2. The Patriots looked on in stunned disbelief as Teel was mobbed at home plate by his teammates after circling the bases.
"It's [in] these moments that players have to emerge, and he did," O'Connor said. "It was his day to step up, and I'm just really, really proud of the poise and the calmness that our guys have shown today and these last two weeks."
As a boy in Mahwah, N.J., Teel watched on TV as the Cavaliers captured the NCAA title in 2015. To be headed to Omaha in his first year is "a dream come true," Teel said. "That's what I wanted to do when I was little. Virginia was always my dream school. Obviously, them [going to the CWS], I wanted to be a part of that."
A Freshman All-American, Teel leads the Cavaliers in hitting (.320) and is tied with junior Zack Gelof for the team lead in home runs with nine. He's second on the team with 40 RBI, and he's distinguished himself defensively in right field during the postseason.
Like the freshmen who played leading roles for the Hoos in 2015––Pavin Smith, Adam Haseley and Ernie Clement––"Kyle Teel is fearless," O'Connor said. "He isn't afraid, and to win games at this elite level of baseball, you not only have to have skill, you can't be afraid. You will crumble at times when pressure's on if you're afraid. He's not afraid. He's got 100 percent belief in his ability, and he is going to let it rip every time he steps on the baseball field. That is going to serve him well in our uniform, and that is going to serve him well for the rest of his career."
Teel said he has a favorite saying: No pressure, no diamonds. "I just think it's important to embrace the moment," he said. "I just try to do the best I can. That's all you can really do."
In the fifth, with teammate Chris Newell on third, Teel struck out to end the inning. He wasn't happy about it, "because when there's guys in scoring position, you want to be the guy to get them in," Teel said. "That's why I was so angry. I wanted to do it right then and there."
In the fourth, junior Nic Kent's solo home run had cut the Patriots' lead to 2-1. In the top of the seventh, Newell leaped at the wall in center field to rob Andres Sosa of a home run.
"When he hit it, I was kind of thinking in my head like, 'That's not where I wanted to put that pitch,' " Wyatt said. "I had a feeling it could have carried just based on [the fact that] Sosa's a great hitter, he's a big guy, he's got a lot of power. I kind of thought it was a 50-50 chance, and as soon as I saw Chris go to the wall I go, 'That might go out. Hopefully the wind carries it a little back in.' But seeing him jump and make that catch, as soon as he jumped I knew he was gonna catch it. He's made plays like that all year."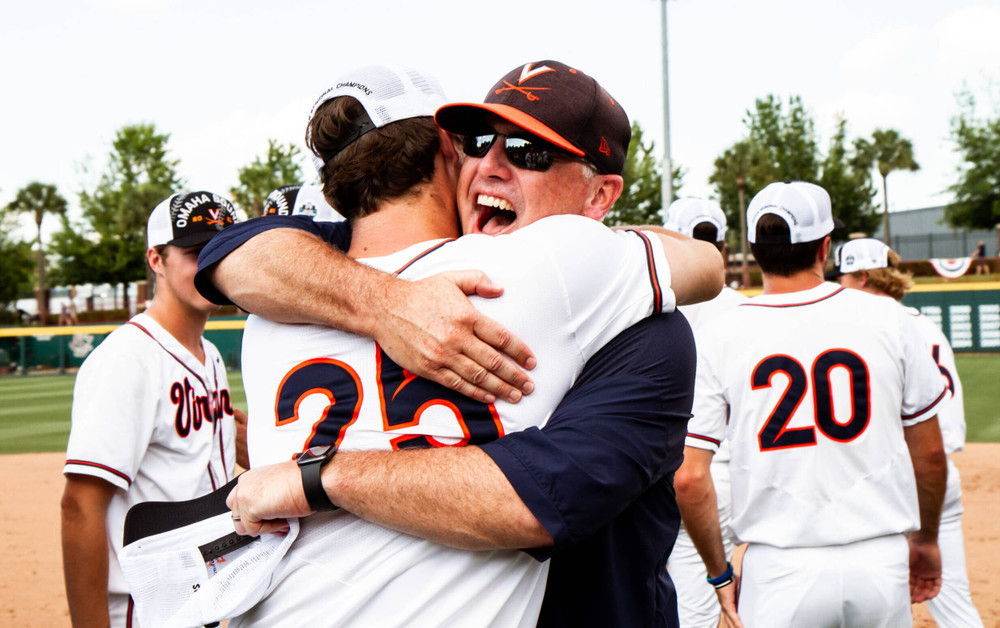 Sparked by Newell's gem, the Cavaliers finally broke through again in the seventh. With two outs, Zack Gelof drew a walk that moved his brother, freshman Jake Gelof, who'd led with a single, to second base. Then Max Cotier, who'd been struggling at the plate throughout the series, beat out a single to load the bases.
That brought up Teel. The Cavaliers were still trailing 2-1, but their defense had been superb, and "I was confident eventually something would get rolling with the offense," Wyatt said. "Getting those bases loaded with Kyle up, I was thinking in the back of my head, 'Wow, a grand slam would be nice here.' The guy was throwing a lot of sliders and I was like, 'Come on, Kyle, just sit slider, you're gonna get this one,' and he got it."
After Teel put the Hoos ahead, Wyatt did the rest, retiring the Patriots in order in the eighth and allowing only one base-runner in the ninth. It wasn't the first time he'd dazzled in Columbia. Wyatt also collected the win on June 6 as UVA ousted South Carolina from the regional at Founders Park.
Against Dallas Baptist, Wyatt "attacked on the mound like he did last weekend against South Carolina," O'Connor said, "and, boy, he just had an amazing pitching performance."
The list of heroes for UVA in Columbia was a long one. Wyatt, Kent, Newell and Teel led the way Monday, but at various times in other games it was the Gelof brothers, Alex Tappen, Griff McGarry, Brandon Neeck, Logan Michaels, Stephen Schoch and Devin Ortiz. Others shined, too, and the Cavaliers' collective poise and perseverance carried them through elimination game after elimination game.
"It takes everybody," O'Connor said. "It takes every one of them, and if one of them decides not to show up on a day, you're home. You're not getting [this] chance."
Dallas Baptist, which was one win from its first trip to the College World Series, ended the season with a 41-18 record.
"I do want to say that my heart aches for [head coach] Dan Heefner, his staff and his players," O'Connor said. "Coach Dan is one of the classiest, most respected coaches in college baseball. I admire the way he goes about his business, the way he runs his program, and their day is coming for Dallas Baptist. You're that good for so long, I'm sure it'll happen some time when they least expect it."
To receive Jeff White's articles by email, click here and subscribe.