By Jeff White (jwhite@virginia.edu)
VirginiaSports.com
CHARLOTTESVILLE –– After transferring to the University of Virginia in 2013, Danielle Collins went on to win two NCAA singles titles. She'd ended her lone year at the University of Florida ranked No. 103 nationally, however, and so she marvels at what Emma Navarro accomplished this season at UVA.
"I remember my freshman year was nothing like Emma's freshman year, and it's just so fun to watch somebody go into a program and just totally kick butt," Collins told a Tennis Channel reporter after one of her French Open matches this month. "It is just such a treat for me."
Navarro has not been in college long enough to match––or surpass––Collins' feats as a Cavalier. But give her time. Late last month, Navarro became the first freshman in 12 years to win an NCAA singles title in women's tennis. She finished the season with a 25-1 record in singles. Equally impressive, UVA head coach Sara O'Leary said, was how seamlessly Navarro fit into the team's culture.
"She's a special kid," O'Leary said. "So humble. So kind. So grounded. She's very coachable and just very interested in learning and improving every day. You can just tell she just has this ambition to see how good she can get and puts that effort into practice every single day. She shows gratitude every time she leaves the court. She's just been an absolute joy to work with."
After her freshman year at Ashley Hall, a private school in her hometown of Charleston, S.C., Navarro committed to Duke. She later had a change of heart, though, and committed to UVA in the summer of 2019.
"It wasn't really anything against Duke," Navarro said. "I just decided to reconsider my options. I met the UVA coaches and saw the program that they had going on, and I was really excited about it. It just seemed like a place where I really wanted to be."
With the COVID-19 pandemic ongoing, she opted to take her online classes at UVA from her family's home in Charleston during the fall semester in 2020. But she arrived in Charlottesville for the spring semester, "and I just had a blast," Navarro said. "Even with the pandemic going on and with online classes and everything, I had a lot of fun. I've just had so much fun with the girls and coaches and everything. It's been really good."
She'd never really been part of a tennis team before, and Navarro found she loved the environment at UVA.
"You don't really know the relationships that you can form with your teammates until you actually do," Navarro said, "and just spending time with them in Charlottesville and also on the road was great. Spending 12 hours on the bus with those girls, you definitely build some good relationships and bonds, and staying in hotels together on the road, you can't really beat it. We had a lot of fun."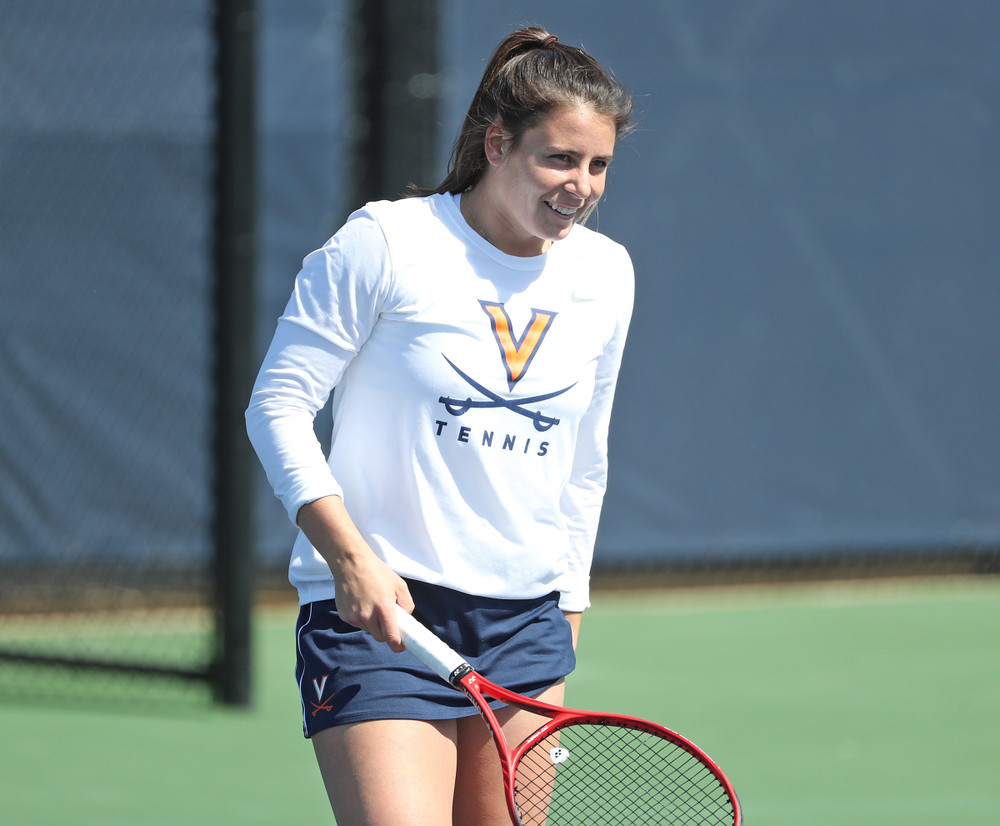 The Wahoos reached the NCAA tournament's round of 16 before losing to Georgia on May 16 in Orlando, Fla. Navarro then spent a few days in Charleston before returning to Orlando for the NCAA singles and doubles tournaments.
Navarro and fifth-year senior Rosie Johanson made history in Orlando, becoming the first doubles team from UVA to reach the NCAA semifinals. They nearly advanced to the final. Navarro and Johanson won their first set against Kylie Collins and Lulu Sun of Texas before falling 7-5 in the second. The Longhorns then rallied to win a super tiebreaker to clinch the victory.
"Those tiebreakers are tough," Navarro said, "because it can go either way. We ended up losing that, but it was a really awesome experience, and I know Rosie was really happy to end her college career [with a deep run in the tournament]."
In singles, Navarro won six matches en route to the NCAA title. Only two of them took three sets. In the round of 32, after dropping the first set to Arizona State's Ilze Hattingh, Navarro was tied at 5-5 in the second before seizing control of the match. She won the third set 6-0.
In the semifinals, Navarro won her first set against North Carolina's Sara Daavettila before losing the second. In the decisive third set, Navarro romped 6-2.
That set up a rematch with Miami's Estrela Perez-Somarriba, who had defeated her in three sets April 4 in Coral Gables, Fla. Navarro came away from that loss ruing her performance, and she was eager for another shot at Perez-Somarriba at NCAAs.
"She was the one girl that I wanted to play really badly and just play better against," Navarro said, "and so I was really excited to play her. And I think I was just able to simply execute my shots better. I knew what I had to do to win when I lost to her, but I just didn't do it well enough, and this time I was able to."
Navarro rolled in the championship match, defeating Perez-Somarriba 6-3, 6-1.
Such late-match dominance was a recurring theme in Navarro's championship run. In none of her six singles matches in Orlando did her opponent win more than two games in the final set.
"I think part of it is just gaining confidence in how I'm playing in my game, and just figuring out what works best for me," Navarro said, "and I guess sometimes that takes longer than others … Once I find the strategy and the shots that work best for me, I commit to it and then I try hard not to let 'em back in."
Moreover, O'Leary said, Navarro is "extremely fit, and she can play very, very long points and she can hit a very heavy ball that jumps up on girls, which is difficult to play. And I think over time during the first set, maybe it takes two sets, she kind of just breaks those players down in showing them how fit she is, how mentally tough she is, and how physically draining this match is going to be.
"You can kind of see it in matches. Watching her through the NCAA tournament, you could see that in almost every match there was a point that she would break her opponent, and they would start going for bigger shots or playing out of their comfort zone, because they just felt like, 'OK, what I'm doing, my game, isn't going to be good enough to hang with Emma, who's so fit and so tough.' "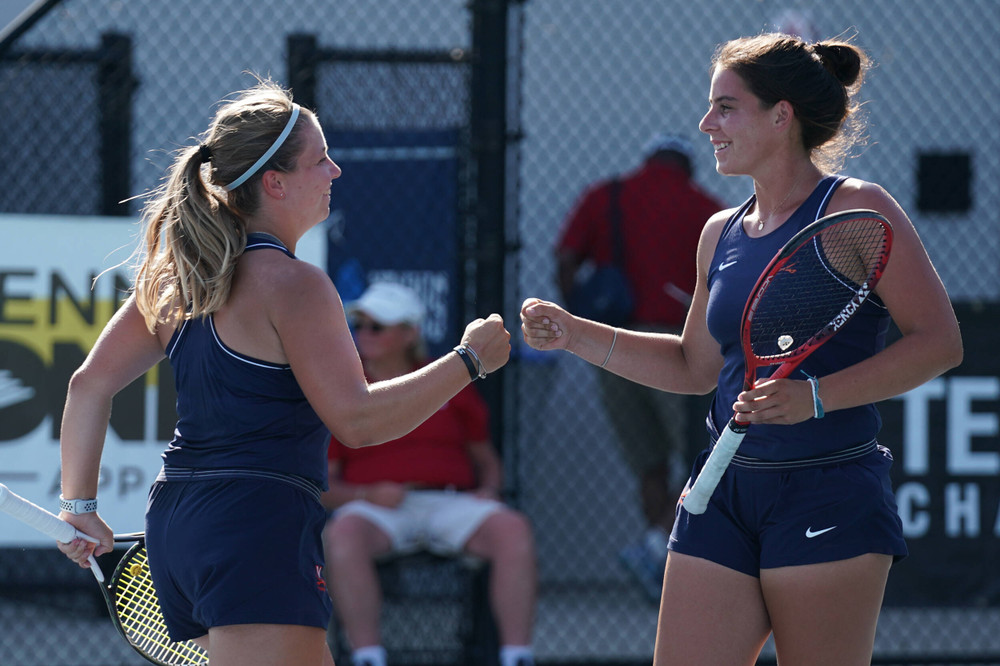 UVA's director of tennis, Andres Pedroso, says it's impossible to tell when watching Navarro if she's winning or losing in a match, so steady is her demeanor. O'Leary agrees.
"I think we all strive to be the way that Emma is on the court," O'Leary said, "but people get frustrated and you're out there by yourself and it's really difficult. It just shows the maturity that she plays with and how she handles herself on the court.
"And she had a lot of tough matches throughout the spring. This was such a unique year with so many players coming back for their fifth years. So they kind of had these super teams and these very, very experienced players, and it seemed like at one point every player that Emma was playing was a fifth-year senior and a top-10 player in the country. She would have battles, she'd have long three-set matches, but you could never tell if she was winning or losing, and I think that approach and her mentality and the way she carried herself gave the rest of the team so much confidence down the six courts, because she just always looked like she was in control and she was confident and she was going to problem-solve, and she did."
Collins and Navarro played doubles together last summer at a tournament in Charleston––"It was a blast," recalled Navarro––and Collins texted her after the NCAA singles tournament. Those weren't the only congratulations Navarro received.
The magnitude of her accomplishment "didn't sink in until my phone started blowing up and I was like, 'Whoa, this is kind of cool,' " Navarro said, smiling. "But it's really special, and the team that I had behind me this whole season, that's what makes it really special, for sure."
Collins, who turned professional after graduating from UVA in 2016, is currently ranked No. 48 in the world. Navarro will one day follow her into the pro ranks, but she's in no hurry to leave Virginia. She's looking forward to taking in-person classes in the fall and "getting a semi-normal college experience," Navarro said.
"I had a blast at school this past semester, and I want to go back, because I care so much about the team and about the coaches, and I want to just spend another year with them. And then we'll see from there."
O'Leary said: "I think there's still aspects within her game that she can work on, and I think what she sees that is such a plus in college tennis is that she's playing for something bigger than herself. She's playing for her team, and she's definitely talked a lot about how it's helped her mental toughness, playing with that pressure on her shoulders. Because you'll play pro tournaments, and of course there's pressure, but you're playing for yourself. And I think she seems very motivated by being part of something bigger than herself. She's competitive. She has aspirations to help this team accomplish things we've never accomplished before in winning ACC championships and NCAA team championships.
"You talk about somebody who just has incredible values and incredible ambitions and wants to help the team. We're just thrilled to have her coming back."
The Cavaliers figure rank among the nation's elite next season, and "going far with the team would be super awesome," said Navarro, who plans to compete in several tournaments at home and abroad this summer. "That's definitely a big part of my motivation, and I love to be a leader and hopefully lead by example."
To receive Jeff White's articles by email, click here and subscribe.