UVA Represented by Three Current and Former Athletes at U.S. Olympic Trials
Jada Seaman, Michaela Meyer and Derek Johnson
EUGENE, Ore. – Virginia has six current or former student-athletes who will be competing at the U.S. Track and Field Olympic Trials starting today (June 18) at Hayward Field in Eugene, Ore.
The three current Cavaliers set to compete include Michaela Meyer (Southbury, Conn.) in the 800 meters, Jada Seaman (Pikesville, Md.) in the long jump and Derek Johnson (Leesburg, Va.) in the 3000-meter steeplechase. The three alumni include Jordan Lavender (Nashville, Tenn.)  in the 400 meters, Bridget Guy (Greensburg, Pa.) in the pole vault and Henry Wynne (Westport, Conn.) in the 1500 meters.
Meyer, the 2021 NCAA Champion in the 800 meters, has a top time this season of 2:00.28 that she ran in Eugene during the NCAA finals of the event. That ranks 15th in the field of competitors.
Seaman's top mark in the long jump of 6.56 meters (21' 6.25") allowed her to win the ACC Outdoor championship this year. She placed ninth in the long jump at the NCAA Championships.
Johnson qualified for the Trials with a school-record time of 8.28.72 during the TrackTown Qualifier meet held the day after the NCAA Championships concluded. He finished seventh at the NCAA meet.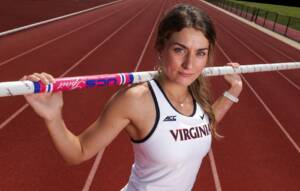 Guy's top mark in the pole vault of 4.71 meters (15' 5") was set at the Tennessee Challenge in May. The ACC outdoor champion in 2018 and 2019, she had a pair of top-five finishes at the NCAA Championships and owns the UVA indoor (4.41m) and outdoor (4.46m) pole vault records.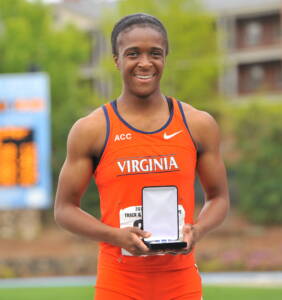 Lavender enters the Trials with a top time of 51.53 in the 400 meters that she ran in 2019 at South Carolina's Gamecock Invitational. She won the event at the ACC Outdoor Championships in both 2013 and 2014 and also at the 2014 ACC Indoor Championships.
Wynne, who competes for Brooks Beasts Track Club, has a top time of 3:34.08 in the 1500 meters that he posted in May at the Portland (Ore.) Track Festival. While at UVA, he won the NCAA Indoor mile (4:06.63) in 2016 and was the 2016 ACC champion in the 1500 meters. He owns the school record in the outdoor 1500 meters (3:38.05).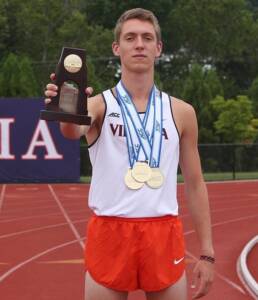 Television coverage of the Trials can be found on NBC and NBCSN. Click here for the broadcast schedule.
Additionally, NBCOlympics.com and the NBC Sports app will present exclusive streaming coverage of select field events, including long jump, pole vault, shot put, hammer, javelin, discus, 20km race walk, decathlon and heptathlon from Eugene.
Here are the athlete's schedules in order of appearance:
Jordan Lavender – 400m
Friday, June 18 – 7:30 p.m. ET – First round
Saturday, June 19 – 10:20 p.m. ET – Semifinals
Sunday, June 20 – 10:06 p.m. ET – Finals
Derek Johnson – 3000m steeplechase
June 21, 7:29 p.m. ET – First round
June 25, 7:42 p.m. ET – Finals
Bridget Guy – Pole vault
June 24, 8:00 p.m. ET – Qualifying round
June 26, 8:40 p.m. ET – Finals
Jada Seaman – Long jump
June 24 – 8:45 p.m. ET – Qualifying round
June 26 – 9:30 p.m. ET – Finals
Henry Wynne – 1500m
June 24, – 9:04 p.m. ET – First round
June 25, 7:05 p.m. ET – Semifinals
June 27, 8:10 p.m. ET – Finals
Michaela Meyer – 800m
June 24, 10:00 p.m. ET – First round
June 25, 6:02 p.m. ET – Semifinals
June 27, 7:52 p.m. ET – Finals