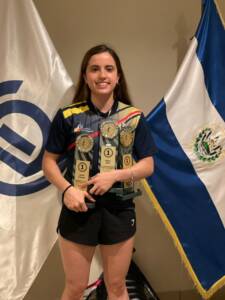 SAN SALVADOR, EL SALVADOR. – Virginia women's squash rising junior Maria Paula Moya (Ambato, Ecuador) Maria Paula Moya won the women's individual, mixed doubles and team golds while representing Ecuador in squash at the U23 Junior Pan Am Qualifying Championship, being held July 4-10 in San Salvador, El Salvador.
Moya was the top seed in the individual tournament, topping Lucia Bautista of Colombia 9-11, 12-10, 11-6, 11-7 in the final.
She partnered with David Costales in mixed doubles to win the title. Ecuador won the team title with Mexico claiming silver and Colombia and Guatemala sharing the bronze.
The U23 tournament in San Salvador was the qualifier for the inaugural Junior Pan Am Championships being held Nov. 25-Dec. 5 in Cali, Colombia. The event will bring together more than 3,800 athletes from 41 countries, who are set to compete in 39 disciplines. There will be six medals awarded in squash, with men's and women's individual, doubles and team events being contested. The gold medallist in each sport will automatically qualify for the Santiago 2023 Pan American Games.
Moya has represented Ecuador on the international stage at the Pan American U19 championships where she won the singles title and was the silver medallist in mixed doubles. In her freshman season at UVA, she competed in the top four of Virginia's ladder throughout the season, finishing the year playing at the No. 2 position, tallying 13 wins.
Championship Match - July 6, 2021
Results – Federacion Panamericana de Squash U23 Championships
Women's Individual
Gold: Maria Paula Moya (ECU)
Silver: Lucia Bautista (COL)
Bronze: Dina Anguiano (MEX) and Lujan Palacio (PAR)
Mix Doubles:
Gold: Ecuador – Maria Paula Moya and David Corales
Silver: Colombia
Bronze: Guatemala and Mexico
Women's team:
Gold: Ecuador
Silver: Mexico
Bronze: Colombia and Guatemala