By Jeff White (jwhite@virginia.edu)
VirginiaSports.com
CHARLOTTESVILLE –– It's not unusual for University of Virginia alumnae to compete internationally in rowing. Former Cavaliers row at the world championships, for example, almost every summer. Still, UVA head coach Kevin Sauer said, this year is special.
"It's the Olympics," Sauer said. "The world championships are specific to a sport, so you've got track, you've got swimming, you've got rowing, you've got basketball, you've got whatever. But when the Olympics Games take place, it's all sports, it's everybody.
"We get pretty hyped up about it, because it's not every year, it's every four years. And then you put all those sports together, and it becomes an incredible extravaganza. The TV coverage is crazy, and everybody gets all fired up for it. People come out of retirement for it. People hang on for it."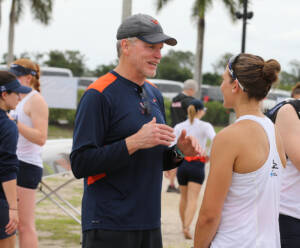 The Summer Olympics start this week in Tokyo, and seven UVA alumnae will be competing in rowing. Sauer, the Cavaliers' longtime coach, believes that's a record for the program.
Meghan O'Leary and Kristine O'Brien will be representing the United States. Canada's Olympic team includes Christine Roper, Susanne Grainger and alternate Morgan Rosts, and Hannah Osborne and Inge Janssen will be rowing for New Zealand and the Netherlands, respectively.
O'Leary, who played softball and volleyball at UVA, didn't start rowing until after she'd left Charlottesville. This will be her second Olympics. For Janssen, it will be her third.
Another Wahoo, Lindsay Dare Shoop, will be part of the festivities, too. Shoop, a 2003 graduate of UVA, is the analyst for NBC's coverage of Olympic rowing, which starts Thursday.
"That's eight," Sauer said. "That's pretty cool."
Alongside play-by-play announcer Brendan Burke, Shoop will be calling every race––women's and men's––from the NBC studio in Stamford, Conn.
"Some of it will air live," Shoop said. "Some of it will air later. Some of it might be like just little clips, but we'll be calling everything live. It's two to four hours a day for eight straight days. Every race."
Shoop, who grew up in Albemarle County and graduated from the Covenant School, is no Olympic newcomer. In 2008, she was on the U.S. team that won the gold medal in the women's eight in Beijing.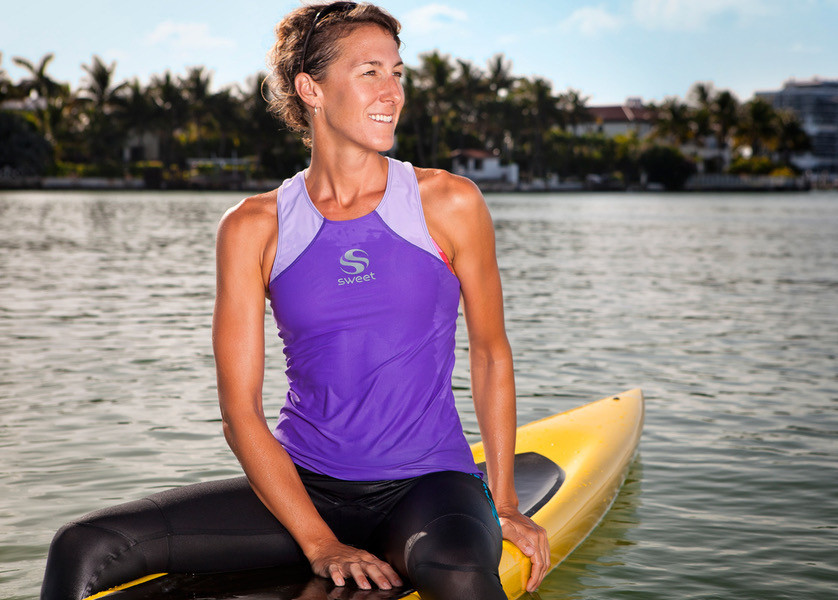 If Shoop and Burke were at the rowing venue in Tokyo, they would call the races from a tower near the finish line. They'd be following the action on monitors but also would be able to see down the course.
"I've coached enough years and I've rowed enough that when you stare down the race course you can see things from that distance," Shoop said, "and a lot of times what will happen is you have the lanes, you have the six boats across, and the camera will be zoomed in on only three of those boats. But if you can look, you can see, for instance, [the boat in] Lane Six making a move, and [broadcasting remotely] you miss out on that opportunity."
Shoop no longer competes, but she's still active, to say the least. "I do a little bit of everything," she said.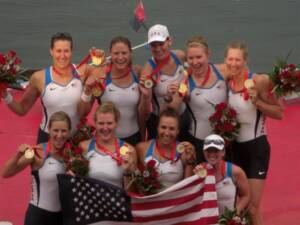 She'd prefer to be on site in Tokyo, but concerns about the COVID-19 pandemic will keep most of the NBC's talent for the Olympics back in the U.S.
Shoop lives in the Miami area, where she coaches and gives lessons to rowers. She wrote a book, Better Great Than Never, that was published last fall, and she's an EMT who works for Miami Beach's ocean rescue unit.
"Some days it's chill, and some days, all hell breaks loose," said Shoop, who has a master's degree in exercise physiology from the University of Miami.
Shoop had never rowed before she joined Sauer's program as a walk-on, and her rise in the sport was meteoric. She's excited about this new chapter in her career.
She auditioned for NBC in October 2019, and the network had yet to hire its rowing announcers when the COVID-19 pandemic hit last year. The Olympics, scheduled for last summer in Tokyo, were postponed to 2021, but Shoop stayed in touch with NBC and let its representatives know she was still interested in the gig.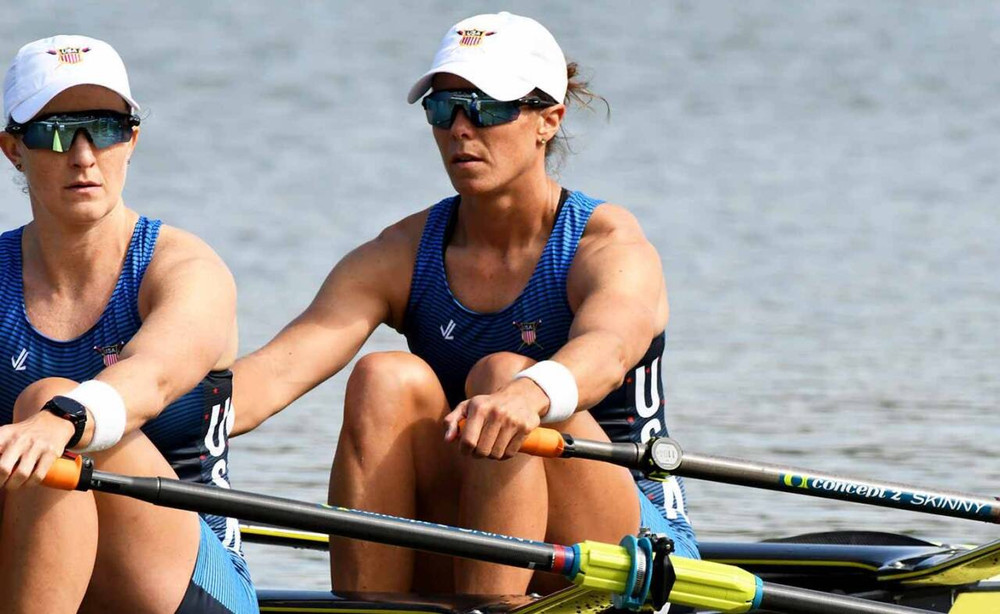 NBC hired her early this year, and she's spent of her free time prepping for the Olympics. The pandemic disrupted the competitive schedule in the sport, and that's made her job more difficult, said Shoop, who knows several of the UVA alumni who'll be competing in Tokyo.
As one of the U.S. coaches told her in a recent conversation, "Basically everybody's flying blind," Shoop said. "Some countries qualified back in 2019. Some countries qualified this past May. But even if you qualified two years ago, all of those lineups can change. You qualify the boat, not the people, so most of the lineups have likely changed, particularly in the bigger boats."
She's been studying copious amounts of information on the teams that will be competing in Tokyo. "One of the manuals [NBC] sent us in 128 pages long," she said, laughing.
The challenge will be figuring on what, and how much, to include in her analysis. "It's really hard," Shoop said, "because you don't want to jam all this information in there. You just want to kind of like pop in one nugget [from time to time]."
It'll be impossible, she knows, to satisfy every viewer.
"For instance, I've heard athletes say, 'We would love to hear more background. Tell the story of us, tell the story of our competitors, tell the story of the people that are losing,' " Shoop said.
Their producers, however, would prefer that the announcers highlight the rowers who are winning, Shoop said. And then there are the coaches, who want the announcers to "focus on the technical elements, focus on the speed and the rhythm and not the story," Shoop said.
But interesting stories abound in Olympic rowing, and some of the best advice she's received, Shoop said, is to keep viewers in mind during races.
"When you're talking, think about what makes the audience care," she said. "Why does the audience care about this event? Why are they going to care to come and watch the rest of it? And that's where telling the back story [of rowers comes in]."
With the pandemic still raging in Japan, no spectators will be allowed at events. That's unfortunate, said Shoop, who treasures her memories of nearing the finish line with tens of thousands of fans roaring.
O'Leary has heard those cheers, too, but she's ready to row without them.
"This experience will be different in a lot of ways," O'Leary said on the latest episode of At Home with the Hoos. "The COVID Olympics will be like no other."
To receive Jeff White's articles by email, click here and subscribe.