By Jeff White (jwhite@virginia.edu)
VirginiaSports.com
CHARLOTTESVILLE –– As a field hockey phenom at Glenelg (Md.) High School, where she totaled 114 goals and 108 assists during her record-setting career, Alyssa Parker cut the list of colleges she was considering to four.
One of them was the University of Virginia, whose head coach, Michele Madison, impressed Parker, as did the Cavaliers' history of success in the sport. But Parker wanted to stay close to home, and she chose the University of Maryland, then one of UVA's fiercest rivals.
A decade later, Parker is finally a Cavalier. She recently joined Madison's staff as an assistant coach and has gained a newfound appreciation for the University.
"Coming back as an adult now I'm like, 'How did I not choose this school? It's beautiful, and the academics are amazing.' " Parker said.
Madison is delighted to have at last landed Parker. "She was on everyone's short list as the next great young coach," Madison said in the release announcing Parker's hiring. "I am happy the challenge to work at UVA resonated with her as much as her value resonated with us."
Parker's transition has gone smoothly. During a recent Zoom interview, she wore a UVA pullover. "No, this wasn't hard to put on," Parker said, laughing. Nor have her former Maryland teammates ribbed her about relocating to Wahoo country.
"It probably helped a little bit that Maryland got out of ACC halfway through my four years there," Parker said, "so we're no longer ACC rivals. But my Maryland teammates have been very supportive. They know Virginia is a very good hockey program. They know it's always been my dream to not only coach hockey, but coach high-level hockey."
In 2012, Parker's first college season, Maryland and UVA split their two meetings. In 2013, they met only once, with the Terps winning.
In 2014, the Terrapins left the ACC for the Big Ten, where they received a rude greeting.
"It was interesting," Parker said, "because when you're the new team in the conference, everybody that plays you, I feel like, is bringing their best game against you, because they want to show you what the conference is all about. So maybe you play another team that normally isn't very good, but they want to bring their best against you. And then you're looking at this very challenging game that maybe statistically you weren't expecting from them."
Parker helped the Terps reach the NCAA semifinals in 2013 and again in '14. She also distinguished herself at the international level, earning 50 caps for the U.S. Women's National Team before retiring early this year.
Near the end of Parker's playing career, her USWNT teammates included Rachel Robinson, who'll be a fifth-year senior for the Cavaliers this season. When the assistant's position opened at UVA this summer, Robinson quizzed Madison about who might take Rachel Dawson's place on the staff.
Madison didn't disclose any names, but she offered Robinson a hint.
"Michele was like, 'it's someone you've played with, and she's super positive,' " Robinson recalled. "So I was narrowing it down to the people I knew. I had guesses, but I had no idea that Alyssa was an actual candidate."
Robinson's sister Katie, who now coaches field hockey at Langley High School in Northern Virginia, lettered four times (2010-13) at UVA, and she remembers battling Parker in ACC games.
"Katie always loved playing against her," Robinson said.
Robinson was named to the USWNT in January 2020. The COVID-19 pandemic hit a couple of months later, and Robinson and Parker didn't get to train together as much as expected. Robinson is thrilled that they've been reunited in Charlottesville.
"I just think it's awesome," Robinson said. "I think she gives us exactly what we need as a program, so I'm excited to actually see her as a coach and not just as a player."
To call Parker upbeat might be an understatement. "You rarely see her upset or mad," Robinson said. "She's always smiling and always having a good time, and I think that's why I'm excited."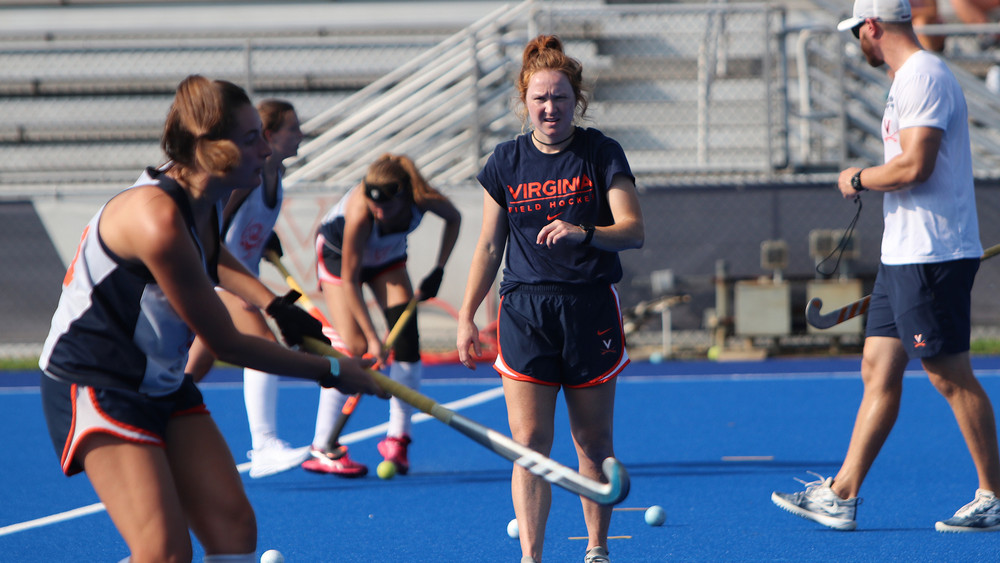 Parker played with three other Cavaliers on the USWNT: sisters Michelle, Carissa and Tara Vittese. Parker worked at a camp this summer with Michelle Vittese, who was promoted recently to interim head coach at Temple.
"I think she put in a good word for me with Michele," Parker said.
Parker, who has a bachelor's degree in family science from Maryland, always expected to pursue coaching as a career.  "I think the next best thing if you can't be playing is to be coaching and influencing the game from that side," she said.
For years she'd given lessons and coached at camps, and Parker spent the 2020-21 school as an assistant coach at Saint Joseph's University in Philadelphia.
In the fall of 2020, head coach Lynn Farquhar had contacted Parker to see if she'd be interested in helping the Hawks.
"I was in Philly training with the national team, but the national team was still on pause because of COVID," said Parker, so she jumped at the opportunity.
With the pandemic ongoing, Saint Joe's didn't compete last fall. In the spring, the Hawks went 5-3, but five of their scheduled matches were canceled for reasons related to the COVID-19.
"So it was kind of hectic," Parker said. "And then there was the snow, which is an element that you don't have to deal with in the fall season. That was crazy. Our field was completely covered for four weeks. But Lynn was a great coach and mentor. She kept apologizing, 'I'm sorry it's such a mess.' I said, 'Actually, it works out well for me being a first-time coach, because there's always different obstacles with whatever's going on.' So for me it took the pressure off of trying to be perfect, because everything was just going wrong."
The move from playing to coaching was eye-opening for Parker.
"Strictly from the coaching side, it was a lot harder to read the game while standing on the sideline at Saint Joe's, and this is something I was telling Michele when I was interviewing [at UVA]," Parker said. "I said I wasn't expecting that, because as a player you see the game and then you go on the field and you can feel the game, you can feel the spaces, and you can come back out and digest it and learn that way.
"But as a coach you're strictly on the sidelines, so you can't get a feel for exactly what's going on. So I learned from Lynn, actually, to just draw the structures that I'm seeing on a piece of paper, and then that way I can see it from an aerial view as opposed to straight on. So that was something I learned."
Moreover, Parker said, she had never fully grasped "all the administrative logistics, planning and organizing" that coaching requires. "I felt I needed to call every single coach I've ever had and just thank them for all the behind-the-scenes [work] that you don't know about as a player, because you don't think about any of it."
Though her playing career is officially over, Parker won't hesitate to join the current Cavaliers on the field in practice.
"I probably want to play more than I'm going to be asked to play," she said, smiling, "but you know I'll have my stick on the sideline ready to jump in whenever I'm asked."
The Hoos, who are heading into their 16th season under Madison, started practice this week. They open the season at home against Penn State on Aug. 27. Another non-conference game of note is scheduled for Oct. 7, as Parker is well aware.
That's when UVA hosts Maryland at Turf Field.
To receive Jeff White's articles by email, click here and subscribe.