By Jeff White (jwhite@virginia.edu)
VirginiaSports.com
CHARLOTTESVILLE –– There's adversity, and then there's what Madison Morey experienced in her first year at the University of Virginia, where she plays on the volleyball team.
Last fall, Morey contracted COVID-19. She was sidelined for about a month, missed three matches, and suffered the loss of taste and smell, among other symptoms.
In early February, she sustained a concussion when a ball struck by a teammate hit Morey in the head during practice. She couldn't practice for about two weeks, missed multiple classes, and spent much of that time in her bedroom with the lights off.
Once Morey was cleared to return to the court, she played in only four matches before the Cavaliers' spring season ended abruptly in March.
Two days before Virginia was scheduled to host Florida State at Memorial Gymnasium, the team's coaching staff was placed on paid administrative leave because of an undisclosed personnel matter. A day later, UVA athletics director Carla Williams relieved the coaching staff of its duties and canceled the rest of the Wahoos' season. They finished 2-12 overall and winless in ACC play.
If her turbulent first year scarred Morey, it's not apparent. With the start of the Cavaliers' first season under head coach Shannon Wells approaching, Morey was upbeat and enthusiast during a recent conversation at Mem Gym.
"She's just a very inspiring person," Morey said of Wells, who came to UVA from the University of Florida, where she was associate head coach in one of the nation's premier programs.
"She comes into the gym with a positive attitude every day, wanting us to work hard and holding us accountable with our gym culture," Morey said. "She has great energy, she supports us, and you can just tell how excited she is to help us change our program.
When Wells played volleyball at Southern Indiana University, she had a different head coach for each of her four seasons. She understands the uncertainty that coaching changes can bring, and she stressed that to her new team.
"It just made us all look up to her," Morey said.
Wells and her staff––assistant coaches Kris Grunwald and Nicole Miller and director of operations Nicki Hauser––went into the summer knowing little about the Cavaliers' returning players. Morey is among those who have impressed the coaching staff.
"Walking in," Wells said, "we weren't quite sure what we were going to get, who the leaders were, and I think Mo has put herself in position to be a leader amongst this team, just by her actions and her energy throughout the summer. So jumping into preseason, she's been able to carry that on.
"I know the young athletes and even the older athletes look up to her, and she does a great job of leading by example. I think those situations that she went through last year personally have allowed her to be resilient."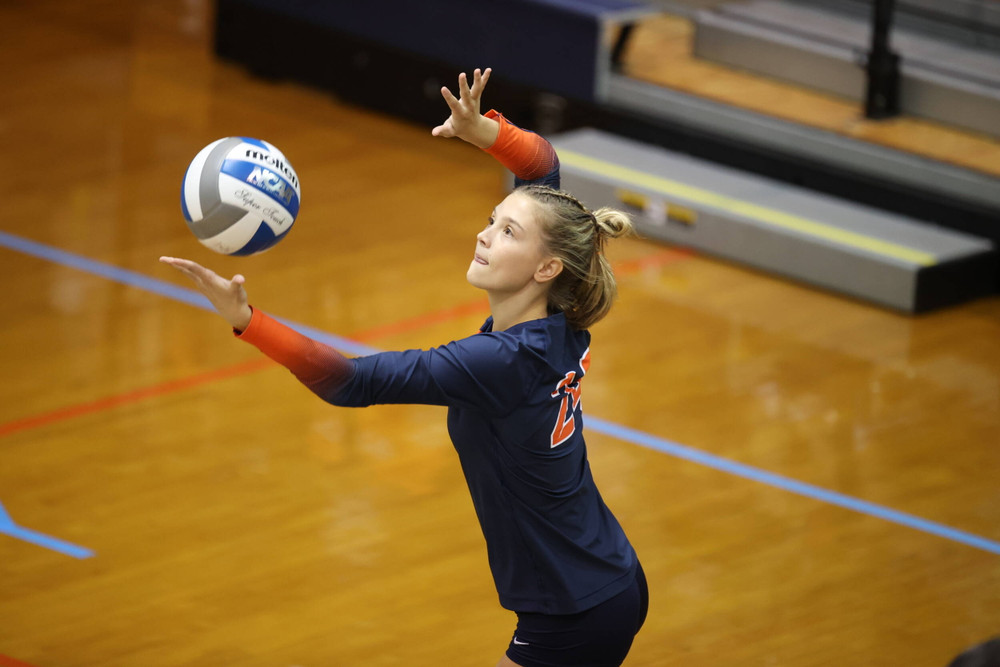 Virginia, which defeated Norfolk State 3-0 in an exhibition Saturday at Mem Gym, opens the season this weekend at a tournament in College Park, Md.
The Cavaliers are scheduled to play three matches at the Maryland Invitational, starting Friday at 7 p.m. against the host Terrapins. UVA will play twice on Saturday: against Hofstra at 10 a.m. and Central Connecticut State at 4:30 p.m. All three matches are expected to stream on Big Ten Network +.
Morey, who stands 5-foot-7, is from Marietta, Ga. She won four state titles at Walton High School and was a team captain in each of her last three seasons. She also starred for A5 Volleyball, a prominent club with which Wells is familiar.
"She comes from a great club and has a great learning background, which has been really helpful," Wells said. "So she's embracing the new concepts we're teaching her. She's coming in extra and trying to solidify herself. She wants to be great, and she has the work ethic to go with that, and she's really just kind of working on her mental game to add that piece to it."
Morey plays a position, libero, that requires defensive prowess and passing ability. She was in and out of the lineup in 2020-21, but when she played her potential was unmistakable.
From conversations with former club and high school teammates who'd gone on to play at Division I programs, Morey had a good idea what to expect at the college level.
"I was told it's a different game, it's going to be quicker, it's going to be faster, and you just honestly have to come in like you're going to give 100 percent every day in the gym," Morey said. "They were like, 'You just have to go in and give it your all. Trust yourself. You know the game.' And so that's how I came into UVA. I had nothing to lose. I just wanted to go out there and play my best and be that rock for my team, especially in the back row, digging balls left and right and passing."
Morey, who plans to major in media studies, also considered South Florida, Clemson, Mississippi State and several Georgia schools before committing to UVA.
Her final visit was to Charlottesville. Morey remembers standing in front of the Rotunda with players from the volleyball team.
"I was just talking with them," Morey said, "and everything was just flowing so easily, so nicely, and I was just standing there and realizing how beautiful Grounds was and how close the team was, and I was like, 'This is my place.' I was so excited, and I just knew that it was home."
Her experience with COVID-19 made her first semester a challenging one. She remembers a night when a teammate brought her a hamburger, "and I could not taste anything," Morey said. "I was so upset about it. I was so excited about the burger, and then I just couldn't taste anything."
She has some lingering "long-haul" symptoms, Morey said, but "they've eased over time. Everything has been getting better. It's been a weird haul with COVID for me and for everyone as well, but I've been pushing through it, and it's not anything that's going to take me out of practice. I'm just focusing on my health and making sure I'm doing everything I can to keep myself to the best standard."
As a freshman, she lived with teammate Czhen Beneby, who helped Morey deal with her concussion last winter.
"She kept our lights off all day," Morey said, "and she brought me food, helped me do my things and get my schoolwork and everything."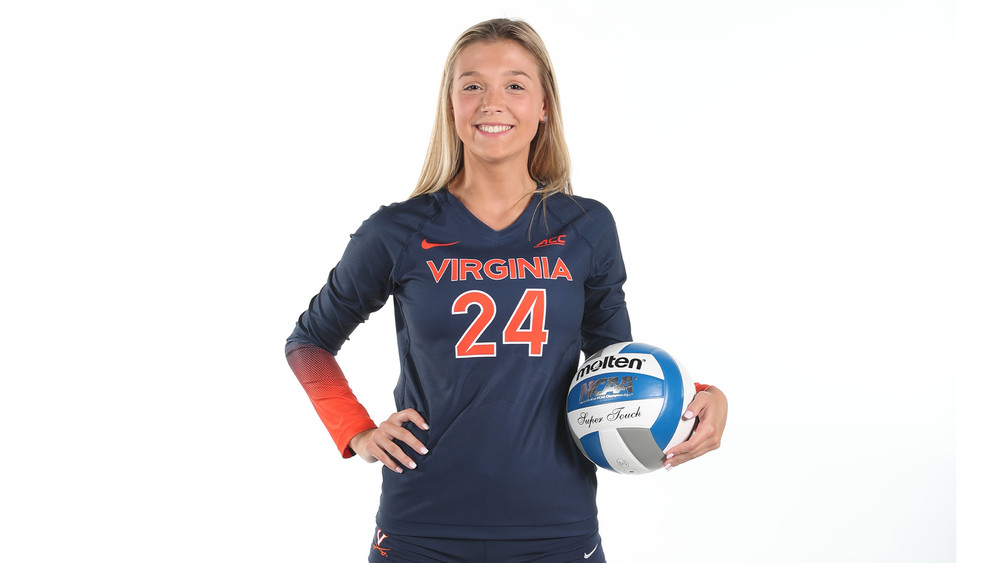 For the Hoos to have had so little success on the court could be frustrating, Morey said, "because I knew we could play so much better. We'd ball out in practices. We really pushed one another to be better. I think at times we knew we could be held to a higher standard. This year we've definitely been learning more about one another and building that trust with one another, where we'll be able to hold ourselves accountable and hold ourselves to higher standards."
Wells said her players "are an extremely hard-working group, and they compete. When you're a new coach and you're walking in, you talk a lot about building a culture, and I will say that as far as the hard work, the buying into the little things that we're talking about, they pick that up so fast, and I think they're enjoying it.
"Where we're trying to progress their game is adding the volleyball IQ and adding a little bit more discipline into our systems. Every day we just keep saying, 'Hey, let's get one percent better at our system. Let's get one percent better at our discipline, but while we're doing that, let's not lose the thing that's made you guys so good already, which is the work ethic and the competitiveness.' "
Morey, who's rooming this school year with teammates Mary Shaffer and Hannah Prendergast, said the obstacles the Cavaliers faced in 2020-21 strengthened the bonds among the players.
"I'm not going to lie to you and say it was an easy year, because it was very difficult," Morey said, "but we persevered through so much as a team, and it brought all of us closer, and now we are like family, inseparable. We have had so many good times together, but also some unpleasant ones that we had to make each other stronger to get through."
Wells said: "I think situations like that can drive a team apart or drive them closer together, and I think this team has really embraced the situations they've gone through, and I agree with Mo. They're extremely close, which has allowed us to push them and hold them to a really high standard without breaking them down so early in the season."
For Morey and her teammates, their time at Mem Gym this summer with Wells and her assistants has been an educational experience.
"Everything they're teaching us is new," Morey said. "It's a brand-new offense, brand-new defense, brand-new systems, everything. It's just a new year for Virginia volleyball, and obviously all of us are so excited."
To receive Jeff White's articles by email, click here and subscribe.