By Jeff White (jwhite@virginia.edu)
VirginiaSports.com
CHARLOTTESVILLE –– In the spring, as head volleyball coach Shannon Wells and her assistants started planning for their first season at the University of Virginia, they didn't spend hours breaking down video of the team's returning players. That was by design.
"We wanted to give each athlete a clean slate," said Wells, who came to UVA in late April from the University of Florida, where she was associate head coach. "And so we didn't want to have any preconceived notions about the positions they played or the role that they used to have. We tried not to do much research on any of the athletes, because we just wanted to give them a new chance and a chance to start over."
Once preseason practice started last month, however, it quickly became apparent that Mary Shaffer, a 6-foot sophomore from Cincinnati, would play a significant role for the Cavaliers. The coaches then "talked to her a little bit about her history," Wells recalled this week, and were surprised to learn "just how hard her first year here was."
Not long after enrolling at the University last summer, the right-handed Shaffer re-injured her left shoulder, which she'd seriously hurt as a high school senior.
Surgery followed. After Shaffer was finally cleared to play early in the spring semester, she contracted COVID-19 and was sidelined several more weeks. During a school year in which the season spanned the fall and spring semesters, Shaffer appeared in only two matches, both in March, before UVA athletics director Carla Williams relieved the previous coaching staff of its duties over an undisclosed personnel matter and canceled the rest of the season.
"With the way that she'd been playing all through preseason," Wells said, "we would have never known all the obstacles that she had gone through previously."
Shaffer, the Wahoos' starting right side, has been a force for a team intent on rebounding from a tumultuous 2020-21 season. (Winless in ACC play, UVA finished 2-12 overall.) She's been named to three all-tournament teams, and she was MVP of the four-team event Virginia hosted last weekend at Memorial Gymnasium.
In Virginia's sweeps of Bellarmine, Georgetown and Fairleigh Dickinson, Shaffer averaged a team-high 3.89 kills per set and hit .476.
"This last week was just such an incredible week for her," Wells said. "We found a tempo that we felt allowed her to be more in control of what she's doing, allowed her to show off more of her attacking range."
Shaffer said she's trying to soak up the coaching staff's instruction "and apply it to my game, and once I finally get to the point of being able to do it, it's going to be so much better. I've taken the first few steps, but there's still so much that they're teaching me that I haven't been able to master yet."
In addition to excellent jumping ability, Shaffer has what's known in the sport as a "heavy arm," Wells said. She's one of the Cavaliers' strongest players, and her arm speed is exceptional.
"That ball is coming off her hand really hot," Wells said. "It's nice to have that in our gym. That's a unique talent. It allows her the opportunity to attack the block, and if you can go up and attack the block, it's really hard to defend."
Shaffer said: "I hit the ball pretty hard. We're working on my arm swing to try to make it a little more effective, but I would say I naturally have a lot of strength on my swings. Which is a good thing, obviously, but it definitely causes some sore mornings after a long game."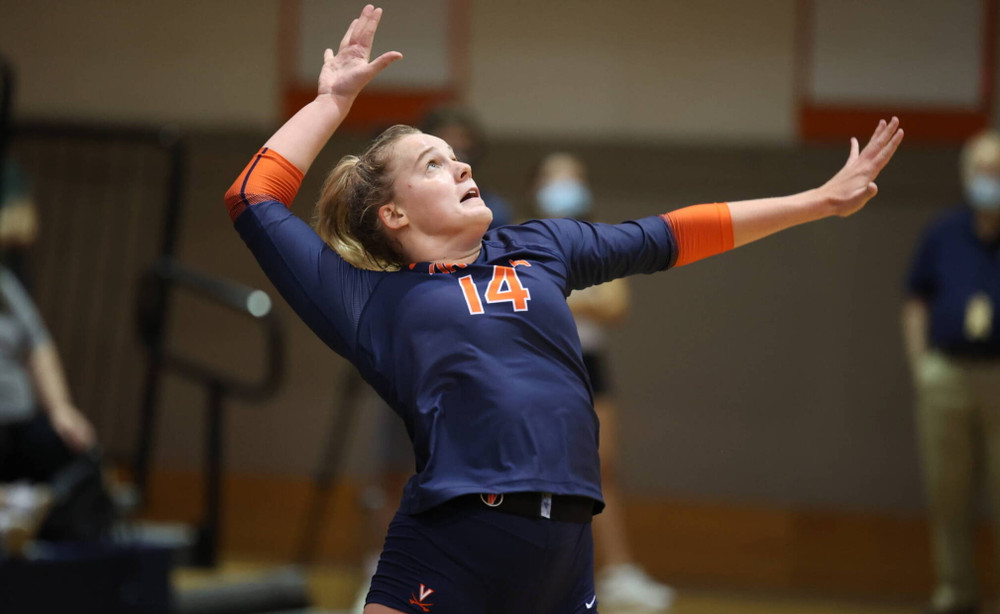 As a girl, Shaffer participated in a variety of sports, including swimming, soccer, softball and basketball. That she eventually focused on volleyball is not surprising. Her mother, the former Janie Borcherding, helped Duke win three ACC titles in the sport and once served a conference-record 14 aces in a match.
"Mary obviously has some really good DNA, which allows her to be very physical," Wells said. "Her physicality is a big piece of what we do in our gym. So I can only imagine what kind of level volleyball player her mom was as well."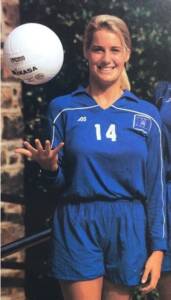 Janie Shaffer, who grew up across from Cincinnati in Northern Kentucky, chose Duke over the University of Kentucky, where Mary Wise was an assistant coach. Wells, who coached on Wise's staff at Florida, was unaware of the connection until recently.
"We were talking the other day, and Mary [Shaffer] actually said, 'Did you know my mom was recruited by Mary Wise at the University of Kentucky?' And I was like, 'What?' " Wells recalled, laughing.
When Mary Shaffer was in the sixth grade, she had to choose between soccer and volleyball, sports that were played in the same season. Her mother stayed out of it.
"I wanted it to be her decision," Janie Shaffer said. "I didn't want to sway her either way, because it was just as much fun watching her play soccer as play volleyball back then."
Once Mary chose volleyball, she became consumed with trying to master the sport.
"Mary just didn't want to leave the court," said Janie Shaffer, one of the coaches of her daughter's sixth-grade team. "She wanted to play every position. She wanted to set, she wanted to hit, she wanted to play defense. She was always just tall and athletic.
"She also liked basketball, and whatever she wanted to do [athletically], I think she would have been good at. But she just had that passion and that fire in her belly for volleyball, that drive to play volleyball."
Shaffer, who attended Saint Ursula Academy, played club volleyball for Tri-State Elite, as did Grace Turner, now one of her teammates at UVA.
Her mother's alma mater never seriously pursued Shaffer, but that didn't bother her. She fell hard for UVA.
"Once I got on Grounds at Virginia, I didn't even want to look anywhere else," Shaffer said. "I was like, 'This is the place for me.' In my opinion, it had the perfect balance. I could be in the ACC playing super competitive volleyball, and I knew that at the end of the day I'd be walking out with one of the best educations that I could have hoped for, which was always my goal."
Shaffer's older brother attends Syracuse, and their mother's ACC loyalties have shifted since she graduated from Duke in 1994.
"I'm not going to pick between UVA and Syracuse," Janie Shaffer said, "because I don't want to divide the family more than we're already divided. But Duke is definitely third now."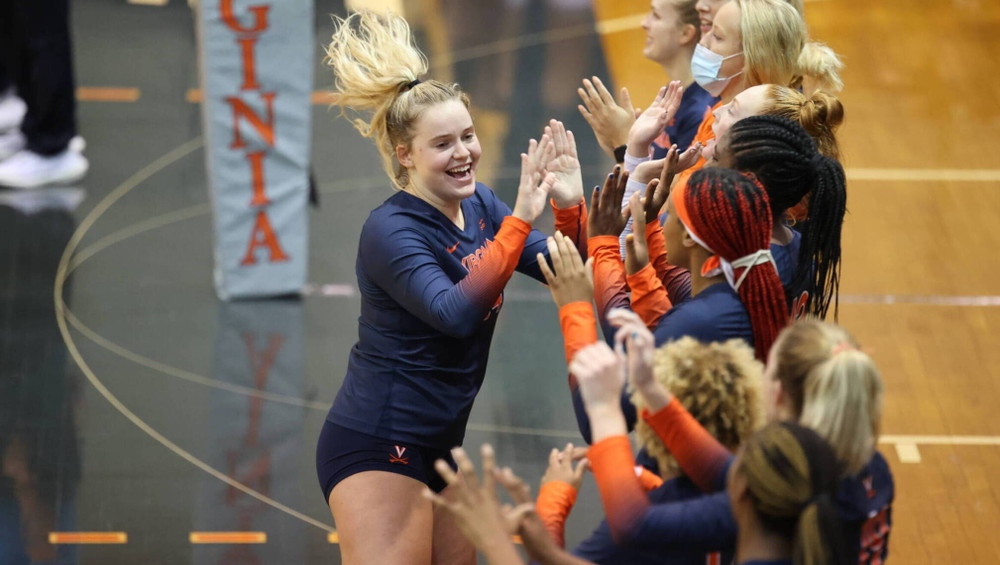 With the strict COVID-19 protocols in place on Grounds, the 2020-21 school year was challenging for everyone at UVA. The volleyball team also had to deal with an abrupt coaching change and a premature ending to its season.
"Last year was definitely very chaotic for us as a group, especially as first-years, because we had no idea what college was gonna be like coming in here," Shaffer said. "As a whole class we all experienced setbacks in our own ways, but I would say that year made us so much more excited for this year to be more normal. I feel almost as if we got so many bad cards handed to us last year that it can only get better this year."
Shaffer is almost fully recovered from her bout with COVID-19, she said, but has yet to regain her sense of smell.
Her doctor "told me that it could take a while," she said. "I'm just hoping it comes back eventually. It's not that big of a deal, I feel like I've been through a lot more recently, like with my shoulder [injuries], that I'm like, 'Smell, whatever. It's just one more one more thing I can get over, one more setback.' "
Shaffer raves about her new coaches. "They came in and they set a new standard," she said.
"I think as a team we already have the fight in us, but they're bringing all like the technical things in and helping establish this new culture, and I think that it's helped us tremendously," Shaffer said. "We go into practices, and for a week we'll have a really strong focus on something, and then I'm seeing it directly correlate into all of our games, which is huge."
Virginia has had only three winning seasons in the past decade, and the most recent one was in 2015. Little was expected of the Cavaliers this fall, but they head into the first weekend of ACC play with a 7-3 record.
UVA visits NC State (6-5) on Friday night and plays at North Carolina (11-0) on Sunday afternoon. The Cavaliers have another road match next Wednesday, against Pitt (10-0).
"We're excited," Wells said. "We feel like we're an underdog all season. We've had a couple opportunities this year when we've been in that role, playing Maryland and Ohio State, and I just love the way that our team responded in those moments. They played fearless, they played confident, they fought really hard."
In the ACC preseason poll, voted on by the conference's head coaches, UVA was picked to finish last in the 15-team league. The Cavaliers have the poll posted in their locker room at Mem Gym.
"Honestly, when I see it every day, I'm like, 'Well, we have absolutely nothing to lose,' " Shaffer said. "We're going into ACC play knowing as a team that we have a lot more to prove than anyone thinks that we do … I think that being at the bottom of the ACC coaches' poll is nothing but a motivator for us, and I think we're all ready to go surprise and shock some people."
Virginia's ACC home opener is Sunday, Oct. 3, against Duke.
"I can't even begin to explain how amazing it is to play in Mem Gym," Shaffer said. "Our Friday night games have been absolutely packed, and our fans get so into it and they're so involved, and the atmosphere is absolutely amazing. I wouldn't want to play in any bigger of a gym. I think Mem Gym is the perfect size. It's almost like the fans are right there with you. They're there for every point in the game. When I'm watching film, sometimes I get distracted by the fans cheering in the background, because they're so into it."
To receive Jeff White's articles by email, click here and subscribe.