WILMETTE, Ill. – The No. 10 Virginia women's golf team produced its second straight runner-up finish to start the season at the Windy City Collegiate Classic at Westmoreland Country Club in Wilmette, Ill. The Cavaliers finished at 22-over 886, eight shots behind first-place Stanford. The No. 14 Cardinal shot 14-over 878.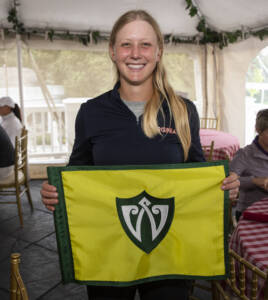 The tournament field included six other teams currently ranked in the top-20 in the latest Golfweek poll.
UVA posted the day's best final-round score, shooting 3-over 291. Leading that effort was senior Riley Smyth who carded a round of 3-under 69, one of just five single-round scores in the 60s during the 54-hole event.
Smyth was UVA's top finisher, shooting 3-over 219 to place fifth. It was the eighth top-10 outing in her career. Junior Virginia Bossi had a final-round score of 1-over 73 and was seventh overall at 220. It marked the second top-10 showing of her career. Junior Celeste Valinho, who was competing as an individual and did not count in the Cavaliers' team scoring, was 10th at 221. That also marked her second top-10 finish as a Hoo.
Freshman Amanda Sambach placed 22nd at 226 while graduate student Beth Lillie was 27th at 227. Sophomore Jennifer Cleary was 55th at 234.
UVA returns to play Oct. 18-20 for the Jackson T. Stephens Cup in Roland, Ark.
Windy City Collegiate Classic
Westmoreland Country Club
Wilmette, IL
Par 72, 6,432 yards
Final Results
Team Results
 1. Stanford            291-292-295-878
 2. Virginia            302-293-291-886
 3. Florida             297-297-296-890
 4. Texas               296-296-300-892
 5. Oregon              306-298-295-899
 6. South Carolina      307-308-292-907
 7. Michigan            304-305-300-909
 7. Northwestern        309-300-300-909
 9. Duke                303-306-303-912
10. Iowa State          311-295-309-915
11. Purdue              313-306-297-916
12. Michigan State      304-308-310-922
13. Mississippi State   304-311-308-923
14. USC                 300-315-315-930
15. Augusta             318-314-305-937
Individual Leaders
1. Rose Zhang, Stanford    72-70-70-212
2. Jackie Lucena, Florida  69-73-71-213
3. Bohyun Park, Texas      68-74-73-215
Virginia Results
 5. Riley Smyth      72-78-69-219
 7. Virginia Bossi   75-72-73-220
10. Celeste Valinho* 73-77-71-221
22. Amanda Sambach   74-76-76-226
27. Beth Lillie      81-73-73-227
55. Jennifer Cleary  84-72-78-234
* Participated as an individual