By Jeff White (jwhite@virginia.edu)
VirginiaSports.com
CHARLOTTESVILLE –– Virginia and UNC Wilmington played to a 1-1 draw in men's soccer Tuesday at Klöckner Stadium. The game lasted 110 minutes, and forward Michael Tsicoulias was on the field for every one of them.
That marked the first time Tsicoulias, a 5-foot-8, 150-pound freshman from Newton, Mass., played an entire game as a Cavalier.
"It was a conscious decision to keep him in and let him get through a full time," head coach George Gelnovatch said Wednesday.
The coaches' message to Tsicoulias, Gelnovatch said, was "that we think he's one of the guys who can help make us go, we think he's one of the guys who can pull off something and score a goal, we think he's one of the 90-minute guys. So he can start taking some of this on his shoulders a little bit, because he's capable of pulling off a special individual play, a special dribble, a special feint, a special touch with his pace and agility, where he can unbalance you and pull off something special and score."
Tsicoulias, who's naturally right-footed, has done so twice this season: versus Maryland at Audi Field on Sept. 6 and against VCU at Klöckner Stadium on Sept. 28.
"He's a little bit different in that he can create some chaos by himself, just off the dribble one-on-one," Gelnovatch said. "He's also fast, so he can also run behind you, just with pace. And left foot, right foot, you wouldn't know which foot he is. In fact, both of his goals were with his left foot."
Tsicoulias said: "One of the things I've always loved to do is 1-v-1s, and you can't slow down. You've got to go straight at [defenders] and put them on the back foot. So whenever I get the chance to run at someone and I'm going to goal, I go as quick as I can, wait for them to make a mistake, and then go past them and go from there."
This has been a trying season for UVA (3-6-2, 0-4), which hosts Boston College (4-4-2, 0-2-2) at 8 p.m. Friday in a game to air on Regional Sports Networks. The Wahoos lack experience—Gelnovatch started seven freshmen against UNCW (7-3-1)––and have been hurt by costly breakdowns.
Scoring also has been a challenge for Virginia. Only freshman Kome Ubogu and sophomore Leo Afonso, with three goals apiece, have more than two this season.
"The margins are tight with this group, because they're so young," Gelnovatch said. "We can be right in the fight, look like we're going to win, and tie. Be right in the fight, look like we're going to win, and lose. Those are the margins, and I think we've been on the wrong end of probably two or three of these close ones. Where if you win two and tie one of those, or you tie two and win one, you're in a little bit of a better light, with better morale."
For a program that has captured seven NCAA titles and as recently as 2019 advanced to the College Cup final, this is not a normal state of affairs. "When you're not winning, it's hard," said Gelnovatch, who's in his 26th season as head coach at his alma mater. "It's human nature."
Still, Tsicoulias said Wednesday, the Hoos haven't lost hope.
"The great thing about this team is we have such a close bond," he said. "Everyone's so close with each other, and that's what's really helped us get through this and helped us stick together. So even through the hard times, when things aren't going right, we're so close that we come together and just push through it.
"That's kind of been the motto: Just keep pushing through it, because eventually we'll have that spark, we'll get one, two, three wins in a row, and that's when things will really start turning around."
The UNCW game might have sparked such a turnaround. The Cavaliers struggled early and gave up a goal in the seventh minute, but finished with a 27-14 advantage in shots and a 16-3 edge in corner kicks.
"We absolutely dominated on those areas," Tsicoulias said, "so it was a little bit frustrating not to come out with the win. But there were some good signs, some good things to build on, and a lot of positivity."
To have settled for a draw against UNCW was frustrating, Gelnovatch acknowledged, "but Michael's right. This a good group of guys … I've taken the approach where we're just going to keep coaching and we're just going to keep going and not get too rattled with things. Just keep going. That's been the mentality."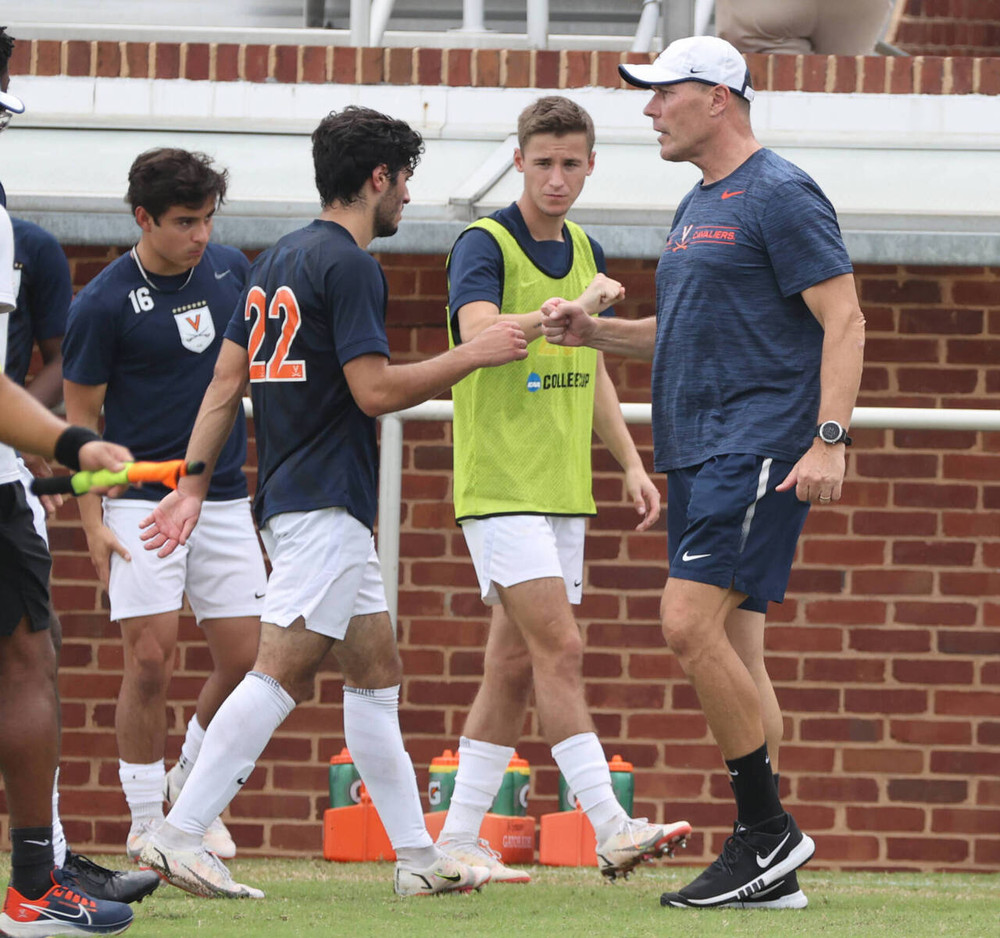 Tsicoulias, whose father was born in Athens, Greece, grew up in Newton, a suburb of Boston. He didn't watch the Red Sox defeat the Yankees in the American League's wild card game Tuesday night, "but I saw the result," he said, "so I'm very happy about that."
A graduate of Newton North High School, Tsicoulias came up through the New England Revolution's academy. UVA legend Bruce Arena is the head coach and sporting director of the Revolution, whose Major League Soccer team includes former Virginia standout Henry Kessler.
Along with such players as Daryl Dike and Joe Bell, Kessler was one of the mainstays of the UVA team that lost to Georgetown in a penalty-kick shootout in the 2019 College Cup final.
Tsicoulias said he hasn't spoken directly to Arena, but he's scrimmaged against Kessler.
"That was a really fun experience," Tsicoulias said. "He's a physical guy. And what's interesting is, I've seen interviews with him, and he's very nice and calm off the pitch. But as soon as you step on, he's a different breed, all about winning."
Tsicoulias, who rooms with UVA teammate Jesper Moksnes, has played as an amateur for the New England Revolution II, which competes in USL League One, the third division of American soccer.
Most of his Revolution II teammates are former college players, "and that's kind of their step into the professional scene," Tsicoulias said. "It's kind of like half and half [on the roster], and the other half is players like me, academy players [who aspire to play professionally]."
The COVID-19 pandemic made Tsicoulias' recruitment an unconventional one. Before he ever talked to the Cavaliers' coaches, Tsicoulias said, he and his mother visited Charlottesville and toured Grounds.
"I saw the facilities a little bit, but not too much," he said.
Once Virginia began pursuing Tsicoulias, "it was all through Zoom," he said. "So I hadn't even met the coaches in person [before reaching a decision.]"
He committed to UVA midway through his junior year of high school.
"I thought about my options and took a little bit of time just to think everything over," Tsicoulias recalled, "and I just decided that it was a great program, with great people and great facilities, and it was a great place to be, and I kind of just wanted to get away from home and start that new chapter."
One of his friends at Newton North High was Alex Sherman, and they're classmates again at UVA. Sherman, also a first-year, is a sprinter on the Cavaliers' track & field team.
"It was funny," Tsicoulias said, "I committed before him and then we talked a little bit. I don't want to say I convinced him, but we definitely were talking about the possibility of going to UVA together and how fun that would be. So it's been really fun to have him here. I hang out with him a decent bit."
Tsicoulias also has several friends who play soccer for Boston College. He knows the Eagles' coaching staff well, too, "so it's gonna be a special game," he said.
Gelnovatch is high on the potential of the Cavaliers' first-year class, a group that includes Tsicoulias, Ubogu, Erick Kilosho, Paul Wiese, Ank Nibogora, Asparuh Slavov and Nils Henry Orywol, who suffered a season-ending injury against Maryland.
For Tsicoulias, being on the field alongside so many of his classmates has been thrilling, and he's confident a breakthrough is imminent for the Hoos.
"We're a young team," Tsicoulias said, "and if we can keep improving, I feel like something's gonna happen. Eventually we'll just get one, two, three wins, and we're back on the right track."
To receive Jeff White's articles by email, click here and subscribe.