By Jeff White (jwhite@virginia.edu)
VirginiaSports.com
CHARLOTTESVILLE – Due to concerns about COVID-19, college squash was essentially shut down in 2020-21. The University of Virginia men's team played two matches last season, both against Navy in late February. The UVA women's team played none all season.
Virginia's other 25 varsity teams had to follow strict protocols throughout the school year, but they were at least able to compete in 2020-21. That left Mark Allen, head coach of the squash teams, with mixed feelings.
"So much of it depended on where I looked," Allen recalled. "When I looked sideways at the other programs here at UVA and the other coaches, I felt like we had a tough situation, because we were the only sport not able to compete, and trying to keep the players focused and working hard on a day-to-day basis, without that carrot of competition, without that to motivate them and look forward to, with everything else that they were struggling through, that we were all struggling through, that was really hard.
"But then, by comparison, if I looked at my fellow college squash coaches [around the country], we had it better than most. Because I was on meetings with them and finding that they all felt I was a lucky one, because I was seeing my players every day. We were able to at least play and train together, we were able to lift, and our players were able to have that outlet of their sport, while so many of the Ivy League [and NESCAC programs] were closed down."
Still, Virginia's setup at the Boar's Head Resort's McArthur Squash Center was less than ideal. Players were split into practice pods, Allen said, "mostly based on who they lived with to try and be as careful as possible [about COVID-19]. So not only was it a case of them only playing each other, they were actually not even playing everyone on the team. Most of the time they were restricted to just three other practice partners. It was hard to stop that from going stale two-and-a-half, three months in. We did the best we could."
Moreover, not all of Allen's players were in Charlottesville in 2020-21. On the men's side, the team's Egyptians, Aly Hussein, Omar El Torkey and Taha Dinana, stayed at home and took classes online, and "so the rest of our players didn't have the benefit of having our three strongest players here on a daily basis to train with," Allen said.
"But the positive was we were able to get on court, and we were able to train. As far as strength and conditioning is concerned, it was a really beneficial season, because we were able to do strength and conditioning for the teams without having to taper off and worry about peaking for matches. So we really did have a whole season of pushing hard in that area, and I think that's actually one of the reasons why the women have come out as strong as they have, because that kind of work is cumulative. It builds on the week before and the week before that, and the women have had an uninterrupted, focused strength-and-conditioning program for 15, 16 months straight, and I've seen how much they've moved forward as a result of that."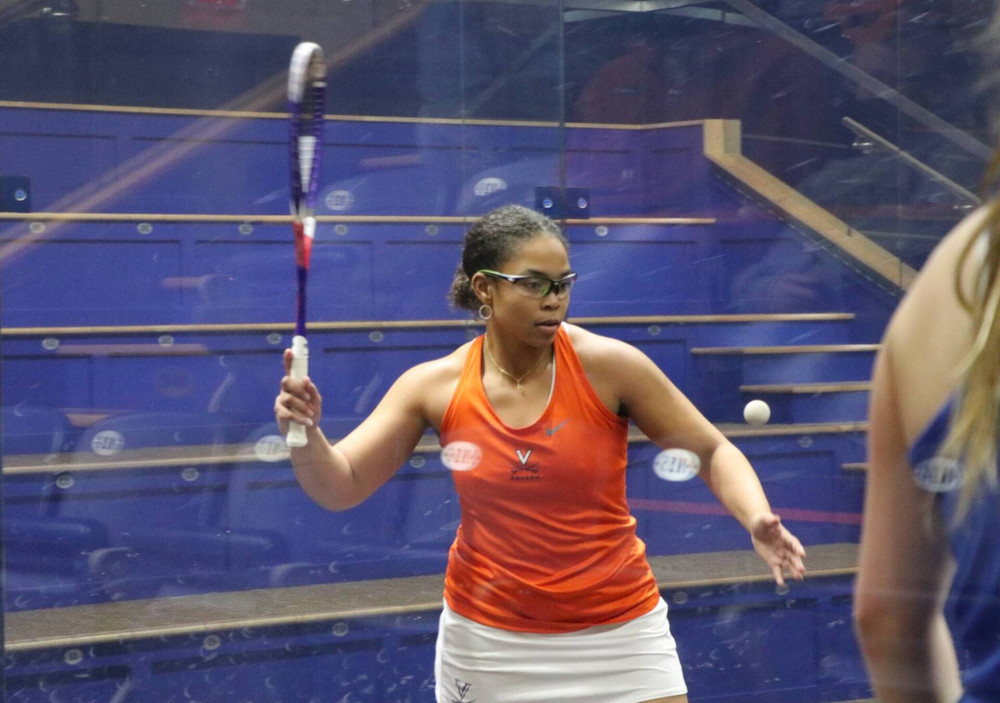 The Collegiate Squash Association governs intercollegiate competition in the sport, and its latest rankings reflect the rise of UVA's programs. The women's team is 6-2 and ranked a program-best No. 5 nationally. Its losses were to Yale and Princeton, Nos. 4 and 3 in the latest CSA rankings.
"The ladies came out played a little nervously in their first match, but once they had that out of the way they've just played superb squash and showed real fighting spirit," Allen said.
The UVA men, whose record is 5-4, are ranked No. 8.
"They had a slower start [than the women]," Allen said, "and definitely didn't play as well as I think that they know they're capable of in the opening weekend, when we played Yale and Columbia back-to-back. That was a slow start. But since then I think they've got better with each match, and they've been progressing nicely, and now we've had four wins in a row.'
That streak includes 9-0 victories over MIT and Franklin & Marshall, "teams that as little as three or four years ago we struggled to beat," Allen said. "It shows far the team's progressed."
For years, squash was a club sport at UVA. That changed in 2017-18, when both teams attained varsity status. A gift from an anonymous donor provided funding for scholarships, annual operational support and facility enhancement.
The Virginia men finished 15-8 in 2017-18, 16-7 in 2018-19, and 19-5 in 2019-20.  The women's team, over the same span, posted records of 14-9, 18-7 and 17-6.
The men's captains are junior Tyler Mackesy and senior Will Holey. The Cavaliers are especially strong at the top of the lineup, where Hussein is 8-1 in the No. 1 position and El Torkey is 8-1 at No. 2.
"We knew when we recruited them that we were recruiting two of the best players in the world for their age," Allen said, "and that obviously they were going to come in and really make an impression. And that's absolutely been the case. Historically, we've been a very deep team, and our strength has always been at the back end of the program. With those coming into the team, we're still deep at the back, but now we really compete at those top two positions.
"There's the odd exception, but we go into most matches feeling fairly confident that we're going to take those two positions, and obviously when it's only nine versus nine and you already feel really confident about taking those top two, it puts you at a significant advantage. And then on top of that, obviously it pushes everyone else in the lineup down a position and gives them a better chance of winning."
Seniors Caroline Baldwin and Emma Jinks are the captains of the women's team, for which Meagan Best, a sophomore from Barbados, usually plays in the No. 1 position.
The Wahoos' depth has been instrumental in their success this season, Allen said. "Whoever has needed to step up in a match when it's really mattered has stepped up. We've had three 5-4 wins, and in each case, it's not the same ladies winning every time. It's come down to the last couple of matches, and different players have come through when we've needed it most. So that's been a real collective effort."
The path Jinks has followed at UVA underscores the growth of the women's program. As a freshman in 2018-19, she played in the No. 1 position and posted a 14-8 record.
"She was a game-changer when she came into our program," said Allen, who coached the Cavaliers' club teams from 2013-17.
Jinks, who's from Canada, also played No. 1 as a sophomore. She now plays in the No. 4 position, but not because she's regressed on the court.
"Her squash has gotten better," Allen said. "She's a much tougher and better squash player now was a fourth-year that she was as a first-year, and yet she's playing four on the team. And that just goes to show you how the team has grown around her and gone up in strength."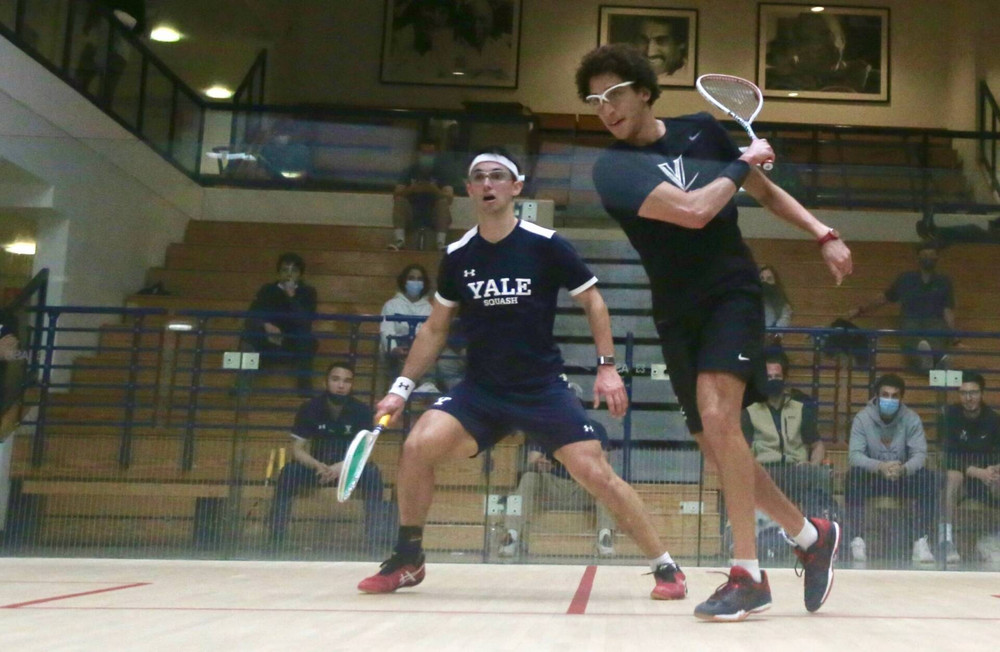 After a break for the holidays, both UVA teams will reconvene on Grounds early next month. The Hoos return to action on Jan. 9, when they host the second-ranked Harvard men and top-ranked Harvard women at the McArthur Squash Center.
"So that's a tall order for us," Allen said, "but at the same time, it's a really good chance for us to measure where we are against the best teams in the country and find out this is where we are, this is how far we've got to go. And the opportunity to play them at home is really exciting."
The goal of each UVA squash program is to win a national championship. The teams have excellent leadership and strong character, Allen said, and "so in terms of what we're doing on a day-to-day basis, and the direction the team is moving, I think the ingredients are there. The next step for us is definitely making sure we're recruiting the very top players that come out of the United States."
He and his assistant coach, Grant White, have fared well recruiting internationally, Allen said, and "we're getting better and better at our pitch in terms of being able to have a shot with the very best U.S. players as well. Six or seven years ago, someone who was ranked 15 in the country didn't take as close as look at us as they did two years ago, and now I'd like to think that any player in the United States, even the top two or three, are starting to take a serious look at UVA when they're considering where they're going."
UVA is the only Power 5 school that offers men's squash as a varsity sport. UVA and Stanford are the only Power 5 schools with varsity women's squash.
"We're getting better at knowing what it is that we offer that sort of makes us a little bit different and makes a top-level college recruit consider us over our opposition," Allen said. "We just need to continue to make progress on that."
To receive Jeff White's articles by email, click here and subscribe.