By Jeff White (jwhite@virginia.edu)
VirginiaSports.com
CHARLOTTESVILLE –– They became friends as undergraduates at the University of Georgia, where they starred on the track & field team. LaRon Bennett and Martin Maric were young men then and had yet to encounter many of the obstacles that come with adulthood.
"We were oblivious of real life," Maric recalled with a smile.
Nearly two decades later, they're together again, this time as colleagues on the staff of Vin Lananna, Virginia's director of track & field and cross country. Maric has coached the Cavaliers' throwers since the 2012-13 school year. Lananna hired Bennett this fall to coach sprints, hurdles and relays at UVA.
"It's like coming full circle," Bennett said of being reunited with Maric, who completed his college career at Cal, where he was an NCAA champion in the discus, and later represented Croatia at two Olympics.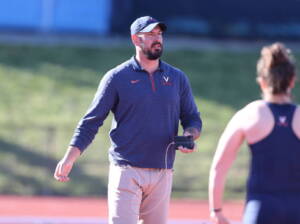 Like Bennett, Maric has an upbeat personality and a fun-loving side. They had those qualities in college, too, "but now that we've reconnected, you can see that we went through life a little bit," Maric said, laughing. "We're grown-ups now. I can see he's matured, and I hope he sees that in me.
"He has kids. I have a kid coming up. We have families, different obligations. We're way more serious than we were then, but some strong traits don't change, and his positive attitude stayed there. But you can see how he's looking at the bigger picture. Coaching a lot of kids, you gotta be pragmatic. You gotta deal with different characters, and he's done a great job of that."
Bennett was head coach at Division III Belhaven University in Mississippi when the position at Virginia opened. Maric picked him up when Bennett came to Charlottesville to interview for the job.
"He was like, 'Man, I hope we get you here,' " Bennett recalled. "I'm a relational coach, and the strength of my training, the strength of any program, is the strength of family. And so that's what it felt like with Martin: 'This is my brother, and we're going to do big things here.' He and I both have come from great coaching trees, so we're just kind of paying it forward, I guess."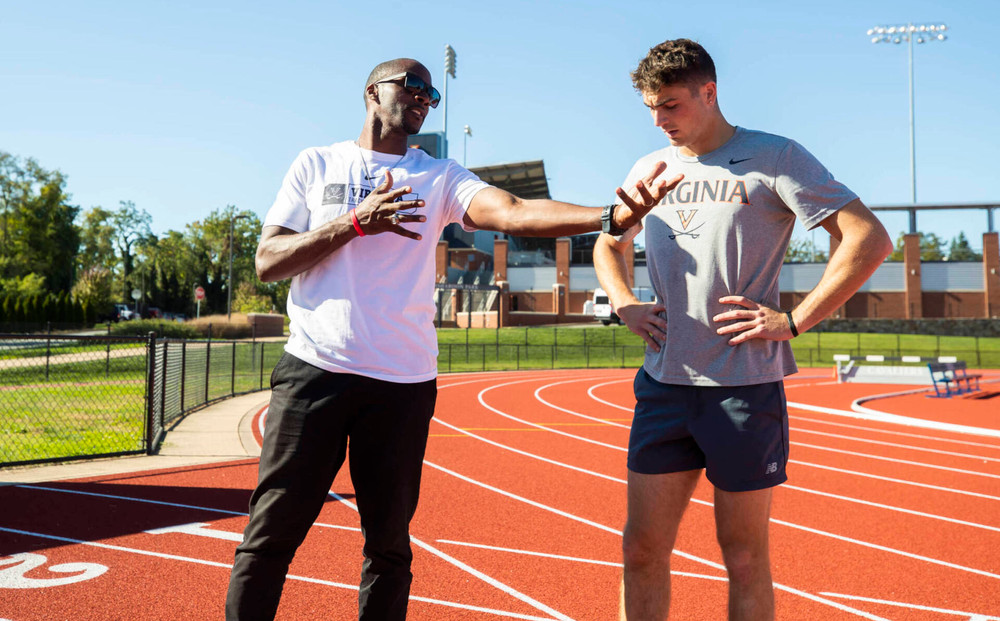 Lananna, a towering figure in the sport, didn't know Bennett before this year but had heard good things about him.
"When the job first opened, he reached out to me," Lananna said, "and he was interesting and intriguing enough that I gave him a call, and we had a great first conversation. That was very early in the process. It was interesting how it all circled back. He left a really good first impression."
Lananna said he knew little about Maric's connection with Bennett.
"With everything I do, I try to really keep our whole staff included," Lananna said, "so in the process I think Martin shared that information with me, but it was more as a character reference."
Bennett, who grew up in Brunswick, Ga., was a three-time All-American in the 400-meter hurdles at Georgia before embarking on a professional career in track & field. He competed in the 400-meter hurdles at the U.S. Olympic Trials in 2004, 2008, 2012 and 2016, advancing to the semifinals in 2012.
To pursue an Olympic dream requires "a special kind of person, for sure, and a special kind of commitment," Bennett said. Races are often determined by fractions of a second, and "if you don't get it right, or if you're not spot on, then it just cost you four years, and you've got to decide whether you want to train four more years to have that one opportunity."
He wrote a book, "Mind of an Olympian," about his journey. It described "the dedication and the willingness to sacrifice four years for the moment, come up short, sacrifice four more years for the moment, come up short, sacrifice four more years for the moment, come up short," Bennett said. "Four times in a row."
His friendship with Maric wasn't Bennett's only connection to UVA. When Bennett coached track & field at North Oconee High School in Bogart, Ga., his sprinters included Carmen Williams. She's the older daughter of Virginia's athletics director, Carla Williams, who was then working at Georgia.
Bennett, who has a master's degree from the University of Phoenix, began coaching as a volunteer assistant at Georgia. He later worked at Drake University, where he was interim co-head coach in his final season, and at Grand View University, an NAIA school in Iowa, before moving to Belhaven in February 2019.
Once they became coaches, Maric and Bennett would see each other periodically, and they stayed in touch after Bennett left Drake.
"Being from a small town from Georgia, you work hard at track and school," Maric said. "He definitely hustles. He didn't have an easy time growing up, but he always kept a positive view. He loves hard work. He's like, 'I'm blessed. This is way better than it could be. This is another opportunity. Let's see the positive side.' And his family is like that, too. I've met his mom and his dad, and his brothers and sister. They're all hard workers and just look on the positive side. I think kids these days definitely need that, and his positive attitude will be his weapon."
Bennett's passion for coaching and for the sport impressed Lananna.
"I think the thing that really stood out to me was his ability to really relate to the student-athletes, and that was the most important thing," Lananna said. "There's a lot of really good coaches technically, and you can evaluate someone just on the technical side of it, or you can evaluate someone who's the right mix for Virginia and the student-athletes that we have. I've gotten to know the student-athletes really well, and I felt that LaRon would be a good match for the kids that we had and for kids that I'd want to get to come to Virginia."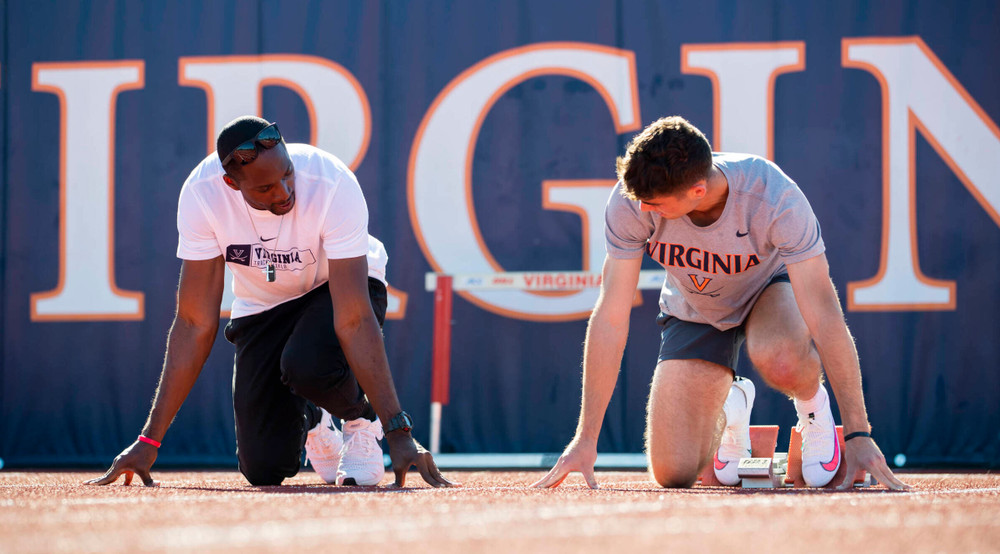 Lananna said Bronco Mendenhall, whose tenure as Virginia's head football coach ended this week, played a key role in the hiring of Bennett, who has a background in that sport, too.
"I worked pretty closely with Bronco as we talked about this position," Lananna said, "because I feel as though football and track can really support each other. Speed is critical in big-time football these days, and I think it always has been."
It's not unusual for wide receivers and players at football's other "skill positions" to run track in the offseason, and "Bronco was pretty committed to that," said Lananna, who looks forward to building a similar relationship with Tony Elliott, Mendenhall's successor as head coach.
Bennett is still adjusting to being back in an assistant's role, "because at Belhaven I did it all," he said. "The first thing I noticed when I got here was we have four [athletic] trainers."
At Belhaven, Bennett said, his myriad responsibilities including helping with "stretching my kids out. So having the extra resources here is refreshing. And so that's the biggest thing, and obviously having adequate facilities helps."
Bennett is confident he'll help the Cavaliers' sprinters and hurdlers reach their potential. Under his tutelage, Bennett said, his student-athletes have consistently attained personal records.
"I've know I've been able to create success with little to nothing," Bennett said. "Now you've given me resources, then it's only a matter of time [before the Hoos perform well]."
For Bennett's group, the indoor season starts Jan. 14 at the Virginia Tech Invitational in Blacksburg. The Cavaliers' sprinters and hurdlers trained throughout the fall. When they return to Grounds from their holiday break early next month, they'll continue ramping up their workouts.
"My plans are designed to carry them basically from this base level all the way up to where at nationals they're humming on all cylinders," Bennett said. "We're going to make some noise and essentially serve notice that we're shifting to a different or higher standard, so to speak, in the sprints and hurdles. The training's been good."
To receive Jeff White's articles by email, click here and subscribe.