By Jeff White (jwhite@virginia.edu)
VirginiaSports.com
CHARLOTTESVILLE –– The weather may be frigid, with snow piles dotting the area, but the University of Virginia men's soccer team is back on the practice field, training daily as the start of its spring schedule approaches.
The Cavaliers know they have ground to make up. They've dropped out of sight on the national landscape, and they're determined to regain their customary stature in the sport.
Starting in 1981, Virginia advanced to 39 consecutive NCAA tournaments. During that stretch, the Wahoos won seven NCAA titles and were NCAA runners-up twice. Since losing a penalty-kick shootout in the 2019 College Cup final, however, the Hoos have missed two straight NCAA tournaments, in large part because they haven't been able to replace the talent that has departed.
After the 2019 season, four players with eligibility remaining left UVA to turn pro––Daryl Dike, Joe Bell, Henry Kessler and Daniel Steedman––and a year later another standout, Bret Halsey, left early to sign a Major League Soccer contract. By the start of last season, center back Andreas Ueland was the only regular left from the Virginia team that in 2019 nearly secured the program's eighth NCAA crown.
George Gelnovatch, who's heading into his 27th season as head coach at his alma mater, stops shots of making any bold predictions about his latest team, but he believes the Hoos again have a solid foundation on which to build. Of the 15 players who recorded a goal or an assist last season, 13 are back, including forward Leo Afonso.
Afonso led the Cavaliers with eight goals and was named to the All-ACC second team. Other returning players include Ueland, goalkeeper Holden Brown, Kome Ubogu, Paul Wiese, Michael Tsicoulias, Aparuh Slavov, Nils Henry Orywol, Will Citron, Kaya Ignacio, Ank Nibogora, Jeremy Verley, Erick Kilosho, Jules Anderson, Cabrel Happi Kamseu, Kevin Ogudugu, Philip Horton and Isaiah Byrd.
"So a lot of guys got experience," Gelnovatch said.
Ubogu was second on the team with four goals last season, and Wiese led Virginia with six assists. Slavov started all 17 games and was named to the ACC's All-Freshman team. Ogudugu, coming off a season in which he scored three goals, was limited to five games in 2021 because of injuries. Orywol showed promise at left back before suffering a season-ending injury in the Cavaliers' third game.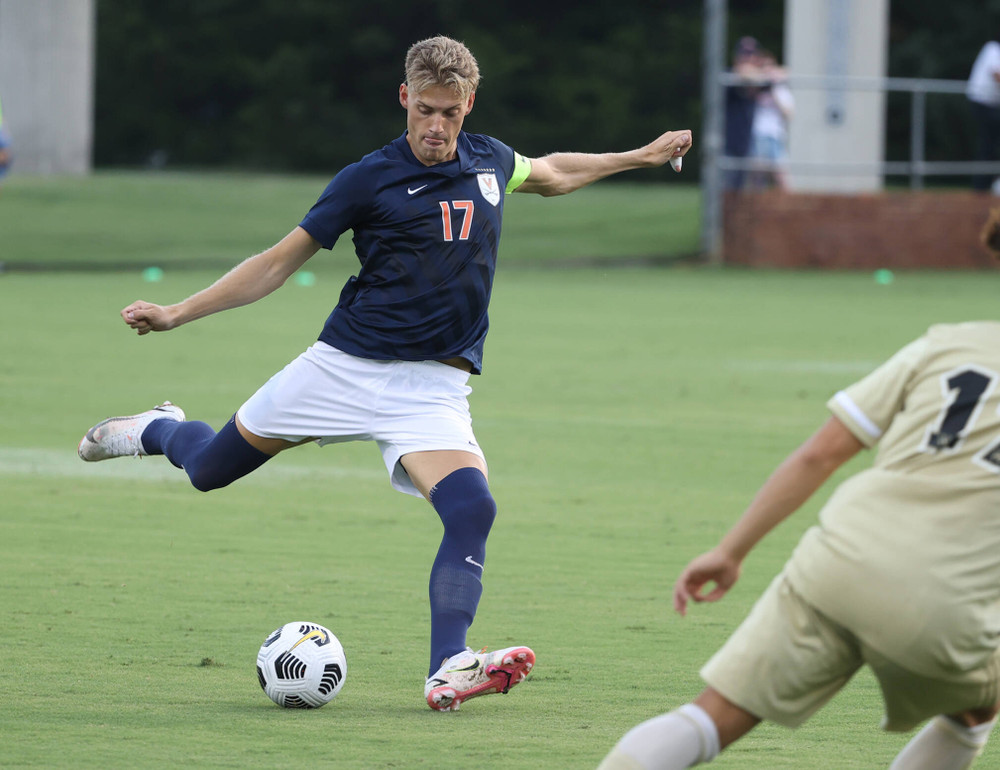 UVA finished 6-9-3 in 2021 after posting a 7-8-1 record the previous season. The Hoos played six overtime games last season and did not win a single one. They were 0-3-3 in those matches, and that, as much as anything else, kept them out of the NCAAs.
"Overtime killed us," Gelnovatch said.
The Hoos added three players this month: freshman goalkeeper Colin Gallagher and transfers Aidan O'Connor (Western Michigan) and Daniel Mangarov (UNC Greensboro). A well-regarded recruiting class and, in all likelihood, another Division I transfer will join the program this summer.
"That's why I finally feel like we're going to be back in a good place," Gelnovatch said.
Gallagher is a goalkeeper who'll team with Brown and Scott Williams to give UVA excellent depth at that position. O'Connor is a 6-foot-4 defender known for his physicality. Mangarov is a 5-foot-7 attacking player who totaled four goals and three assists last season for a UNCG team that finished 13-4-1. (UNCG and UVA played to a 0-0 draw at Klöckner Stadium on Sept. 14.)
Gelnovatch has guided the Cavaliers to six College Cup appearances and two NCAA championships (2009 and 2014). In seasons when Virginia lost in the NCAA tournament's round of 16 or quarterfinals, Gelnovatch said, he'd often be too frustrated to watch the College Cup games.
"I might watch a snippet or read something," he said. "But this year I watched every minute of all those games at the final four, and many of the quarterfinals, to see what was going on out there."
Most of the teams that made deep runs in last season's NCAA tournament, Gelnovatch said, kept their cores together through the COVID-19 pandemic and didn't experience as much turnover as UVA.
With a solid nucleus of players back from last season, the Cavaliers should be more cohesive this year. Still, Gelnovatch expects several newcomers, some of whom won't arrive on Grounds until the summer, to play leading roles, so it will take time for this group to gel.
The Hoos will play six games this spring, starting with an exhibition against Athlete Institute FC, a team from Canada, on Feb. 27 in Charlottesville. Also on the spring schedule are matches against USL Championship club Loudoun United, Duke, NC State and Pitt, plus a 10-team event called the Spring College Cup, which Wake Forest will host on April 9.
"We still have some work to do," Gelnovatch said, "and this spring we'll get a lot of it done."
To receive Jeff White's articles by email, click here and subscribe.