EDITOR'S NOTE: This is the fourth of the four articles in VirginiaSports.com's Black History Month series for 2022. The others are on Cathy Grimes-Miller, Tommy Smith and Paulette Jones Morant.
By Jeff White (jwhite@virginia.edu)
VirginiaSports.com
CHARLOTTESVILLE – Four decades after he placed second in the triple jump at the NCAA indoor track & field championships in Detroit, University of Virginia alumnus Keith Witherspoon continues to compete at a high level.
Last summer, Witherspoon said, he would have broken the world record in the long jump for his age group, if not for a slight scratch. A bout with COVID-19 and a subsequent illness slowed Witherspoon recently, but the Richmond-area resident is on the mend and plans to compete in late July at the USA Track & Field Masters Outdoor Championships in Lexington, Ky.
Witherspoon, 69, who graduated from UVA's McIntire School of Commerce in 1976, has also stayed active in track & field as a coach, though the pandemic "has placed restrictions on that," he said. "Just before COVID started, I was working with five kids from different high schools, and four of them qualified for the nationals. The other had only started with me like a month before, and then COVID hit and none of them got to go."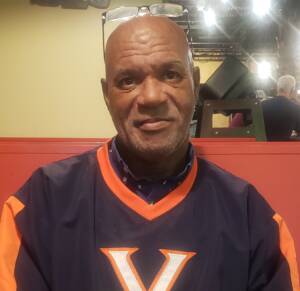 He's especially well-versed in the triple jump and long jump, "but any event that they need, except for the weights and pole vault, I can and do work with them on," Witherspoon said.
His pupils have included Elby Omohundro, who's now a junior on the UVA track & field team.
"I've worked with Elby since he was 12 years old," Witherspoon said. "I did a coaching clinic for the University of Richmond, and Elby was at that clinic when he was 12."
Born and raised in Newport News, Witherspoon graduated in 1971 from Huntington High, then one of that city's All-Black schools. Not only a superb student, he was an exceptional athlete whose speed and jumping ability helped him stand out in football and track & field.
He was set to attend William & Mary, whose track & field coach had made him a recruiting priority, Witherspoon's aunt and a family friend, his guidance counselor at Huntington High, steered him to UVA.
Witherspoon, who received a National Merit Scholarship, arrived on Grounds with no plans to participate in athletics at UVA.
"I came for the academics," said Witherspoon, who started in the University's Engineering School before transferring to McIntire. "UVA hadn't recruited me for anything. The track coach's budget for recruiting was postage stamps. That precluded him from recruiting me for track. They didn't really recruit anybody. He didn't have the budget for it."
But Lou Onesty, then the Cavaliers' head coach in track & field, was aware that Witherspoon had been a state-champion triple jumper at Huntington High. And so Onesty sent his captains to try to persuade Witherspoon to join UVA's program.
It took a while, but Witherspoon eventually agreed, in part because of an offer he received from a javelin thrower who knew Witherspoon was struggling in a physics class.
"He said, 'Look, I'll make a deal with you. If you come out for the team, I'll tutor you in physics,' " Witherspoon recalled. "And that's how I ended up joining the track team. And then I met Lou, and that was the reason for my staying on the team."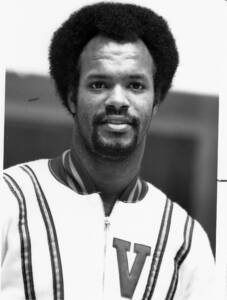 Witherspoon, whose nickname was "Spoon," was an immediate sensation. As a freshman in 1972, he placed fifth in the triple jump at the NCAA outdoor championships. (He would place eighth in that event at the NCAA outdoor meet in 1975 and 10th in 1976.)
Don Lawrence, then the Wahoos' head football coach, came out to track practice one day and asked Witherspoon to come out for his team. Lawrence had heard from Huntington High's football coach that Witherspoon was talented in that sport, too.
The 5-foot-10 Witherspoon, who weighed about 155 pounds, tried out for and made the football team in the summer of 1972. For various reasons, however, his football career at UVA never took off. The 1973 season was Lawrence's last at Virginia, and Witherspoon never felt Lawrence's successor, Sonny Randle, gave him a fair shot.
It was an unpleasant experience for him, Witherspoon said, "but it made it easier in life when I encountered other [obstacles]."
Witherspoon, who practiced at wide receiver and defensive back and also returned kickoffs, never played in a varsity game at Virginia. But the Cavaliers had a junior-varsity team back then, and one season he returned a kickoff 86 yards for a touchdown against Virginia Tech's JV and returned an interception 33 yards against Fork Union Military Academy's postgraduate squad.
Moreover, in the varsity spring game one year, Witherspoon said, he scored two TDs and, if not for errant passes by future Virginia governor George Allen, could have had two more.
Randle lasted only two seasons (1974 and '75) as head coach at UVA, his alma mater. The Hoos finished 1-10 in 1975 with a roster that did not include Witherspoon.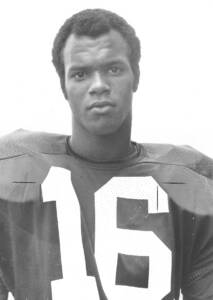 After the 1974 season, Witherspoon said, the coaches "called us all back to talk about the next year. I told them, 'There's no next season for me. There's no more football for me.' "
Witherspoon had a much happier experience in track & field, where he was a team captain and competed for two head coaches: Onesty and, in 1975-76, Dennis Craddock. Witherspoon won four ACC titles in the triple jump––two indoor (1975 and '76) and two outdoor (1975 and '76)­­––but that was far from his only event.
He specialized in the triple jump and long jump but also competed in the high jump, 500-yard dash and  400-meter hurdles and ran on the 4×100, 4×400 and 4×800 relay teams.
"Virginia didn't have a large team," Witherspoon said. "We had many needs."
In 1976, he recorded a triple jump of 53 feet, 0.25 inches at an indoor meet. That set a program record that stood until January 2012, when Marcus Robinson jumped 53-5.75. Robinson had come to UVA from J.R. Tucker High School in the Richmond area, where Witherspoon coached in the jumps.
"Marcus was sent to Virginia to break [the record] and get a good education," Witherspoon said in 2012, "and he's done both."
The Hoos have had two other elite triple jumpers since then: Jordan Scott and Owayne Owens, a current member of head coach Vin Lananna's program. Witherspoon now ranks fourth all-time at UVA in the triple jump and seventh in the indoor long jump, both indoors and outdoors.
His most memorable performance came in March 1976, when he was runner-up in the triple jump at the NCAA indoor meet in Detroit. That was the highest finish ever by a Cavalier at the NCAA championships.
Witherspoon liked to have music playing when he jumped. "It really helps me relax and not to concentrate too heavily," he said in a 1976 interview. "Tenseness can bind you so that you don't give your best."
He came to UVA at a time when the student body included few African-Americans. Witherspoon said he encountered animosity on Grounds, and "it wasn't just because of my race. Back then, the overwhelming attitude seemed to be, 'Well, if you're an athlete, you can't be a good student.' Fortunately, not many people knew I was an athlete. You could hide that. I couldn't hide the color of my skin."
For all the racial tension he experienced, Witherspoon said, he also received "wonderful support" from many people at UVA, including Onesty and his wife, Margaret, and Professor Jim Beaver and his wife, Karen.
"Basically that's how I made it through UVA," Witherspoon said. "I've told you a lot of negative things, but there were a lot of good people."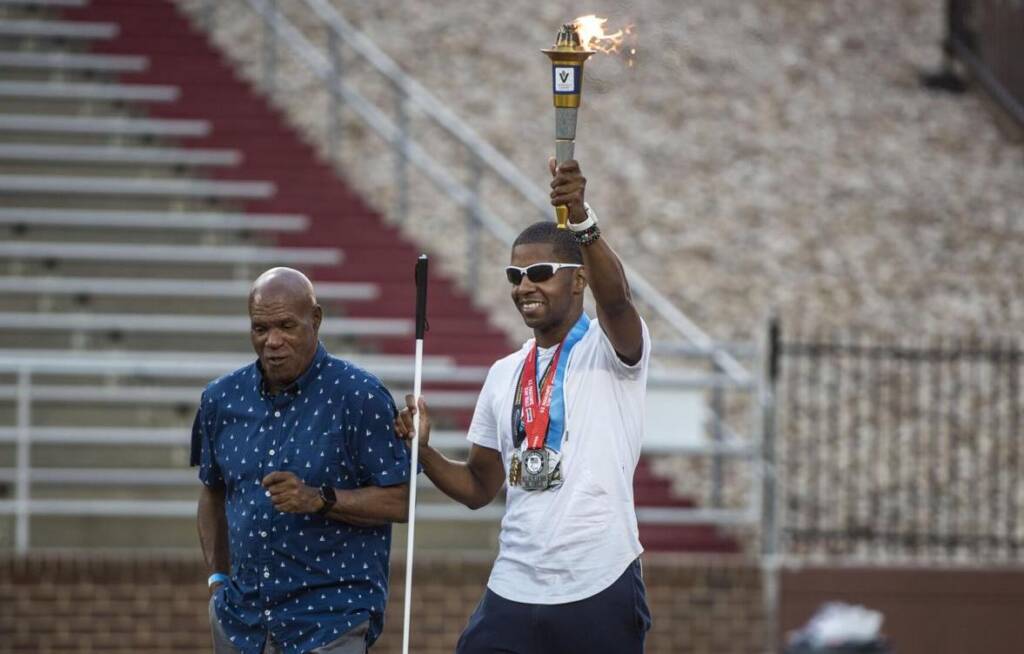 After graduating from the Commerce School, where he majored in finance and management, Witherspoon moved to Richmond and went to work for IBM, where he spent most of his 17 years as a systems engineer. He later started a consulting firm and also worked for the Virginia Department of Transportation and the Urban League of Greater Richmond before retiring.
He's coached at several schools in the Richmond area, including J.R. Tucker High, Highland Springs High, St. Catherine's and St. Christopher's. At UVA, he helped coach the women's track & field club, which later became a varsity team.
Twenty years after graduating from UVA, Witherspoon got married "to a lovely young lady." He and his wife, Sandra, have a daughter, Raven Witherspoon, who in 2020 became Virginia Commonwealth University's first recipient of a prestigious Schwarzman Scholars graduate fellowship. She was one of 154 students chosen from more than 3,600 applications.
A graduate of J.R. Tucker High, Raven is living in China and pursuing a master's degree at Schwarzman College at Tsinghua University in Beijing.
Witherspoon's pride in his daughter shines through when he talks about her. He's also happy that his records haven't lasted at UVA, whose track & field program he continues to support.
"I sent Marcus [Robinson] there to break them," Witherspoon said, "and it's good that it's continued."
To receive Jeff White's articles by email, click here and subscribe.