By Jeff White (jwhite@virginia.edu)
VirginiaSports.com
CHARLOTTESVILLE – Cade Saustad carries a hard-earned reputation as a formidable defender. At 6-foot-5, with quick feet, he's not someone opposing lacrosse teams typically try to challenge.
"He's the shut-down guy, not the go-at guy," University of Virginia head coach Lars Tiffany said, "and he was the go-at guy last week. Maryland went at him."
That's because the Terrapins knew Saustad wasn't 100 percent. He'd hurt his right knee two weeks earlier and wore a bulky brace when UVA and Maryland met last weekend in Washington, D.C., in a rematch of last year's NCAA championship game.
It didn't go well for the Wahoos, who have won two straight NCAA titles. Eight seconds into the game, Maryland attackman Keegan Kahn beat Saustad for a goal, and that wasn't the only time No. 11 struggled with the pace of play in UVA's 23-12 loss at Audi Field.
"I probably shouldn't have been out there as much as I was," Saustad recalled, "but I like to compete, and I wanted to be out there with my team. "
In the week leading up to No. 2/3 Virginia's game against ACC rival Notre Dame, Saustad's knee grew stronger. A redshirt junior from Dallas, where he also starred in football at Highland Park High School, Saustad wore a brace again Saturday. But he was significantly more effective than he'd been against the Terps.
"This week I definitely felt better, and I think it showed on the field that I could move around a little better," Saustad said after the Hoos defeated the Fighting Irish 12-8 on a cold, blustery day at Klöckner Stadium.
The Maryland game "was a really tough pill for him to swallow," Tiffany said. "I knew the heart was there. I was excited to see that his body was back, too."
There was a noticeable difference, Tiffany said, in the "way Cade moved laterally in practice and how he did today against some quick, dynamic attackmen, the two Cavanaugh brothers."
The 24 goals were the most the Cavaliers had allowed in a game since 1978. Giving up 20 in a loss at Syracuse last season had been bad enough. "That stung," Saustad said, "and this stung a lot worse. But I think we'll be better because of it."
The final score Saturday was deceiving. After Virginia (7-1, 3-0) went up 12-5 on a long-range shot by midfielder Evan Zinn into an empty net, Notre Dame (2-4, 0-1) scored three goals in the final 68 seconds. All came against backup goalie Miles Thompson, who'd replaced starter Matthew Nunes with 1:38 remaining.
A freshman who like Saustad is from Texas, Nunes dazzled in the eighth start of his college career.
"Matt Nunes made some big-time saves," Tiffany said. "I was surprised to only see 12 saves [for Nunes]. It felt like more, but maybe he just made some dramatic ones."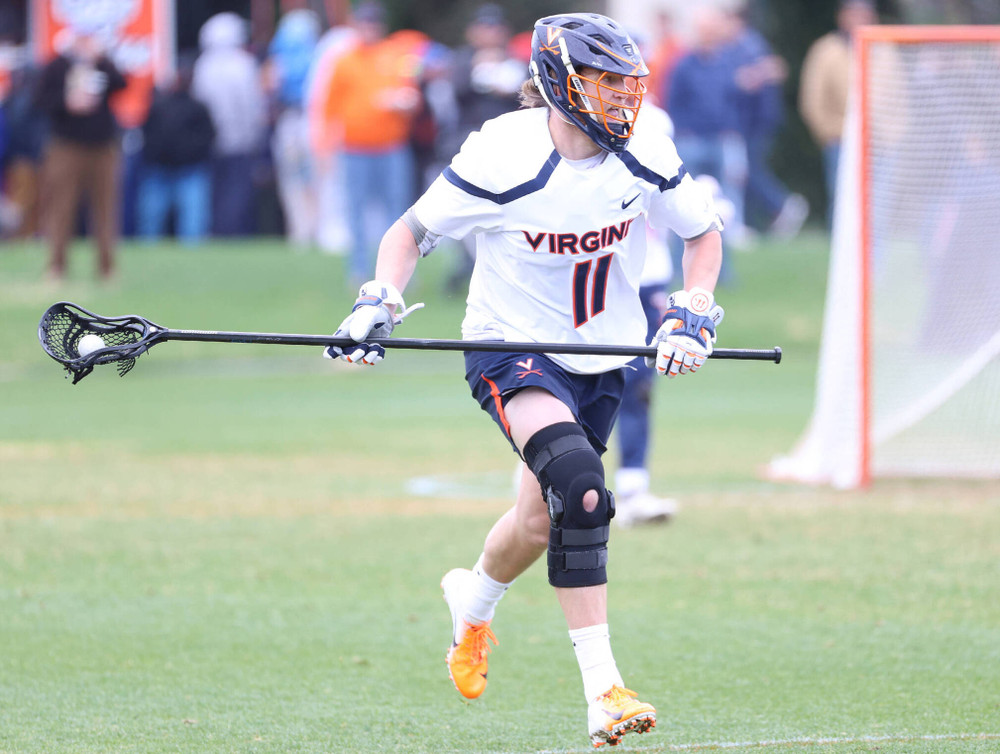 For Notre Dame, whose head coach, Kevin Corrigan, is a former UVA player, the eight goals were a season low. Not since May 4, 2019, when the Irish lost 10-4 to UVA at Klöckner Stadium in the ACC tournament final, had they scored so few goals in the game.
"What a difference compared to last week with that defensive effort," Tiffany said.
The victory was the Hoos' fourth straight over the Irish. Virginia forced Notre Dame into four shot-clock violations.
"I think the Maryland game was an important step for our team," Saustad said. "Defensively, we let up a ton of goals, and we wanted to go back to what we were good at. I think it came down to leadership and communication. I think we lacked that against Maryland, and today we showed up and our defense played as a team, and I think it paid off."
Saustad, who made the All-NCAA Tournament team last year, hurt his knee March 5 in UVA's 19-8 rout of Johns Hopkins at Klöckner Stadium. In an awkward play, another Cavalier slammed into Saustad's right knee.
"The knee bent inwards," Saustad said. "I was definitely really scared, especially right when it happened. My whole season flashed before my eyes."
He missed Virginia's March 10 win at North Carolina but returned to practice after that game. "When it comes down to it, I got pretty lucky," Saustad said. "It could have been a lot worse."
He had another scare Saturday when, late in the third quarter, he ran into Notre Dame midfielder Wheaton Jackoboice, who was dodging toward the goal. Saustad lay on the field briefly before walking slowly to the UVA sideline, where medical personnel examined him.
Jackoboice "just kept going," Saustad said, "and I was in his way and I kind of lowered my head and hurt my neck a little bit. My neck's a little stiff, but I'm good."
The Cavaliers' coaches held their collective breath when Saustad went down again, Tiffany said, but they know he's not easily deterred.
"He's a Texas high school football player," Tiffany said. "He's going to get up. He's going to do whatever he can. But sometimes that can be a fault, like last week, where he came back too quickly.
"He wasn't medically in any danger playing last week; he just wasn't ready. He just wasn't laterally quick enough against an explosive Maryland attack. So today was huge for him and for us, to be able to say, 'OK, Cade's back.' "
Saustad, an economics major, is one of Virginia's captains, along with midfield Grayson Sallade and attackman Matt Moore. In that role, he wants "to be that leader that can help do what the captains did before," Saustad said. "They led teams to national championships and we're just trying to emulate what they did and add our own twist.
"Obviously, you want to make everyone happy, but you gotta be tough sometimes."
As a freshman in 2019, Saustad started on the UVA team that won the program's first NCAA in eight years. He played the second half of that season with a sprained right ankle that he re-injured that summer.
In the fall of 2019, he underwent an operation, called a Brostom repair, in which the ligaments on the side of his ankle were reconstructed. He had some setbacks in his recovery, and Saustad had yet to be cleared to play in 2020 when the COVID-19 pandemic shut down college sports.
He returned to form in 2021, however, and he's looking forward to playing for the Hoos again next year, when he'll be a student in the M.S. in Commerce program. Tiffany will be delighted to have Saustad back.
"We just talked as a team about how we made necessary adjustments during the game," Tiffany said, "and I said, 'That's a function of having experienced players, guys who understand our system well enough that they can make adjustments to it.' And we did that today several times during the game, and I'm smiling ear to ear knowing that we have six fourth-years coming back for a fifth year, because that institutional knowledge is just so critical."
To receive Jeff White's articles by email, click the appropriate box in this link to subscribe.