By Jeff White (jwhite@virginia.edu)
VirginiaSports.com
CHARLOTTESVILLE – A record that has stood in the University of Virginia women's lacrosse program for two decades could fall this spring.
In 2002, Amy Appelt scored 53 goals, the most ever by a UVA freshman. Twenty years later, first-year attacker Rachel Clark has scored 42 times for the Cavaliers, who have at least five games remaining this season.
"Rachel is a cut above," Virginia head coach Julie Myers said. "She's always been a dominant player, no matter how old she's been on any team she's played on. And she's brought that confidence and that swagger with her to college."
Clark is from Devon, Pa., a suburb of Philadelphia. She committed to UVA early in her junior year at Conestoga High School, but she had attracted Myers' attention long before that.
"I would have taken Rachel in ninth grade and put her in our attack," Myers said. "She's just dynamic. She's not perfect by any means, but she's a true competitor. She does make mistakes, but she doesn't let them really rattle her."
The 5-foot-9 Clark isn't the only athlete in her family. Her father played football at Bucknell University, and her mother ran track growing up. Clark's brother is a talented runner, and her sister played lacrosse at Lafayette College.
Clark also excelled in soccer as a girl and might have ended up playing that in college. But when it came time for her to choose which sport to focus on in high school, she said, "I decided I loved lacrosse more."
Her club was Ultimate Lacrosse. At Conestoga, she was a four-year starter who totaled 238 goals in her career. She played midfielder in middle school, Clark said, "but my high school and my club coach realized I was definitely an attacker, because scoring goals is what I do best. I love to score goals and attack hard."
In the Class of 2021, Inside Lacrosse ranked Clark as the No. 9 recruit, and she had no shortage of college options. "But ultimately, I just thought overall UVA was the best fit for me," she said. "It checked all the boxes all-around, academically, socially, and when I visited the school, the team dynamic seemed awesome and I loved the coaches. And I just fell in love with the program on my visit here."
Myers had no doubt Clark would contribute immediately for the Wahoos. "I don't promise anything to anyone," Myers said, "but I knew she was going to be a starting attacker. With Rachel's stick and her IQ and just her mojo, I couldn't imagine that wouldn't be something we were going to want to rely on.
"I wouldn't want to play a game without Rachel in that mix. She's that good."
Clark came to UVA eager to launch her college carer, she said, "but the way it's going is even better than I expected. The team was just so welcoming, and right away I got along super well with my teammates. The coaches, I think, realized the hard work I was putting in pretty quickly. The team dynamic was good, and I feel like my talents fit in pretty well on the team."
Clark, who rooms with teammate Maureen Duffy, also has eight assists and leads the Hoos with 50 points. Next is fellow attacker Ashlyn McGovern with 43 points (39 goals and four assists). McGovern scored a team-high 38 goals last season, and her style complements Clark's well.
"She has always been a role model of mine, because she's so good at getting to goal," Clark said of McGovern, a fifth-year senior. "I tend to play on the left side, while she plays on the right. That's good, honestly, because we both tend to draw [double teams], and then we can swing it over to one another. And we can both score when we draw the double and the other side's open."
Myers said: "It's always nice to have two main striking attackers, one from each side. Rachel is also right-handed; she's just so ambidextrous that she really likes that left side, even though that's not really her dominant side. And Ashlyn, she's got a good left hand, but 90 percent of the time she wants to stay strong."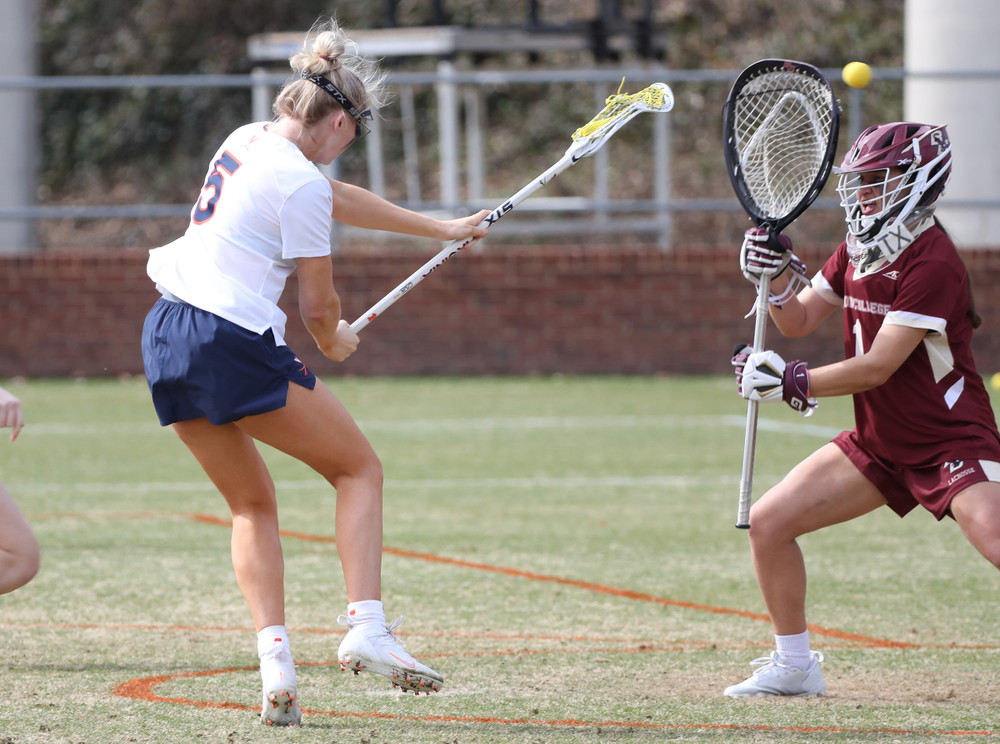 This has been a trying season for 16th-ranked Virginia (6-6 overall, 2-3 ACC), which meets No. 7 Duke (12-1, 3-1) at 1 p.m. Saturday in Durham, N.C. Aubrey Williams has set the program's single-season record for draw controls, and the Hoos are averaging 15.3 goals per game. But season-ending injuries to veterans Lillie Kloak, Courtlynne Caskin and Annie Dyson have left UVA weakened at the defensive end.
"That side is definitely the side that has the most room to improve," Myers said, "but certainly our attackers are good enough, and Aubrey's winning the ball. If we let 17 [goals] in, we need to score 18, which is hard. But with Ashlyn and Rachel and some of our other attackers in there, it's doable."
For Myers, this is her 27th season as head coach at her alma mater, and she's guided the Cavaliers to the NCAA tournament every year that it's been held during her tenure. (The COVID-19 pandemic wiped out the tournament in 2020.) That streak is in peril this year, and the players know it, Clark said.
After UVA's 16-14 loss to James Madison on March 20, Clark said, that "was one where we were like, 'OK, we can't really lose any more.' And that NCAA streak, it's been talked about, especially among the players."
Virginia rebounded from the JMU defeat to edge Louisville last weekend. The Cavaliers know they have little room for error left, "but we still have a great opportunity to get in the tournament as well," Clark said. "And I think we just have to play to win each game and play for each other and have fun and not focus on the big thing."
Amy Appelt Slade, now the head coach at UMBC, led Virginia to the NCAA title in 2004. She won the Tewaaraton Trophy that year and still ranks first in career goals (258) and career points (373) at UVA.
Clark, who was added to the Tewaaraton watch list this weekend, has a long way to go to equal or surpass those feats. Still, she's had a remarkable first season.
"There's a lot of pressure on Rachel," Myers said. "It's nine games that she's scored three or more goals. That's pretty unheard of, even for experienced attackers. But she loves the pressure. She loves that she is in a position that she can really help a team win and help a team compete.
"There's still room for her to grow, but she's done an amazing job. She's done everything we hoped she would, and she's done it on a sprained ankle for most of the season. She's not even at 100 percent, and she's still finding a way to get it done."
To receive Jeff White's articles by email, click the appropriate box in this link to subscribe.