By Jeff White (jwhite@virginia.edu)
VirginiaSports.com
CHARLOTTESVILLE — Jeff Conner arrived at the University of Virginia as a heralded recruit—Inside Lacrosse ranked him No. 5 overall in the Class of 2018—and he's been a starting midfielder on two NCAA championship teams.
Conner, who's from Wallingford, Pa., a suburb of Philadelphia, scored 96 goals as a senior at Strath Haven High School. He hasn't put up such head-turning numbers as a Cavalier, but he hasn't had to. He's been surrounded by elite offensive players—Dox Aitken, Michael Kraus, Connor Shellenberger, Matt Moore, Payton Cormier and Ian Laviano among them. Still, the Wahoos' coaches believe Conner, a 6-0, 195-pound senior, is capable of doing more.
"He's always been a very poised lacrosse player and somebody that takes what's given to him," offensive coordinator Sean Kirwan said. "We've been, and I've been, challenging him to take that next step and be a little bit more aggressive. We seen it in moments throughout his career, but it's important for him to be consistent with it."
Virginia hosted ACC rival North Carolina at Klöckner Stadium on Saturday. Moore, a fifth-year senior who needs only 16 points to become the program's all-time leader in career points, was out with an injury, and that put a little more responsibility on his teammates' shoulders.
"The windows get smaller without Matt Moore out there," head coach Lars Tiffany said, "because it's harder to stretch a defense, because Matt Moore can smash his way in there and he can shoot from up top. So the windows are smaller."
Virginia came into the game, Tiffany said, with a pressing question: "Can others step up?"
The seventh-ranked Wahoos answered that question in a 11-4 win over the Tar Heels, and Conner did his part. He finished with one goal and a season-high three assists as UVA (8-2 overall, 4-0 ACC) defeated UNC (7-4, 0-3) for the fourth straight time.
Cormier led the Hoos with five points, on four goals and an assist, and midfielders Griffin Schutz and Evan Zinn added two goals apiece.
There was no panic with Moore sidelined, Conner said. "We have trust in every single person who comes in off the bench or who's a starter."
Virginia was coming off a disappointing loss to Richmond, which rallied for a 17-13 victory last weekend.
"As an offense, we talked on Sunday after Richmond about how much experience we have in the room," Kirwan said. "And with Jeff now being a senior, we just challenged those guys a little bit to step up and be leaders, especially when you have a fifth-year in Matt Moore out. We needed those guys to take the reins a little bit and make their mark on the season, and Jeff responded in a heck of a way for us."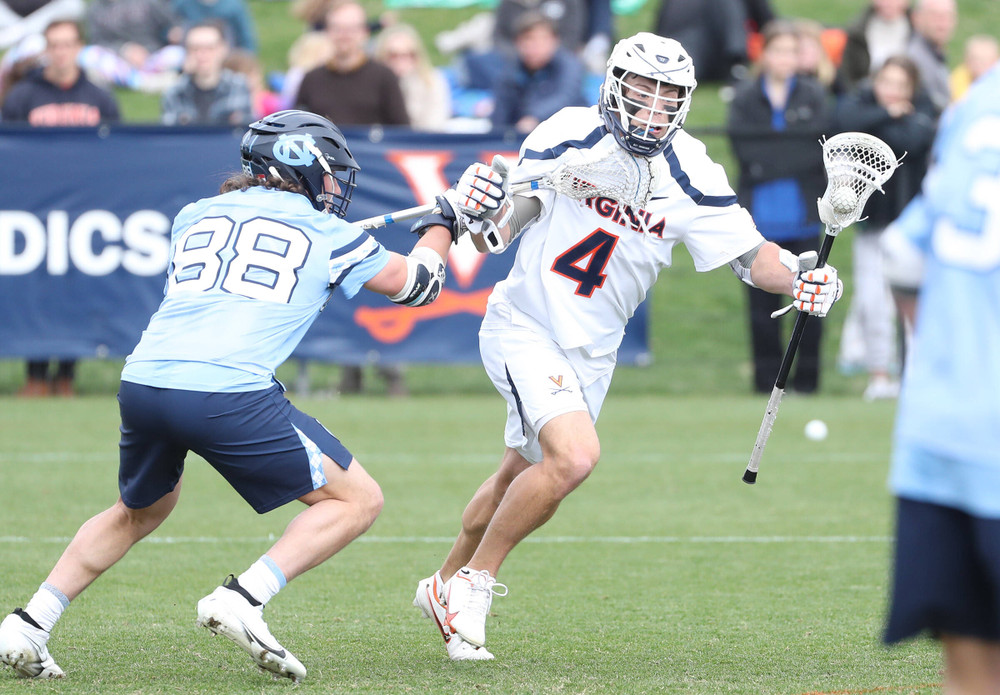 Conner, who missed three games early in the season with an injury, is one of the Cavaliers' most versatile middies. He has five goals and eight assists, but he's a gifted defender too.
Heading into the season, Tiffany called Conner a "true two-way midfielder, rarely seen in this era of college lacrosse, [who handles] the complexities of both our offensive and defensive schemes well, putting in the extra film work and meeting room time with both groups."
Conner said his role in the midfield "alternates week to week. Some weeks I'm more defense to offense. Some weeks I'm more offense to defense. It's all depending on how gassed I am and what we need more in the game."
On a team with fewer offensive weapons, Conner would probably have flashier statistics. But five Cavaliers have scored at least 15 goals this season: Cormier (34), Shellenberger (23), Xander Dickson (18), Moore (16), and Schutz (15).
"It's fun," Conner said. "You have inside guys like Payton and Xander, and it feels like they're always open no matter where you're dodging. It like you can dodge and go to X and run a two-man game with anyone back there. Honestly, I think it's just more fun having every single person able to get to the net and do their own thing."
As a freshman in 2019, Conner totaled four goals and 10 assists to help Virginia win the NCAA title for the first time in eight years. He had one goal and eight assists when the COVID-19 pandemic shut down the 2020 season long before the NCAA tournament would have been played that spring.
Last season, Conner scored 14 goals and had eight assists for a UVA team that repeated as NCAA champion.
Every year, it seems, Conner has done a little more, and "we're ready for him to really take that next step and put things together consistently," Kirwan said. "He's nothing but a hard worker, a really smart lacrosse player, and so I'm really excited for him to show that he can take that next step."
The pandemic gave players on the 2020 team another year of eligibility, and Conner will be back at UVA in 2022-23, when he'll enroll in a master's program in the School of Education and Human Development.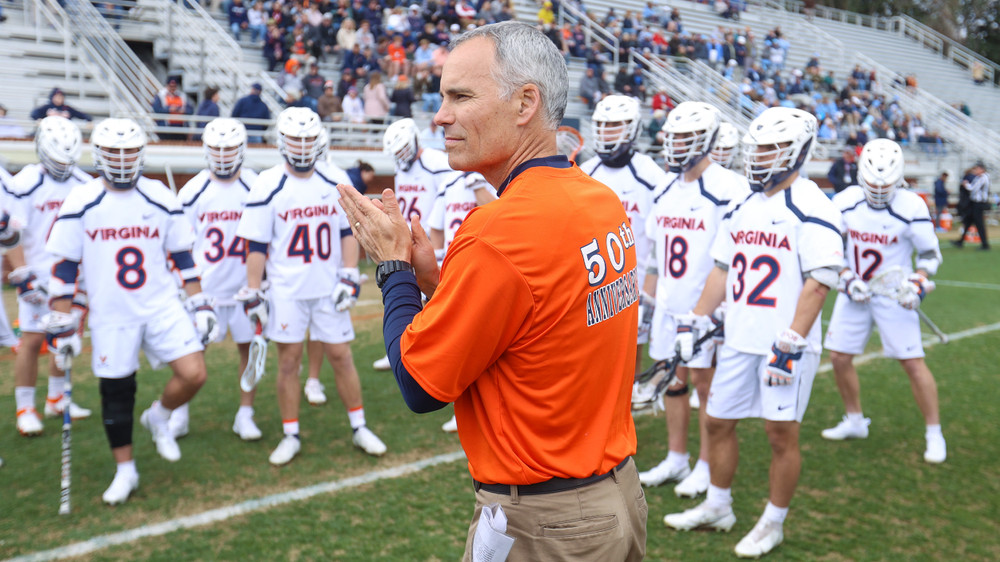 For now, he's focused on helping the Hoos' pursuit of another championship. Virginia's first-ever loss to Richmond stung, Conner said, and the "intensity definitely picked up a little bit" in practice last week.
The Cavaliers carried that over to the game Saturday, especially on the defensive end.
"I think we worked together as a defense, as opposed to last week where we were kind of trying to do it on our own individually," said Cade Saustad, one of UVA's captains and a mainstay on close defense.
Led by freshman goalie Matthew Nunes, whose 13 saves included numerous spectacular stops, UVA held the Tar Heels to their fewest goals in 16 years.
"It's incredible," Saustad said of Nunes' prowess in the cage. "There were a couple [plays] down there where I was like, 'Oh, shoot, that was my fault,' expecting a goal, and then all of a sudden [the ball is] in his stick. At this point, I don't even know what to say to him, because he does it often."
Other standouts for Virginia included Saustad and fellow close defenseman Cole Kastner and short-stick defensive midfielders Grayson Sallade and Jack Peele.
"It's interesting," Tiffany said of his team's defense this season. "Who are we?"
In the Cavaliers' first loss, to top-seeded Maryland, they allowed 23 goals. Against Richmond, they gave up what felt "like 100," Tiffany said, smiling, but then UVA shut down an UNC offense led by attackman Chris Gray, who has 39 goals and 26 assists this season.
"Obviously, we've got to be more consistent, but I'm ecstatic today," Tiffany said.
Thanks to senior faceoff specialist Petey LaSalla, who missed much of the Richmond game with an injury, the Cavaliers had plenty of possession against UNC. LaSalla, whose status was uncertain as the opening faceoff approached Saturday, won 10 of 18 draws.
"It was big," Saustad said of LaSalla's performance. "When he went out in the Richmond game, that's kind of when our team started to crumble, and just seeing him throughout the week rehabbing, I was just praying he would play this game and he did. After his first faceoff, he won it, and I was like, 'All right, Petey's good.' "
The atmosphere was festive at Klöckner Stadium, where the large crowd included scores of former UVA players, including members of the 1972 and 2011 teams, both of which won NCAA championships. During the game, Tiffany wore an orange T-shirt commemorating the 1972 championship, the first of the program's seven NCAA titles.
"What a joy to have so many [alumni] back here," said Tiffany, who's in his sixth season at UVA. "You can see how important being a part of Virginia lacrosse was to them and how important it still is today."
The Cavaliers have two games this week. They visit ACC rival Duke on Thursday (6 p.m.) and then take on Quinnipiac at Klöckner on Saturday (8 p.m.). Both games will air on ACC Network.
To receive Jeff White's articles by email, click the appropriate box in this link to subscribe.