CHARLOTTESVILLE, Va. – The Virginia men's golf team will host the inaugural Lewis Chitengwa Memorial on April 11-12 at Birdwood Golf Course (par 71, 7,058 yards) in Charlottesville to wrap-up the regular season. The event honors the former Cavalier standout who lettered at UVA from 1995 to 1998. The event is free to the public.
The tournament marks UVA's first men's home event since the final Cavalier Classic was played at Birdwood in April of 2011. Live scoring will be online at Golfstat.com.
The 54-hole tournament features a 10 a.m. shotgun start on Monday with 36 holes scheduled for the 14-team field. A single round will take place Tuesday starting at 8:45 a.m. from the first and 10th tees.
The field for the event includes No. 26 Charlotte, Coastal Carolina, East Carolina, Kentucky, No. 36 Liberty, Loyola (Md.), Maryland, No. 39 North Florida, St. Mary's, No. 29 Tennessee, Texas State and Virginia Tech. Virginia will field an A and B team for the tournament.
Playing for the Cavalier A team will be freshman Deven Patel, sophomores George Duangmanee, Chris Fosdick and Grayson Wotnosky and  junior Pietro Bovari. The UVA B team will consist of seniors Jimmie Massie, Jack Montague and Sam Jung, junior Liam Powderly and sophomore Jaron Leasure.
The Cavalier A team will be paired with Tennessee and North Florida during the opening round. They will tee off from the first, second, third and fourth holes with the shotgun start. The UVA B team will play with East Carolina and five individual competitors starting from the eighth through 11th holes.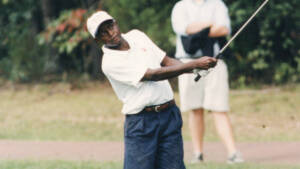 The tournament's namesake, Lewis Chitengwa, was a two-time All-American at Virginia (1995, 1996) and earned All-ACC honors in 1995 when he was named the league's rookie of the year. He finished seventh at the 1996 NCAA Championships, at the time the best finish by a UVA performer in 50 years. During his four-year career he won two tournaments and recorded 17 top-10 finishes.
Chitengwa turned professional in 1998 and played on the Tear Drop, Buy.com and Canadian Tours in addition to competing at the PGA's St. Jude Memphis Classic. At the age of 26, he passed away as a result of meningitis. At the time, he was competing in the Canadian Tour's Edmonton Open. In 2015, he was recognized posthumously for his immense contribution to golf by being inducted into Mercedes-Benz Southern African Golf Hall of Fame.
"We are proud to host the Lewis Chitengwa Memorial tournament and to honor his golfing legacy," Sargent said. "The event is the first major men's competition on the redesigned Davis Love course at Birdwood. To have the tournament honor Lewis and all that he did for our sport will make for a very special event."