By Jeff White (jwhite@virginia.edu)
VirginiaSports.com
CHARLOTTESVILLE — The plan was for Molly Grube, a pitcher on the University of Virginia softball team, to redshirt this season while recovering from the operation she had in October to repair a torn labrum in her left hip. Yet there she was in the circle Friday in Blacksburg, where Grube earned the victory in UVA's first win over Virginia Tech since 2017.
"I'm really blessed, really fortunate, to be where I am and to be competing this year and not having any pain," Grube said Monday on a Zoom call from Palmer Park.
A graduate of Manchester High School in the Richmond area, Grube made 12 appearances, with nine starts, as a UVA freshman in 2020, a season cut short by the COVID-19 pandemic. As a sophomore, she hurt her left hip, which had also bothered her in high school, during the season, and her discomfort steadily increased.
"She never looked comfortable," UVA head coach Joanna Hardin recalled Tuesday, "but she would push through it and fight through it. There was a lot of rest and recovery, so it was really hard to get her on a consistent schedule, because her body would react and respond differently week to week. Sometimes the hip would flare up and sometimes it would be fine, so I think it was hard for her to get into any kind of rhythm, and get into any kind of systemic plan."
Grube said: "I was throwing a lot of innings and trying to push through it and it just kept getting worse. I was like, 'I'm in pain. I'm not doing well, something's got to change.' So I got an MRI, and that showed I had a pretty significant labral tear in my hip."
The cortisone shot she received last August didn't produce the desired results, so Grube opted to have an operation on her hip. Her surgeon was Dr. Winston Gwathmey, who told her that her rehabilitation would probably take six months.
"But I ended up recovering really well," Grube said. "All credit to Dr. Gwathmey. He was like, 'I think I'll be able to clear you about like three-and-a-half, four months, and you can play this year.' "
Grube's availability "really changed our plan and our thought process," Hardin said, "and it added another weapon in our bullpen that we just really didn't anticipate having."
Heading into the Cavaliers' three-game series with the second-ranked Hokies, inconsistency had marked Grube's pitching this season.
"She had these flashes, and then she'd get to that point, the third inning or the second time through the lineup, where she would lose some of her spin, lose some of her command," Hardin said. "She couldn't kind of get over that hump, but we knew she had it. And the conversation on our staff was, 'Molly is one pitch away. She's close.' "
On Thursday, in the first game of the series, Tech defeated UVA 5-1. Grube started the second game, and the Wahoos led 2-0 after two-and-a-half innings. In the bottom of the third, the Hokies scored a run and had runners on second and third with one out. But Grube induced a sacrifice fly and then struck out the next batter to end the inning.
Virginia scored one run in the fifth and two in the sixth to extend its lead to 5-2. With two outs in the seventh, Grube gave way to closer Madison Harris, who retired the game's final batter on a groundout to secure a 5-3 victory for the Hoos.
Grube finished with five strikeouts and walked none.
"I think for her there was a breakthrough in Blacksburg of her just getting over that hump," Hardin said. "It's physical, but to me it was more a mental hurdle of her finishing that [third] inning, and I think that kind of affirmed to her, 'I'm fine. I can finish this.' And we just knew she was one pitch away. She executed it, she got it, she did it. We've known it was there since she's been here. It was a matter of when she was going to get past that little hump, and she did, and it was awesome to see that.'
Grube pitched again in the series finale, taking over from starter Morgan Murphy in the fourth inning Saturday. The game went to extra innings, and the Cavaliers took a 4-3 lead into the bottom of the eighth. But Grube gave up a game-tying home run, and the Hokies rallied for a 5-4 victory.
"Obviously, we were all really upset about the loss," Grube said. "That was a heartbreaking game. But I think we were all really impressed with how we played as a team [in Blacksburg], and I don't think anyone's going to be taking us lightly any more. We were able to compete with the No. 2 team in the country, not only beat them [once], but go to the extra innings with them [in another game]. We weren't surprised in any way, I don't think, because we all know that what we're capable of, but I think we're ready to get back to work this week and keep getting better."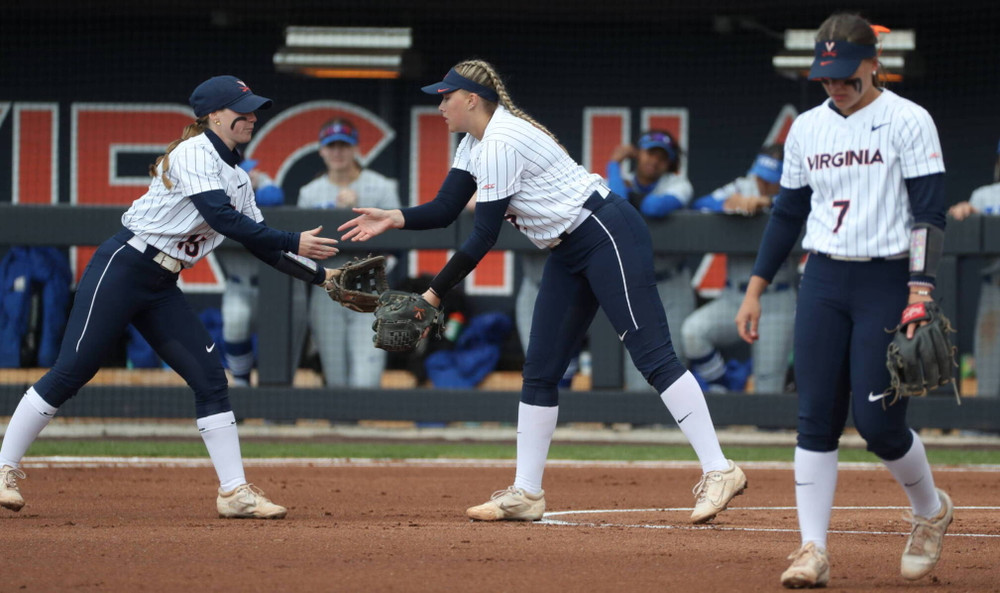 Eight regular-season games remain for Virginia (23-21 overall, 9-9 ACC), starting this weekend with a series against Pittsburgh (14-21, 2-14) at Palmer Park. The Hoos already are assured of finishing with their most victories in a season since 2012, when they posted a 26-25 record, but they're not satisfied. They want to become one of the ACC's top programs.
"I think we all know that we're really close," Grube said, "and the win [over Virginia Tech] just really solidified that feeling that we all knew and had. But obviously we still have a lot to learn."
UVA opened ACC play last month by taking two of three games from then-No. 24 Notre Dame at Palmer Park. In the series opener, the Cavaliers trailed 5-2 heading into the bottom of the seventh. They came away with a 7-5 victory after a comeback capped by pinch-hitter Abby Weaver's three-run homer.
When a program has been "teetering, you need a moment that proves to you that what you've been hoping for and what you've been believing and trusting in is real," Hardin said after the game. "If you never see anything, you start to question that. And so I think for us [the victory] was affirmation that what we're doing is the right thing."
Hardin expects the series in Blacksburg to be seen as another turning point for the program.
"It affirms what we believe about ourselves," Hardin said. "We believe in ourselves and we believe that we're capable. It just affirms the work that we've done. We belong. We know what we're capable of. We know the work we've invested, and there's belief in that.
"Faith needs a little bit of evidence sometimes to really deepen the roots, and I think that was just an additional piece of evidence. We knew and we believed, but it just runs a little deeper now and there's a little more motivation."
Grube picked up softball at an early age. She has an older brother, Ryan, "and my dad got him into T-ball and baseball, and I was like, 'Hey, that's kind of cool. I want to be a part of that.' "
Her father, Mike Grube, played baseball at UVA's College at Wise in Southwest Virginia, and he "definitely had a big part in getting me started in softball and helping me continue [to the college level]," Molly said. "And I think what makes me and my dad super close now is the bond that we developed through the game."
Grube, an outstanding student, committed to UVA in the fall of her sophomore year at Manchester after initially considering schools outside this state.
"As I got older, I was like, 'I don't want to be super far from home. I'm really close with my family,' " Grube recalled. "And I think that Charlottesville is a really special, unique community."
She was an all-state selection in each of her final two years at Manchester. As a senior, Grube posted a 21-2 record, threw two no-hitters and nine shutouts, and was named the Richmond Times-Dispatch's All-Metro Player of the Year.
Grube has yet to bat for the Cavaliers and may never do so, but she holds the Virginia High School League record for home runs in one game. She belted four against Chesterfield County rival Monacan High in March 2018.
"I always tell people, fun fact about me: I have a state record in hitting and I don't even hit here," Grube said, laughing.
Adjusting to a college program filled with players who arrived with similar accolades wasn't easy, Grube said. "You come from high school, and you're used to starting every single game, and then when you come here, everyone's that way. You realize it really is all about the team."
A student in the prestigious McIntire School of Commerce, Grube is concentrating on marketing and management. Balancing her Comm School obligations with her softball schedule can be challenging, but her classmates have been "super understanding," she said.
"They're like, 'Oh, my gosh, that's awesome that you're an athlete and in the Comm School. Most people are super accommodating with group projects and stuff. They're like, 'Yeah, we can meet later, we can meet earlier, whatever works for you.' And I think my professors are super understanding too. They just trust that I'll get the work done, and I do."
To receive Jeff White's articles by email, click the appropriate box in this link to subscribe.