By Jeff White (jwhite@virginia.edu)
VirginiaSports.com
CHARLOTTESVILLE — Under cloudless skies at Scott Stadium, the University of Virginia football team wrapped up spring practice Saturday. But the work continues for the Cavaliers and their first-year head coach, Tony Elliott.
Four months in, "I feel like I'm about where I expected," Elliott said after the Blue-White Game. "I thought that the majority of the guys were going to buy in, but I was still going to have a couple that were skeptical and kind of one foot in the water. And I've got a couple of those. And really that was my last message to the guys just now: 'Hey, the coaches are getting ready to go on the road. This is about to be discretionary time. We've got to finish academically and then we've got to come back and it's on you guys to become a team.' I was really just challenging those guys that have one foot in the water to just jump on in."
With the coaches out recruiting, the players will have to push themselves until the summer strength and conditioning program starts.
"It is on us right now," said linebacker Nick Jackson, one of UVA's captains last season. "I definitely think we've got guys that are 100 percent in, and we're working every day to get everybody in. So we've got the offseason right now where everybody is going on their own right now, there's really no accountability, but there's accountability to your [teammates]. So I think a lot of guys are gonna come back ready to play after this spring. I think there's a lot of energy around the program and a lot of energy around what everyone's trying to do, and I think that it's gonna pay off when we get back in the summer."
Preceding the intrasquad scrimmage Saturday was the Wahoo Walk, a program tradition that Elliott revived this spring. Fans and UVA cheerleaders greeted the Cavaliers when the team arrived at Scott Stadium.
"I was really, really pleased with the attendance at the Wahoo Walk," Elliott said. "That was pretty cool, just the excitement, the energy coming into the into the stadium. I think the guys really, really liked that. I saw some smiles, how they were excited."
Virginia's lack of depth at several positions, most notably quarterback and the offensive line, meant some players had to line for both teams in the Blue-White Game. That group included quarterback Brennan Armstrong, offensive tackles Jonathan Leech and Charlie Patterson, and kicker-punter Brendan Farrell. The Blue team won 23-0, with its points coming from running backs Amaad Foston and Perris Jones, wide receiver Malachi Fields, and Farrell.
Farrell kicked a 26-yard field goal and two extra points. Foston had a 3-yard touchdown run, and Fields caught a 31-yard touchdown pass from backup quarterback Jared Rayman. Jones contributed the game's biggest play, a 75-yard touchdown run on the first play of the second half.
"I'm just proud overall of the effort," Elliott said. "There was a lot of guys that played a lot of snaps all spring, not just today. You're talking about eight, nine offensive linemen, but they never complained. They just worked. I'm proud of Brennan. He made a decision to come back, and then some of his buddies decided not to come back. But he still stuck with it, and he had to do the best that he could, and I saw him just lead and grow as a leader and challenge himself to get better in the little things. So there's a lot to be proud of."
The Hoos went through 15 spring practices with a patchwork offensive line, and there weren't many holes for running backs Mike Hollins and Foston on Saturday. Even so, the respective offensive coordinators for this game—Des Kitchings (Blue) and Taylor Lamb (White)—continued to call running plays. The new coaching staff doesn't want the Hoos to rely as heavily on the pass as they did in recent seasons.
"It's a mindset," Elliott said. "As I've said, we want to be balanced, and for us it's not just statistically balanced, it's a mindset."
Armstrong, a dangerous runner, was off-limits to tacklers Saturday, and that made life easier for the defense. But Elliott said he "wanted to see the backs compete, and I thought there were a couple of situations that the offensive line did good enough just to get them to a one-on-one, and we didn't win those one-on-ones in the first half. So that'd be a great opportunity for us to go back and challenge those guys … A great running back, he makes the offensive line right. And I think these guys are capable. They've just got to develop that mindset that I don't care how it's blocked, I'm going to get 4 yards. That's my mindset. And so we wanted to force that."
Hollins carried nine times for 19 yards, and Foston gained 37 yards on 14 carries. Jones, who played in the second half, when most of the starters were on the sidelines, finished with 129 yards on nine rushes.
The Cavaliers' commitment to running the ball was evident in their first 14 practices, too. With running backs Ronnie Walker Jr. and Jones sidelined for most of that time with injuries, Hollins and Foston took countless handoffs.
"Repetition after repetition," said Foston, a rising sophomore. "With all the running plays we've been doing, it's an adjustment, because we didn't run the ball as much last year, but it feels great as a running back to know that we're going to get the ball a lot this year, and we're expecting to run the ball. That's what Coach Elliott is expecting. It's going to be a fun season for us."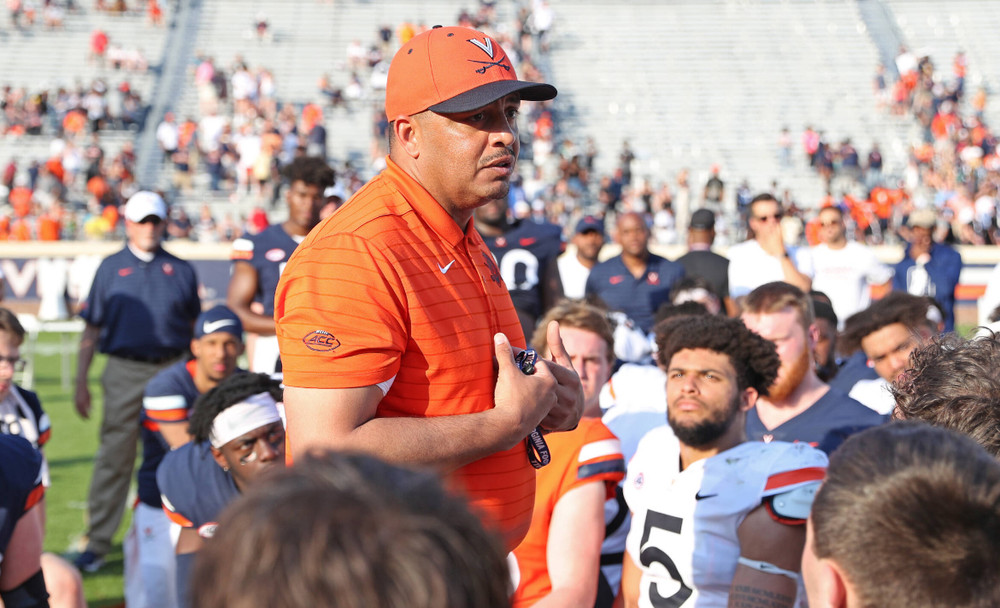 Armstrong smashed several of the program's passing records last season, and Virginia has a talented corps of wide receivers, including Fields, Dontayvion Wicks, Keytaon Thompson, Billy Kemp IV, Demick Starling, Lavel Davis Jr. and Devin Chandler.
Tight ends Grant Misch and Sackett Wood combined for seven catches Saturday. Overall, though, neither team was especially productive in the passing game, but that's not a concern for Elliott.
"There weren't as many shots down the field, just because [the defenses] were sitting back there at 8 yards and it's hard to hard to run by them," Elliott said. "So we were going to take what [the defense] was going to give us. I think that'll definitely be there as we get into fall camp and, really, this offseason.
"That's where you develop your timing, because these guys are going to have a lot of coordinated workouts on their own where they're gonna go out and throw, and then they're going to do some team-related stuff without the coaches. And then actually the NCAA is going to give us two hours a week to be able to do some skill work. So we'll be able to work on that timing. So I'm not worried about that piece of it. More so for us, the focus was, 'Let's establish the run game and we'll be able to push the ball down the field.' "
Virginia has three new coordinators: Kitchings on offense, John Rudzinski on defense, and Keith Gaither on special teams.
"Last year on offense we were good at a lot of specific things," Armstrong said. "We continued to do those, and it worked. This offense is pretty diverse. We've got a lot of different ways of throwing the ball, different ways of getting guys open, getting guys in different spots to get them the ball. Overall, it's just completely different."
SHORT-HANDED: The Hoos started spring practice without a full complement of offensive linemen, and two potential starters, Derek Devine and Logan Taylor, are dealing with injuries. That meant extensive work for Leech, Patterson, Jestus Johnson, Noah Josey and Ty Furnish, among others.
"I'm actually pleased offensive line-wise," Elliott said, "to be able to do what we did today considering what we had to do to get here, and for those guys to be able to push through and for Leech to make the progress, for Patterson to make the progress, for Josey to get all those reps and Jestus to get all those reps, I think it's gonna help us. So I'm actually encouraged with where we are from an offensive line standpoint, and we just got to get a couple of [newcomers] to come in here and help us."
The program will add more than a half-dozen offensive linemen, most of them freshmen, after this school year ends.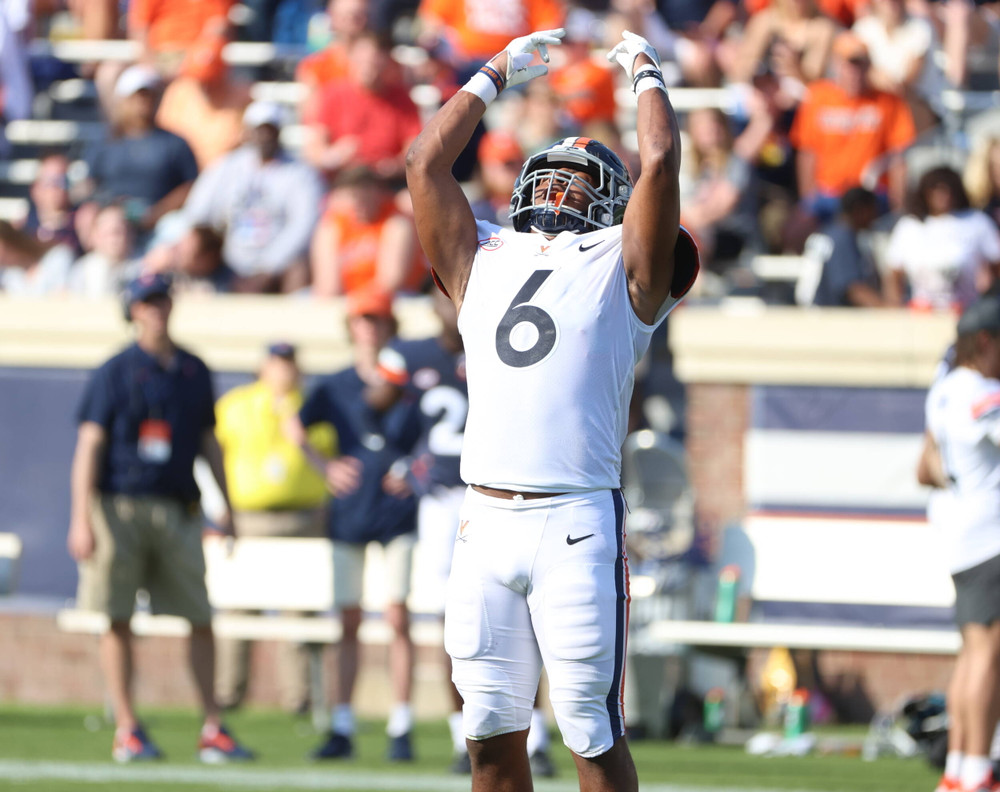 TOUGH LOVE: Elliott, a former Clemson wide receiver, spent considerable time with that position group during UVA's practices this spring.
"There's a ton of potential, there's a ton of talent in that room," Elliott said Saturday. "I've already told them, 'I'm gonna be the hardest on you guys, because you have a chance [to be special].' And that position there is all about confidence, and confidence is built on consistency, day-in and day-out."
Armstrong said the wideouts are "starting to understand that [Elliott] wants them to be great. They have the talent to do it. But Coach Elliott stresses all the effort and toughness things, just finishing the play and all that. So he's just really pushing those guys to make sure they become elite."
Wicks caught 57 passes for a team-high 1,203 yards and nine touchdowns last season. Elliott believes he can do more.
"Tay, and I've told him this, he's as good as the guys that I've been around for the last several years from a talent standpoint," said Elliott, who came to UVA from Clemson, where he spent 11 seasons on head coach Dabo Swinney's staff.
"He can do it all. He's got the speed, he's got the short-area quickness, he's got the natural hands. He's a tough guy. So he's got it all. The biggest thing for him is, he was a guy that was one foot in the water, because he had success, and he knows that he's the best one returning. My coaching style is, I'm going at the best one, and I'm coaching the best one harder than anybody else, because in order for us to be the team that we want to be, the best players gotta be the hardest workers. They've got to lead every single day. And at first there was a little bit of resistance but I'm proud of how he's responded, and I've seen that every area of his life has improved. Just in terms of his commitment and engagement in the classroom has improved. He's trying to lead. His body language is a lot better from when we started. So I'm pleased with his spring, but I think he still has another step that he can take, because he has a chance to be as good as the ones that I've been around for the last 11 years just from a talent standpoint. But he's got to make that commitment that he wants to be the best at everything that he does, every single time he steps on the field."
Wicks said: "It's an every-day thing. It's like hard motivation, him just staying on us the whole time. If you just look at practice, he's with the receivers most of the time, just because I know he feels like we're the best group on the team and he's trying to make us better."
ALL IN: Elliott has never questioned Armstrong's commitment. No. 5 decided to put his NFL dreams on hold and return to UVA this year, and he's embraced the new coaching staff's approach.
"He's been 'two feet in' since the beginning," Elliott said. "Before we even started practice he would come in on his own and watch film, and he was eager to get the installation, he was eager to get the formations and start learning the concepts.
"Where I've seen him progress is, Brennan is an instinctual player. We know that, and last year he played off a lot of instincts and just feel. I think he's become a little bit more detail-oriented, and understanding progression reads, leverage reads. Management of the game is an area where I'm really challenging him to grow. Leadership. He's a guy that he's got fire to him, but a lot of times he keeps that fire to himself. I'm starting to see him transition that to [his teammates]. Great quarterbacks, they talk to their guys. Everyone has a different approach in how they talk to their guys but I'm seeing him start to talk more to his guys and communicate, to really, really, really strengthen the relationship between him and his skill guys."
To receive Jeff White's articles by email, click the appropriate box in this link to subscribe.