By Jeff White (jwhite@virginia.edu)
VirginiaSports.com
CHARLOTTESVILLE — For any University of Virginia team that competes at Virginia Tech, the bus ride home from Blacksburg, especially late at night, is infinitely more tolerable after a victory.
"The only way to do it is after a win," head women's lacrosse coach Julie Myers said.
It was 12:20 a.m. by time Myers' team arrived back on Grounds on Friday, but the Cavaliers weren't complaining. A few hours earlier, they had routed the Hokies 18-11 in Blacksburg.
"Obviously, it's a big rivalry, and it's even better to go to Virginia Tech and beat them," said attacker Ashlyn McGovern, who led UVA with six goals.
More than bragging rights were at stake for the Wahoos in their regular-season finale. "I think we all knew that it was a must-win game," said McGovern, a fifth-year senior.
This is Myers' 27th season as head coach at her alma mater, and during her tenure she's guided the Hoos to the NCAA tournament every year it's been held. (The COVID-19 pandemic forced the tournament's cancellation in 2020.)
To be eligible for an at-large invitation to the NCAAs, the Cavaliers must come out of the ACC tournament with an overall record of .500 or better. After defeating Virginia Tech, UVA is 8-8.
"There was a lot of pressure in that game to just come up with another win, our eighth win, an ACC win," Myers said. "So there was a lot riding on it, but I do think that the girls, the team, they just wanted to do it together and they wanted to play well. I don't think they were worried as much about the outcome as they were just trying to take care of the moment."
The ACC tournament starts Wednesday in Notre Dame, Ind., where No. 8 seed Pitt will face No. 9 Louisville at 2 p.m. The winner will advance to meet top-seeded North Carolina in Friday's first quarterfinal.
The last quarterfinal Friday will match No. 6 seed Virginia, which was 3-5 in ACC play, against No. 3 seed Syracuse (13-4 overall, 6-2 conference) at approximately 7:30 p.m.
"We all know that we have to win this game," McGovern said.
Jason Freeman is one of UVA's sports psychologists, and in recent sessions with the team he's reminded the players to "stay present in the moment and go out and have fun during the game," McGovern said, "which is what I think helped us stay loose and not play tight against Tech, and I think that ended up helping us win."
During the regular season, Syracuse won 17-11 at UVA on March 12. Snow fell in Charlottesville that day, and the game was moved from Klöckner Stadium to the Lower Turf field.
Myers believes a victory in the rematch would assure Virginia a spot in the NCAA tournament. In the latest Inside Lacrosse/IWLCA coaches poll, Syracuse is No. 3 and UVA is No. 16. North Carolina is No. 1, Boston College is No. 2, and Duke is No. 7.
"If we were to win this game on Friday, that would give us a top-five win," Myers said. "So I do think one win would do it, but I would like to see if we can't get two wins this weekend coming up and then play for the title that following weekend."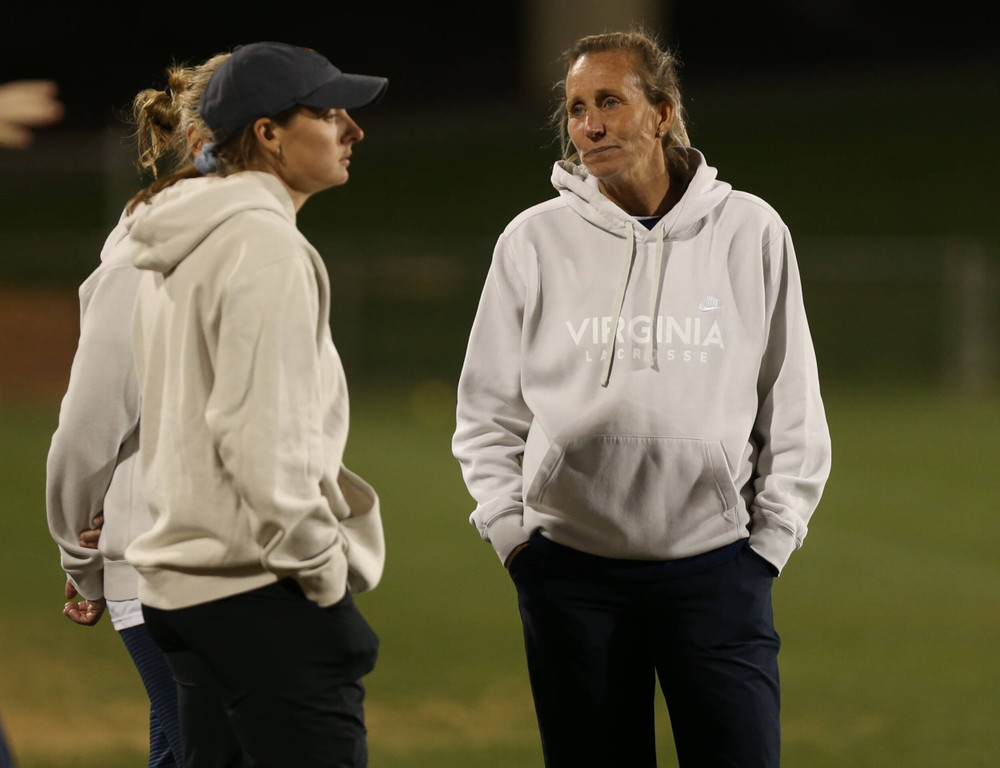 The UVA-Syracuse winner will face second-seeded Boston College or seventh-seeded Virginia Tech in the second semifinal Sunday, also at Notre Dame. The championship game will be played May 7 on the campus of the finalist with the better seed.
The key this week, McGovern said, is to "control what we can control, try to prepare as best we can, and then just go in and win, which is what we have to do. We know it could be our last game, but no one wants it to be. We know we can beat any team in the ACC. It's just going in and playing to the best of our ability and winning."
Under Myers, the Cavaliers have won one NCAA title (2004) and been NCAA runners-up six times. She said she tried not to put any added pressure on her players by talking about the postseason implications of the game in Blacksburg.
"At times I feel like we should talk a little bit more about winning, because it's ultimately what the goal is," Myers said, "but the whole year we've been kind of staying the course [and emphasizing that] it's about getting better, it's about working together, it's about learning along the way and staying in the moment."
She recognizes, though, that the NCAA tournament isn't far from her players' minds these days.
"I think everyone knows that that's something that we're shooting for," Myers said, "and that's kind of a minimum standard for our program: to play in May and to get into that tournament."
Her veteran players probably "will have more conversations about what we need to do," Myers said. "I think the younger kids are a little naive, and I'm trying to decide if naive is a good thing for us, because we do have a lot of younger kids in really key roles. But certainly they understand that you need to keep winning to be able to play, and now it's do or die. We don't have any more regular-season games left, so now you have to earn your right to play the next day, and I think that's an exciting time, and I think that's a challenge that our team is excited about."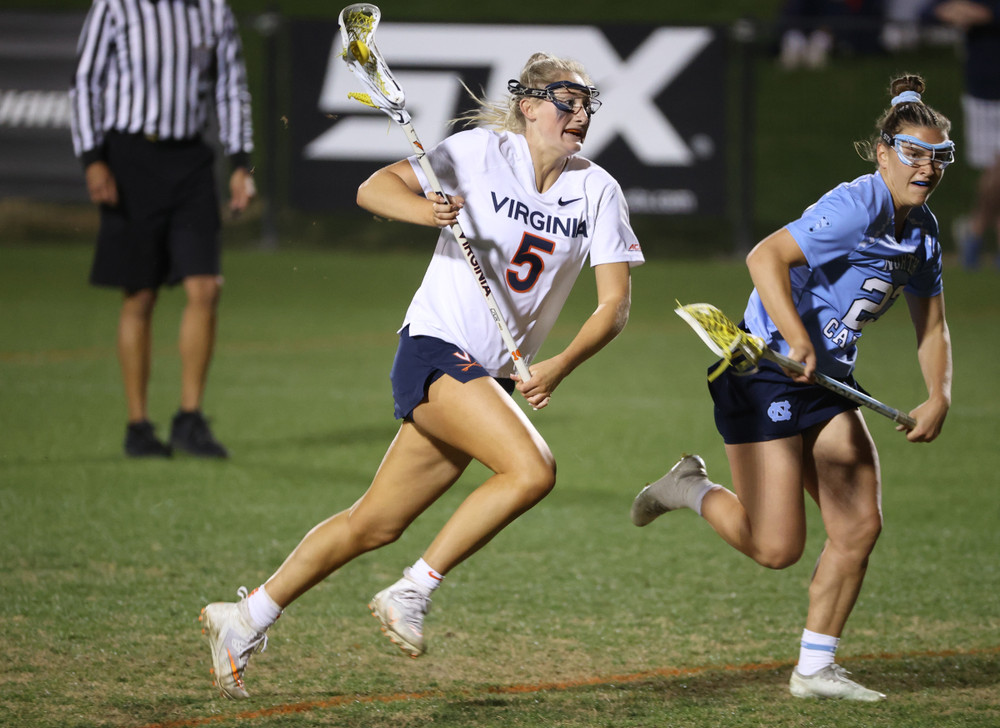 All-ACC selections were announced Tuesday, and McGovern was named to the first team. Two other Cavaliers—freshman attacker Rachel Clark and sophomore midfielder Aubrey Williams—were second-team picks.
Williams has 128 draw controls this season, a UVA record. Ten came against the Hokies last week.
McGovern and Clark are tied for the team lead in goals, with 52 apiece. Clark is closing in on the program's single-season record for goals by a freshman. Amy Appelt scored 53 goals in 2002.
"I think it's amazing that as a first-year she's done so much," McGovern said of Clark. "She's stepped up into a big role and done just amazing things. Honestly, I think we both go into games knowing we have to perform big, and I think that's what helps us."
McGovern, who's in a two-year master's program in the Frank Batten School of Leadership and Public Policy, has another season of eligibility remaining and plans to play for the Hoos again in 2023.
She redshirted at UVA in 2018 while recovering from a knee injury. Since then, she's scored 132 goals as a Cavalier. McGovern's career high, seven goals, came against Pitt in March. She nearly matched that feat in Blacksburg last week, and "they were timely goals, and they were goals with authority," Myers said.
"I don't think that there was a half-inch on either side of either pipe when she shot. She hit six pretty perfect shots. She missed the cage a few times, but not many. Really, she's somebody you need to have on your team. She's a shooter and she's a scorer and she's a leader on our attack. She scores timely goals, big goals, kind of exclamation-point goals."
Virginia figures to need another big game from McGovern against Syracuse, and she's eager to take on that challenge.
"Our backs are against the wall again, just as they were against Tech," McGovern said. "I think we're all just trying to take it day by day and focus on the present."
To receive Jeff White's articles by email, click the appropriate box in this link to subscribe.