By Jeff White (jwhite@virginia.edu)
VirginiaSports.com
CHARLOTTESVILLE — Was anyone really surprised that the University of Virginia baseball team turned in a sterling performance on Ryan Zimmerman Day at Disharoon Park?
A special day for a special person went as scripted Saturday, and No. 11 UVA capped the proceedings with a 6-3 victory over No. 7 Virginia Tech before a record crowd of 5,919.
Hundreds of those fans started lining up outside the stadium hours before the 4 p.m. first pitch. They came to see Zimmerman's No. 11 jersey retired, and they came to see if the Cavaliers could even their series with the Hokies, who had prevailed 5-2 in the Friday night opener.
The UVA faithful were not disappointed. The Wahoos scored five runs in the fifth inning—all with two outs—and won 6-3 in an atmosphere worthy of an NCAA regional.
"It brought chills to me, especially when Zim was out there," said sophomore third baseman Jake Gelof, whose 17th home run of the season put Virginia ahead 1-0 in the fourth inning. "It was definitely a special moment for UVA fans, the players here and obviously the coaches as well. "
The crowd was "awesome," Virginia closer Brandon Neeck said. "It makes it so much fun. It makes the game seem even bigger than it already is."
In an emotional ceremony before the game, UVA head coach Brian O'Connor, associate head coach Kevin McMullan and former Cavalier head coach Dennis Womack joined the Zimmerman crew—Ryan, his wife, Heather, their four children, and his parents—on the field. In a video message, Governor Glenn Youngkin proclaimed it Ryan Zimmerman Day in Virginia, and Zimmerman later took the microphone to address the crowd.
"Charlottesville is a special place to me," he said. "The three years I was here I grew as a baseball player, but I think obviously I grew as a person too."
During the ceremony, UVA announced that the third-base bag at Disharoon Park will bear Zimmerman's name, his signature and a commemorative logo.
"It was just cool looking down and seeing it there," Gelof said.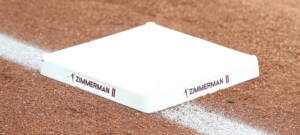 The ceremony ended with the traditional first pitch. Zimmerman, while holding his son Henry, fired the pitch to O'Connor, who had to leap to snare the ball with his catcher's mitt.
O'Connor has bad knees, and "I was hoping I didn't have to jump for it," he said afterward, smiling. "But I'll tell you what, you don't see many guys throw out the first pitch with a child in their arm, right? I told him that was impressive he was able to throw it around the zone."
Zimmerman's mother has multiple sclerosis, and his ziMS Foundation has raised more than $3.5 million to fight and research the disease. He's also given generously to the University.
"There's no chance I would be where I'm at now without this place," Zimmerman said. "My parents always taught me to give back and what better place to give back than the place that helped you get to where you are."
Zimmerman, who grew up in Virginia Beach, played third base for Womack in 2003 and for O'Connor in 2004 and 2005. He's the first player in program history to have his number retired. Zimmerman retired last year from Major League Baseball after a stellar career with the Washington Nationals, who drafted him with the first pick in franchise history.
"It's just so rare to see a player of that magnitude do what they did at the highest level of baseball, and then to be so engaged back at the school that they went to," O'Connor said. "It is really impressive, and it just speaks to who he is as a man. And it was just great to see his entire family here. I know a lot of his teammates were here, and to look up and see this stadium full on this day that the greatest player that's worn our uniform [is honored] was really, really special. I'm thankful that our fans responded and came out to not only support our team, but also on this day to support Ryan."
Zimmerman wasn't considered a blue-chip recruit coming out of Kellam High School, and when arrived on Grounds in 2002, he never would have dreamed that, two decades later, he'd be honored in such a manner.
"I was just happy to be able to play baseball in a real conference," Zimmerman said. "Nothing against the other conferences, but I wasn't very heavily recruited. I was a good player, but no, I don't think anyone ever really thinks this stuff will happen. Maybe some guys do, but I definitely didn't."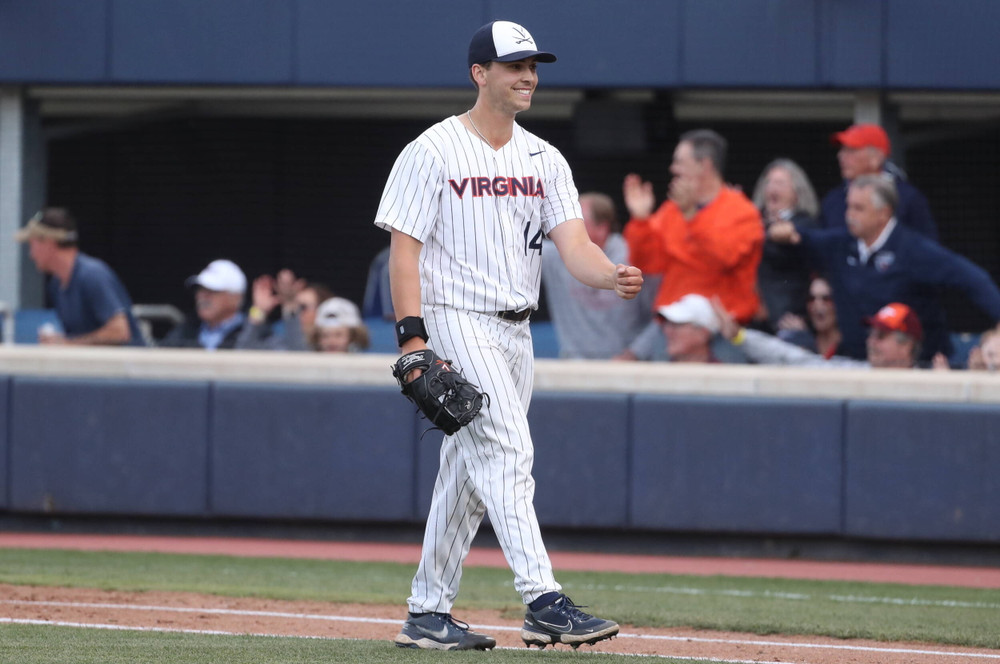 The series finale is scheduled to start Sunday at 11 a.m. It was originally set for 1 p.m., but with inclement weather expected, the starting time was moved up. That the Hoos (33-11, 14-9) and the Hokies (30-10, 13-8) are fierce rivals adds more spice to the game, but O'Connor downplayed that storyline.
"It's two really great ball clubs," he said. "They just happen to be in the same state, and I actually believe that's awesome. That is great for baseball in this state. I'm sure there were a lot of high school baseball players in the stands today, a lot of youth, and to see two really great programs in this state battle it out, that's what it's about. There's going to be a winner and there's going to be a loser, but both teams are really, really good."
Gelof, who's batting .390, leads the Cavaliers in doubles (15), home runs and RBI (67). His 17 home runs are the most a UVA player has hit in O'Connor's 19 seasons as head coach. Gelof was 2-for-4 on Saturday, and his home run off Tech starter Drue Hackenberg (8-1) ignited Virginia's offense.
"Jake Gelof is a heck of a player," O'Connor said, "and great players step up and emerge in these kinds of games and series."
That's something Zimmerman routinely did as a Cavalier. It's customary for O'Connor to address his team on the eve of a weekend series, "and this Thursday I talked about Ryan Zimmerman," he said. "My whole talk before practice was about what makes and made Ryan Zimmerman the player he is and the person he is, and one of the things that I talked about that stood out to me is he had a very rare ability to raise his game up against the best guys and against the best teams. And that's what this series is, two of the better teams in this league and two of the better teams in this country, and the great players rise and emerge in games and series like this."
Like Gelof, first baseman Devin Ortiz, a fifth-year senior, had two hits and two RBI for the Hoos. Sophomore catcher Kyle Teel went 2-for-3 with an RBI, and fifth-year senior left-fielder Alex Tappen drove in UVA's other run with a fifth-inning single.
Virginia used only two pitchers Saturday, and both were superb. Starter Brian Gursky, a graduate transfer from the University of Southern California, struck out eight and walked only two hits before giving way to Neeck with two runners on base and none out in the seventh.
"It was so much fun, especially to honor a guy like Ryan Zimmerman," Gursky said, "just the kind of player he was and what he meant to the community."
Neeck, a senior left-hander who began the season as a starter, has dazzled recently as the Cavaliers' closer. He struck out four, walked none and allowed only one hit in three innings Saturday.
"It's really amazing that when he started for us, I don't think he threw a ball over 90 miles an hour," O'Connor said. "There's something about the juices that get going with him when it's at the end of the game. He's been like that since we moved him to the bullpen."
Zimmerman, who watched the game from one of the suites at Disharoon Park, met with reporters before the game and shared his thoughts about his big day.
"This is kind of where it all started," said Zimmerman, who helped the Nationals win the World Series in 2019. "So to come back, to have the ultimate honor, it's humbling. I still keep in touch with so many of my teammates, and obviously the coaches and so many people from the community."
To receive Jeff White's articles by email, click the appropriate box in this link to subscribe.