By Jeff White (jwhite@virginia.edu)
VirginiaSports.com
CHARLOTTESVILLE — She's thrown the discus farther than any other woman in the history of University of Virginia track & field. That alone makes Ashley Anumba remarkable, but her athletic prowess is only part of her story.
Anumba, who received her bachelor's degree from the University of Pennsylvania in 2021, is nearing the end of her first year in the UVA School of Law. She's distinguished herself on North Grounds as well as at Lannigan Field.
"Ashley is indeed a standout," said Cynthia Nicoletti, a law professor whose Property class Anumba took this semester. "She's exceptionally bright and engaged, very funny, and totally unassuming, all at the same time. I had no idea she was a world-class athlete until I read a news story about her, even though we'd talked outside of class quite a bit. Law school is demanding, and the first year is particularly difficult. She gives her all in the classroom, so somehow she manages to balance it all."
Anumba, who was born and raised in the Los Angeles area, is not the first law student to also compete in track & field at UVA. Others who have done so include Lauren Lacey and Kyle Smith. Still, it's a small, select group whose members must pull off a balancing act that would overwhelm most people.
"It is difficult juggling both," Anumba said Tuesday at Lannigan Field. "I don't have a social life. I really just go home and read, then read some more. Friday, Saturday, Sunday, I'm just doing my work and then restart it on the weekdays. But I kind of had an idea of what I was walking into. And to be honest, I'm happy because this is what I wanted. I have the best coach in the nation, and I'm in one of the best law schools in the world. So, of course, it's going to be hard, but this is what I wanted. I'm just so lucky."
Overseeing UVA's throwers is assistant coach Martin Maric, a former NCAA champion in the discus who represented Croatia at two Olympics. As has been the case most years, he's working with numerous elite throwers, including Anumba and Maria Deaviz on the women's side and Claudio Romero, Jacob Lemmon and Ethan Dabbs on the men's side.
"They feed off each other," Maric said.
"It's amazing," Anumba said, "because some days I'll be coming in to practice or lift and I'm just tired and people will notice, especially some of the guys, like Ethan. And they'll give me a little pep talk. I'm grateful for everybody, and having such a top-notch team, I don't want to be the weak link. So just having them makes me want to do better."
At Penn, Anumba holds the school record for the discus and ranks second all-time in the shot put. At UVA, she's broken the program record in the discus three times this spring. (Two of those records were her own.) She also competes in the shot put and placed fifth in that event at the ACC indoor meet in February.
"I am so grateful for how things have lined up, because my schedule is very similar to the undergraduates' schedule," Anumba said. "I don't have an internship or anything that's a component of many graduate schools. So I train with everybody else, and just in terms of the differences from Penn to here, everything is increased in intensity. It's an ACC school. This is one of the best athletic conferences in the nation, so of course everything's going to be just a lot harder. And I knew that's what I was coming into and that's what I wanted. I wanted to get better, and that's what I've been getting. You've seen the results. For the most part, this is exactly what I had planned for."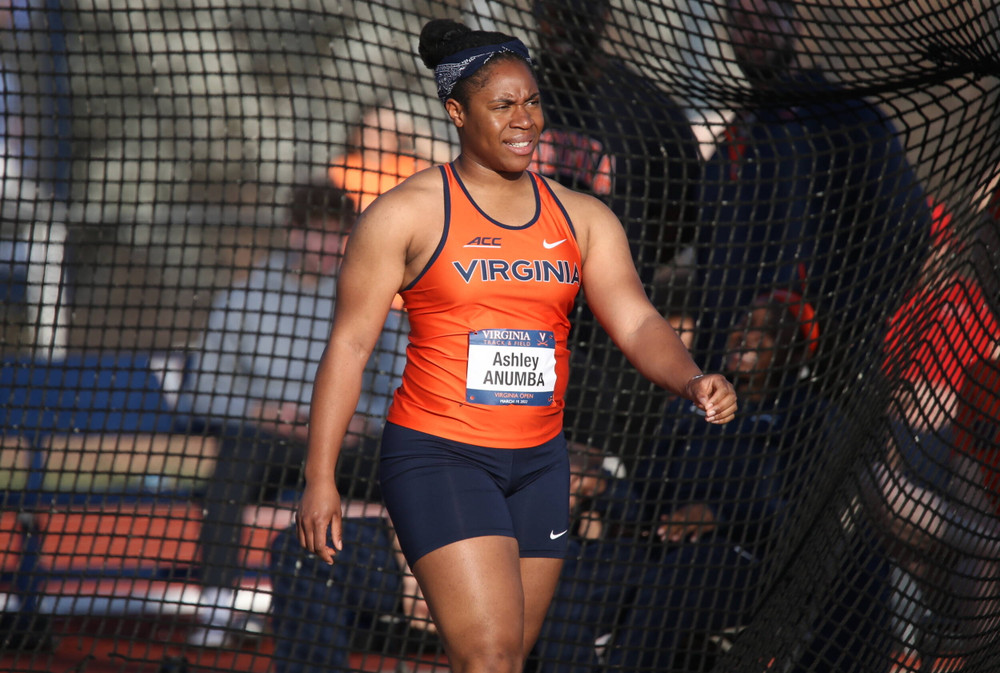 She returned to Philadelphia last weekend for the famed Penn Relays. At Franklin Field, where the Quakers hold their home meets, Anumba won the discus with a throw of 57.53 meters (188 feet, 9 inches), a UVA record.
"My sophomore year I got second place [at the Penn Relays]," said Anumba, whose sister Michelle was an All-America thrower at Duke. "And so coming back this time I told myself, 'OK, I have to win.' I was lucky that I did, but that was exciting."
Her return to Penn's campus didn't feel as strange as Anumba expected. "I felt like times hadn't changed," she said. "Seeing my old teammates competing, and them cheering me on and just having so many people that I didn't know around me, because Penn Relays is a huge meet, I was just so excited to be back and it felt like the old days."
Her friends and fellow student-athletes at Penn included Eleah Parker, who joined the UVA women's basketball team as a graduate transfer for the 2021-22 season.
Anumba, who majored in health and societies at Penn, competed in the discus at the NCAA Championships as a freshman in 2018 and again in 2019, earning All-America honorable mention each year. The COVID-19 pandemic hit in March 2020, on the eve of the outdoor season, and so she didn't compete that spring.
In 2020-21, some Ivy League schools returned to competition in the spring, but others opted out, and the conference ruled that student-athletes in track & field who did not participate in more than a third of the meets would retain that year of eligibility. Anumba did not exceed the limit, and so she graduated from Penn with two years of eligibility remaining.
For much of her senior year, Anumba said, she expected to leave Penn with a single year of eligibility left, and so she intended to apply for a Fulbright scholarship "to teach English abroad someplace," she said.
"I still wanted to do law school, but my plan at that time was to do it down the road. But then when the Ivy League started talking about, 'OK, we're not gonna have a season [in the spring of 2021], and you guys are probably going to get a second year of eligibility,' that's when my plan started to change. I started to consider law school once again, more in the immediate future rather than later on."
UVA was her first choice, said Anumba, whose parents were born in Nigeria and immigrated to the United States. The prestige of the UVA law school impressed her, as did Maric's reputation among throwers. She contacted the Cavaliers' coaching staff, which director of track & field/cross country Vin Lananna leads, and found the interest was mutual. Maric advised her, though, that the track & field program would get no help from the admissions department at the law school.
"Long story short, Coach Maric was like, 'You just have to get in. You have to do it on the academic side, but we've got everything else. There's a slot saved for you if everything goes according to our plan,' " Anumba recalled. "I was just surprised by how excited he was, but also how secure he was in his faith in me not only getting in but still being able to compete at a high level, because that was a concern that all the other coaches I had talked to had."
It was not a difficult call, Maric said. "She's obviously an incredible student and obviously an incredible athlete. We were really happy to get her."
If Anumba's academic obligations have hurt her throwing, Maric hasn't noticed. "From what I can see, she does well at both," he said. "She's very good with time management, and for track, all you need is an hour or hour and a half a day. At this point, where she's at as a graduate student, she's seven years throwing discus, and she knows what works for her, and we don't have to work on basics.
"Now all we have to do is tweak a couple things technically and continue to work on her strength and explosiveness, and we can do that in an hour and a half a day. That's all we need. And if you're student, you still need to work out, right? It's good for your body and mind to work out. I think she uses this as her workouts."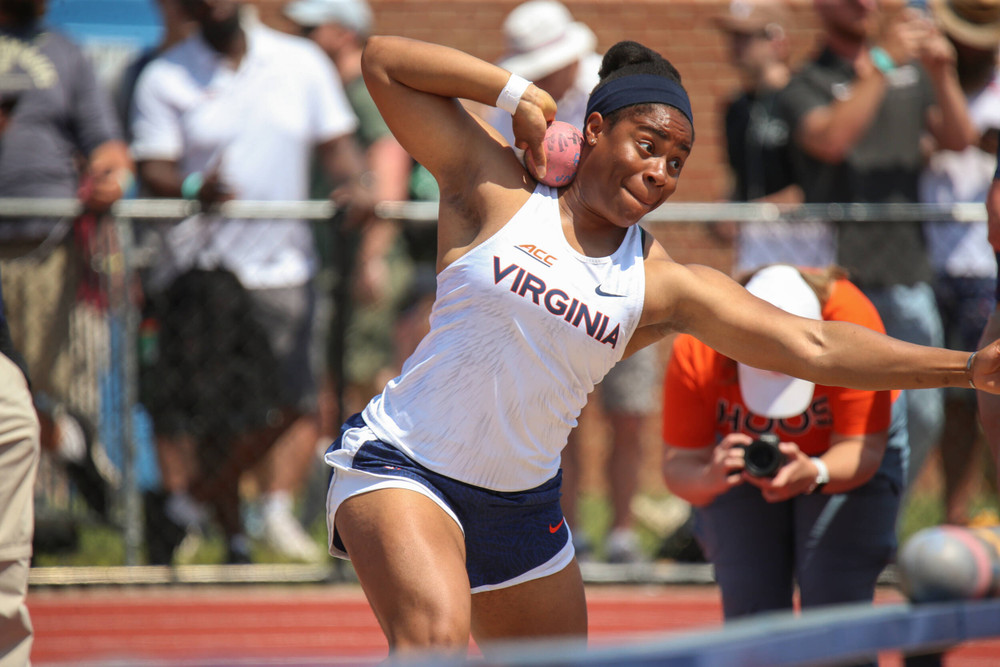 Anumba has three siblings, all of whom are older. Her sisters graduated from Duke and Northwestern, respectively, and her brother from Long Beach State. They grew up in household where education was paramount.
Anumba's father, Cyril, died when she was 10. Her mother, Ethel, is an educator, and many members of their extended family have impressive academic credentials, too.
"Education is important for a lot of Nigerians," said Anumba, who has dual citizenship and hopes to represent Nigeria at the Summer Olympics in 2024.
"One thing for many Nigerians, but also immigrants in general, with first-generation kids, you're told that education is a pathway to success," Anumba said. "So my parents harped on us, making sure that we were the smartest. If we were doing sports, it was, 'OK, you better be the best at it if you're spending time away from your studies.' There was a lot of pushing for academic success at a very, very young age. I remember my summers from second, third grade on, I always had a book in my hand, whether it was reading book or a math book with problems."
She smiled. "Yeah, those summers stunk, but I'm here today, so it helped in some aspect."
Her stay in Philadelphia was a short one last weekend. She and her UVA teammates left the meet Saturday afternoon and drove back to Charlottesville, where Anumba won the discus Sunday at the Virginia Grand Prix meet at Lannigan Field.
"She's undefeated this year in discus," Maric said. "I don't think she pays attention to that, but I do. She's humble. She's just like, 'OK, Coach, let's do it.' "
Anumba's record-setting throw at the Penn Relays ranks 10th nationally this season and first in the ACC. The conference meet is next weekend in Durham, N.C., with the NCAA East Regional to follow late this month in Bloomington, Ind. The NCAA Championships are set for June 8-11 in Eugene, Ore.
Anumba has secured an internship for this summer at a law firm in New York City, and she'll start there after the NCAA meet ends. With her final exams nearly over, Anumba will soon have the luxury of devoting much of her energy to throwing.
"I'm looking forward to this period to just focus on track," she said, "because school has been a lot. I feel like I can truly capitalize on this extra time and really fine-tune things. I'm doing great as it is, but with the fact that law school is such a huge burden on me, and it's one that's soon going to be lifted, I can't even imagine what's going to happen in the next month and a half."
To receive Jeff White's articles by email, click the appropriate box in this link to subscribe.