By Jeff White (jwhite@virginia.edu)
VirginiaSports.com
CHARLOTTESVILLE — Every team, no matter the sport, wants to be building momentum as the postseason approaches. At the Longhorn Invite late last month in Austin, Texas, the University of Virginia rowing team seemed to be heading in the other direction.
In the Cavaliers' final regular-season regatta, they competed in five races against reigning NCAA champion Texas, Ohio State, SMU and UCLA. Virginia placed third twice and finished fourth three times.
"All season we had been trying to keep that energy up, keep the confidence going, but Texas was really a punch in the face," said graduate student Abbie Bird, one of the team's co-captains, as is senior Liv Kimche.
"It was rough, for sure," Bird said of the Texas regatta. "But we decided to kind of come together as a team and take a few days to really sit in the suck that we felt from that weekend. We allowed ourselves to say, 'All right, this really sucks. I never want to feel like this again.' And so from there we were like, 'This is the last time we're getting punched in the face.' "
When the Wahoos reconvened for practice two days after the Longhorn Invite, head coach Kevin Sauer had a message for the team.
"Kevin said, 'We're switching everything up. We're going to do some seat racing in fours, and we're going to figure some things out,' " Bird recalled Tuesday. "Everyone was like, 'All right. We're all in. Let's go.' "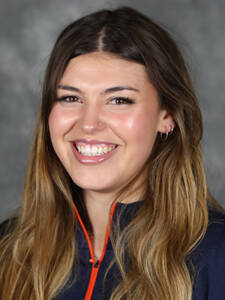 Some rowers ended up being promoted. Others, including Bird, who dropped from the Second Varsity Eight to the Third Varsity Eight, were demoted.
"I was hopeful it made a difference," Sauer said Tuesday. "I think all the boats gained speed, but you never know."
Confirmation came Saturday at Lake Hartwell in Clemson, S.C., the site of the 22nd ACC Championship. The Hoos, for the first time, did not arrive at the regatta as favorites, but they left as champions.
UVA won four races—the Varsity Eight, Second Varsity Eight, Third Varsity Eight and Varsity Four—and finished second in the Second Varsity Four. The only race Virginia entered as the No. 1 seed was the Third Varsity Eight.
For the Cavaliers, the ACC team title was their 12th straight and 21st overall.
"It was one of those things where we were the underdog and we were able to pull it off," said Sauer, the only head coach in program history. "So it's pretty sweet. I got pretty emotional afterwards talking to the team, because it was pretty awesome what they did."
Had someone predicted immediately after the Longhorn Invite that the Hoos would capture the ACC championship, Bird might have been skeptical. "But once we were in Clemson, if someone had told me, 'You're going to win ACCs,' I'd have been like, 'I know,' " she said.
The first UVA boat to compete in Saturday's grand finals was the Third Varsity Eight, which defeated runner-up Duke by more than five seconds.
"I knew from there on out we were going to win," Bird said. "There was no doubt in my mind that our team was going to come through and actually pull it off."
The regatta's last race was the grand final of the Varsity Eight, and UVA needed only to finish first or second to secure the team title. "But if you're going to win ACCs, you may as well in the Varsity Eight as well," Bird said, and that's what happened.
Virginia crossed the finish line about two seconds ahead of Syracuse, which also finished second in the team standings.
"When we saw the finish of the Varsity Eight, it kind of tied it all together on a perfect day," Bird said.
The 22-team NCAA field was announced Monday evening. Three teams from the ACC were selected. Virginia earned the conference's automatic bid, and Syracuse and Duke received at-large invitations.
The NCAA regatta will be held May 27-29 at Nathan Benderson Park in Sarasota, Fla.
Virginia, which placed fifth at last year's NCAA Championships, is seeded No. 13 in the Varsity Eight, No. 11 in the Second Varsity Eight, and No. 10 in the Varsity Four.
"We've got a few days to go," said Sauer, who guided the Cavaliers to NCAA team titles in 2010 and 2012. "We're just trying to get better every day and put ourselves in the best possible position."
This has been a year unlike any other for Bird, who's from Ascot, England. In November, back problems forced her to limit her training. When her issues persisted, doctors in Charlottesville diagnosed her with kidney trouble.
More tests followed, both in the United States and England, until doctors finally "realized that my left kidney was just basically done and it needed to be removed," Bird said.
That surgery took place in early January, after which Bird was confined to her bed for two weeks. She then began to gradually increase her activity. About six weeks after the operation, Bird said, she flew back to Charottesville and "started my progression back onto the water."
Bird raced for the first time this season March 26 in the UVA Invite at the Rivanna Reservoir. She rowed in the Second Varsity Eight that day and again at the Longhorn Invite, as did her sister, Izzie, a UVA sophomore. Both rowed in the Third Varsity Eight at the ACC regatta.
In 2021, Abbie Bird had rowed on the the Cavaliers' top boat, Varsity Eight, at the NCAA Championships, but she didn't complain about ending up in the Third Varsity Eight at ACCs this month.
"It sucks to be demoted," Bird said, "but you have to remove your self-value from what boat you're in and say, 'What's the goal here? Is it for me to be in the Varsity Eight, or is it for us to win ACCs?' And it's always the team."
To row in the same boat as her sister, Bird said, "is the best thing ever." UVA rowers consider themselves sisters, she said, "but when that [teammate] is blood-related and she is your actual sister, it just makes it so much more special and so much more real. My sister is younger than me, but she is my idol and I look up to her. And so having the privilege to row with her is beyond words."
Also rowing in the Third Varsity Eight at the ACCs was Kimche, who's from Park City, Utah. She and Bird send out emails to the rest of the team every Sunday.
"We meet with the coaches every week," Bird said, "and that email basically tells the team, 'This is what the coaches have said, this is what we'll be focusing on this week as a team, and this is important information for us to know.'
"Every week we've been focusing on confidence and coming together and finding grit. To the team it was always, 'We've got this.' After the Texas race, we sent an email out and said, 'There's still time. We've still got this if we want it.' "
Bird, who earned a bachelor's degree in American studies last year, will receive a master's from the School of Education and Human Development during Final Exercises this weekend. Then she'll start a new chapter in her life.
"I'm leaving UVA, unfortunately," Bird said. "It's going to be the hardest thing."
She was invited to ask to join the Leander Rowing Club back in her native England, "and it was an opportunity I just couldn't say no to," Bird said.
The COVID-19 pandemic and her kidney problem interrupted her rowing career at UVA, "I'm really, really not ready to give it up," Bird said. "I'm still completely in love with the sport and what it brings to me and who I get to do it with. Even though I won't be doing it with Virginia next year, I'll be doing it for Virginia, and I'll have five years of Virginia inside me."
To receive Jeff White's articles by email, click the appropriate box in this link to subscribe.