CHARLOTTESVILLE, Va. – Virginia men's soccer will welcome 16 players for the 2022-23 season, head coach George Gelnovatch announced on Thursday (May 26).
UVA's class, which includes Miguel Kobbe Adoboe, Axel Ahlander, Triton Beauvois, Colin Gallagher, Albin Gashi, Moritz Kappelsberger, Daniel Mangarov, Reese Miller, Aidan O'Connor, David Okorie, Umberto Pela, Yassine Rhoumar, Amari Salley, Parker Sloan, Andy Sullins and Owen Walz, is ranked top-five by TopDrawerSoccer.com.
"I am very excited to welcome this deep and talented 2022 recruiting class to grounds as it possesses a nice mixture of quality, experience and positional diversity," Gelnovatch said. "Specifically, we've blended some transfers with a proven track record of success at the collegiate level, with high level international and American based players from various professional academies and clubs. Adding this highly rated group to the talented pool of current players we have, will most certainly enhance the quality and depth of our team to compete for championships immediately."
Miguel Kobbe Adoboe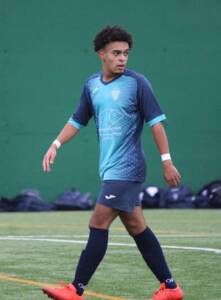 Adoboe is a midfielder from Sachse, Texas. He is currently playing in Spain's U19 National League for A.D. Sporting Hortaleza and trained with the USL League One Professional Side North Texas SC in 2019. Adoboe also trained in the prestigious youth academies of Rayo Vallecano, Atletico Madrid and Levante. He was part of two North Texas State Cup Championships (2017 & 2018) and was part of the 2018 USYS Regional Championships Finalist team. He is a three-time first team All-District selection, Newcomer of the Year (2018), led the team in goals and assists in 2019 and earned District MVP, District Top Scorer Award and was a First Team All-Area and All-State selection in 2020.
Axel Ahlander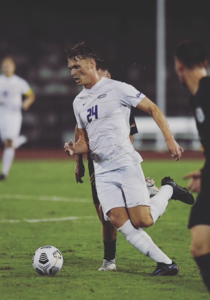 Ahlander is a redshirt sophomore transfer from James Madison. A Notteroy, Norway, native, Ahlander was the CAA Rookie of the Year (Spring 2021), CAA Tournament Most Outstanding Player and Preseason CAA Co-Midfielder of the Year (Fall 2021). He appeared and started in all 17 of JMU's games in 2021 and had seven points on the season (two goals, three assists). Ahlander was also a two-time CAA Commissioner's Academic Honor Roll member and two-time JMU Athletics Director's Scholar-Athlete. Prior to JMU, he was called up for Region Samling, the second level camp under the national team.
Triton Beauvois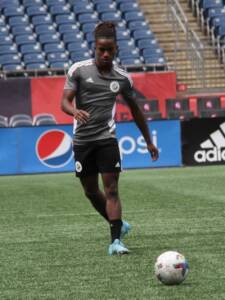 Beauvois is a forward from Malden, Mass. He trains regularly with Revolution II of MLS Next Professional League and has trained with the New England Revolution's First Team, which competes in MLS. Beauvois made his professional debut against Orlando City in the spring of 2022 and has been rostered for three games. He is a three-star prospect by TopDrawerSoccer.com.
Colin Gallagher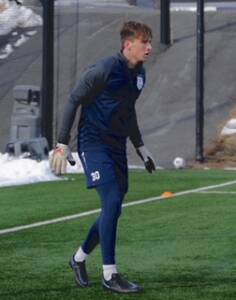 Gallagher is a January enrollee from Safety Harbor, Fla. He is the No. 1 ranked goalkeeper in the Southeast Region and a three-star prospect by TopDrawerSoccer.com. Gallagher played club soccer for the Chargers in the MLS Next U19. He has had multiple U.S. National team ID Center invites and trained with the Tampa Bay Rowdies First Team of the USL Championship. He played for Tampa Bay United 2 of the USL 2 League and played in the US Development Academy since age 12.
Albin Gashi
Gashi is a midfielder from Vargarda, Sweden. He plays for FC Trollhattan and has made appearances in the Superettan League in Sweden (the second-highest professional level). He most recently played in the third division in Sweden.
Moritz Kappelsberger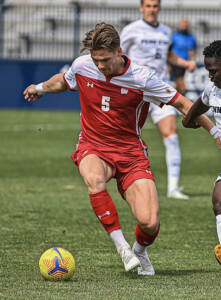 Kappelsberger is a senior transfer from Wisconsin. The defender played his first two collegiate seasons at Duquesne, where he started every match and never left the field. Last season with Wisconsin, the Rosenheim, Germany, native, started all 16 matches. He was an All-Big 10 Second Team selection and earned All-Big 10 Academic honors. He scored one goal and had two assists with the Badgers.
Daniel Mangarov
Mangarov is a mid-year transfer from UNC Greensboro. The midfielder started 16 matches and finished the 2021 season with four goals and three assists to total 11 points. He was a U15 and U17 US Youth National Team member prior to entering college. He was rated as a three-star recruit by TopDrawerSoccer.com as well as a No. 54 prospect in the class of 2020.
Reese Miller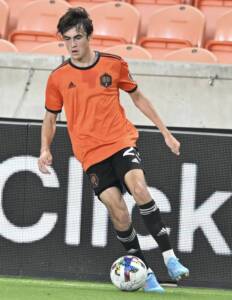 Miller is a defender from Houston, Texas. A member of the Houston Dynamo 2 club team, he made multiple appearances during the 2021-22 season. Miller also trains with the Houston Dynamo First Team (MLS) regularly and was selected for the 2021 MLS Next U17/U19 All-Star Team. He is a three-star prospect by TopDrawerSoccer.com.
Aidan O'Connor
O'Connor is a mid-year transfer from Western Michigan. The center back played in 15 games with nine starts for the Broncos. O'Connor was named Michigan's Mr. Soccer for the 2019 season and was a two-time Michigan Gatorade Player of the Year (2018 & 2019). He helped lead Forest Hills Northern to a high school state championship in 2019. O'Connor was a two-time US Soccer Coaches High School All-American (2018 & 2019) as well as a TopDrawerSoccer.com All-American.
David Okorie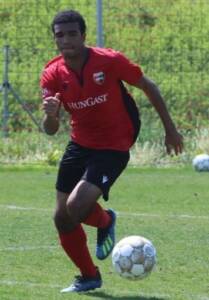 Okorie hails from Alexandria, Va. He was called up to the Pesci Mecsek Football Club in the Hungarian Second Division at 16 and made his professional debut at age 17 in the Hungarian Domestic Cup as well as in the Hungarian NBII League.
Umberto Pela
Pela is a midfielder from Milan, Italy. He is the No. 1 ranked midfielder at the Lombardy Regional Level, making the U16  and U17 Lombardy All-Regional rosters. He was called up for the Como 1907 club at age 17, his first professional call up, and is an active player in Como 1907 First Team training. The club competes in the Serie B Division, the second-highest professional league in Italy.
Yassine Rhoumar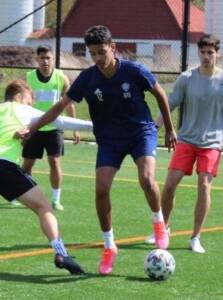 Rhoumar is a defender/midfielder out of Alexandria, Va. He played with clubs HIK and HB Hoge in Denmark prior to coming to UVA. During his club career he was a three-time State Cup winner and also won the USYS Regional Championship.
Amari Salley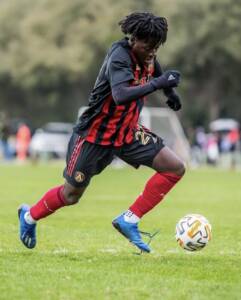 Salley is a center mid/winger from Harrisburg, N.C. He has consistently trained with the Atlanta United first team in the MLS as well as Atlanta United 2 in the USL Championship. A three-star prospect from TopDrawerSoccer.com, Salley finished in the top-10 in goals scored for the U15 Development Academy season. He attended the US Youth National Team Regional Camp for four years (2018-2021).
Parker Sloan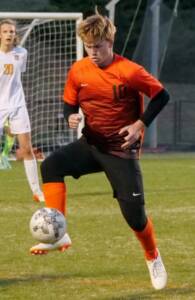 Sloan is a forward from Cartersville, Va. A 2021 United Soccer Coaches Youth All-American, he is a three-time CCL League Champion and is a team captain and leading scorer for Powhatan High School for three years (2020-22). Sloan is a member of Generation Adidas AFC Ajax and plays club with FC Richmond.
Andy Sullins
Sullins is a forward from Athens, Tenn. He is ranked the No. 161st best prospect and is a three-star recruit on TopDrawerSoccer.com. Sullins recently made his professional debut with Atlanta United 2 in the USL. He has trained with the first team for Atlanta United of the MLS as well. Sullins led Southeastern ECNL Conference in goal-scoring in 2019 prior to joining Atlanta United.
Owen Walz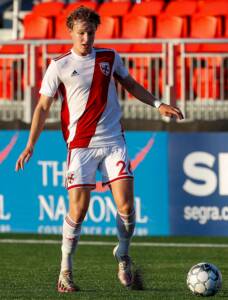 Walz is a defender from Arlington, Va. He is a four-star recruit and the No. 44 overall prospect by TopDrawerSoccer.com. Walz is the only academy player that was invited to train with DC United First Team in the MLS in 2021, playing three preseason matches. He made his professional debut at age 17 with Loudoun United of the USL and played in nine total matches in 2021. Walz scored his first professional goal in 2021 with Loudoun. He was invited on trial with Danish Second Division side HIK FC in 2019 and played for Arlington Soccer Club prior to joining DC United.