By Jeff White (jwhite@virginia.edu)
VirginiaSports.com
CHARLOTTESVILLE — The objective from day one was to host an NCAA baseball regional at Disharoon Park, and for much of the regular season the Virginia Cavaliers appeared likely to earn that reward as one of the tournament's top 16 seeds.
Every game counts, though, and UVA dropped two of its final three ACC series and then went 0-2 in the conference tournament. And so it was no surprise Sunday evening when Charlottesville wasn't included among the 16 regional sites.
"We didn't earn that right to be playing at home this weekend," head coach Brian O'Connor said Monday at the Dish.
Instead, the Wahoos (38-17) are headed to Clark-Leclair Stadium in Greenville, N.C. Virginia, the No. 2 seed in a four-team regional hosted by No. 1 seed East Carolina, faces No. 3 seed Coastal Carolina (36-18-1) at 6 p.m. Friday. ECU (42-18) meets No. 4 seed Coppin State (24-28) in the double-elimination regional's opening game, Friday at 1 p.m.
"I think we knew after the [ACC tournament] that we had kind of lost the ability to host a regional, which is obviously disappointing," left-fielder Alex Tappen said Monday. "You never want to finish the season on a negative note, but at the same time, we're sticking with our guys and we've got a lot of confidence in everything that we do. And we're extremely excited to have this opportunity."
The Cavaliers have made five trips to Omaha, Neb., for the College World Series, which they won in 2015. In three of those seasons, including 2021, they opened the NCAA tournament on the road.
"There's a lot of times we've hosted in this ballpark and been majorly disappointed in the regional or super regional," said O'Connor, who's in his 19th season at UVA. "One thing I've learned over the years is there's a lot of pressure when you host, too, because every prognosticator out there is saying that you should advance. And so sometimes packing up the bus, going on the road, staying in a hotel, not having to worry about making weather decisions and things like that [is good]. You just show up and play when they tell you to play, and you play loose, and that can at times be a real big advantage."
In its final regular-season series, Virginia lost two of three games at Louisville. Then came the ACC tournament in Charlotte, N.C., where the fifth-seeded Hoos fell 13-3 to No. 9 seed Florida State and 3-0 to No. 4 seed Notre Dame.
"Certainly, we were not playing great Virginia baseball last week at the ACC tournament," O'Connor told reporters Monday. "That said, there's been many years that we didn't play well in that tournament and went on and made runs to Omaha. We've talked a lot on our team over the last three or four days that we need to be better and get better and that we've earned the right to be able to play this next weekend."
O'Connor said he "talked to the team and shared with them [details] about years that we haven't had success in the ACC tournament and then how we've turned it on this time of year. Any situation we go into, we want to win, and we were disappointed we didn't win last week, but we've got turn the page and we've got to learn that it has no bearing on the success that we could have this weekend."
Those talks, first baseman Devin Ortiz said, impressed upon the players that they shouldn't be "fazed by the run that we had in the ACC tournament. Those are just two games we definitely have learned from."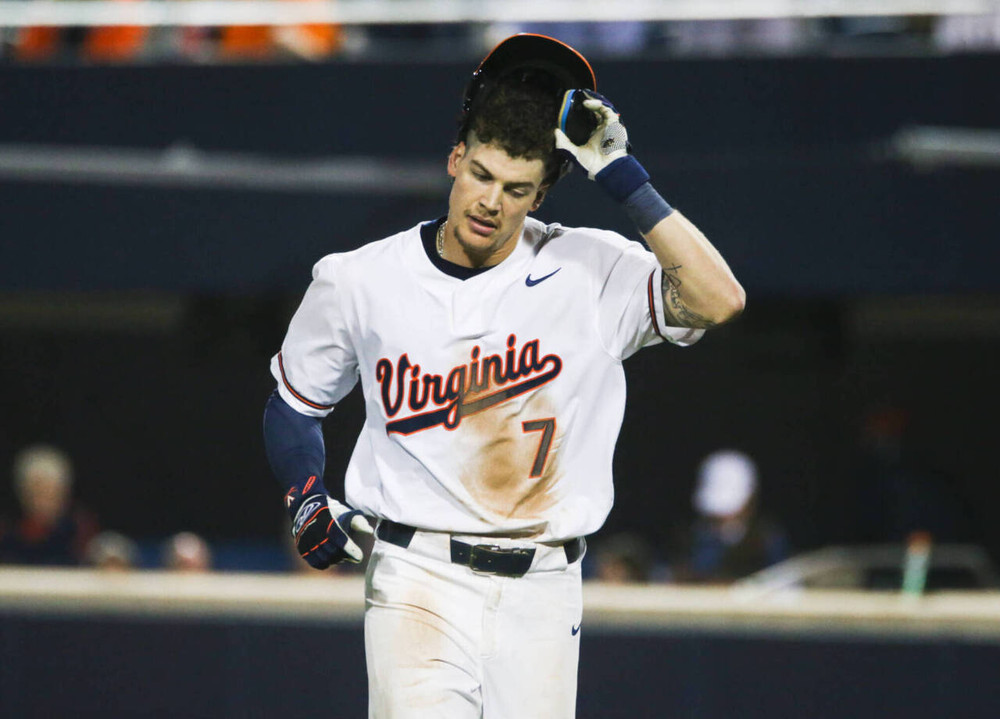 Back in Charlottesville, the Cavaliers reconvened at Disharoon Park on Sunday for "the most challenging practice, toughest practice, longest practice, most intense practice that they have had since the preseason," O'Connor said Monday. "And that's what we needed to do. We needed to pay back the baseball gods and do the things the right way and get focused with hard work."
Tappen said: "We wanted to get our edge back, because we all know as a group that we kind of lost our edge at the end of the season, and we wanted to get that sense of urgency back that we were playing with in the beginning of the year. It was one of the best practices that we've had all year. Everyone handled it really, really, really well.
"The goal of having those tough practices is to make sure that when we get to [Virginia's first game in Greenville], the game slows down. And that's why everything that we do every day in practice is always 100 percent, with full effort, to make sure that when the lights turn on and the lights are brightest—which they are going to be, because it's postseason baseball—everything's slowed down and there's no panic."
Not since 2008 have Virginia and Coppin State met in baseball. The Cavaliers are more familiar with the other teams in the regional.
In 2016, UVA faced both East Carolina and Coastal Carolina. The Cavaliers went 1-3 against the Pirates that year, with one of those losses coming in an NCAA regional in Charlottesville. That February, Virginia lost 5-4 at Coastal Carolina, which closed the season by winning the College World Series.
The Hoos ended their 2021 season in Omaha, where they went 1-2 at the CWS. Among the players back from that UVA team are graduate students Paul Kosanovich, Ortiz and Tappen.
Ortiz and Tappen have been in the program for five years. This is the fourth year at Virginia for Kosanovich, who began his career at a junior college in California. Each knows this is his final NCAA tournament.
"You want to stay focused," said Tappen, who's hitting .355, with 13 home runs, "but at the same time, we've kind of just been taking it all in, because this is our last opportunity to play college baseball and we want to make the most of it. Obviously, we've got to stick within ourselves, but at the same time, I want to enjoy it a little bit, because you don't get too many chances to play baseball in June. And when you do, you want to make the most of it, and this is the start of that run. It's what we've talked about when we decided we were coming back. We want to get back to Omaha. We want to finish it."
Ortiz said he, Tappen and Kosanovich "always talk about it with each other and say, 'This is it, this is it for us.' It was a long run, and there are no regrets at all, and that's how we want to end it, whether it's in Omaha or wherever we end. We want to have no regrets and leave it all out there for ourselves and for our team and leave something with these younger guys. Eventually it's going to be their time, where they're in our shoes."
One of UVA's most versatile players, Ortiz is hitting .298 with seven homers and 47 RBI this season. On the mound, he's 5-1 with a 2.03 earned-run average, but he hasn't pitched in a game since April 6.
The Cavaliers haven't publicly said why Ortiz was shut down as a pitcher, but he's an option this weekend, O'Connor said. Ortiz, who turned in a brilliant pitching performance against ODU in last year's NCAA tournament, threw an inning in an intrasquad scrimmage Monday morning, "and I felt great," he said.
"Whenever they need me, I told them I'll be ready, and if they don't use me, they don't use me. I wasn't used the whole second half of the season, but at regional tournament time anyone can go at any time. I'm happy that I feel good enough that I'm ready to go when called, and if they need me, they'll use me."
Ortiz is eager to pitch again, O'Connor said, and he's "doing everything he can to prepare himself. We'll just have to kind of see how the weekend goes along."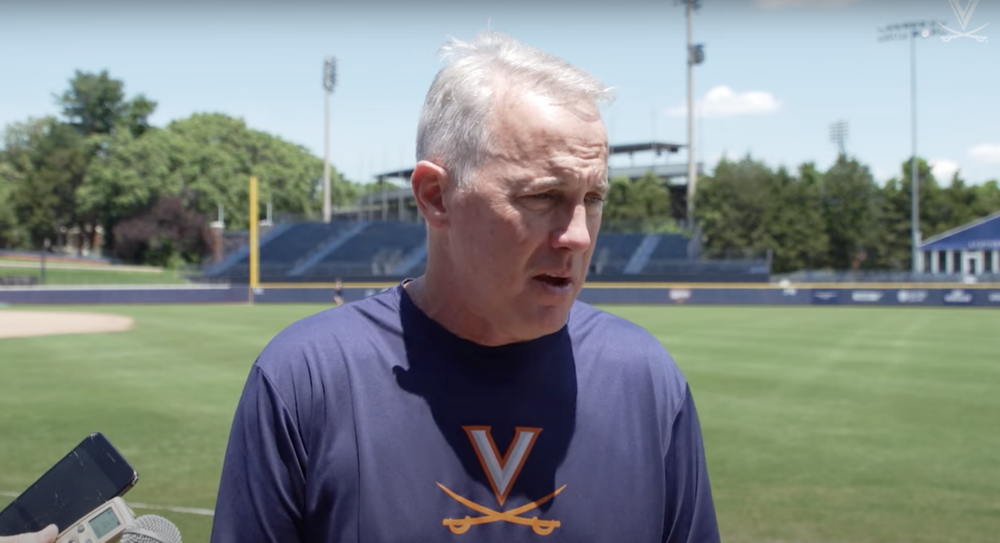 Virginia's weekend starters recently have been Nate Savino, Brian Gursky and Jake Berry. The bullpen includes Kosanovich, Jay Woolfolk, Dylan Bowers, Brandon Neeck, Matt Wyatt, Matthew Buchanan and Will Geerdes.
To have postseason success, O'Connor said, the Hoos need to be "a little bit better on the mound than we've been. We need to get good quality starts and play good defense. I've talked about that a little bit all year, and when we've done that we've been very, very successful. When we haven't, and essentially handed the other team some free passes and easy opportunities, we haven't been successful. So that's where it starts.
"It'll always start in this program on the mound and defensively for us, and then being a little bit more opportunistic … So we've got to just be a little bit better than we were last week. We've had spurts this year where we've been phenomenal, and we've got to get on one of those spurts. That's what we did last year. Whoever does that this weekend and the weekend after will find themselves in Omaha, and you either have high-level performances by enough individual players or you don't. If you don't, you're home. If you do, you got a shot and that's what we need to focus on. We need a number of guys to step up and play championship baseball."
Sophomore third baseman Jake Gelof is hitting .373 with 19 home runs and 74 RBI, and collectively the Cavaliers are hitting .311 and averaging 8.8 runs per game. But in four of their past five games, they've scored three runs or fewer.
"It's just getting refocused back on the right approach," O'Connor said, "and that's being aggressive again and having individual players rise up and step up."
For many Cavaliers, including freshmen Griff O'Ferrall, Ethan Anderson, Casey Saucke, Justin Rubin, Colin Tuft, Woolfolk and Buchanan, this will be their first NCAA tournament. Tappen's advice to teammates who have yet to play on this stage?
"It's just to make sure that you don't let the moment get too big," Tappen said. "At the end of the day, it's just another baseball game, and you don't want to make it too big of a moment to the point that you try and do stuff that you haven't been doing. In those really, really big games, you just want to keep it simple. You want to stay cool, calm and collected, which I think we've done an amazing job of all year, and especially the first-years. They've done an unbelievable job adjusting to our program and what we do and running with it. So I'd expect nothing less out of them going into the tournament."
TICKET INFORMATION: Sales for the general public will begin Wednesday at 9 a.m. All-session ticket tickets are available for $90, $72 and $60, depending on seat locations, while tickets for single sessions (games)—priced at $15, $12 and $10—will go on sale Friday at 11 a.m. if available. Tickets can be purchased online at ECUPirates.com or over the phone by calling (800) DIAL-ECU or (252) 737-4500 during normal business hours from Tuesday through Thursday.
To receive Jeff White's articles by email, click the appropriate box in this link to subscribe.