By Jeff White (jwhite@virginia.edu)
VirginiaSports.com
CHARLOTTESVILLE — In the 42nd minute, an own goal gave Nottingham Forest Football Club a 1-0 lead over Huddersfield Town at London's famed Wembley Stadium. It was May 29, and the stakes in that playoff game were immense. The winner would be promoted to the Premier League; the loser would be left to rue missing an opportunity that might not present itself again anytime soon.
For former University of Virginia midfielder Dane Murphy, who's now chief executive officer of Nottingham Forest, watching the rest of the match was an excruciating experience.
"You're helpless, honestly," Murphy recalled in a Zoom interview from Nottingham, a city of about 330,000 people that's some 130 miles northwest of London.
"You want everything to go the way it should or the way you want it to and the way you think your team and your staff, your community and the club should be rewarded. But the last 10, 15 minutes were some of the worst minutes of my life, because you have no control. You have no idea how it's going to end, and you have such an emotional high and low going at the same time: the high of being in the lead and possibly winning and your dreams coming true, and then also the dread that if one goal goes against you, momentum swings the other way and maybe in 30, 45 minutes you're the saddest people on earth. It's hard to fully describe."
At the end of 90 minutes, with Forest still leading 1-0, the referee added six minutes of stoppage time.
"Six minutes of complete and utter despair, in a way," Murphy said, "just because you're waiting for the worst to happen at that point with a 1-0 lead and having not been in the Premier League 23 years."
This story, of course, ended happily for the Reds and their long-suffering fan base. Forest's 1-0 victory sent the club back to the top division of English football for the first time since 1999.
For Murphy, who grew up in Redding, Conn., this is his first year with Forest, but he's heard countless stories about the club's two-plus decades below the Premier League, of which it was a founding member in 1992. Forest spent most of that time in the second-tier Championship, but it was relegated to the third-tier League One after the 2004-05 season and didn't earn promotion back to the Championship for three years.
Many of those stories have come from Murphy's colleagues, who are well-versed in the storied history of a club that was founded in 1865 and has won two FA Cups and two European Cups, among other titles. The City Ground, near the River Trent, has been Forest's home stadium since 1898.
"One thing that's really nice about the clubs that are in the smaller towns or smaller cities is that you have a supporter base that permeates into your work force," Murphy said, "and people work with the club care so much about it. It's not just that they love sports, and they love the game of football. They're embedded in the community and the club, and you hear the stories of what it's meant to them, their parents, their grandparents, what it means to their kids now."
He laughed. "And it's all fine and well until you hear too much of it and the pressure just begins to build. It's like OK, not only am I trying to do this for my employers, my owner, my club, my community, now it's all people I work with, and every time I walk down the street, I'm getting the story of what the last 23 years has been like. But for it to culminate that way is obviously pretty rewarding for all of us."
Among those pulling for Forest at Wembley Stadium were five of Murphy's former UVA teammates: Yannick Reyering, Sean Hinkle, Ryan Burke, Drew Harrison and Kyle Rudzinski. Also in attendance were several other of Murphy's friends from the University.
"It was a good Cavalier contingent on the day, and it made it that much more special," he said. "I had about 30, 35 people there from the States, and it kind of was an emotional day because I had so much support, so many people that throughout my life had been there with me and gone through the process. So it was pretty amazing."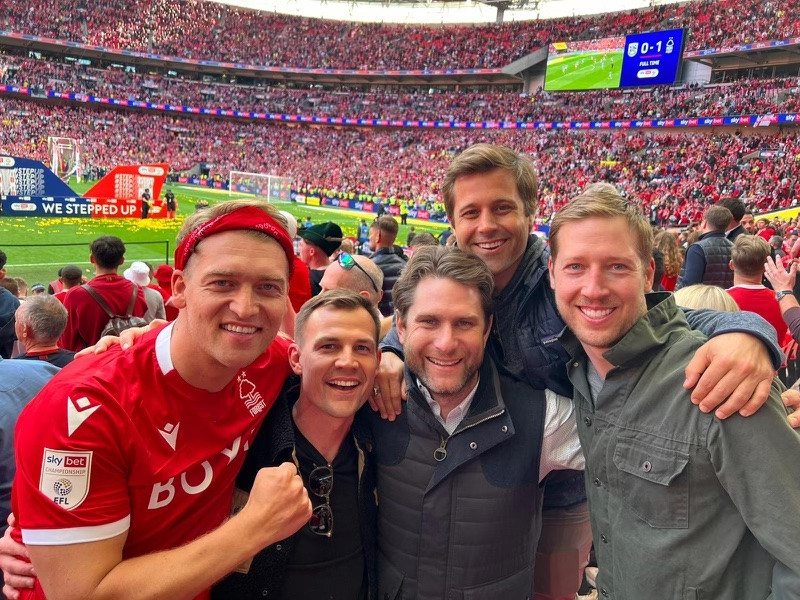 At Virginia, where he earned a bachelor's degree in psychology, Murphy played four seasons (2004-07) for head coach George Gelnovatch. He then played professionally, for D.C United and the New York Cosmos in the United States and for Vfl Osnabrück in Germany. During that period, Murphy also spent a year as Major League Soccer's director of player personnel/competition, and in January 2015 he took over as the Cosmos' head scout.
In 2017, he moved to another MLS club, Real Salt Lake, for which he served as head scout for one year and technical director for 11 months. Then came eight months as D.C. United's technical director, after which Murphy was hired in July 2019 as CEO of Barnsley FC, an English club that had recently been promoted from League One to the Championship.
That made Murphy, then 33, the youngest American ever to hold that position with a club in the United Kingdom. In January 2021, Barnsley added forward Daryl Dike on loan from MLS' Orlando City, and the former UVA star scored 11 goals in 26 games and helped the club turn around its season.
"It was amazing," Murphy said. "That's a good Wahoo connection. I had watched Daryl from afar when I had just come to Barnsley and I was living in Leeds with my wife. We were watching his UVA team that lost to Georgetown in the [2019 College Cup] final, and I was watching him in awe of his physical prowess, but also how good and nimble he was for such a big guy, how kind of easy the game was for him at times."
For Barnsley, Dike "was the perfect piece that was missing," Murphy said, "and I think the reason it was so successful with Daryl was completely because of his humility, groundedness, work ethic. All the things that sometimes the young, really talented players over here take for granted or just skip over, he had all of it in spades, along with his God-given talents and his ability, and he was just transformative. We went from 12th place to the playoffs on the smallest budget in the league by a lot, and Daryl was a major part, if not the most important part, of us getting there."
In English football, the job description of CEO varies from club to club, Murphy said. At Forest, his main focus has been "building up the technical side with the coaching staff and the playing staff, the academy, the women's program," he said, "but at the same time you have an eye on everything else: the commercial side, ticketing, media, marketing, all of that. But because of the way that the sport is structured, especially in the Championship, you're able to do both in a way, and when you get to the Premier League, it's a whole different animal. It does change. Sometimes CEOs at clubs are basically [chief business officers], they're just business-oriented, and sometimes CEOs are kind of glorified general managers, like they have in the States, or what we have other here, sporting directors, but I have elements of both in my role."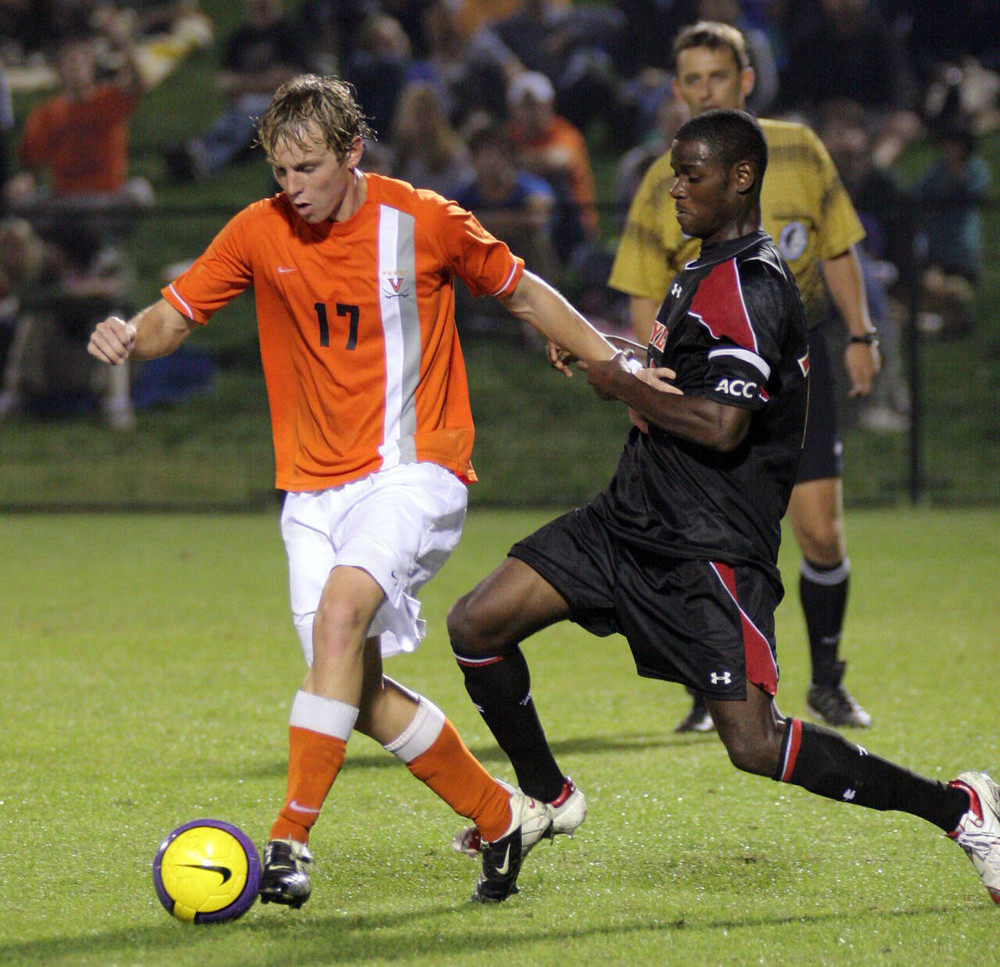 In the U.S., there's nothing comparable in sports to the drama that accompanies promotion and relegation in the Premier League. The financial implications of those moves are staggering.
"It's the ultimate boom or bust in sports, honestly," Murphy said, "and I'm not just saying that from the club's perspective. Sometimes it's the community perspective, because the amount of money that flows into a city, a town, when they are promoted to the Premier League or to Championship is completely different from the division that they were in beforehand. As a trading entity, it completely changes your perspective when you go up and when you go down. So the 120 million sterling Great British Pounds, the amount that hits your accounts throughout the next year, it is transformative from an infrastructure standpoint, from a player standpoint, staffing standpoint, but you have to spend that money to compete and to get to the level of the Premier League.
"The biggest challenge for us is to keep our core together and to put pieces around it that will allow us to continue to grow, because it was a young team, while not losing the balance … You want to build incrementally off what your core has established and to stay true to the identity of what got you there."
Seven games into the 2021-22 season, Forest was 0-6-1, and manager Chris Hughton was fired. Under interim coach Stephen Reid, the Reds won their eighth game, defeating Huddersfield 2-0. Then Steve Cooper took the reins, and "the rest is history," Murphy said. "But definitely the start of the season being as difficult as it was and how we ended up makes the story that much better."
Murphy, who's married to Melissa Terry, is not the only American who holds a significant position on a Premier League club. Jesse Marsch is Leeds United's manager, and Billy Hogan is Liverpool's CEO.
Nonetheless, "I think there's still skepticism about Yanks in any role over here, to be honest," Murphy said, laughing. "It's always going to be built in, because it's their sport. When I first got to Barnsley, it was definitely kind of like: 'Who's this somewhat young, somewhat brash American guy who speaks funny and never played over here and probably has no clue what he's doing?' But now that I've built the network, and I've built some relationships within the game here, I think that's fallen away a little bit. And hopefully that continues, because there's so many good people in the sport in the United States that could come over here and make an impact."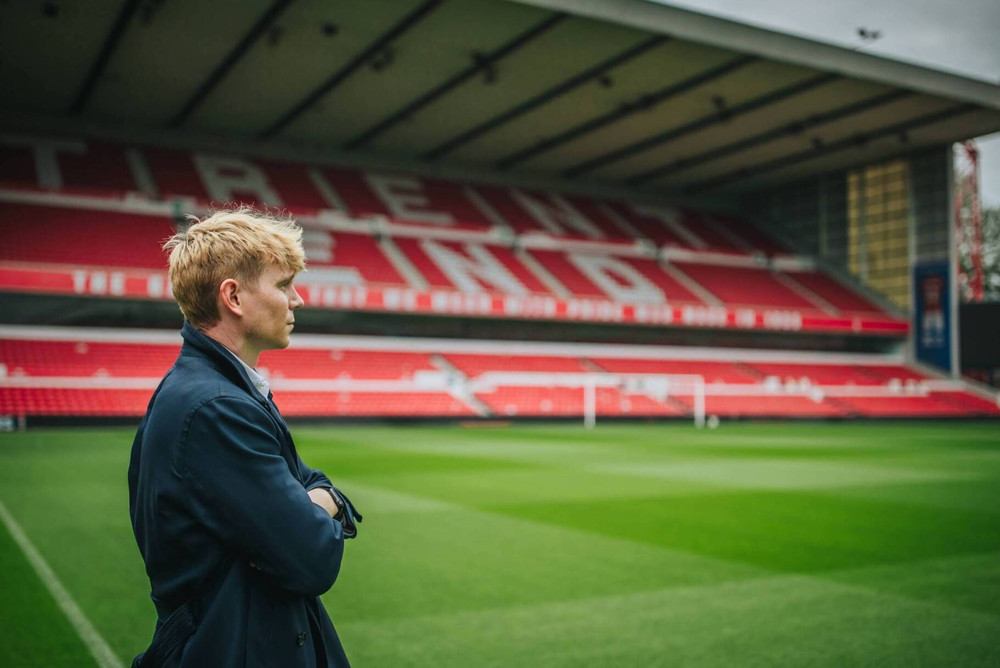 During each of Murphy's seasons at UVA, the Hoos advanced to the NCAA tournament, and they reached the College Cup in his third year. In 2009, when Murphy was playing professionally, the Cavaliers captured the program's sixth NCAA championship, and they added a seventh crown in 2014.
"There's that competitive athlete in me that never will go away," Murphy said. "I look back and we had some really good teams, and there's some bitterness that we never won [an NCAA title] … I think about that a lot, to be honest. I'm very proud of the program, very proud of my school, because they just continue to excel in the sport and in athletics, but I wish we had gotten one."
Since leaving Charlottesville, Murphy said, he's realized that "the family element of UVA soccer is a lot stronger than I think I ever thought it might be. And the connections that I made and I continue to have from the program are actually quite astounding and really are special."
He hears regularly from UVA classmates and teammates, and "that stuff you can't put a price on," Murphy said. "So I think those are the two things I think about most in my UVA experience: one is not winning a national championship and really wishing we had done that, and two is the family aspect built out of the program is something surprising and very dear to me."
In part because of the COVID-19 pandemic, Murphy hasn't been on Grounds in years, but he hopes to get back to Charlottesville when his schedule permits. He sees now that, as an undergraduate, he took the University for granted in some ways.
As he grew older and his soccer career took him around the world, Murphy said, he realized "how beautiful Charlottesville is: not just the campus but the city itself, how great the people are, how good the food is, how lucky you really were to spend four years there, three years there, two years there. And as an alumnus your appreciation builds as you grow older for how great that place is and how unique it is."
To receive Jeff White's articles by email, click the appropriate box in this link to subscribe.