By Jeff White (jwhite@virginia.edu)
VirginiaSports.com
CHARLOTTESVILLE — Jay Woolfolk's first college baseball season ended June 5 at the NCAA regional in Greenville, N.C., and he and his University of Virginia teammates arrived back at Disharoon Park late that night.
The next day marked the start of another chapter in Woolfolk's athletic career.
In his parting message to the right-handed pitcher, UVA head baseball coach Brian O'Connor "just told me, 'You're a football player now. You're not a baseball player anymore. Go play football, and when the time comes, you'll be a baseball player again,' " Woolfolk recalled.
In an era in which multi-sport athletes at Power 5 schools are a vanishing breed, Woolfolk stands out. A graduate of Benedictine College Prep in the Richmond area, he enrolled at UVA last season on a football scholarship, with the understanding that he'd join the baseball team when football season ended.
His first year at the University unfolded as planned in that regard. In the fall, Woolfolk backed up quarterback Brennan Armstrong and appeared in five games. Against Notre Dame, with Armstrong injured, Woolfolk became the first true freshman to start at quarterback for the Cavaliers since 1977.
For a team that finished 6-6, Woolfolk completed 22 of 41 passes for 245 yards last season, with two interceptions and no touchdowns. He rushed 24 times for 72 yards.
"It was a fun experience," Woolfolk said. "It didn't end up the way I wanted it to. Obviously you want to win every time you do it, but I'm glad I got that experience, and I learned so much from that, especially from Brennan.
"Without Brennan, I would not be as far along as I am today. During fall camp, he was always in my ear, not in a bad way, but he was always helping me get through. Because I came in June 18th last year, and there were quarterbacks older than me already here, and they already knew the playbook when I didn't."
Against the seventh-ranked Fighting Irish, Woolfolk ran effectively and completed 18 of 33 passes for 196 yards, but he also threw two picks in the Cavaliers' 28-3 loss at Scott Stadium.
"After the Notre Dame game, Brennan talked to me and said, 'It happens,' " Woolfolk recalled. "He was just there for me."
Two weeks later, in the regular-season finale against Virginia Tech, Armstrong hurt his ankle midway through the third quarter. While Armstrong was getting his ankle examined, Woolfolk capably filled in, rushing once for 13 yards and completing both of his passes (for 14 yards).
"When I went in, everything was so much easier, everything was slower [than against Notre Dame]," Woolfolk said. "I couldn't thank Brennan enough for all he's done for me."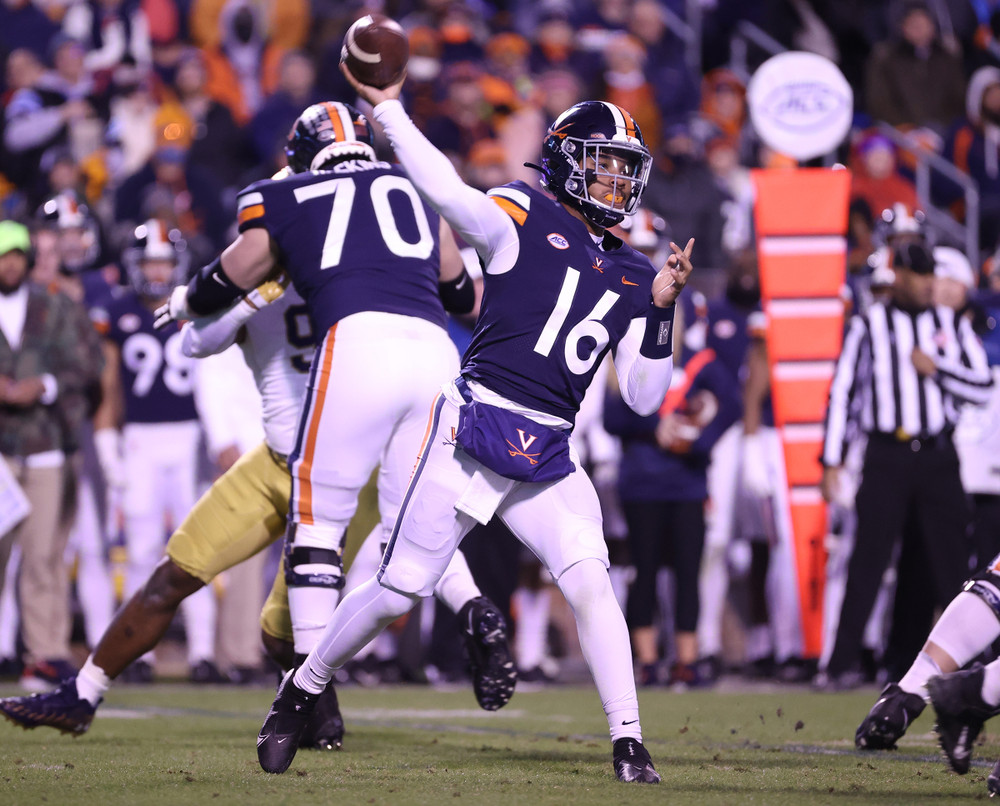 The end of the football season brought unexpected changes to the Wahoos' program. Bronco Mendenhall announced on Dec. 2 he was stepping down as head coach, and eight days later Tony Elliott was hired as his successor.
Some coaches might have balked at the prospect of going through spring practice without one of their team's top quarterbacks, but Elliott wholeheartedly supported Woolfolk's move to baseball.
"I love baseball," Elliott said in January "and I also love dual-sport athletes … The biggest thing is, if a guy can help one of the other teams in the athletic department, then I'm all for it."
Woolfolk said he learned, when he was being recruited out of Benedictine, that a lot of schools "didn't want me to play both sports. Just to see that [Elliott] came in knowing the situation and then supported the situation, it was amazing, knowing I could still live out both of my dreams."
Virginia's baseball team spent most of the season nationally ranked and finished with a 39-19 record. The 5-foot-11 Woolfolk tied fellow reliever Dylan Bowers for the most appearances (28) and posted a 3-0 record and 2.87 earned-run average. Opponents hit only .211 against Woolfolk, who struck out 55 in 37.2 innings and was named a Freshman All-American by Collegiate Baseball Newspaper.
"It's definitely amazing," Woolfolk said of the honor, "especially on a team like this where you have talent all over. We had a lot of freshmen this year contribute to this team. So it felt really good, but I know I'm not done yet. It's a great award, but I feel I can do a lot more."
When he joined O'Connor's program midyear, Woolfolk said, he wasn't sure what to expect. "Coming in on the first day, I didn't know if everybody would like me and I didn't know if I was gonna fit in as a baseball player. But as the season got on, everybody just became like my brothers."
Two games stand out to Woolfolk. The first was a March 6 rout of Penn State at Disharoon Park, where he took over for starter Brandon Neeck in the sixth inning.
"I guess my adrenaline was rushing," said Woolfolk, whose classmates on the team include shortstop Griff O'Ferrall, a St. Christopher's School graduate with whom he'd played growing up. In a conversation with O'Ferrall, Woolfolk said, "I was like, 'I'm gonna hit 97 [miles per hour] today. I feel it.' And then I went out there and I hit 98. Before that I was 91, 92, 93, maybe 94, and that was a big step in college baseball for me."
Then there was the Cavaliers' April 23 win over ACC rival North Carolina at Disharoon Park. Virginia rallied for seven runs in the bottom of the 10th, the last four coming on a walk-off grand slam by fifth-year senior Devin Ortiz, one of Woolfolk's mentors.
"Devin was the first person that ever talked to me on the baseball team," Woolfolk said. "Obviously, Griffin O'Ferrall and I know each other [from high school], but outside of that, Devin was the first person to always talk to me."
It was not unusual to see UVA football players and coaches at Disharoon Park when Woolfolk pitched.
"If a kid can do it, you want to cheer him on," said Taylor Lamb, Virginia's new quarterbacks coach. "I enjoyed watching him pitch when I got over to the baseball games."
Like Elliott, Lamb supported Woolfolk's desire to play two sports in college.
"We urge high school kids to play 'em all," Lamb said. "Play all the sports you can while you can, and he's got an opportunity to keep pursuing that. His expiration date hasn't ended on baseball or football yet. It's a cool deal to see. Now, it is tough. That's the thing we told him. This isn't for just a regular Joe. Being a football player at the University of Virginia is not for a regular Joe, but being a football and baseball player, being a double scholar-athlete here at UVA, that's tough. But he knows that, and he's handled it real well, this transition back to football."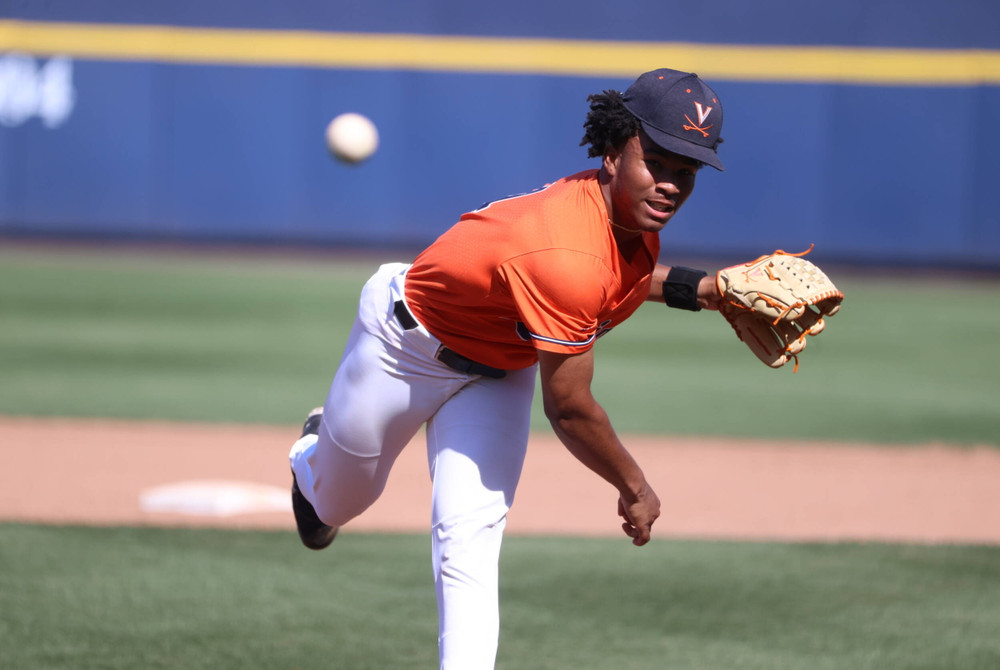 Woolfolk took a short break after baseball season ended, then went through a conditioning workout with the football team last Wednesday.
"I'm glad to be back," Woolfolk said. "This team was my first interaction with college. These are really my brothers, and I'm glad to be around them again."
Among the assistants Elliott hired after taking over in December was offensive coordinator Des Kitchings, who coached in the NFL last season. Armstrong is back at quarterback, but the Cavaliers' offense won't be the one they ran in 2021.
When his schedule permitted, Woolfolk stopped by practices and attended position meetings in the spring. That introduced him to Kitchings' offense, Lamb said, but "I don't know how much of it was retained, with all he had going on. I think it's pretty new to him."
And so Woolfolk has been meeting with Lamb since UVA's baseball season ended. Coaches are allowed to work with players on a limited basis during the summer, on and off the field, and "I'm eager to see how he learns and how he takes to this offense," Lamb said.
He's reviewed Woolfolk's game tape from 2021, Lamb said, "but that was last year. You want to see how he grows from that year to this year, especially in a new system doing new things."
Having missed spring practice, Woolfolk knows he has ground to make up, "but this is the time where I'm meeting with Coach Lamb and getting the plays down and getting the cadence and everything," he said.
Lamb's impression of Woolfolk?
"He kind of oozes confidence, and you can see it when he jogs out there to the mound," Lamb said. "You can see it when he walks into the meeting room, when he's interacting with the guys. His confidence is sky high, which is great. And then obviously he sounds like a young man that wants to learn, wants to get better, at both sports. He's far from burned out on either sport, so let's keep that thing going while we can."
Armstrong, a 6-foot-2 left-hander, played baseball at Shelby High School in Ohio and, like Woolfolk, excelled on as a pitcher. Woolfolk isn't sure how many of his other football teammates played baseball growing up, though loquacious cornerback Anthony Johnson, not surprisingly, talks a big game.
"A.J. says he was pretty good," Woolfolk said, smiling. "He keeps telling me he's gonna get a hit off me. I was like, 'You can set it up whenever, but I don't think you'll get too far.' "
Woolfolk's father, Peter, stands 6-foot-5 and starred for the University of Richmond basketball team that reached the NCAA tournament's Sweet Sixteen in 1988. Jay played hoops growing up, but he didn't inherit his father's height, and he realized that his athletic future lay in football and baseball.
His parents never insisted he specialize in one sport. "They would always tell me, 'If you've got the chance to do it, do it, and always keep your options open, because you don't know what's gonna happen between the two sports,' " Woolfolk said. "So, definitely, if I have the chance to keep on doing it [at UVA], I'm gonna keep doing it."
To receive Jeff White's articles by email, click the appropriate box in this link to subscribe.