By Jeff White (jwhite@virginia.edu)
VirginiaSports.com
CHARLOTTESVILLE – If all had gone as planned for Quentin Matsui, he'd have traveled to Spain to study in Valencia this summer as part of a popular program for University of Virginia students. When that option fell through early this year, he had to scramble. He knew that in August he'd be playing for the United States at the U21 world lacrosse championships in Ireland, but that wasn't enough to fill his summer calendar.
"I was like, 'All right, I need to find something,' " recalled Matsui, who's heading into his final year in UVA's prestigious McIntire School of Commerce.
He saw on the Handshake app that the University of Virginia Investment Management Company had a summer internship available in Charlottesville, and Matsui applied immediately. He interviewed and was offered the internship, which he happily accepted.
"I feel so lucky," said Matsui, a three-year starter on defense for the UVA men's lacrosse team.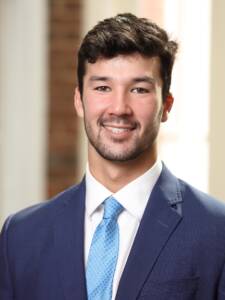 UVIMCO, whose offices are near the Downtown Mall, manages and invests the endowment and other long-term funds of the University. Matsui has worked with the investment and risk teams, and from UVIMCO's director of IT he's learning how the company gathers its data.
"Data aggregation and interpretation is integral to how UVIMCO monitors its investments and risks," said Matsui, who's also been working with the company's director of of strategic initiatives. "It's been really incredible. It's such a cool experience."
Matsui's concentrations in the Comm School are finance and IT, "so it lines up perfectly with what I'm doing here," he said during a recent lunch break at UVIMCO.
On most weekdays, Matsui is up by 6 a.m. to work out on Grounds before heading downtown to UVIMCO. In the evenings, he often plays tennis with teammate Jeff Conner on the Snyder Center courts next to Memorial Gymnasium.
"I'm still not that good," Matsui said, "but it's a fun game. I never really started playing till this summer."
Matsui, who'll turn 22 in September, lived in Chicago, his birthplace, and in Pennsylvania before moving with his family to Minnesota when he was a young boy. His hometown of Eden Prairie is about a dozen miles southwest of Minneapolis. The North Star State is anything but a lacrosse hotbed, but some of Matsui's friends played the sport, and, at the end of his sixth-grade year, they urged him to try it.
"So I picked it up and I was by far the worst player ever to touch a lacrosse stick," Matsui said. "I knew nothing about lacrosse, couldn't catch and pass. I started out as a middie and very quickly I was given a long pole, just because I was kind of athletic, and I figured it out from there, just because I played football my whole life and it kind of translated pretty well."
Matsui fell in love with the sport. He joined the Team Minnesota program, where he learned the game's fundamentals, "and I quickly realized that I wanted to play lacrosse in college. That really drove me, and that was my goal probably since seventh grade or eighth grade, when I realized it could be a possibility."
Minnesota isn't known for producing Division I lacrosse players, and that "kind of put it a chip on my shoulder," Matsui said. "I'm really grateful for it, because it definitely motivated me to work harder and just kind of grind. I also didn't know how I stacked up against guys from the East Coast, guys from the hotbeds. I didn't get exposed to them until my freshman year [of high school]. So I was just working hard and trying to push myself as hard as I could. That really motivated me and helped me grow."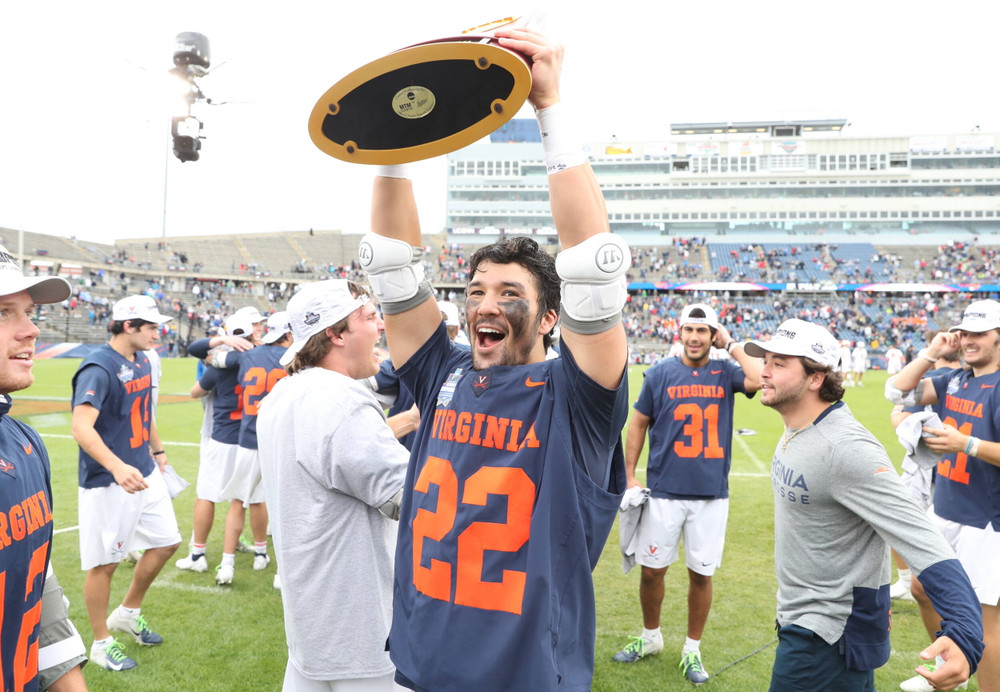 As a ninth-grader, to the disappointment of UVA head coach Lars Tiffany, Matsui committed to the University of Denver. "I had seen him play and evaluated him as one of the elite defensemen in the nation," Tiffany recalled.
Fortunately for the Wahoos, Matsui had a change of heart. As a junior, he decided that he wanted to attend a college on the East Coast and re-opened his recruitment, after which "I dove right in as hard as I could," Tiffany said.
"There was no hesitation. A lot of times with recruits you want to look at more film, make more assessments, but having seen Quentin play and hearing how strong of a student he was, and knowing he was a middle linebacker for Eden Prairie High School football, I was all in, 100 percent."
Tiffany flew to Minneapolis and watched Matsui play the other sport at which he excelled. During Matsui's high school football career, Eden Prairie advanced to the state championship game three times and won the title in 2017, his junior season.
"I was really impressed," Tiffany said. "He's the starting middle linebacker, and amongst the 300-pounders, here's this 200-pounder plugging holes. His footwork, when he would drop back into coverage on a pass, was exceptional, just textbook. It was very, very reconfirming, watching him compete, and this was an athlete that we had to have here in Charlottesville."
Virginia saw its persistence rewarded. In October 2017, Matsui picked UVA over Duke, and the coaching staff celebrated.
"He fits the model of the elite student and athlete that we're striving for here as a staff," Tiffany said. "He does it all."
Matsui's transition to the highest level of college lacrosse went smoothly. During the pandemic-shortened 2020 season, he started all six of UVA's games. In 2021, he helped Virginia collect a second consecutive NCAA crown. As a junior this year, he started every game, scooped up 28 ground balls and caused 12 turnovers, the third-most on the team.
On a close defense that also includes 6-foot-5 Cade Saustad and 6-foot-7 Cole Kastner, Matsui can be overshadowed at times. But he plays a crucial role for the Hoos.
"Q is our torpedo," Tiffany said. "He plays inside on our defense, and he's the slider. He's the one who inserts himself into the dodger, and he times up his slides really well. He is a middle linebacker sliding. I somewhat joke about the torpedo, because he's shorter than everyone else on defense, but he's just fantastic at anticipating a rollback and sliding to collide."
UVA's 2022 season ended in Columbus, Ohio. In late May, Virginia lost 18-9 to eventual champion Maryland in the NCAA quarterfinals. Matsui impressed his coaches in defeat.
"Late in that Maryland game, the season's over, we're down by a hundred goals, and he's diving in front of shots," Tiffany said. "That's who he is."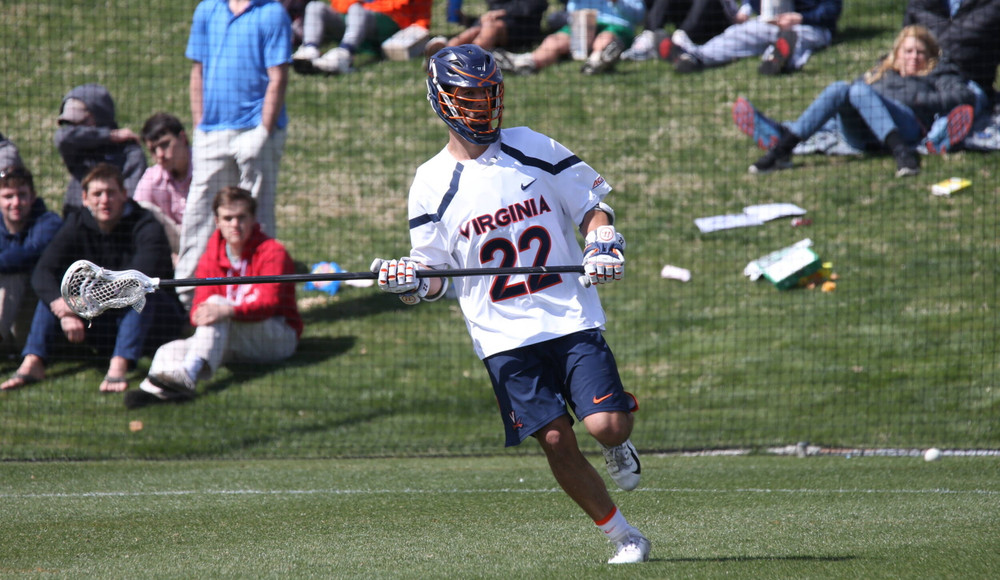 In the summer before his first year at UVA, Matsui tried out for—and made—USA Lacrosse's U19 national team. It was supposed to compete at the U19 world championships in the summer of 2020, but the COVID-19 pandemic disrupted the schedule, and the tournament was pushed back first to 2021.
"Then it got canceled again," Matsui said, "and we weren't sure if it was gonna happen. Then thankfully it got rescheduled for this summer. So I'm excited for it to actually happen."
Two other Cavaliers will play at the world championships, Aug. 10 to 20 in Limerick, Ireland. Short-stick defensive midfielder Danny Parker was added to the U.S. roster after trying out last fall, and incoming midfielder Thomas McConvey will play for Canada. McConvey is a graduate transfer who scored a program-record 60 goals and added 14 assists as a Vermont senior this year. He was named the America East's offensive player of the year.
"I'll have guys to root for on both teams when they most likely play for that gold medal," Tiffany said.
The U.S. team held a training camp in June to go over strategy, Matsui said. After wrapping up his summer internship with UVIMCO, he'll travel to Baltimore on Saturday (Aug. 6) for a couple of days of training with the U.S. team before departing for Limerick, a city in Ireland's Munster province.
His U.S. teammates include players Duke, Notre Dame and North Carolina. When he faces those players in ACC games next season, Matsui said, the friendships they've formed won't make him any less determined to beat them. Still, he said, "it is cool to have those guys you know throughout the country who are on the USA team, because you kind of share a special relationship with them, having gone through this whole process together and knowing that we're going to be competing together to try to earn a gold medal."
Matsui has never been to Ireland, but as a middle-schooler he visited Japan, the country where his parents met and where his father's side of the family has deep roots.
"I went to Japan for like a week with my family, and I loved it there," Matsui said. "I love the food, and I think the culture is pretty cool."
As far as he knows, he's the only Japanese-American player in Division I lacrosse. Is he fluent in Japanese? "I'm not," Matsui said, smiling. "I wish I was. I'm not even close."
In 2020, Matsui was among the UVA student-athletes selected to take part in the Citizen Leaders and Sports Ethics Community Impact Fellowship. That was a new leadership program for student-athletes launched by UVA Athletics and UVA's Contemplative Sciences Center.
Since then, he's continued to distinguish himself on and off the lacrosse field. UVIMCO, in fact, has extended his internship into the fall.
"I'll cut back on the hours a little bit," Matsui said, "but I was able to arrange my class schedule so it works out, and [UVIMCO has been] super flexible and really great."
The lacrosse team will start fall practice soon after Matsui returns from Limerick. After winning NCAA titles in 2019 and '21, the Hoos had, by their standards, a disappointing season in '22. Most of the key players from that team will be back in 2023, and they won't lack motivation.
"Obviously, losing [to Maryland] like that really hurt," Matsui said. "We believed that we were going to win the national championship. So that was a pretty painful loss to deal with. But it's such a great motivator, to kind of have that in the back of our minds or maybe the front of our minds this whole offseason and into the fall and into next season. Especially having the majority of our team coming back. So most people on the team will have that experience and have that shared feeling and shared kind of pain from that last game."
To receive Jeff White's articles by email, click the appropriate box in this link to subscribe.