By Jeff White (jwhite@virginia.edu)
VirginiaSports.com
CHARLOTTESVILLE — Less than a month after starring for the University of Virginia men's soccer team at the College Cup in 2019, Daryl Dike turned pro. That created a terrific opportunity for his understudy at striker, Philip Horton.
"We felt like by the time he was done here, he was going to be pretty good," UVA head coach George Gelnovatch said of Horton, who's from New Albany, Ohio, a suburb of Columbus. "He was going to be a goal-scorer and kind of a mainstay for us."
With Dike off to Major League Soccer, "I kind of felt like the next heir to the throne," Horton recalled this week. "I worked really hard over that winter break and came back strong."
In January 2020, the Cavaliers reconvened in Charlottesville, and Horton "was the best player in training," Gelnovatch said. "For the first three weeks of training he was picking up right where he left off [in 2019], and then he got hurt."
Not long before the COVID-19 pandemic hit in March 2020, Horton tore the medial collateral ligament in his right knee. He returned in the fall and started seven games, but in the spring of 2021, when the Wahoos completed their pandemic-extended season, hamstring injuries hindered him.
After he recovered, Horton played for the Columbus Crew's second team last summer, and "coming into the fall of '21, we were all ready to try to get him going again," Gelnovatch said.
About a week before Horton returned to Charlottesville, however, he tore his right MCL again, and he played in only four games for UVA last season.
"That piece, the injury piece, has really, really been tough for him," Gelnovatch said. "So this is the first fall in a couple years that I feel like he's come in mentally and physically energized."
A 6-foot, 185-pound senior, Horton has worked with strength and conditioning coach Peter Alston and athletic trainer Kim Hinton to strengthen his hamstrings, and he hopes his injury woes are behind him.
Horton totaled three goals in the Wahoos' two preseason games this month, and he's eager to finally live up to his potential. UVA opens the season, its 27th under Gelnovatch, against Xavier at 7 p.m. Thursday at Klöckner Stadium.
"Obviously, being out for almost two years now, I've got some proving to do," Horton said. "I was healthy [in the] spring and that helped out going into this fall. But I still had a lot of questions about my health and stuff like that from the coaches. They know what I can do on the field. I know what I can do on the field. So I'm just making sure I'm ready, basically, and showing them that I can do it."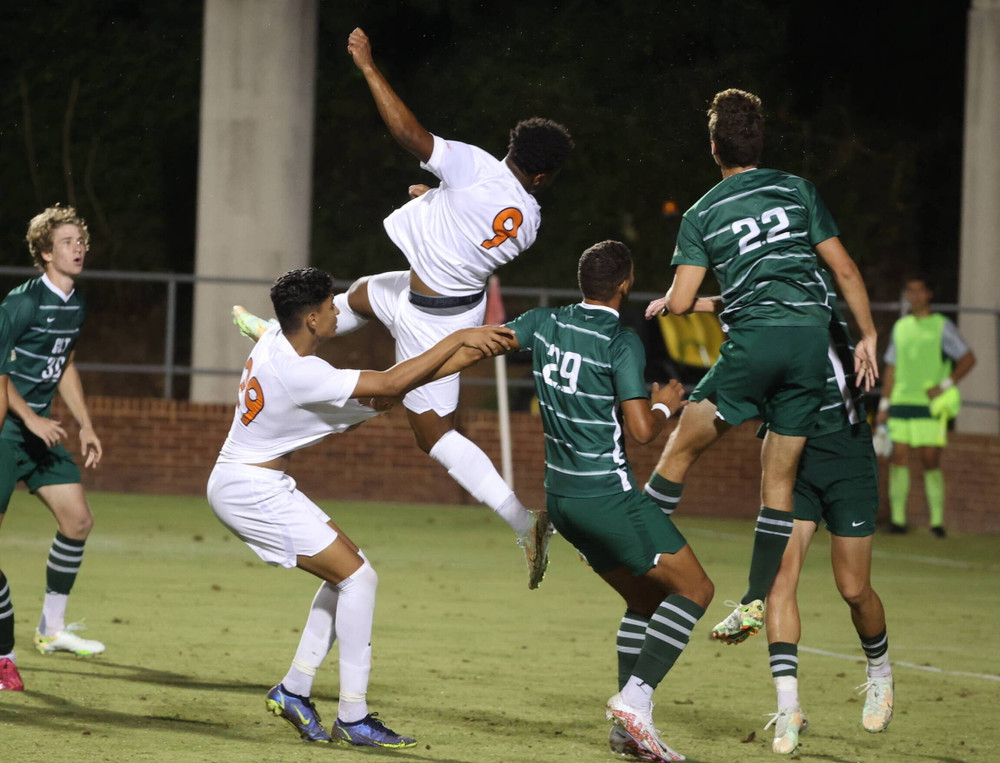 Horton was a freshman in 2019 when the Hoos advanced to the NCAA championship game. Virginia's standouts that season included the 6-foot-2, 220-pound Dike, who led the team with 28 points (10 goals, eight assists). When Dike came out of the game, Horton usually replaced him at center forward.
"From minute one, everyone always called him Mini-Me," Dike said Wednesday from England, where he plays for West Bromwich Albion.
Horton is "just a good person to have around in the squad," Dike said. "I don't think I've ever seen him not get along with anyone, and I think everyone always wants to be friends with him. He's always laughing. He's going to go in there, he's going to do what he needs to do, he's going to do what he's asked.
"Of course, technically, skill-wise, he does his thing there as well. He's kind of the all-around player, and I think it's great for him on the field. In terms of off the field, you know how hard-working he is and how involved he tries to be at the school. I remember through the Black Lives Matter movement, how involved he was in that, and being a religious guy like he is, living his life through that … He and I are good boys, and I'm happy to see him nice and healthy and raring for the season."
Horton said he learned from Dike the importance of "work rate and just being physical. College is a lot more physical than anything I'd played before. I was in the academy with Columbus Crew, and [college soccer is] a little bit different. You're not playing with boys any more. I definitely learned how to hold my own physically. Even though I might not be as big as he is, I'd like to think I'm still pretty strong."
Like Horton, the Cavaliers have something to prove this season. Starting in 1981, they advanced to 39 consecutive NCAA tournaments, winning seven national titles and finishing as runners-up twice. Since losing a penalty-kick shootout to Georgetown in the 2019 College Cup final, however, Virginia has missed back-to-back NCAA tournaments.
UVA finished 6-9-3 in 2021. The Hoos played six overtime games last season and were 0-3-3 in those games.
The Cavaliers' jersey includes a crest with seven stars—one for each NCAA title. "We talk about it all the time, what the badge means," Horton said. "We're here to win championships. So we definitely feel a big responsibility as players to produce on the field."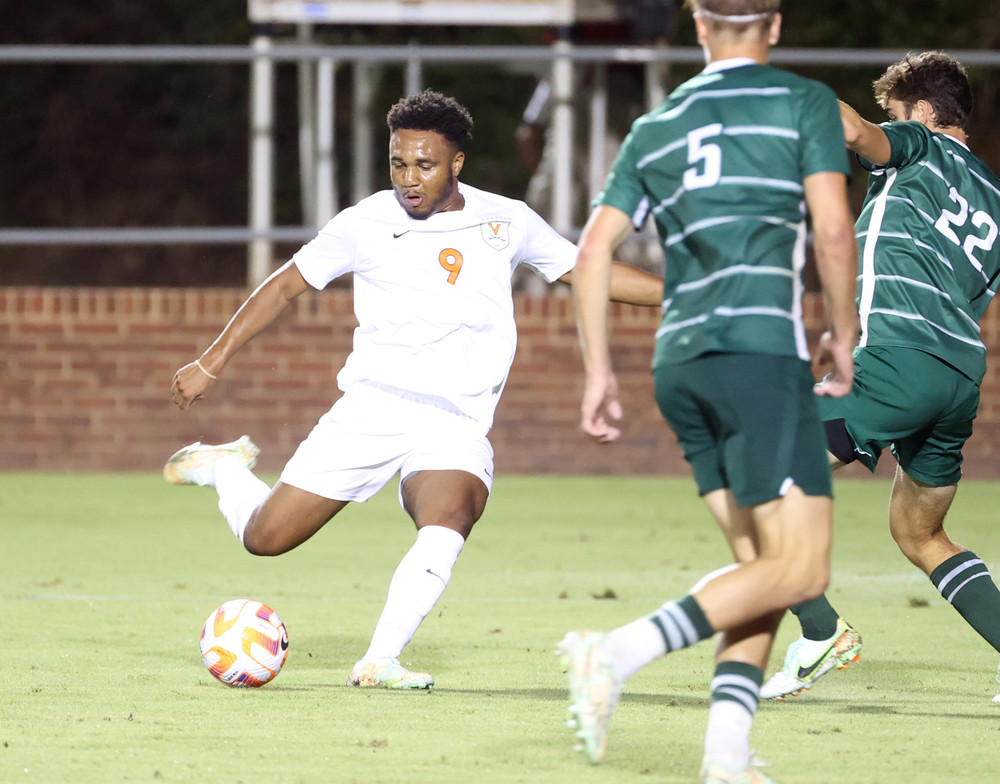 Of the seven players who contributed at least four points apiece for UVA last season, six are back, as well as starting goalkeeper Holden Brown. Moreover, Virginia has added four transfers who are candidates to start—Moritz Kappelsberger (Wisconsin), Daniel Mangarov (UNC Greensborgo), Aidan O'Connor (Western Michigan) and Axel Ahlander (James Madison)—as well as a talented first-year class led by Albin Gashi, Reese Miller, Andy Sullins, David Okorie and Umberto Pela.
"It's a revamped group, and it shows," said Gelnovatch, who has guided UVA to two NCAA titles. "You're going to enjoy watching us. It's a fun group."
It's deep, too. "I feel like I probably have eight legitimate [reserves] I can put on," Gelnovatch said. "I usually have three, maybe four in a good year."
Horton said the Hoos have more firepower than in 2020 and '21, "and personally I'm excited for this season to kick off on Thursday. We've definitely got a lot of depth. I think we're ready for the season. So I'm excited to see what happens and excited to be a part of it, too."
As a boy, Horton also played lacrosse and baseball, but it's no surprise he ended up focusing on soccer. His father, Timothy, played on the United States team that placed fourth at FIFA's U20 World Youth Championships in 1989 and later starred at Boston University. Phil Horton has an older cousin, Aaron Horton, who played at Louisville and later signed a homegrown contract with the Columbus Crew.
"And so growing up for me, it was my dad and my cousin Aaron who I really looked up to," Horton said. "For sure they were big role models for me."
Coming out of high school, Horton had other college options, but "UVA was a no-brainer for me," he said. "The academics, aside of soccer, are unbelievable. And the history that we have here for UVA men's soccer is something that I wanted to be a part of."
A media studies major, Horton is on the track to graduate in May. He had an internship this summer with a venture capital group in Columbus and enjoyed that experience. Before moving into the working world, though, he hopes to play soccer professionally.
"Hopefully the season that I think I can have, I know I can have, happens," Horton said.
To receive Jeff White's articles by email, click the appropriate box in this link to subscribe.