By Jeff White (jwhite@virginia.edu)
VirginiaSports.com
CHARLOTTESVILLE — The University of Virginia volleyball team is more than 20 percent of the way through its regular-season schedule and has yet to play at Memorial Gymnasium. That's about to change.
Starting Friday night against Charlotte, UVA will play its next eight matches at Mem Gym, three of them against ACC foes.
The Cavaliers don't play on the road again until Oct. 2, "which sounds amazing," second-year head coach Shannon Wells said. "We're excited about the chance to get these kids back home and get them into a routine. It's always nice to come home."
The floor at Mem Gym has been redone, and more improvements to the facility, which houses UVA's volleyball and wrestling programs, are coming in the next year.
"I think it's going to turn into what [head wrestling coach Steve Garland] and I envision that place to be," Wells said. "I think kids loving playing there."
A former associate head coach at the University of Florida, a perennial power in volleyball, Wells was hired at UVA in late April 2021. She took over a program coming off a turbulent year that ended with the dismissal of its coaching staff during the Cavaliers' spring season.
Wells' first team at Virginia finished 8-20 overall and 1-17 in ACC play. Since then, the Wahoos have added freshman Kate Johnson and four transfers—Gabby Easton and GG Carvacho from Ole Miss, Chloe Wilson from Wake Forest, and Veresia Yon from West Florida—and they're off to a 5-1 start this year.
"I honestly look at this season as year one," Wells said. "I know we played last year, but we just kind of were thrown into it. I think that what we're doing right now is really exciting, and the way that recruiting is going is super exciting. I love what's happening there."
A well-regarded recruiting class will join the program next year. For now, the Hoos remain in the building phase and, with a schedule that includes seven opponents that made the NCAA tournament in 2021, will travel a challenging road this season. Still, the signs are encouraging.
"I really am enjoying where we're at," Wells said. "I hate losing, and so this has been fun, to be 5-1, but with the continued growth of this team and the investment that they make, I couldn't be happier about what we're doing right now."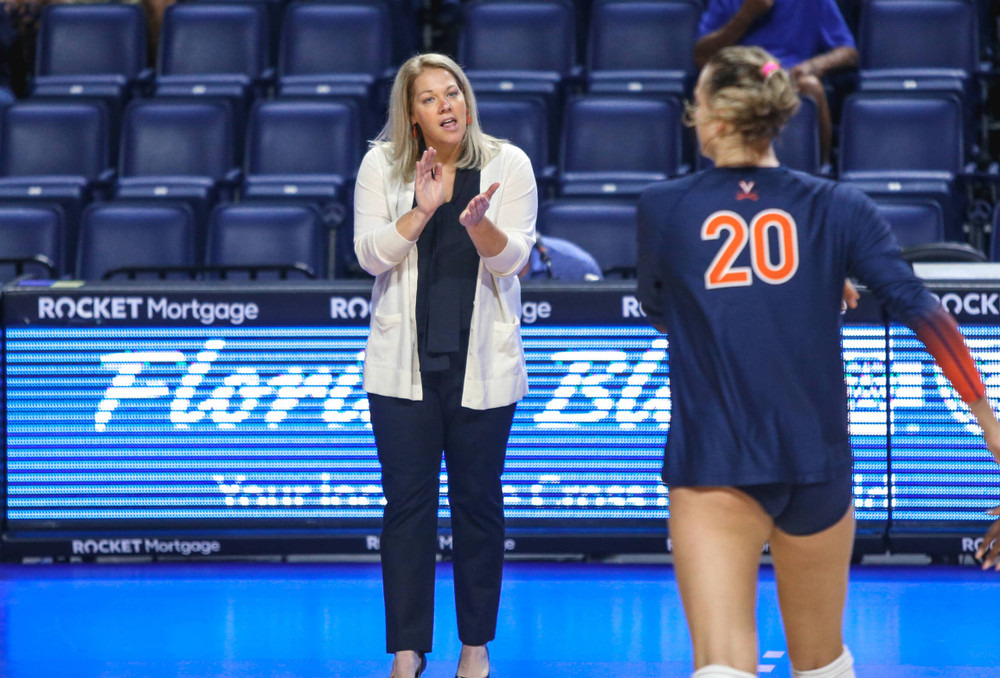 UVA suffered a major blow Aug. 27 at the Gators Invitational in Gainesville, Fla. Early in the Cavaliers' match against host Florida, they lost senior outside hitter Jayna Francis to a season-ending knee injury. Francis had totaled 21 kills and only four errors in eight sets before getting hurt.
"She's definitely our best player," Wells said, "and so that's huge. We talk about how there's three things you have to do to win games: You've got to serve, you've got to take care of your first contact, and you've got to kill balls, and she was killing the balls at a higher rate than our middles, which is really abnormal in our game. And so we've got to make up for those kills."
Virginia's other pin hitters include Carvacho, Wilson, Grace Turner, Brooklyn Borum and Mary Shaffer. Turner leads the Cavaliers with 64 kills. Middle blocker Abby Tadder is second with 58, and Shaffer has 51.
Turner, a graduate student, and Shaffer, a junior, are from Cincinnati, where UVA went 3-0 last weekend in a tournament at Xavier. In the Hoos' first match, they lost the first two sets to the host Musketeers, then rallied to win the next three.
The 2021 Cavaliers probably would not have been able to pull off that feat, Wells acknowledged.
"The biggest thing right now is we're able to make adjustments," she said. "The players have an understanding of what we're trying to do in our system. And so when it's not working or another team is exposing something, then we can make better adjustments. Last year we were trying to do that, but they didn't understand any of the words that we were using, especially at this point in the season. And so now  sometimes I'm not even having to say that. They're already talking about that in the team huddles or they're talking to [the coaches] about making those adjustments. We're just so much further along in our systems and what we can do."
Two of the transfers, Carvacho and Easton, who's a setter, enrolled at midyear. Carvacho, however, spent the spring semester rehabbing an injury, so she hasn't spent much time on the court with the team.
"Gabby is probably the most consistent out of that group," Wells said, "just because she's had six or eight months of working [in UVA's system]."
Carvacho and Wilson are listed at 6-foot-3 and 6-foot-4, respectively. "They're big, they're physical, they're both touching over 10 feet," Wells said. "Now it's just a matter of getting them used to the system. I look at it as we have really a month to acclimate them to what ACC volleyball is about. They're going to get chances to contribute and then there are going to be times when they have to be on the bench, because either the game is too fast or what we're doing is too fast and we have to rely on some of the athletes that spent significant time on the court for us last year."
The 6-foot-1 Yon, a middle blocker, was a Division II All-American at West Florida, but the transition from Division II to Division I has been challenging for her.
"The game is faster and people are more physical," Wells said. "She's had to speed up everything that she's doing, and that's been really hard for her. There's probably two positions that are really hard to come into in our program, and that's a middle and a setter. And so she had like a week and a half before we started the season to really understand our system. That's where Mattison [Matthews] has a leg up on her right now."
Matthews, a senior middle blocker, "has been in our system and knows it and she's very disciplined in it," Wells said, "but I think V is going to have a shot. She's never not played, and so this has been really difficult for her and how she handles that will determine where she goes. But she's got a ton of potential, and you can already see the level of improvement that she's had in just the few weeks we've had her."
The Cavaliers' depth is one of their strengths, Wells said. "Last year our starting group could take days off because there wasn't anyone pushing them. This year they can't. It doesn't matter what year you are, it doesn't matter who recruited you, it doesn't matter what you did the weekend before, the best players will play and I think that we're really lucky to be able to have so much depth in this program. When someone struggles, there's someone there to pick them up."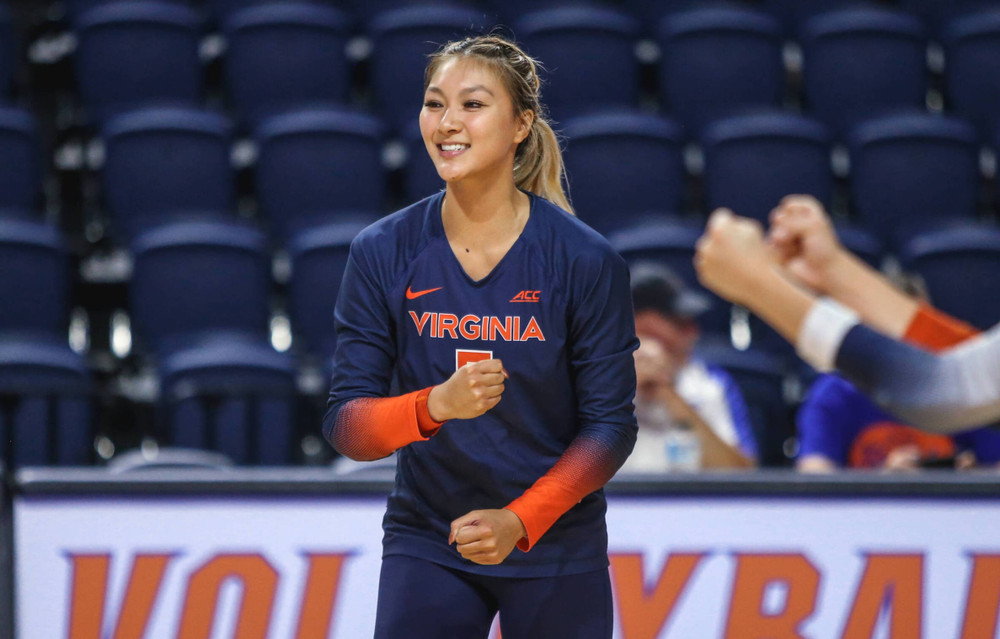 The offseason work Matthews and Shaffer put in is paying dividends, Wells said. "It takes a lot of pressure off Grace right now because we have other people who are killing balls. Last year we struggled with that, and so [Turner] had to constantly make some bad decisions just to try to find us kills, and she doesn't have to do that this year. So she's evolving a lot in that."
The 6-foot-3 Turner, who was named the MVP of the tournament at Xavier, sets the standard in the program.
"She eats right, she sleeps right, she hydrates, and so she does all the things within her control to put herself in the best possible position," Wells said. "She's playing great."
Turner has made changes to her technique, which isn't always easy for a fifth-year senior who's been a productive college player.
"I think that she is driven to be as elite as she can be," Wells said. "She's got big goals for herself, which she'll never say out loud to anybody, and she just wants this team to be successful. She continues to be the driving force around our program."
Virginia's second-year class consists of Tadder, Borum and setter Ashley Le, who leads the team with 139 assists.
"Abby is just playing incredible," Wells said of the 6-foot-2 Tadder. "She spent the summer overseas and got a taste for what it could feel like to be a professional. And so it was just a different motivating factor for her. Ashley's had a great year. Our offense is different because of Ashley and Gabby and what they've been able to do. Ashley looks really comfortable. She's our stabilizer."
With the 6-foot Borum, it's "like having two liberos out there," Wells said. "Her ability to control the ball is really impressive, and she's getting herself back to where she wants to be physically so she can kill more balls. That's kind of the biggest growth that we need out of her."
Another positive has been the play of sophomore defensive specialist Heyli Velasquez.
"Honestly, she's our best passer," Wells said, "and she's really worked on her serve. So she goes in there and serves aggressively in some really tough moments. Like I always put her in there at game point and I know that she's going to put in a really good, aggressive serve. Not many kids can do that. She's just Steady Eddie here, and I'm really glad with the progress she's made on and off the court."
UVA will play two games this weekend, both against Charlotte (5-3). The Hoos host the 49ers at 7 p.m. Friday and at 3 p.m. Saturday.
"We have a really good opportunity this weekend to showcase the growth that we've had over the last year against a really tough Charlotte team," Wells said, "and I hope the city of Charlottesville comes out and the students at UVA come out and support this group."
To receive Jeff White's articles by email, click the appropriate box in this link to subscribe.