BOWLING GREEN, Fla. – Record-setting performances by freshman Ben James and the Cavalier men's golf team made for an eventful opening tournament of the season on Tuesday. The Cavaliers shot a school best 56-under 808 to win the Streamsong Invitational at Streamsong Resort in Bowling Green, Fla.
UVA opened the tournament by tying its school single-round scoring mark, shooting 21-under 267, and then followed that up with rounds of 20-under 268 and 15-under 273. UVA's early fireworks allowed it to hold off a last-round charge from tournament host Lipscomb. The Bisons shot a blistering 33-under 255 on Tuesday to place second at 49-under 815.
Virginia was led by freshman Ben James who posted a school record tournament score of 20-under 196 during his collegiate debut. James produced rounds of 63, 65 and 68 and did not have a single bogey during the 54-hole event. James wrapped up his junior career last summer as the nation's top-ranked junior player.
"It was an impressive week for the entire team," said UVA coach Bowen Sargent, "We qualified very well heading into the event and the outcome at Streamsong is a result of our preparation leading into this tournament."
The win was the 23rd in Sargent's 19-year history at Virginia.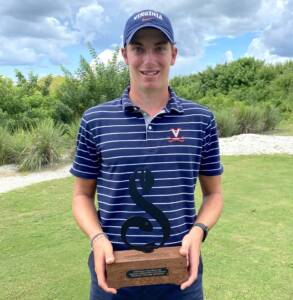 "I am so proud of Ben and his play this week," Sargent said. "He put up scores that we haven't seen in a long time in our program. Opening the tournament with a 28 (first nine holes) set the tone for him and the team. His maturity and work ethic bring so much to our team. We can all learn a lot from his preparation and play this week."
James had plenty of help from his Cavalier teammates. Senior Pietro Bovari, fresh off of helping Italy to the World Amateur Team Championship, tied for third place at 15-under 201. That was his career-best tournament score. He had rounds of 66, 68 and 67. He managed 21 birdies over three rounds, which was three more than James.
Junior George Duangmanee also posted a collegiate best tournament performance, shooting 11-under 205. He matched his low round, carding a 5-under 67 during the third round. Sophomore Deven Patel also posted a career-low by shooting 10-under 206 to place 16th. His opening round 66 matched his low 18-hole score at UVA.
Junior Chris Fosdick was 47th at 1-under 215 and freshman Bryan Lee, competing as an individual, was 37th at 4-under 212. He opened play with a score of 4-under 68.
James' opening round 9-under 63 tied as the second-best 18-hole score by a Cavalier. UVA's team score bettered the previous tournament scoring mark of 45-under 819 set in 2014 at the Jim West Intercollegiate at TPC Craig Ranch in McKinney, Texas.
His 20-under performance was just two strokes off the two lowest recorded tournament performances in NCAA Division I history.
UVA returns to action Sept. 26-27 at the Inverness Collegiate in Toledo, Ohio.
Streamsong Invitational
Streamsong Resort
Bowling Green, Fla.
Par 72, 7,276 yards
Final Results
Team Results
 1. Virginia           267-268-273-808
 2. Lipscomb           281-279-255-815
 3. Jacksonville       267-279-277-823
 4. Mercer             273-275-277-825
 5. Stetson            277-277-276-830
 6. Texas State        272-288-276-836
 6. North Alabama      276-283-277-836
 8. Chattanooga        287-276-277-840
 9. Florida Atlantic   274-281-286-841
10. USC Upstate        294-287-284-865
11. Ball State         287-298-283-868
12. Winthrop           287-295-297-879
13. Lipscomb (B)       293-292-298-883
Individual Leaders
1. Ben James, Virginia       63-65-68-196
2. Ford Goldasich, Lipscomb  67-68-65-200
3. Pietro Bovari, Virginia   66-68-67-201
3. Jason Hong, Lipscomb      71-69-61-201
3. Trey Mixon, Mercer        65-71-65-201
Virginia Results
 1. Ben James          63-65-68-196
 3. Pietro Bovari      66-68-67-201
10. George Duangmanee  70-68-67-205
16. Deven Patel        66-67-71-206
47. Chris Fosdick      71-71-73-215
37. Bryan Lee*         68-74-70-212
* Competing as an individual