CHARLOTTESVILLE, Va. – Virginia volleyball continues its eight-match homestand this weekend when it hosts East Carolina (4-5) and Mercer (4-5) and on Friday (Sept. 16) and Maryland (6-3) on Saturday (Sept. 17) at Memorial Gymnasium. With an overall record of 6-2, the Cavaliers are off to their best start through eight matches since 2014.
Admission to all Virginia volleyball regular-season matches and all neutral-site matches in Memorial Gymnasium this weekend is free to the public.
TOURNAMENT SCHEDULE 
BROADCAST INFORMATION
All six of this weekend's matches from Mem Gym are set to stream on ACC Network Extra (ACCNX) through the ESPN app, which is available through participating TV providers that carry ACC Network.
Live stats will also be available for both matches and can be accessed via the Cavaliers' schedule page VirginiaSports.com.
PARKING INFORMATION
Fans planning to attend Virginia volleyball matches this season are encouraged to park in the Culbreth, Central Grounds or Emmet/Ivy parking garages utilizing the ParkMobile app.
For more information regarding hourly parking locations and payments, visit virginia.edu/parkmobile.
Note: On home football game dates, parking is available in the Central Grounds and Emmet/Ivy parking garages at a rate of $15 per day.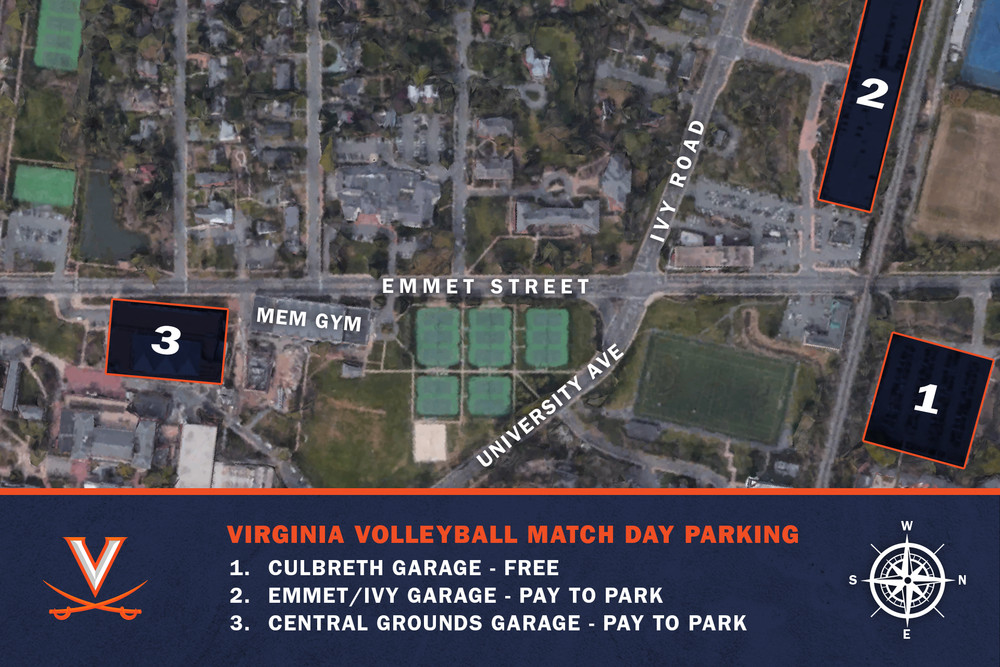 SERIES HISTORY
The winner of East Carolina–Virginia on Friday (12:30 p.m.) will grasp a 5-4 advantage in the all-time series. The two teams squared off for the first time in 1980 – twice – and last met in 2011. After losing the first four matchups against the Pirates, UVA is riding a four-match win streak over ECU.
The Cavaliers and Mercer will face off for the first time in series history on Friday at 7:30 p.m.
Virginia and Maryland conclude action at this weekend's tournament when the two teams square off for the 61st time in series history. Last year, the two teams opened their seasons against one another in College Park with the Terrapins winning the match, 3-1. The contest featured two of the best middle blockers in the nation in Rainelle Jones and former UVA standout Alana Walker. By the end of the 2021 season, Jones (1.73) led the country in blocks per set, while Walker (1.51) finished second.
 LAST TIME OUT
Virginia split its pair of matches last weekend (Sept. 9-10) against Charlotte on Friday (Sept. 9) and Saturday (Sept. 1) with both contests requiring five sets.
The Cavaliers won Friday's match, 25-22, 25-21, 21-25, 23-25, 16-14, after successfully fending off Charlotte's comeback effort. The match required extra points in the fifth and lasted 2:46 in length.
The 49ers got their revenge in Saturday's outing, 25-15, 25-20, 17-25, 22-25, 15-13. Saturday's result marked the second time in as many days the two teams went to five sets and that the decisive frame was separated by just two points.
AMAZING GRACE TURNER
Outside hitter Grace Turner posted back-to-back 20-kill performances, finishing Friday's victory over Charlotte with a career-high 23 kills and 15 digs. On Saturday, Turner recorded 22 kills.
She is the first UVA player to notch back-to-back matches with 20+ kills since 2016.
Turner also leads the team with seven career (at UVA) double-doubles, including two this season.
 ABBY TADDER IN THE NATIONAL STATISTICAL RANKINGS
Virginia middle blocker Abby Tadder is currently 35th in the nation and second in the ACC in hitting percentage with a clip of .400 (79-23-140).
In the first two weekends of play this season, Tadder nabbed all-tournament honors.
In addition to her efficient hitting percentage, Tadder leads the Cavaliers in blocks (35.0) and blocks per set (1.06).
MADISON MOREY ON SPORTSCENTER'S TOP 10 PLAYS
Virginia libero Madison Morey was featured on Sportscenter's Top 10 plays for a miraculous diving save that ultimately hit the tape and landed on the opposing side of the net, resulting in a Cavaliers' point in their second contest against Charlotte (Sept. 10).
The play was tabbed No. 10 overall.
It's not the first time the Hoos have been featured on Sportscenter's Top 10 Plays. Last season, a kick save by Mary Shaffer against Georgia Tech, which also led to a UVA point, was deemed the No. 3 play on ESPN's marquee show.
SEASON OVERVIEW
This year marks the 44th season of Virginia Volleyball, which held its inaugural season in 1979.
The Hoos are slated to face four AVCA preseason top-25 teams, including three teams ranked in the top 10, in No. 4 Louisville (Oct. 21), No. 6 Pitt (Sept. 28), at No. 9 Georgia Tech (Oct. 7) and at No. 15 Florida (Aug. 27).
Virginia's 2022 schedule consists of seven 2021 NCAA Tournament teams in Florida, Florida State, Georgia Tech, Louisville, Miami, North Carolina and Pittsburgh.
With a home-and-home series against Virginia Tech, both matches between UVA and the Hokies will be worth 0.5 points toward the Commonwealth Clash standings, presented by Smithfield.
The Cavaliers will host 14 home matches in 2022.
For the first time in history, Virginia faced Purdue Fort Wayne (Sept. 3) and is set to play Mercer (Sept. 16).
THE ACC: THE NATION'S PREMIER VOLLEYBALL CONFERENCE
Last season, the Atlantic Coast Conference led all conferences in the nation in both RPI and adjusted RPI.
For the first time in league history, two ACC teams (Louisville and Pitt) advanced to the NCAA Volleyball Tournament semifinals in 2021.
In addition to the Cardinals and Panthers, Georgia Tech was also one of three ACC teams to advance to the Elite 8, also a first in ACC history.
A record-tying six ACC schools made the 2021 NCAA Volleyball Tournament, including No. 1 overall seed Louisville, which won 32 consecutive matches last season.