By Jeff White (jwhite@virginia.edu)
VirginiaSports.com
CHARLOTTESVILLE — For a few seconds, Bill Curry Jr. examined the head shot that accompanied his bio in the University of Virginia football team's 1993 media guide. Then he broke out in laughter.
"That's an incredible mullet!" Curry said recently at the McCue Center.
Much has changed in Curry's life since his days as the Cavaliers' long-snapper. The mullet is gone, for one. More important, Curry and his wife, Kelly, have five children—sons Alex, Elliot, Brett, Jack and Jamie—and he's an executive with Boston Scientific, a global company that makes and sells medical devices.
What hasn't changed is Curry's connection to his alma mater and its football program. He moved from Charlotte, N.C., to the Charlottesville area with his family about eight years ago "and never looked back," Curry said.
Before home games at Scott Stadium, Curry usually can be found at the Virginia Football Alumni Club's tailgate outside Bryant Hall. He's among the many former Cavaliers who donate time and resources to the VFAC.
Recruits in town for games walk by the tailgate with their parents on their way into the stadium, and they can't miss the club's elaborate set-up.
"We have electricity," Curry said. "We have refrigerators. We built an ecosystem there for the parents to see. Our vision is that you go from the recruiting room [as a prospect] to the locker room [as player] to the tailgate [as an alum]. That's your life as a Virginia football person. So that vision is fueled by the passion of a handful of alumni that are doing it for nothing and don't want any credit. It's strictly because we all feel like we have something to give back to this place."
Curry and other football alumni, including Douglas Duenkel, have been mentoring UVA players for years. Curry has worked with former players Daniel Hamm and Quin Blanding, and current players whom he advised in Charlottesville this summer included Justin Duenkel and Jared Rayman. He also talks regularly with linebacker Nick Jackson, with whom he shares ties to Atlanta.
Typically, Curry said, that's "a consultation with me talking to them about professional development and how they can take their experience here and translate it into useful experience for a prospective employer in the future."
Another Cavalier, safety Coen King, had a summer internship with Boston Scientific. King, a graduate student in UVA's School of Education and Human Development, remembers his first serious discussion with Curry. They met for breakfast at a local restaurant last year, King recalled, and Curry detailed his work as an area vice president and group director of national accounts for Boston Scientific Endoscopy.
"I was like, 'I have no idea what this guy is talking about,' " King said, laughing.
But they continued to meet in 2021, and Curry told King about Boston Scientific's summer internships and encouraged him to apply for one. King, who earned a bachelor's degree in government from UVA, was selected, and he was in Boston from May 25 to Aug. 1.
After receiving a crash course in human anatomy and medical terminology, King learned about Boston Scientific's products and sales strategies. (Gary Steele and P.J. Killian, both of whom played football with Curry at UVA, are also longtime Boston Scientific employees.)
"It was amazing," King said of the experience. "I was so grateful to be involved in all of this."
In New England, King spent a lot of time with Blanding, who now works for Boston Scientific and offered to help in any way he could. Curry did the same for Blanding.
King said he's found UVA football alumni to be tremendous resources, and Curry is "the embodiment of that. He does national accounts in his job at Boston Scientific, but I think his main goal in life is to help UVA students."
Twenty years from now, King said, he hopes to be doing "the same thing that Bill is doing, just with how he gives back to UVA athletes. He sets an example for what you can be without football, and the success that he's had is something to look up to."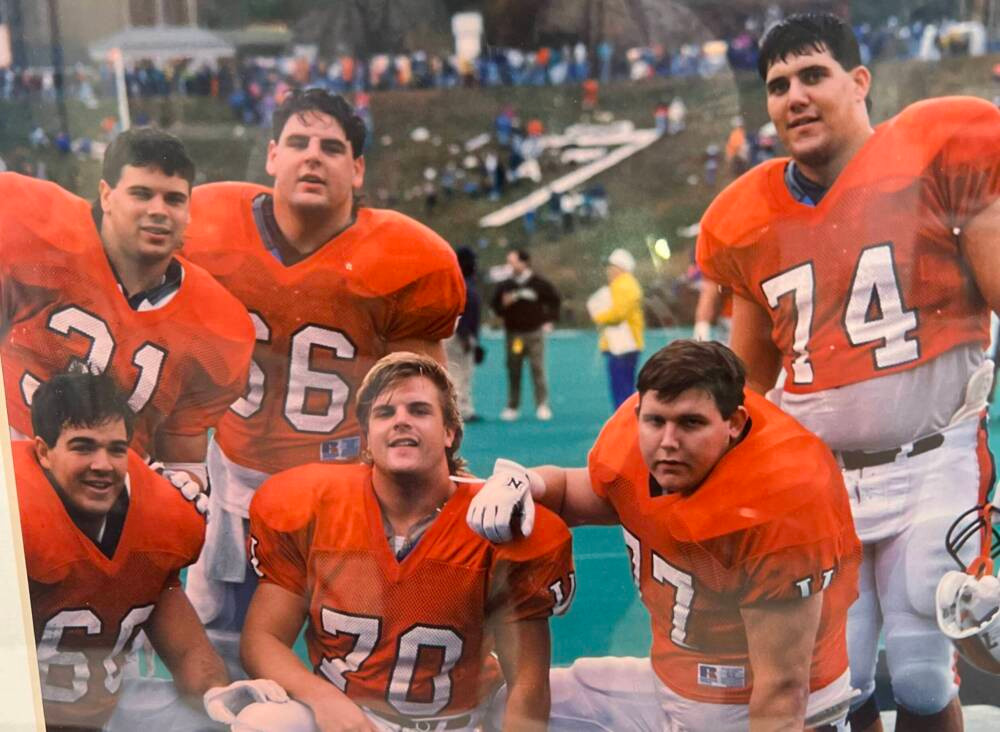 Curry, 51, is a 1994 graduate of UVA, where he majored in foreign affairs. He was born in Baltimore when his father was playing for the NFL's Colts. Bill Curry Sr., who had begun his NFL career with Green Bay, later played for the Houston Oilers and the Los Angeles Rams before becoming an assistant coach: first at his alma mater, Georgia Tech, and then on Bart Starr's staff with the Packers.
The elder Curry was named head coach at Georgia Tech after the 1979 season, and the family moved to Atlanta. Curry Jr. attended the Lovett School, as did current UVA linebackers Stevie Bracey and Jackson.
As a sophomore at Lovett, Curry was starting to attract the interest of Division I programs when he blew out his right knee. By the time he was able to play again, the family was living in Tuscaloosa, Ala. His father left the Yellow Jackets for the Crimson Tide after the 1986 season.
Curry was a standout offensive lineman for Tuscaloosa Central High as a 12th-grader, but his knee problems had scared off many college recruiters. Virginia head coach George Welsh was an exception.
"By the end of the recruiting process," Curry said, "George was the only one standing. He brought me on an official visit, and he said, 'We think you could be a really good contributor here. We think you're a good long-snapper, but you haven't played enough football to have a grant-in-aid, and we want you to walk on.' "
He'd been more interested in other schools, but his mother, Carolyn Curry, vetoed those options.
"She said, 'If you get into the University of Virginia, you're going, and you'll thank me later,' " Curry recalled, smiling.
And so he ended up at UVA, where he redshirted his first fall. In 1990, he snapped on punts in every game for the Wahoos. For the next three seasons, Curry snapped on punts, field goals and extra points. He was on scholarship his final three years.
Welsh, who was inducted into the College Football Hall of Fame in 2004, died in January 2019. Curry's father was among the speakers at Welsh's memorial service at John Paul Jones Arena.
Curry's UVA debut came on Sept. 1, 1990, at Kansas. (The Hoos romped 59-10.) Before the game, Curry was nervous to the point of tears, but Virginia's star quarterback, Shawn Moore, calmed him down.
"His leadership is the most exemplary I've ever been around," Curry said. "I was scared to death, and he made me feel as if I belonged, when he was the best in the world at what he did and I was just a slappy little freshman long-snapper. I'll never be able to pay him back for that."
The first game in which Curry Jr. played at Scott Stadium was UVA's historic victory over Clemson, which had won the first 29 games in the series. Later that season the Cavaliers hosted Georgia Tech at Scott Stadium.
"We're number one in the nation, and Georgia Tech's coming to town," Curry said. "I've been waiting for this day my whole life."
The Jackets, alas, spoiled the occasion for their hosts, rallying to win 41-38 before a sellout crowd that included Curry's father.
"I was so gutted by that game," Curry said. "I still haven't gotten over it."
His father's history with Georgia Tech, combined with the implications of the game, made it "such a larger-than-life thing," Curry said. "I'll tell you how much of an impact it's had on me. I've never watched the whole game. I can't."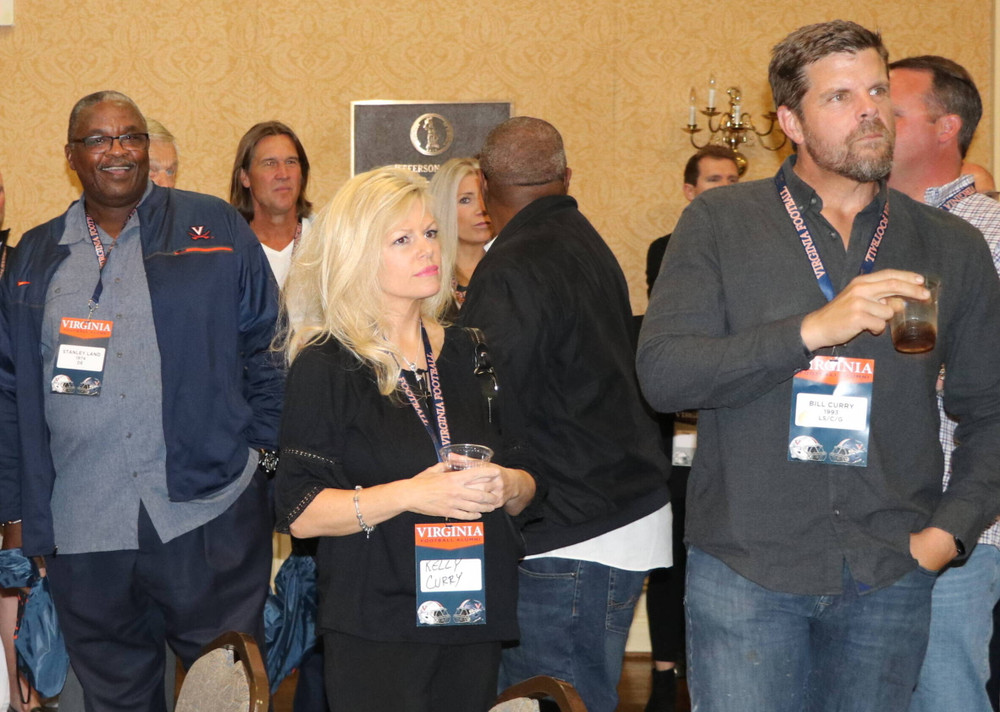 In 2019, when the UVA men's basketball team was playing in the NCAA championship game, Curry was watching in New Orleans. "I had to turn it off," he said. "I literally got in the shower and turned it as hot as I could get it. Because in my mind, I was like, 'I've been here before, I've felt this before, and it didn't work out. And I'm so scared it's going to happen again.' "
His fears turned out to be unfounded. UVA rallied to force overtime and then pulled away from Texas Tech to secure the NCAA title.
"I turned it back on to see what happened," Curry said, "and it was at the end of overtime and we had a lead by then, so I was good. But all of that contributes to why I would walk to this building on shattered glass for nothing to help one of these kids get a job, because it's worth it. There is a magnificent energy around this whole place, and for a young person to take the challenge to come here and enjoy their time on Grounds, in my mind makes them a priceless prospect for employment for anything."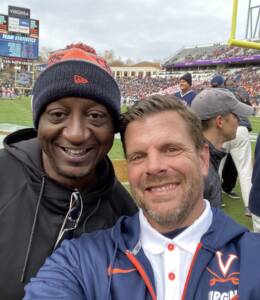 His father took the head job at Kentucky after the 1989 season, and Curry Jr. joined the staff there as a graduate assistant after earning his bachelor's degree from UVA. Kentucky fired Curry Sr. after the 1996 season, however, and his son found himself at a crossroads. His wife wanted to stay in the Bluegrass State, "so I got out of coaching," Curry Jr. said. "I got into sales."
A year later, pro golfer Payne Stewart's agent, Robert Fraley, who also represented Curry Sr., offered the younger Curry a job.
"They said, 'We need someone to get guaranteed revenue for Payne. We need somebody to come out here and hustle and get him some deals,' " Curry Jr. said. "So I went and did that."
Stewart and four others, including Fraley, were killed in a tragic plane crash in October 1999. Curry Jr. acted as a spokesman for Stewart's family when the news broke that day.
Later that year, he asked his former teammate Steele, who was working for Boston Scientific, about opportunities with the company.
"I said, 'Can you help me get an interview?' " Curry recalled, "And his classic response was, 'I'll help you get an interview, but I won't recommend you. You've got to get it on your own.' "
Curry got the job. He started with Boston Scientific in January 2000, "and I'm still here," he said. During his tenure with the company, he's lived in Florida, North Carolina and, now, Virginia.
After moving back to Charlottesville, Curry reconnected with Welsh, one of his neighbors in Glenmore, and Gerry Capone, the football program's longtime director of operations. The Cavaliers' coaches then included Tom O'Brien and Mike Archer, and Curry knew them well too.
Curry's oldest son, Alex, graduated from the University, where he was intern for the football team's strength and conditioning staff. The UVA football alumni next network helped Alex land his first job out of college, as a sales representative for Carahsoft, and he now lives in Atlanta and works for Boston Scientific.
"What we're trying to provide for these kids is a ramp," Curry said, "so that when they exit they have a purpose and a place and a direction. We've got good men here, and this is all connected to my mission of helping them."
The advent of Name, Image and Likeness has created new possibilities for student-athletes and altered the landscape of college athletics. Still, Curry said he remains "convinced that we will persevere and we will become the best that we can be at UVA."
The key, he said, is educating players and prospects about the opportunities a UVA degree will afford them "for the 40 years that follow their football career," Curry said. "I think that is how we thrive in the NIL era."
To receive Jeff White's articles by email, click the appropriate box in this link to subscribe.