By Jeff White (jwhite@virginia.edu)
VirginiaSports.com
CHARLOTTESVILLE — Reese Miller picked up the nickname Bones after joining the University of Virginia men's soccer team this summer, and it's easy to see why. Still, don't be deceived by No. 19's slender frame.
"For a slight guy he's feisty and he tackles hard," UVA head coach George Gelnovatch said.
A 6-foot, 150-pound freshman from Houston, Miller is expected to make his 10th start Friday when No. 21 Virginia (7-4 overall, 3-1 ACC) meets No. 2 Duke (8-0-2, 3-0-1) in a 7 p.m. match at Klöckner Stadium. He's averaging about 60 minutes per game at left wingback, a defensive position that allows him to also use his offensive skills.
"He's got a good engine, he can get up and down in the attacking third, he can run by you, he can take you on," Gelnovatch said. "I love [defenders] with an attacking background."
The left-footed Miller had several scoring opportunities early in the season but wasn't able to finish them. He finally broke through Sept. 30 against ACC rival Pitt. Passes from forwards Phil Horton and Leo Afonso set up Miller's first college goal, a strike that put the Wahoos up 2-1 on the No. 10 Panthers in the 61st minute. The final was 3-1 as UVA recorded a second straight road win over a top-10 opponent.
"It was kind of like a weight off my shoulders," Miller said. "I feel like I've been working really hard for that goal. I had a lot of chances before that just didn't quite come off, and for one to finally come off, especially in a big game like Pitt, it felt amazing. It felt really good. just to hear the silence of the crowd when I scored, just knowing that I put the dagger into the game."
Miller, who came up through the academy program of Major League Soccer's Houston Dynamo, committed to UVA in January 2021. At the time, Gelnovatch didn't expect him to make a major impact as a freshman, but Miller arrived in Charlottesville a polished player. He'd benefited from playing with the Dynamo 2, Houston's entry in the MLS NEXT Pro league, which launched this year.
"His readiness was ahead of schedule," Gelnovatch said, "which was a little bit of a surprise."
Miller's mother introduced him to soccer when he was a toddler, but he didn't limit himself to one sport as a boy.
"I was a very energetic child," Miller said. "I played flag football at lot with my friends. I did basketball, I did baseball, I did probably every sport you could think of, but soccer always stuck with me."
Miller competed as an amateur for Dynamo 2, most of whose players are professionals, and regularly trained with Houston's MLS club. He took classes online for his final two years of high school, an arrangement that allowed him to maximize his time on the pitch.
"I could train every day in the morning and sometimes get two practices in a day," Miller said.
An injury in the preseason to Nils Henry Orywol, UVA's projected starter at left wingback, created an opportunity for Miller. He made the most of it.
"He got thrust into our preseason games, both of them, and did really well," Gelnovatch said. "He looked comfortable, confident."
Miller said: ""I played at a very high level at Dynamo 2, and I got some starts over there. And so I came [to UVA] with a professional mindset that I wanted to start right from the bat. I knew that was going to be very difficult. I knew that I was going to have competition, but I feel like my work ethic that I've transferred over from Dynamo 2 really helped with that."
Even so, he added, "I honestly didn't expect to start right away. It's been a blessing to start and play as much as I have. It's been such a great experience. But I feel like moving forward, I've just got to keep building upon my game and making sure I'm not falling off or slacking off just because I am getting these minutes."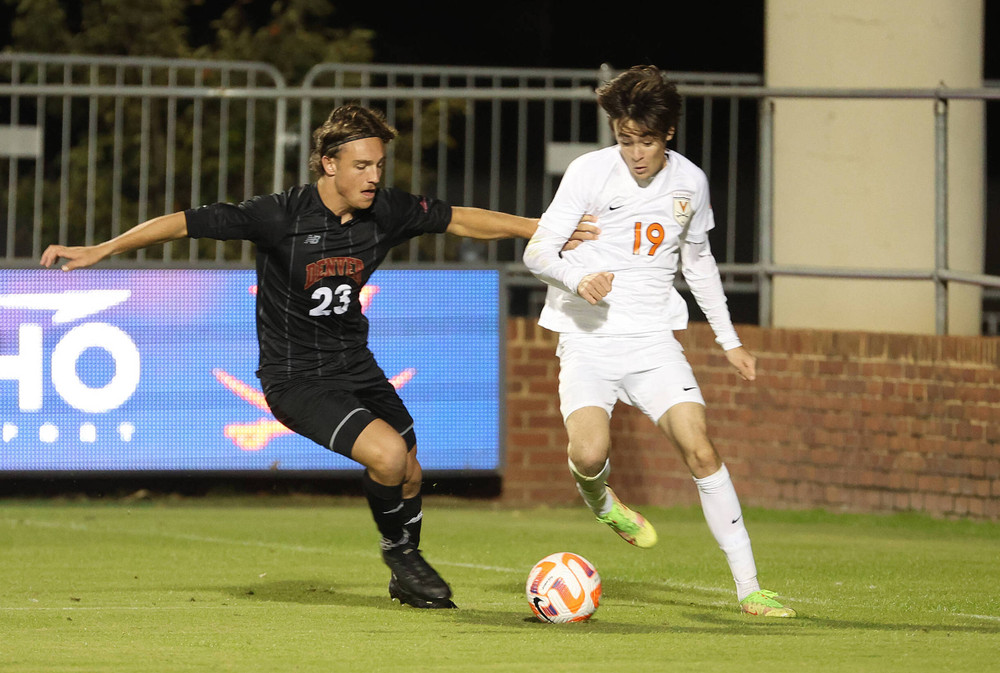 Assistant coach Adam Perron initiated the Wahoos' recruitment of Miller, who was born in Plano, Texas, and later lived in Los Angeles before moving to Houston when he was about 12. Miller didn't know much about the college game when Perron first contacted him, but "I'd definitely heard of Virginia's men's soccer team. It's like a name brand in college soccer."
Virginia has won seven NCAA titles: five under Bruce Arena and two under his successor, Gelnovatch. Beginning in 1981, the Hoos advanced to 39 consecutive NCAA tournaments. Since losing a penalty-kick shootout to Georgetown in the 2019 College Cup final, however, UVA has missed back-to-back NCAA tournaments.
Miller said everyone in the program "knows about the history of Virginia. It's hard not to when you play here. You're proud of it, but at the same time you want to keep it going. I feel like we expect nothing less from each other, from our coaches, from the whole organization."
After winning at Syracuse and Pitt, Virginia fell 1-0 to No. 10 Denver on Tuesday night at Klöckner Stadium. That loss magnifies the importance of UVA's match with Duke. A victory Friday night would move the Cavaliers into first place in the ACC's Coastal Division and significantly enhance their postseason prospects.
"It means a lot," Gelnovatch said.
Miller said he and his teammates are confident. The victories over Syracuse and Pitt showed the Hoos that "we could hang with any team in the NCAA," he said, "and we know that we're contenders for the tournament."
Duke's roster includes one of Miller's former teammates from Houston, freshman Bryce Barnum. "That's my best friend," Miller said. "I've been talking a lot of trash, but I can't wait to see him. It's going to be really fun."
Miller wasn't thrilled about his nickname when Perron gave it to him, but he's grown to like it. "It's kind of become an endearing term."
He laughed. "And so whenever they don't call me Bones and they call me my real name, I feel like I'm in trouble," Miller said.
He's listed on UVA's roster at 5-10, 137 pounds, but both of those measurements are outdated, Miller said. He's been working with strength and conditioning coach Peter Alston and nutritionist Courtney Kawamato, and Miller is looking forward to lifting weights and bulking up in the offseason.
For now, Miller said, he remains thin, but uses "that kind of as a chip on my shoulder. People see me and say, 'Oh, it's just a skinny guy, he'll be easy to handle.' But I'm proving that's not true."
Gelnovatch said: "I think Reese will fill out. The example I use is [former UVA standout] Bret Halsey. Bret came in pretty skinny, and that kid put on 18 pounds in the three years he was here and left here looking pretty good. I think Reese will be one of those guys."
To receive Jeff White's articles by email, click the appropriate box in this link to subscribe.