By Jeff White (jwhite@virginia.edu)
VirginiaSports.com
CHARLOTTESVILLE — Outside John Paul Jones Arena sits a wooden bench whose top slat carries a plaque. It commemorates a University of Virginia alumnus who died eight years ago this month.
"In loving memory of Shawn Thomas 'Big Red' Wilson (College '93)," reads part of the inscription from his Pi Kappa Alpha fraternity brothers.
"Everyone walks past it," said Chloe Wilson, a right-side hitter in the UVA volleyball program. "They just don't know its significance, but I do. My team does. I've explained it to my team. His name, his nickname, his year, everything's on it."
Shawn Wilson and the former Kerry Katzenbach met and began dating when she was a first-year student at UVA. He played basketball for the Cavaliers, and she played volleyball. They were married five-and-a-half years later, in July 1998, and had two children: sisters Chloe and Claire.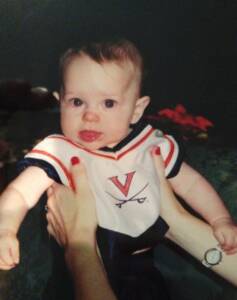 "Their lullaby was the Good Old Song," Kerry Wilson recalled with a laugh from Nashville, Tenn., where the girls attended Harpeth Hall School.
"I was bleeding orange and blue from my childhood," Chloe said.
Shawn Wilson doted on his daughters. "He was an amazing dad," Kerry Wilson said. And that made the events of Oct. 23, 2014, all the more stunning. Shawn Wilson took his own life that day.
"I know every situation is different," Kerry Wilson said, "but we had no warning: no signs of mental illness, no signs of anxiety or stress or depression, anything like that. So this was totally out of the blue."
Chloe was 13 when her father died. "The fact that it was so sudden and so shocking and nobody really expected it was what kind of caught me off guard at first," she said. "My dad and I were two peas in a pod. We did everything together, so I always was around him. He was always happy, positive, hanging out with me, taking me places, doing whatever. And just to hear that he had been struggling for some time before he even considered doing it was just heartbreaking—for me, at least. Because I thought I knew him. I thought I understood him with the amount of time that I spent with him."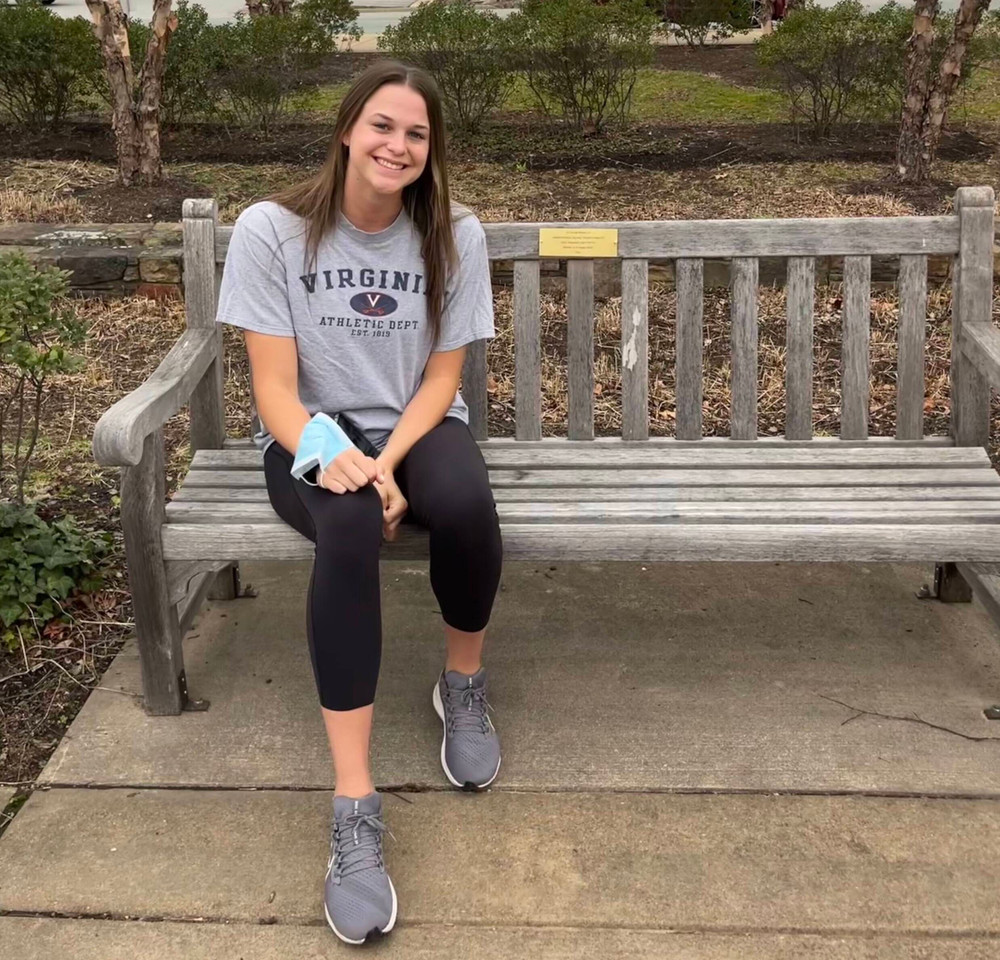 At her mother's urging, Chloe started seeing a therapist after her father's death, but "she didn't love it," Kerry Wilson said, "and really she wasn't ready for it."
Chloe's attitude changed as she grew older. "I was stubborn about therapy before," she said, "but now I'm kind of open to the idea, and I see no shame in talking to a therapist. I see no shame in telling people that I talk to a therapist or encouraging someone to reach out to one."
Her experience has affected the way Chloe, a psychology major, views the struggles of others. "I feel like I have tools in my toolbox to help other people [deal with suicide] or go through a death of a grandparent or just anyone," she said. "So I feel like that's honestly influenced my connections that I've formed with other people. I want everyone to live a happy-go-lucky, successful life. But stuff like this happens, and I think with the fact that I was so young, I wasn't able to fully grasp everything. But now that I'm a 21-year-old—even when I was like 18, 19, 20—it's kind of sunk in and hit me."
Shawn Wilson, a four-year letterman for head coach Jeff Jones at Virginia, stood 6-foot-11, and Kerry Wilson is 5-foot-10. It was no surprise, then, that their daughters grew tall and excelled on the volleyball court. Chloe, a junior at UVA, is 6-foot-4, and Claire, a sophomore setter at the University of South Carolina, is 6-foot-3.
At Harpeth Hall, the Wilsons' classmates include sisters Alex and Gretchen Walsh and Ella Nelson, all now standout swimmers at UVA, and Grace Lebo, who rows for the Wahoos.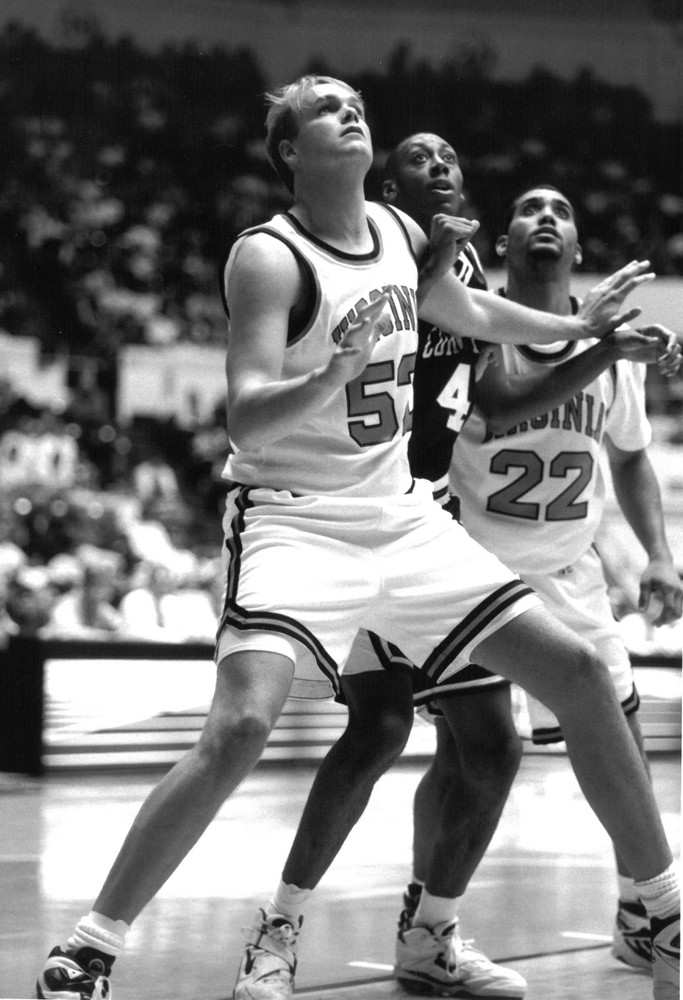 When she was in high school, Chloe visited UVA and seriously considered her parents' alma mater. She wanted a smaller school, however, and chose Wake Forest, in part because of her connection with Bill Ferguson, then the Demon Deacons' head coach. But Ferguson was gone by the time Wilson arrived in Winston-Salem, N.C., and her volleyball experience at Wake was not what she'd hoped.
And so, after two seasons at Wake, where she became friends with Anna Bennett, whose father is head men's basketball coach at UVA, Chloe decided to start anew elsewhere. Virginia was again an option. The Hoos had a new coach, Shannon Wells, for whom Chloe had played at a USA Volleyball event as a middle-schooler.
"I really loved working with her," Chloe recalled, "so I knew who she was, and she knew who I was, so that made it a little bit easier."
They set up a phone call during which Wells, a former University of Florida associate head coach, described her vision for the Cavaliers' program, and Chloe decided the time was right for her to head to Charlottesville.
"Her dad, I know, is so proud and I'm so happy that she's there," said Kerry Wilson, who has two degrees from the University. "Chloe didn't know it, but that's where her story began. Virginia is just so special to our family."
For Chloe, there are reminders of her father on Grounds, and not only the bench outside JPJ. The Cavaliers' associate head coach for men's basketball, Jason Williford, was one of Shawn Wilson's college teammates.
"He was a good dude, kind-hearted," Williford recalled. "He didn't play a whole lot, but he was a good piece of the program. Well-liked. Funny as all outdoors."
Wilson, who was born in Murray, Ky., grew up in Nashville, and he had a catch phrase that never failed to crack up his teammates, Williford recalled. "If he agreed with you on anything, he'd say, 'He ain't lyin'!' And it was in that Tennessee voice with that country accent. So we all would say that."
Wilson was especially close with teammates Doug Smith and Chris Havlicek. "They were the Three Amigos," Williford said.
In the preseason, Williford said, Jones would send his players on two-mile runs in the morning. Players, depending on their position, had to finish in a certain time. Wilson's teammates, like his fraternity brothers, called him Big Red, "and he hated running," Williford said, "so he and Junior Burrough were always dead last."
After his basketball career ended, Wilson stayed in Charlottesville to do medical research (and to court his future wife), and he discovered a new athletic passion.
"I'd see the dude running through the Corner, through Grounds," Williford said, laughing. "It was the best he ever looked. I chuckled at how he didn't enjoy running until after college. So that was crazy."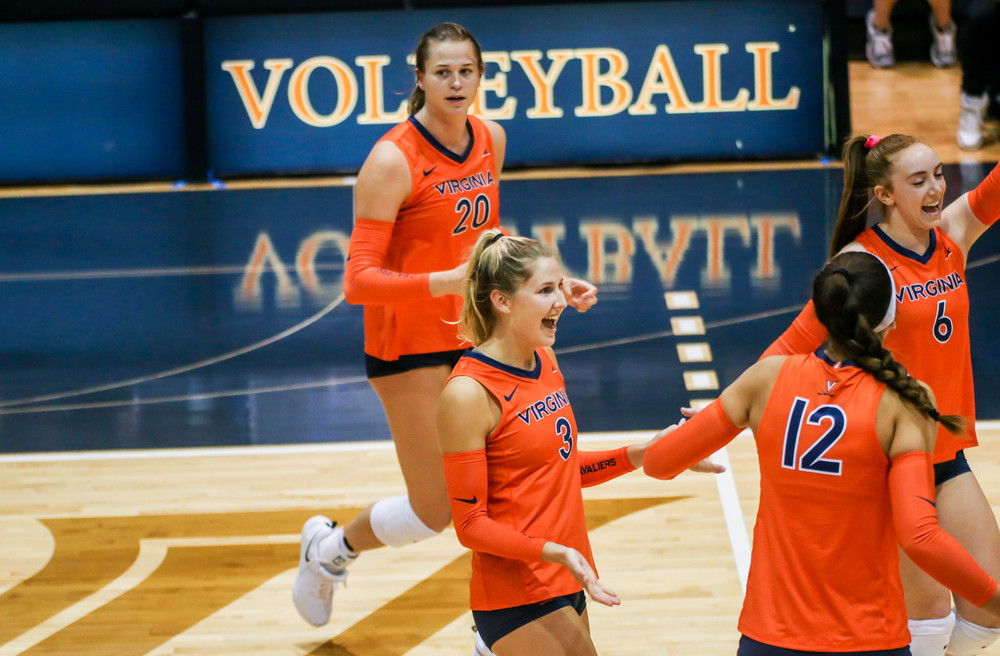 Injuries marred Kerry Wilson's volleyball career at UVA, but she's continued to support the program, and she's thrilled to see her daughter wearing blue and orange in Memorial Gymnasium. Chloe is the first legacy in program history, "and I feel as a parent that we've hit the jackpot with Shannon Wells and her coaching staff," Kerry Wilson said. "It seems right now that her path, as curvy as it may have been at times in her life, has led her exactly where she's supposed to be right now."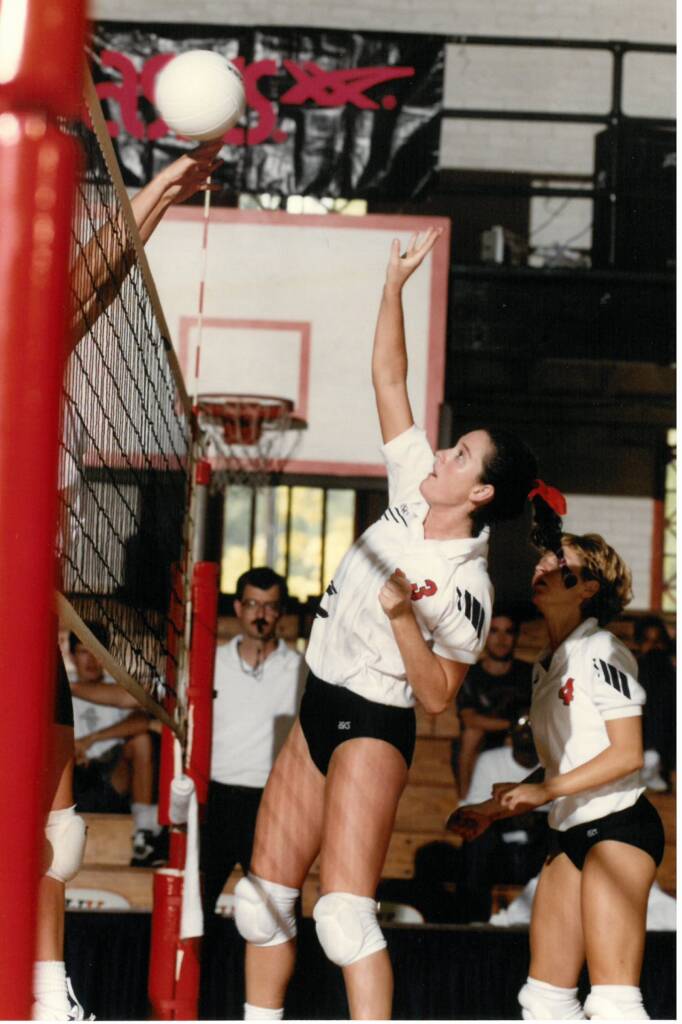 The Cavaliers, who are in their second year under Wells, have surpassed their win total from 2021, with 10 regular-season matches remaining. UVA will host two matches at Mem Gym this weekend, taking on No. 2 Louisville at 7 p.m. Friday and Notre Dame at 1 p.m. Sunday.
Chloe came to UVA with three seasons of eligibility. She's played in 54 of the Hoos' 79 sets this season and is fifth on the team in kills, with 87. She's the tallest player on the team.
Wells remembers coaching Chloe years ago at the USA Volleyball tournament. "She was really tall, but she hadn't grown into her body at all. I think she still has some of that, and she's still kind of working through that. So it's been fun for me, because I remember what she was like at 14 and see the strides she's made, now as a third-year in college, and her development. Right now, Chloe is getting away with things because she's bigger and more athletic than most people. But a year from now, with our training and the foundation of strength and some flexibility and body control, she's just going to be a beast."
Inside the program and out, Chloe has become an advocate for mental health.
"That's a passion for her, and it's a passion for her and her family," Wells said.
"I don't think most people know about my dad or my mom, at least what happened," Chloe said, "and if that would help some people figure out an aspect of their life, absolutely I'll share it with whoever."
For student-athletes, she said, there are "so many different factors that affect your mental health that are put into question with your demanding schedule. Everyone's like, 'Oh, being a high school athlete teaches you how to time-manage,' but when you get to college it's really nothing like high school. It is a job. You are here for a reason, and sometimes it's definitely harder for student-athletes to manage, especially when things get into full swing with midterms and exams."
Chloe said she and her teammates "have so many resources. The coaches truly care about you. We have a mental health area in our locker room. It's a no-phone zone. If you go in there, there's different things you can use in that room. Coaches don't really go in there if you're in there. So if you're having a stressful day of practice and you want to just go in there and decompress, you can close the door. They definitely care about us. We have weekly check-ins with a coach to make sure that you're OK.
"It's the best program ever. Shannon is such an amazing person. I trust her wholeheartedly. Everyone [on the staff] here cares so much about the athletes, and they honestly show you that they view you as more of a person off the court as much as they view you as a human on the court."
Back in Nashville, her mother delights in knowing that Chloe has found a second home in Charlottesville.
"Honestly, going to UVA, I think, has really been great for her," Kerry Wilson said. "It sounds weird, but I think it's been healing for her, and she will continue to heal for the rest of her life. I wouldn't be surprised if she goes and visits her dad's bench. And so it's one of those things where I know she feels a connection to him there, and maybe it's kind of opened up some wounds that really didn't heal, and maybe she's now at a place and a maturity level where she can do that.
"She's getting there, and she's inching in the right direction. I'm excited about where she's going, and I'm excited to see where Shannon is taking this program."
To receive Jeff White's articles by email, click the appropriate box in this link to subscribe.