By Jeff White (jwhite@virginia.edu)
VirginiaSports.com
CHARLOTTESVILLE — The boisterous crowd that packed Memorial Gymnasium on Nov. 11 gave the University of Virginia volleyball team a decided home-court advantage, and it's a scene head coach Shannon Wells hopes to see become a regular occurrence in years to come.
In front of 1,108 fans—the most ever for a volleyball match at Mem Gym—UVA defeated Virginia Tech 3-0. That gave the Cavaliers, who won 3-2 in Blacksburg on Oct. 28, a season sweep of the Hokies.
"Even when we're not winning, we get a lot of compliments on how fun it is to come and watch a match at Mem," Wells said. "This is a really tough place to play. That match, our fans were awesome, and they made it really hard for Virginia Tech to play here. That's our plan: to continue to build that and make that more of what it looks like when you come to Mem."
Two days after that Nov. 11 match, tragedy rocked the University community. Three UVA students—football players Devin Chandler, Lavel Davis Jr. and D'Sean Perry—were shot and killed on Grounds after returning from a class field trip to Washington, D.C.
"What happened was so drastic and unexpected and heartbreaking," Wells said.
With only three matches remaining, the volleyball team considered canceling the rest of its season, but "our seniors wanted to play," Wells said, "and we wanted to grant them the opportunity to do that. And they felt like it was an opportunity for them to honor their friends, to be honest. [Chandler, Davis and Perry] were their friends. So we did it."
In its final home match, Virginia fell to Wake Forest on Nov. 20. The Cavaliers, missing three of their rotation players, closed the season with losses at NC State and North Carolina.
"We got through the last few weeks," Wells said, but the Wahoos were unable to build on their sweep of the Hokies.
"The last few weeks were hard in so many ways," she said. "We just felt like we were building so much momentum to end in the right direction, and then it was out of our control to do that."
Even so, the Hoos made clear progress in their second season under Wells. Hired in in late April 2020 after an unexpected coaching change at UVA, she was charged with rebuilding a program that had suffered through five consecutive losing seasons and has made only two NCAA tournament appearances, in 1998 and '99.
In 2021, the Cavaliers finished 8-20 overall and 1-17 in ACC play, but they improved to 12-17 and 4-14, respectively, this year. Among the opponents UVA defeated was Florida State, one of the five ACC teams that went on to make the NCAA tournament.
Virginia was considerably more competitive this season. After posting a 4-13 record in three-set matches in 2021, the Hoos went 4-7 in those matches this fall, and they finished with a winning record (6-4) in five-set matches for the first time since 2013.
"So slowly but surely we're making that progress," said Wells, who spent seven seasons as an assistant coach at the University of Florida, a perennial power in the sport, before coming to UVA.
"As frustrated as I get about not winning and wanting to get more in that win column, I also understand that this is a process. We at least were putting ourselves in position to win this year, where last year, that was a frustrating piece. There wasn't a lot of successes coming other than behaviors and culture changes, and now you could see the level of volleyball getting so much better this year."
The Cavaliers made those strides despite missing Jayna Francis, one of their most talented players, for most of the season. A senior outside hitter from Virginia Beach, Francis suffered a season-ending knee injury in UVA's Aug. 27 match against Florida.
"That was really a huge loss," Wells said.
Coming off an injury-marred 2021 season, Francis had returned to Charlottesville last summer in fantastic shape. "She looked like a totally different player," Wells said. "As we were going through preseason, even our staff was like, 'Hey, we're going to be better than expected. This is fun.' I think her injury was very devastating to our team, even in the following weeks."
Still, Francis found ways to contribute to the team.
"Just her impact as a human and her impact as a leader were definitely felt this year," Wells said. "It was nice when she could finally travel again. We needed that. And so I think you could see a change in our team too when she traveled with us, because she's such a big, vocal leader for us."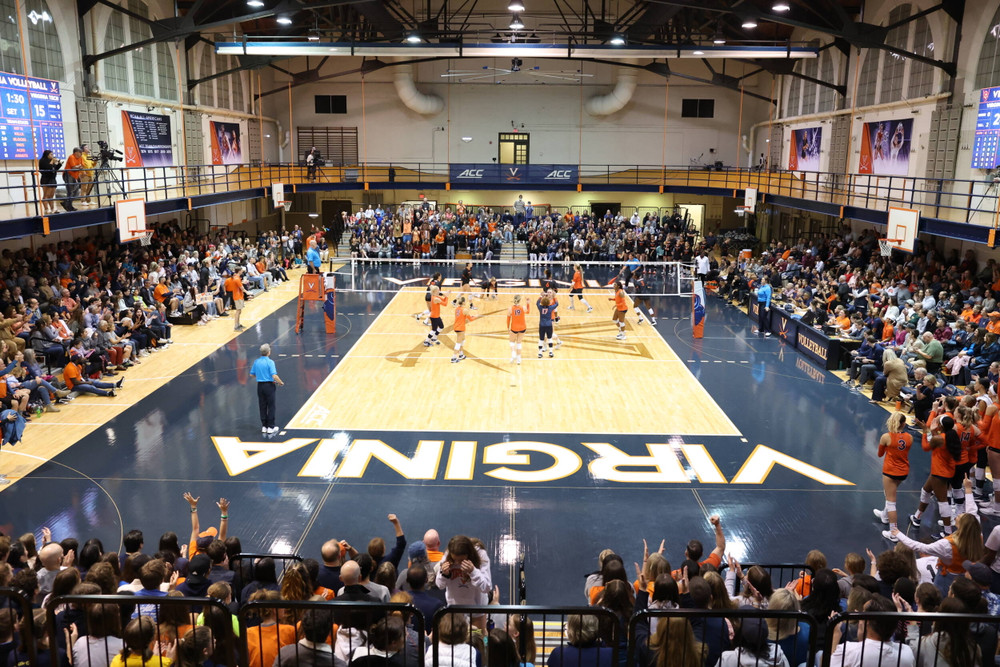 In Francis' absence, another outside hitter, graduate student Grace Turner, became the Hoos' on-court leader. Turner, who plans to pursue a professional volleyball career in 2023, finished the season with 397 kills, by far the most on the team. She was the first Cavalier since 2010 to record six 20-kill matches in a season and was named to the All-ACC second team. Not since 2016 had a UVA player earned all-conference honors.
"Any time you have a fifth-year senior that's so invested in in the program in general and invested in this community and invested in the athletic department, that's going to be really hard to replace," Wells said. "There's just no way we can do that next year. But we're excited about the challenge for this new group."
Virginia is losing five seniors: Turner, Francis, Josi Williams, Mattison Matthews and Simone Dominique.
"It's really an incredible group," Wells said. "It wasn't just Grace. That senior class was so important for what we're doing here, and I continued to tell them, even after we lost our last matches, that anything we do from here on out, we'll be able to go back to that class and say they started this culture. Now the challenge for this next group is we have a great culture, but it won us four [ACC] matches. So what are we going to change? Where do we need to better so that we make sure we're in the NCAA tournament next year?"
Eleven players are expected back: Abby Tadder, Brooklyn Borum, Ashley Le, Gabby Easton, Kate Johnson, GG Carvacho, Mary Shaffer, Veresia Yon, Heyli Velasquez, Chloe Wilson and Madison Morey.
Tadder was in on a team-high 114 blocks and ranked second in kills, with 244. Easton led the Cavaliers in assists (721) and had 186 digs, a total surpassed on the team only by Morey (296) and Turner (210).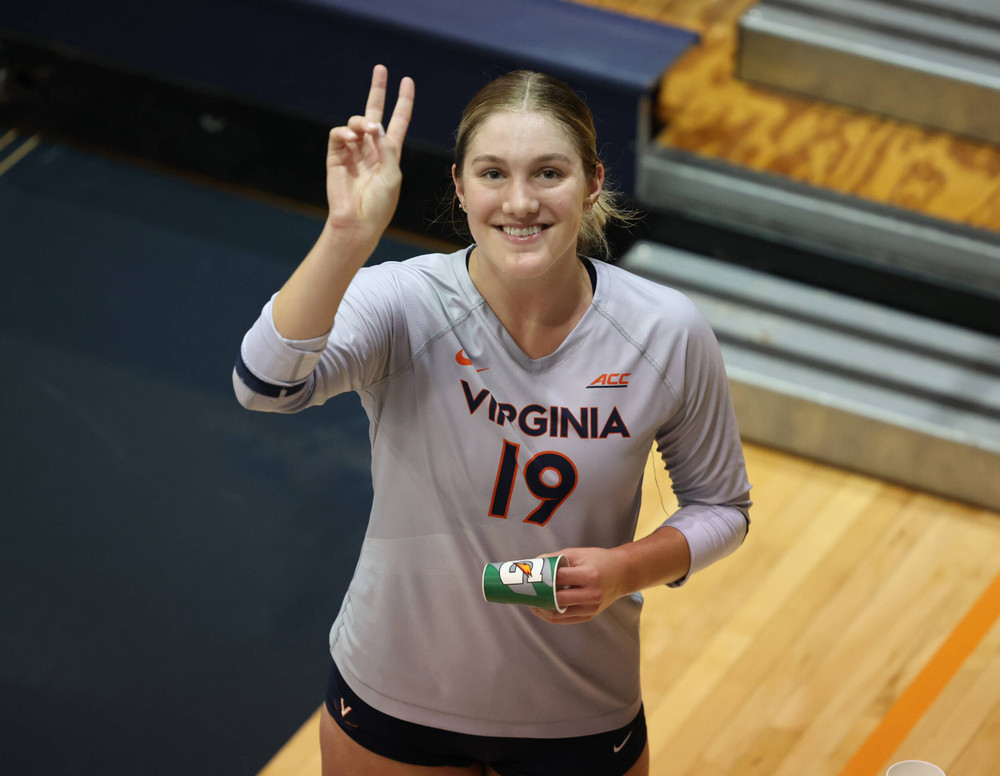 After being named to the ACC's All-Freshman team in 2021, the 6-foot Borum experienced something of a sophomore slump. She came into the year with high expectations for herself, Wells said, and "I probably didn't do a great job of coaching her through that and just making sure that she was staying in the moment. I think she started to struggle with that, just the expectations she put on herself when she wasn't meeting them right away. But I think she had a huge flip kind of at the end of the season and was able to give herself an opportunity to compete."
With 115 kills, Borum was fifth on the team. "I know that she's really excited about this offseason," Wells said. "and she's got big goals as far as what she wants to do and what she wants to be in this conference. And I think she's very aware of the work that she's gonna have to put in this spring in the weight room and just taking care of her body, but also on the volleyball court to get that. That's the biggest progress you saw in Abby. Abby's gained 15 pounds of muscle this year, and so she's hitting higher and jumping higher, and her body can just last longer, and she's excited to continue to go in that direction too."
At 6-foot-1, Yon is short for a middle blocker in the ACC, but she's an intriguing talent. She transferred to UVA last summer after graduating from the University of West Florida, where she was a Division II All-American. She was in on 77 blocks this season, which ranked second on the team.
At West Florida, Yon "was just so much more physical than everybody that she was able to get away with things," Wells said, "where now she's one of the undersized athletes here, and she has to add more IQ to it. She has to add more range to her hitting."
Yon played sparingly for the Cavaliers early in the season, when she was still learning their system. But she flourished once ACC play began, and she's eager to do more in 2023. Yon is an excellent jumper who has long arms and large hands. Against Boston College on Nov. 4, she had the best hitting percentage (.786) for a UVA player since 2016.
"She's a quieter presence," Wells said, "and so in her individual meeting [with the coaches after the season], we were really excited to hear her say that she wants to take on a bigger leadership role. She wants more of a vocal voice, and that's just her getting comfortable. People just do it at different paces. She wants to be an All-American here, and that would be awesome. She did that at the Division II level. There's not many 6-1 All-American middles [in Division I], and so she's going to have to be unique in what she does, but she's excited about being able to get after it."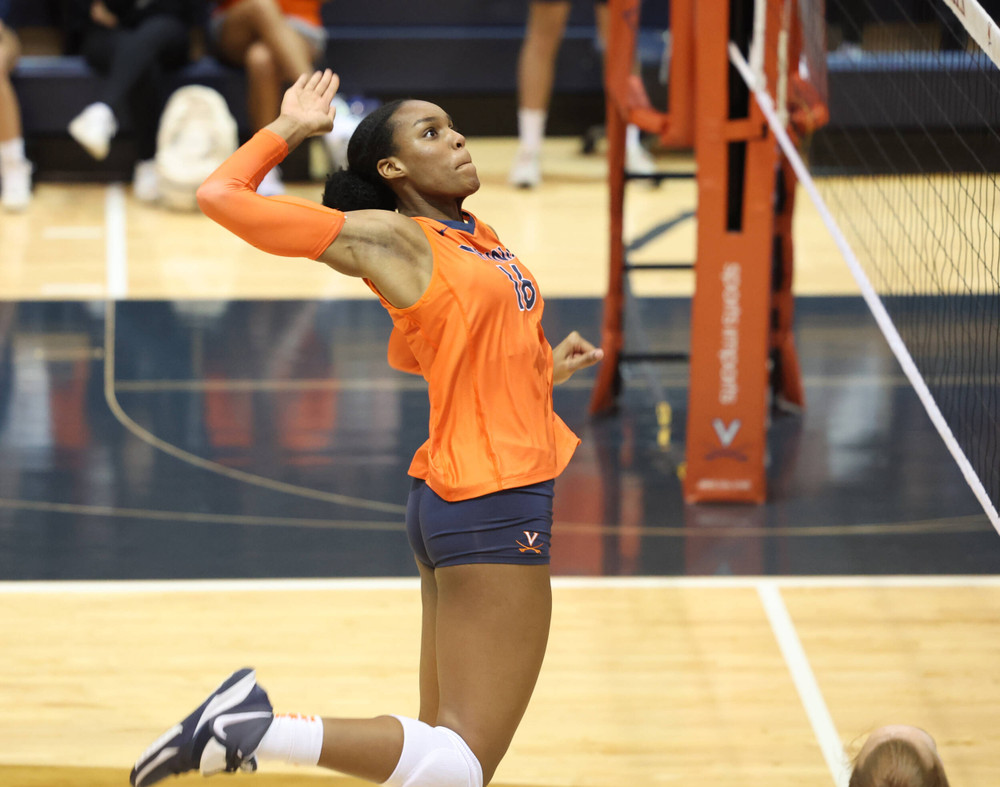 Two players signed letters of intent with UVA last month—6-foot-2 right side/outside hitter Lauryn Bowie, who's from Westerville, Ohio, and 6-foot-3 middle blocker Nala Corney, a New Yorker who attends Episcopal High School in Alexandria—and they'll be freshmen in 2023.
More reinforcements are expected. Wells plans to add three more players before next summer: a defensive specialist from the high school Class of '23 and two front-row hitters from the transfer portal. The plan, she said, is for one of those transfers to enroll at UVA midyear and be able to practice with the team next semester.
After Wells' first season at Virginia, she added five newcomers, including four transfers: Yon from West Florida; Easton and Carvacho from Ole Miss; and Wilson from Wake Forest.
Of the transfers, Yon and Easton had the biggest impact this season. Carvacho, a 6-foot-3 outside hitter, enrolled at UVA in January but spent the spring rehabbing a knee injury. She missed time this fall with a concussion and played all season with a hurt shoulder.
"She was probably playing at about 40 percent this year," Wells said.
Once Carvacho is healthy again, Wells said, she's going "to be a really big piece for us. and we need her to be."
Wilson, whose parents were student-athletes at UVA, is a 6-foot-4 right-side hitter who had 96 kills this season. Like Carvacho, who had 83 kills, Wilson has two seasons of eligibility remaining.
Adjusting to the Cavaliers' system proved challenging initially for Wilson, who arrived in Charlottesville after the 2021-22 school year, but "she's in a great place mentally," Wells said. "She's really excited. She wants to build more muscle and get more coordinated. This is Chloe's spring. We expect her to be a monster."
Mem Gym is home to two of UVA's varsity programs, volleyball and wrestling. The venerable building has been upgraded dramatically in recent years, and more improvements are coming.
By the start of next volleyball season, Mem Gym will have new bleachers, new lights, a new sound system, a new media board and new graphics, all of which will "help make it a better fan engagement," Wells said. "I think fans that come to Mem enjoy it, because they're so close [to the action] and they get to have interactions with our student-athletes."
To receive Jeff White's articles by email, click the appropriate box in this link to subscribe.