By Jeff White (jwhite@virginia.edu)
VirginiaSports.com
CHARLOTTESVILLE, Va. — As much as her team loves playing at Palmer Park, University of Virginia head softball coach Joanna Hardin sees positives in road trips.
Opportunities for players to bond abound when they're together out of town, and they're "not rushing from class to play," Hardin said. "There's less distractions on the road, but there's a little more fatigue and drain. So pick your poison."
Ten games into their seventh season under Hardin, the Cavaliers have yet to play at home. That's about to change. The Cavalier Classic begins Thursday with a 4 p.m. game between UVA (6-4) and Longwood (4-5) at Palmer Park. Virginia is scheduled to face Maryland Eastern Shore on Friday, St. John's on Saturday, and Howard and George Washington on Sunday.
"We're really excited to be playing at home," junior catcher Leah Boggs said. "There's always just a little bit different fire under us when we get to come out and play for the Charlottesville community … I think we're excited to see that atmosphere we've built here at Palmer Park."
The Wahoos' homestand continues next week with games against Radford (Tuesday doubleheader), Fairfield (March 3), DePaul (March 3 and 4), St. Francis (March 5), and George Mason (March 5).
"I personally am excited to not have to throw my bag in the laundry and then repack it," Hardin said, laughing. "It's nice to be home."
The Hoos are coming off a long weekend in Chapel Hill, N.C., where they played four games in the ACC/Big Ten Challenge. They went 0-2 against Maryland, which is ranked No. 21 nationally this week, and 1-1 against Minnesota. UVA's three losses in Chapel Hill were by a combined four runs, and both games with Minnesota went to extra innings.
"We lost more games than we won this weekend," Boggs said, "but the perspective that we've built, the culture that we've built over the years, is going to help us set our mindset in the right way so that we can learn from those mistakes, learn from those situations. We had a lot of young girls put into tough situations that you're going to be in if you make it to the ACC championship, you make it to NCAAs, and I think being there that early in the year is going to be really beneficial for us."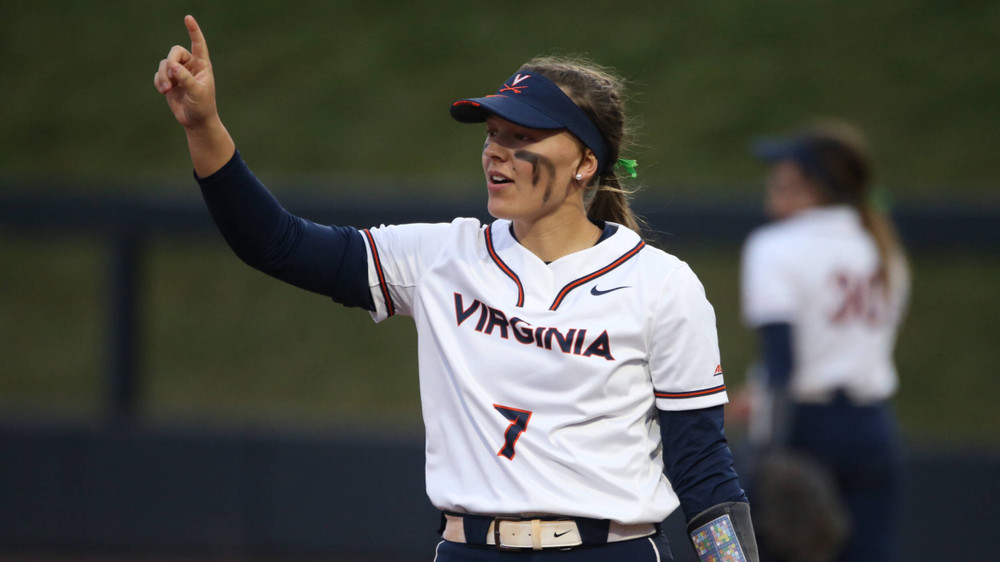 The Cavaliers finished 28-26 overall and 13-11 in ACC play last year. That was their most wins in a season since 2010 and their first winning record in conference play since 2010.
To the returning players from that team—a group that includes Boggs, Gabby Baylog, Sarah Coon, Kailyn Jones, Katie Goldberg, Lauren VanAssche, Kelly Ayer and Molly Grube—Hardin added a talented freshman class led by Eden Bigham, Jade Hylton, M.C. Eaton and Courtney Layne.
"The freshmen are being really challenged, and it's great," Hardin said. "This game is hard, so we don't want to open up the season and kind of [cruise] through it and then get to ACCs and get smacked in the face. So we've scheduled tough, and the ACC/Big Ten Challenge was one of those."
Bigham, a right-handed pitcher from Rustburg High outside Lynchburg, has made five appearances this season, with three starts. She's 1-1 with a 0.86 earned-run average.
"I was confident that she would come in and make an impact right away," Hardin said. "Same with Jade, same with M.C. Courtney hasn't thrown a ton, but she's going to be great for us, too."
Bigham has struck out 30 batters in 24.1 innings, with 16 walks.
"I don't know if Eden has exceeded expectations, but she's throwing to her capability, which as a freshman is awesome," Hardin said, "and she's still learning. She still has room to improve, and she knows that. It's this funny balance. You don't ever want to think you've arrived, but you also need to have the confidence that you can execute, so you're always flirting with that line. I think that she's got the confidence to go out and throw with anybody in the country. We also know we've got to cut down on the walks."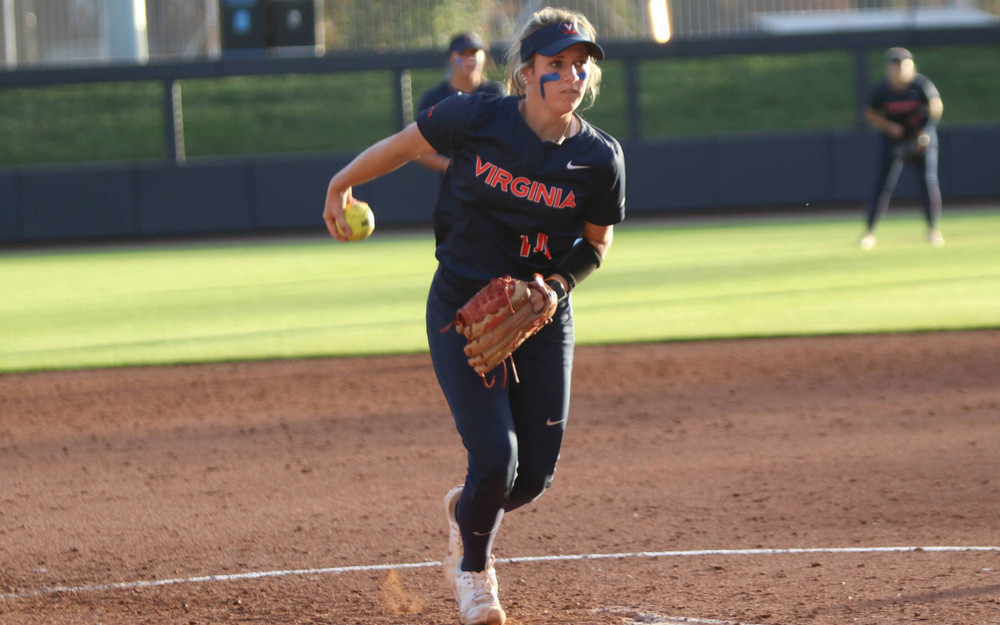 UVA's other starting pitchers have impressed, too. Grube is 3-2 with a 1.20 ERA, and Jenny Bressler, a graduate transfer from UNLV, is 2-1. Bressler, who's made a team-high six appearances, has a 2.33 ERA.
"She's so calm, cool and collected," Hardin said. "I think she would probably tell you she's not throwing as well as she expects of herself, but a 2.33 ERA is not bad at all."
The Cavaliers' offense has struggled, and that, above all, is why they don't have more wins. Virginia is hitting .231 as a team. Of the UVA players with more than 15 at-bats, only Coon (.265), Eaton (.290), Baylog (.304) and Ayer (.313) are hitting better than .260. Eaton leads Virginia with four home runs, and Coon has three.
"We have a couple hitters that we know are going to be there," Hardin said, "and they're struggling a little bit right now, but they're going to figure it out. We're really confident in that, and so what we need to do right now is stay really focused on how we're going to get better and eliminate noise and distractions and just keep putting our heads down and going to work."
The coaching staff doesn't want the players "expecting to hit a home run every time," Hardin said. "That's not who we are. We're trying to really drive the middle of the field. Singles become doubles, and doubles become home runs, and we got a little bit outside of that [in Chapel Hill], but I think that was a result of the pressure: 'Oh, we're so close and it's the end of the game,' or 'I'm really frustrated with my at-bat.' The strikeouts went up a little bit, walks went down, but it's one weekend, and it was really, really good for us. I think our offense will definitely come around, and our pitchers were stronger in the circle [than in 2022]. We knew that coming in."
In the ACC/Big Ten Challenge, Virginia's pitchers "kept us in every game, and that was a real positive," Hardin said. "I think that we learned a lot about ourselves. We were in some really high-stakes moments late in the game—down one, up one, extra innings twice with Minnesota."
In its second game against the Golden Gophers, UVA led 1-0 after six innings and was three outs from victory. But Minnesota rallied for one run in the top of seventh and went on to win 2-1 in eight innings.
"We took a lot away from those high-stakes, high-pressure moments," Hardin said. "I think offensively we got outside of ourselves a little bit and tried to do a little bit too much. That's good. I'd rather learn that the second weekend against tough opponents than in the middle of the ACC season. There's something really valuable to struggling a bit, because it teaches you a lot."
At practice Monday, Hardin said, the Hoos "were able to talk about the weekend really objectively, where we fell short and then where we need to grow and get better. It was positive to know we struggled a little bit and we were still in every single game … Every game we've been in where we've lost, we've been one swing away in the last inning from either tying it or walking it off."
To receive Jeff White's articles by email, click the appropriate box in this link to subscribe.